[ES-EN] Peonías en mi piel // Peonies on my skin
¡Hola amigos de Hive! | Hello friends of Hive!
Hace un par de semanas, después de tanto pensarlo y descubrir estilos que me gustan, decidí hacerme media manga en mi brazo izquierdo.
A couple of weeks ago, after so much thinking about it and discovering styles that I like, I decided to get a half sleeve on my left arm.
Ya tengo otro tatuaje en ese brazo y pensé que sería buena idea comenzar con el diseño de la manga, lo que siempre había querido, la idea de tener todo el brazo tatuado es una de las cosas que siempre había querido tener, este tipo de arte desde siempre me había encantado.
I already have another tattoo on that arm and I thought it would be a good idea to start with the design of the sleeve, which I had always wanted, the idea of having the whole arm tattooed is one of the things I had always wanted to have, this kind of art I had always loved.
Mi proyecto es verme mucho más tatuada, quizás los dos brazos, piernas, nunca se sabe cómo luciremos al final 😁siempre se puede mejorar la idea o simplemente darle un giro con distintos tipos de técnicas, a mi particularmente me gusta mucho el puntillismo ¿qué hay de ustedes?¿Cuál es su favorito?
My project is to see myself much more tattooed, maybe both arms, legs, you never know how we will look in the end 😁you can always improve the idea or just give it a twist with different types of techniques, I particularly like a lot the pointillism what about you guys?what is your favorite?
Siempre el diseño con flores era el que más me gustaba, eso también debido a que me encantan, siempre estoy apreciándolas y tomándoles fotos. Les comparto la más reciente:
Always the design with flowers was the one I liked the most, that too because I love them, I am always appreciating them and taking pictures of them. I share with you the most recent one: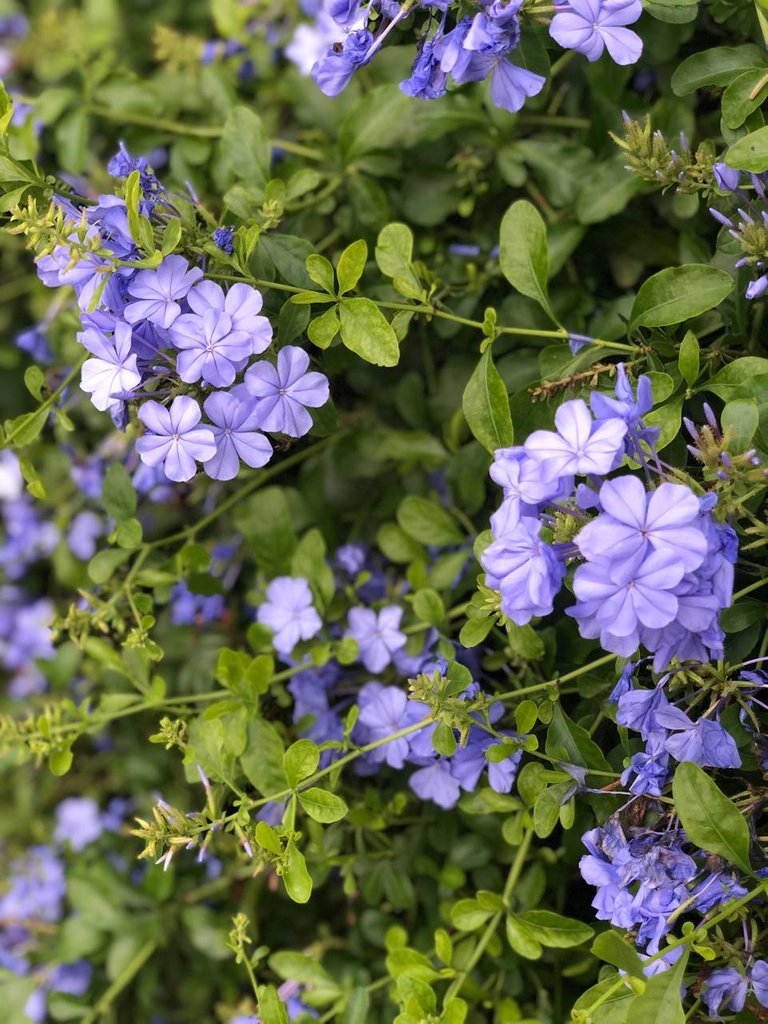 En fin, el diseño que seleccione son unas hermosas peonías con un toque de azul, quiero incursionar con los colores así que me decidí por ese. La ubicación fue más sencilla elegirla, lo ubicamos en la cara externa del antebrazo izquierdo.
Anyway, the design I selected are beautiful peonies with a touch of blue, I want to dabble with colors so I went for that one. The location was easier to choose, we placed it on the outer side of the left forearm.
Aquí todo estaba listo para comenzar la sesión, debo admitir que estaba algo nerviosa, pero nada del otro mundo.
Here everything was ready to start the session, I must admit I was a little nervous, but nothing to worry about.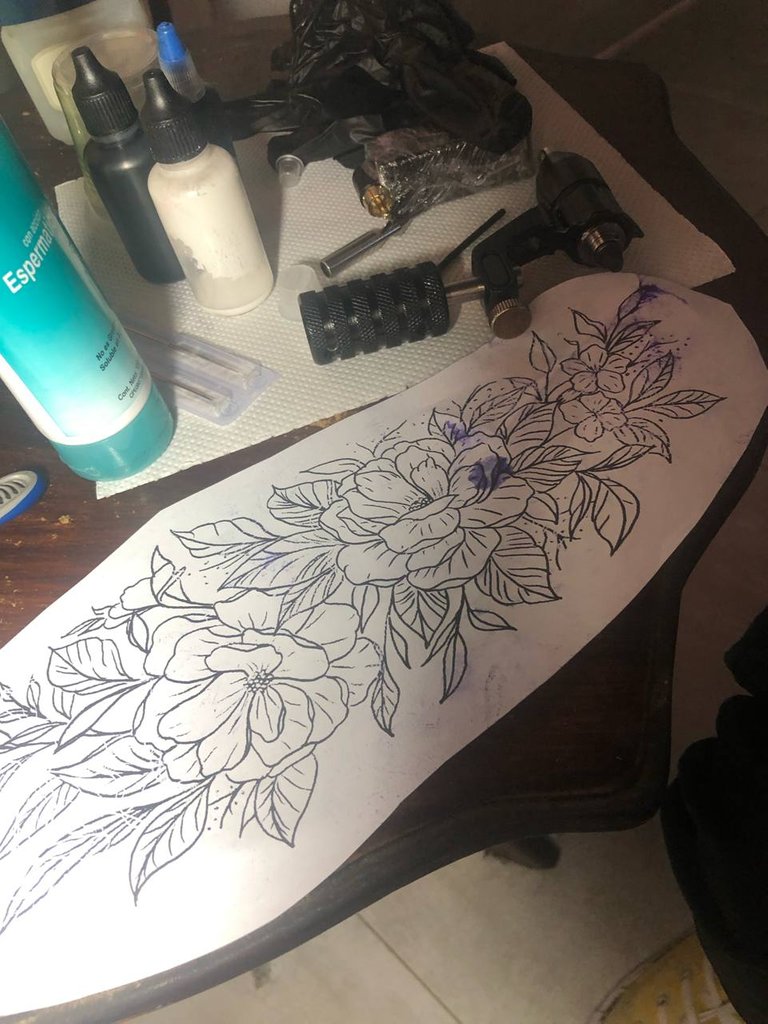 Una pieza de más de 25 centímetros de largo, pensé que no se vería bien ya que mi brazo es algo flaco, pero quedó perfecto.
A piece over 25 centimeters long, I thought it wouldn't look good since my arm is a bit skinny, but it turned out perfect.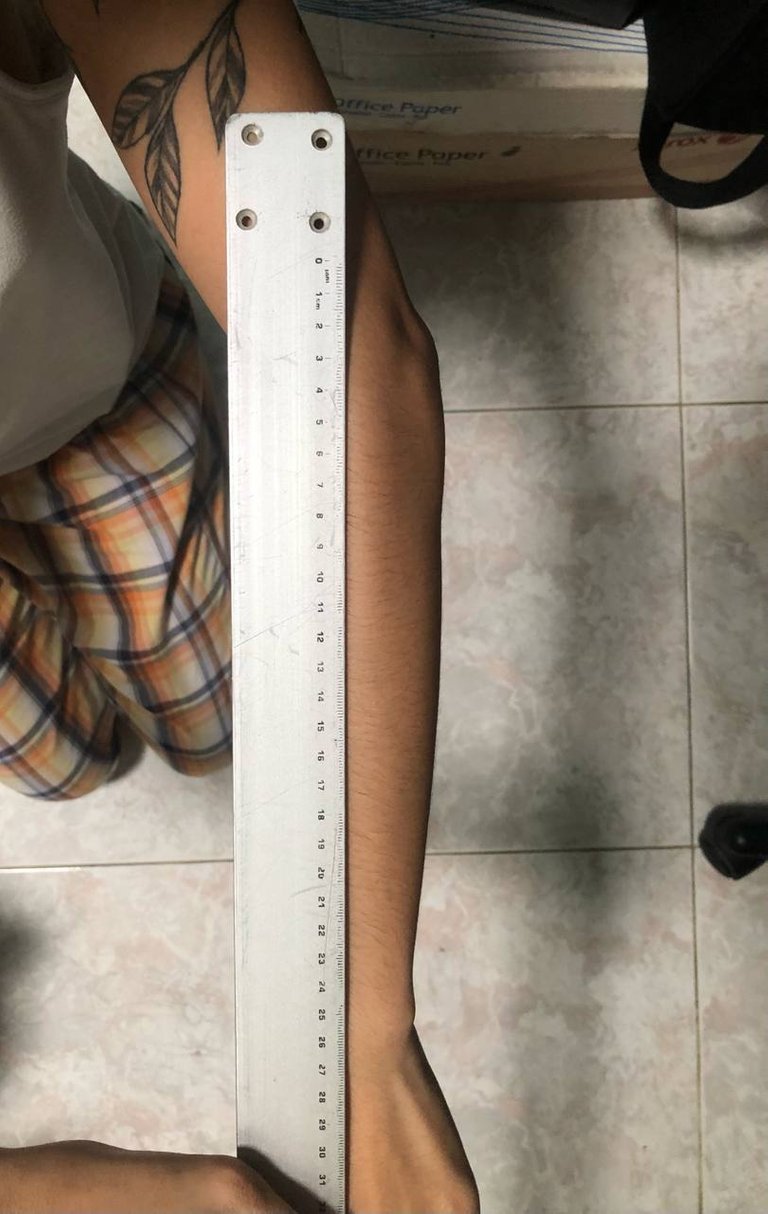 Estaba un poco pensativa acerca del tamaño, ya saben, viviendo en Venezuela, un país donde el tatuaje a penas se está normalizando, aún existen tabúes, pero decidí que eso no tenía que frenarme, es algo que yo quería, en conclusión, la vida es una 😁.
I was a bit thoughtful about the size, you know, living in Venezuela, a country where tattooing is barely being normalized, there are still taboos, but I decided that that didn't have to stop me, it's something I wanted, in conclusion, life is a 😁.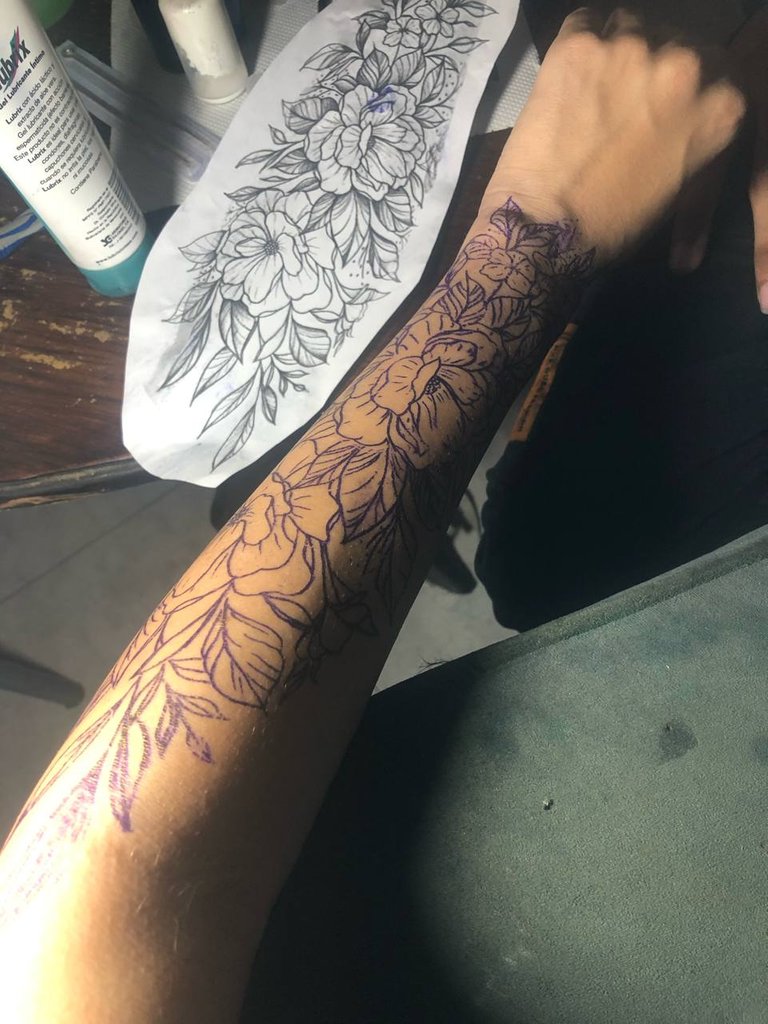 Cuando pegaron la plantilla a mi brazo quedé encantada, Justo lo que quería. Me sentía también emocionada y algo ansiosa por que ya estaba empezando la sesión y sabía que duraríamos un buen rato.
Para mi sorpresa y la del tatuador, a las dos horas ya estábamos por la mitad de la pieza
When they glued the stencil to my arm I was thrilled, just what I wanted. I was also excited and a little anxious because the session was starting and I knew it would last a while.
To my surprise and that of the tattoo artist, after two hours we were already half way through the piece.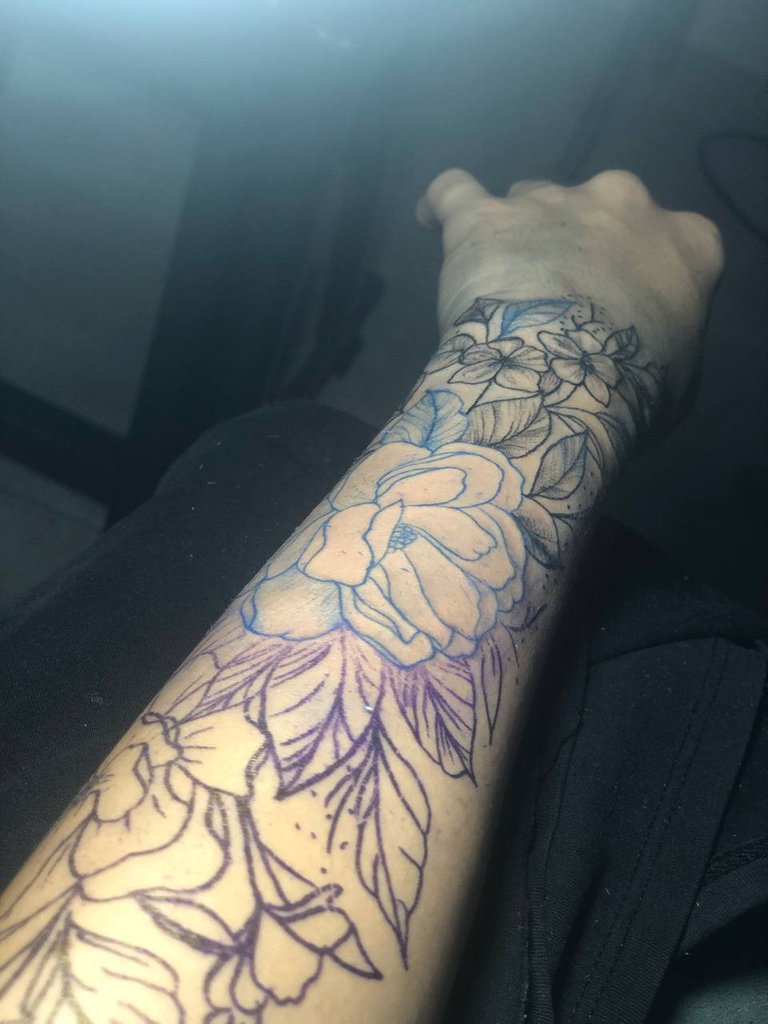 Era una sorpresa para ambos ya que pensábamos que duraría al menos 7 horas la sesión. Quizás me hubiese tatuado completamente el antebrazo de saber que duraría menos tiempo del esperado 😁.
It was a surprise for both of us as we thought it would last at least 7 hours for the session. Maybe I would have completely tattooed my forearm had I known it would last less time than expected 😁.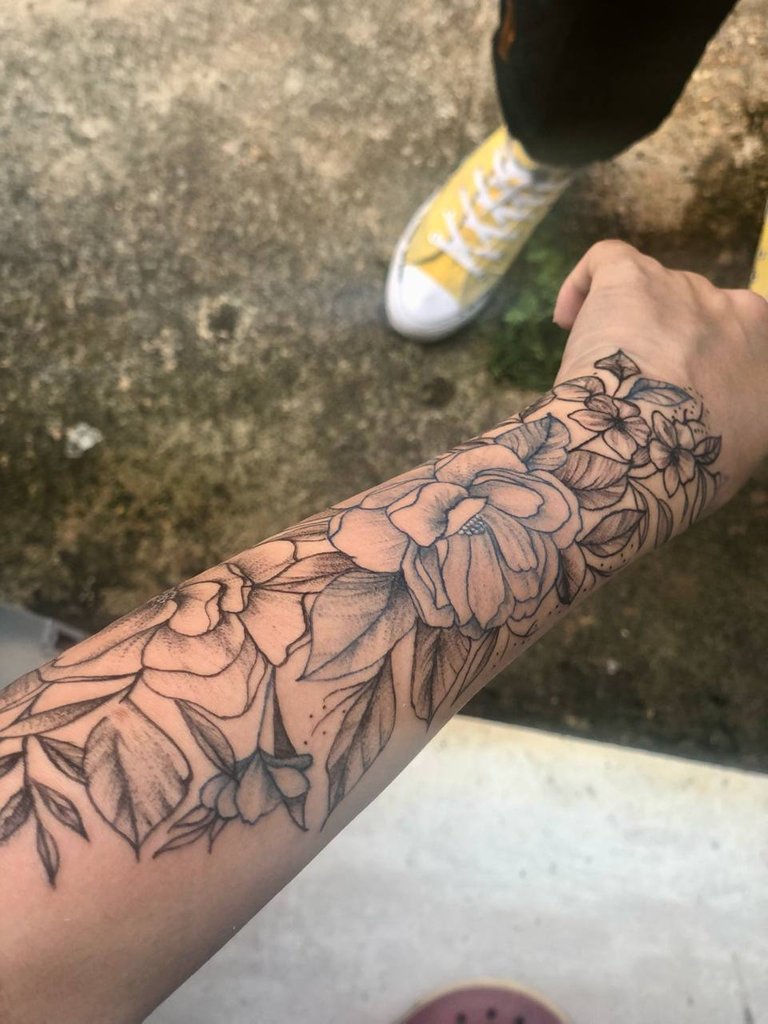 Ese es el resultado de 4 horas de sesión, honestamente me encanta el toque de azul, el resultado fue mejor del esperado y ya estoy ansiosa por todas las ideas que quiero tatuar en mi piel, les iré mostrando el proceso en el camino.
That's the result of 4 hours of session, honestly I love the touch of blue, the result was better than expected and I'm already looking forward to all the ideas I want to tattoo on my skin, I'll show you the process along the way.
Puedo asegurarles que seguirán viendo flores 😁.
I can assure you that you will keep seeing flowers 😁.
Gracias por leer, nos vemos en la próxima publicación | Thanks for reading, see you in the next issue.
Fotografías tomadas por mi iPhone X
Texto traducido en deepl.com
---
---