[Esp-Eng] Ritual de Pandemia - Pandemic Ritual
¡Hola amigos de Hive! | Hello friends of Hive!
¿No se han preguntado cuándo empezaron a tomar café? Si es que lo hacen, ¿siempre han tomado? ¿O fue en un momento en específico? En mi caso era muy esporádico.
Have you ever wondered when you started drinking coffee? If you do, have you always drunk it, or was it at a specific time? In my case it was very sporadic.
Comencé a tomarlo diariamente cuando la pandemia empezó, todo cambió. El convivir mucho más con la familia y estar todos siempre en casa era algo totalmente nuevo para mí, llegaba a estresar. Aunado a esto, estaba en 9.º semestre de arquitectura y no sabía que pasaría con mis estudios, todo esto era nuevo e igual tenía que seguir trabajando con mi tesis y para ellos debía Levantarme temprano, ahora que lo recuerdo fueron días de incertidumbre para mí.
I started drinking it daily when the pandemic started, everything changed. Living much more with the family and being at home all the time was something totally new for me, it became stressful. In addition to this, I was in my 9th semester of architecture and I did not know what would happen with my studies, all this was new and I still had to continue working on my thesis and for them I had to get up early, now that I remember it were days of uncertainty for me.
Comencé a notar que temprano en la mañana toda la casa estaba en calma, todos estaban dormidos, me gustaba la tranquilidad, solo estaban mis pensamientos y yo preparando el café. Aquí les comparto un recuerdo de esos días
I began to notice that early in the morning the whole house was calm, everyone was asleep, I liked the tranquility, there were only my thoughts and me preparing the coffee. Here I share with you a memory of those days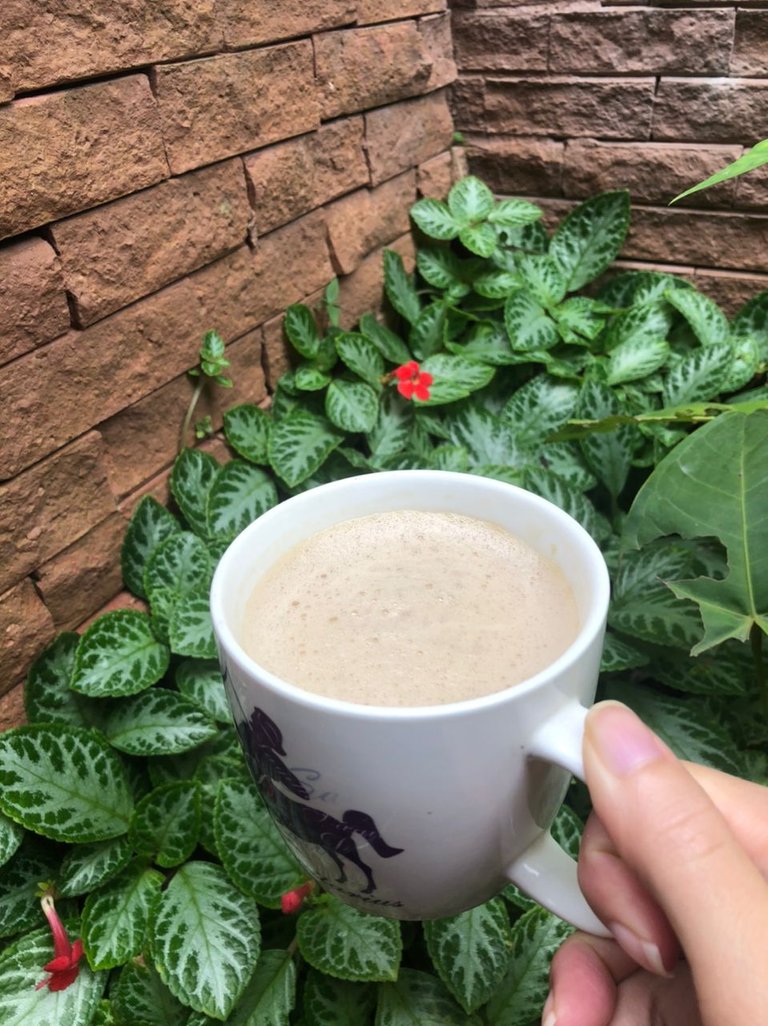 Este café era quien me acompañaba en las mañanas y pasó a ser una rutina que no podía faltar, generalmente me lo tomaba mientras revisaba mis redes o escuchaba música, todo esto a las 6 am, mi hora de ocio antes de sentarme a trabajar todo el Día en mi tesis. En pocas palabras era mi momento del día
This coffee was who accompanied me in the mornings and became a routine that I could not miss, I usually drank it while checking my networks or listening to music, all this at 6 am, my leisure time before sitting down to work all day on my thesis. In short, it was my time of the day.
En la actualidad, después de estos dos años sigo levantándome temprano, así no deba, solo para tener ese momento con el café, a decir verdad ya se ha convertido en un "ritual". También este se ha vuelto parte del compartir con seres queridos, mi pareja y yo cada vez que tenemos la oportunidad disfrutamos de una buena taza de café, dentro o fuera de casa.
Today, after these two years I still get up early, even if I shouldn't, just to have that moment with coffee, to tell the truth it has already become a "ritual". It has also become part of sharing with loved ones, my partner and I enjoy a good cup of coffee every time we have the opportunity, inside or outside the house.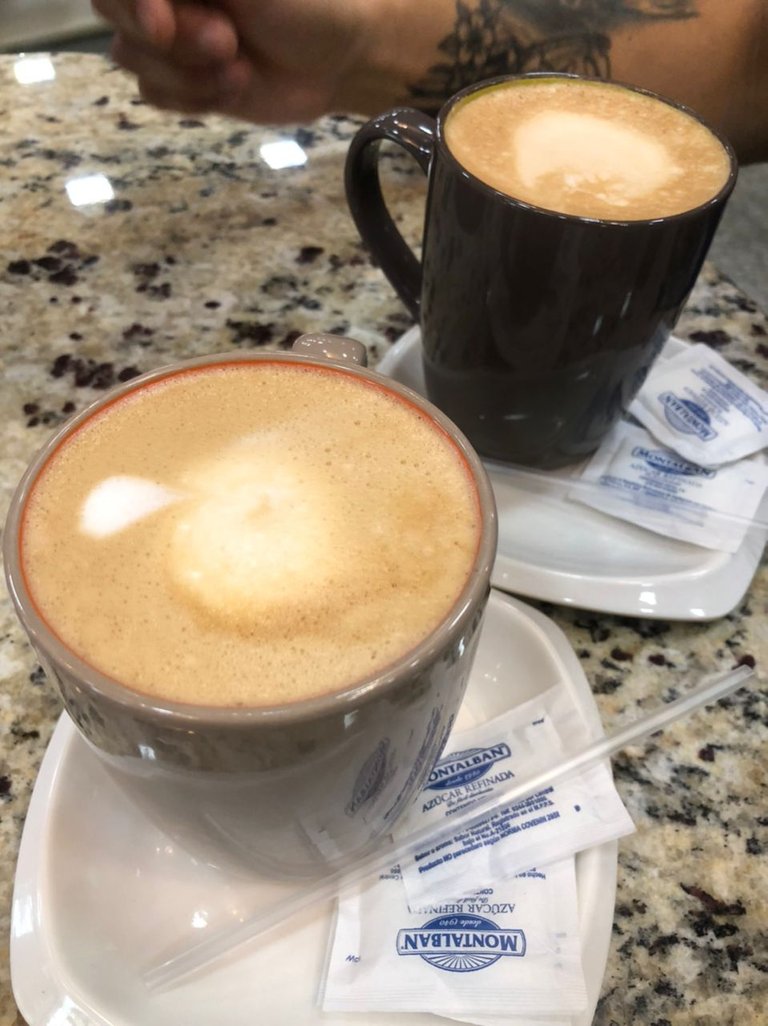 En las mañanas con el grupo al que le dicto clases de bailoterapia, frente a ese paisaje inolvidable, el café también es parte de nuestro compartir, generalmente en fechas especiales, como el cumpleaños de alguna integrante del grupo.
In the mornings with the group I teach dance therapy classes, in front of that unforgettable landscape, coffee is also part of our sharing, usually on special dates, such as the birthday of a member of the group.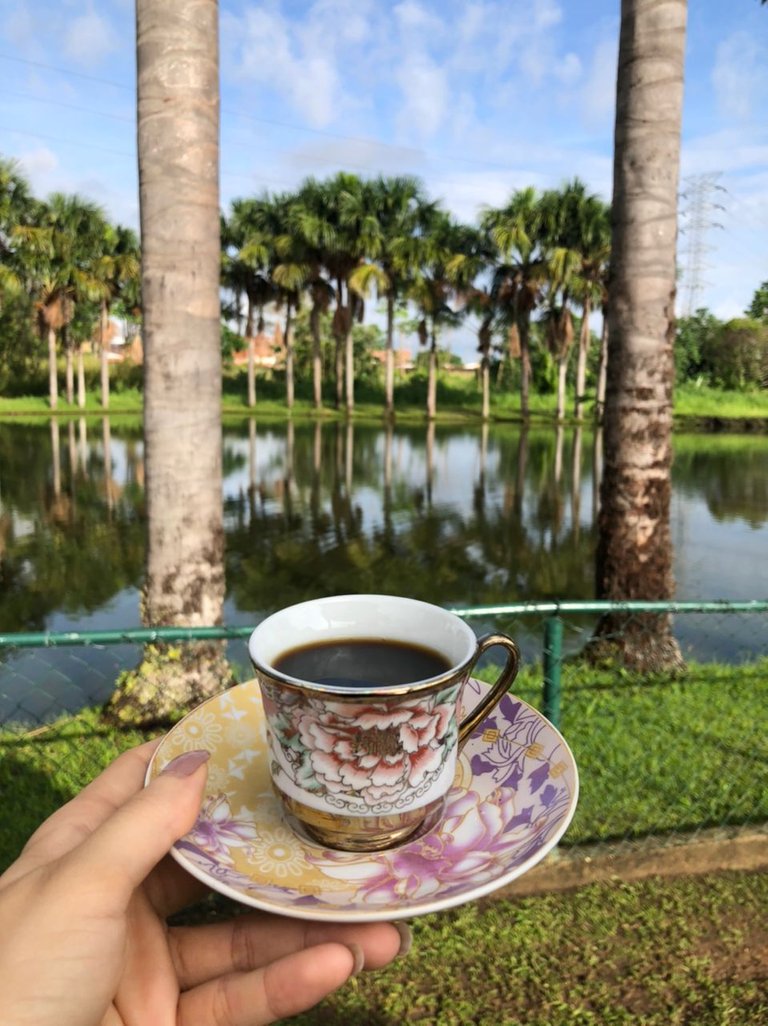 Esta foto a continuación es una de mis favoritas, fue en un viaje a la playa con mi familia, antes de salir a disfrutar del oleaje compartíamos con una taza de café, otra vista memorable que atrapa todos los sentidos. Un recuerdo al que le tengo mucho aprecio
This photo below is one of my favorites, it was on a trip to the beach with my family, before going out to enjoy the surf we shared with a cup of coffee, another memorable view that catches all the senses. A memory I hold dear to my heart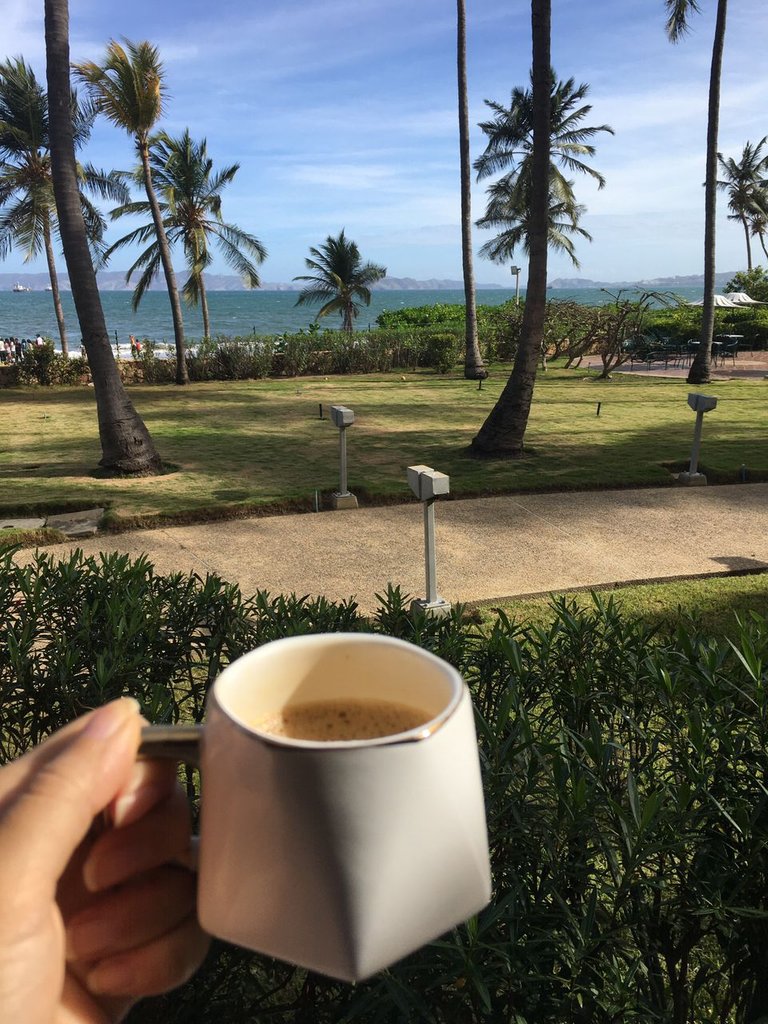 Quizás muchos lo vean como solo una taza de café, pero lo que sucede al rededor o la forma en la que es compartida solo trae a mi mente buenos recuerdos.
Maybe many see it as just a cup of coffee, but what happens around it or the way it is shared only brings to my mind good memories.
Creo que todos tenemos algún ritual que nos trae tranquilidad en nuestro día a día, ya sea leer, escuchar música, tocar un instrumento o algo tan simple como darse una buena ducha para empezar el día, hay muchas cosas… me gustaría saber ¿cuál es el tuyo?
I think we all have some ritual that brings us tranquility in our day to day, whether it's reading, listening to music, playing an instrument or something as simple as taking a nice shower to start the day, there are many things... I'd love to know what's yours?
Gracias por leer mi publicación | Thank you for reading my post
Fotografías tomadas con mi Iphone X
Texto traducido en deepl.com
---
---