MediEvil | PSX Spanish version | Full game (Part 6)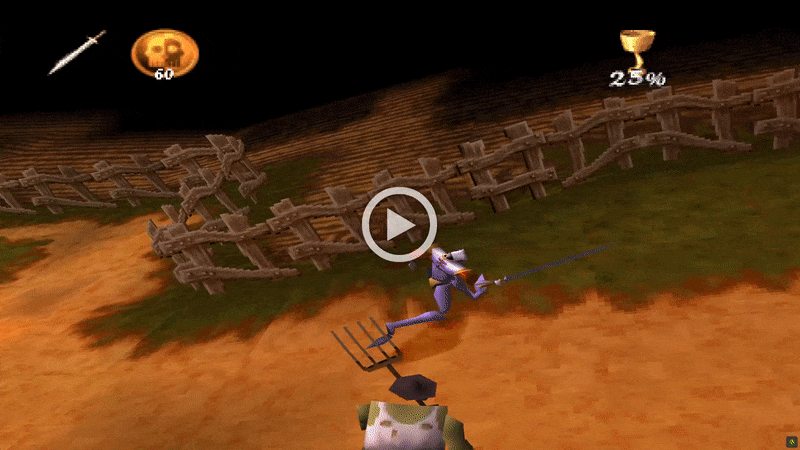 About the game
| | MediEvil is an action-adventure hack and slash video game developed by SCE Studio Cambridge and published by Sony Computer Entertainment for the PlayStation. |
| --- | --- |
The game takes place across a variety of levels, many of which require certain objectives to be performed to progress. Sir Daniel Fortesque can use a variety of weapons, consisting of close range weapons such as swords and clubs to long range weapons such as crossbows. Many can be charged for a powerful attack and some, such as the club, can be used to access areas that are otherwise inaccessible.
In each level, there is a hidden Chalice of Souls which can be collected if the player has dispatched enough enemies (some Chalices are awarded via other means). If the player clears a level with a Chalice in hand, Dan is warped to the Hall of Heroes, where he can speak to a hero who will give him rewards, such as weapons. If the player finishes the game with all the Chalices, the true ending is revealed.
The original soundtrack of the game was composed by Paul Arnold and Andrew Barnabas. SCE Cambridge instructed them to compose a Danny Elfman-influenced score, similar to those of Beetlejuice, The Nightmare Before Christmas and Batman Returns.
---
Details of the gameplay posted
This is the part 6 of a full gameplay of the game.
What's next:
We completed "Scarecrow Fields".
---
Enjoy the gameplay
---
Playstation emulator: ePSXe

---
Thanks for watching!
---
---