You can only win the matches you play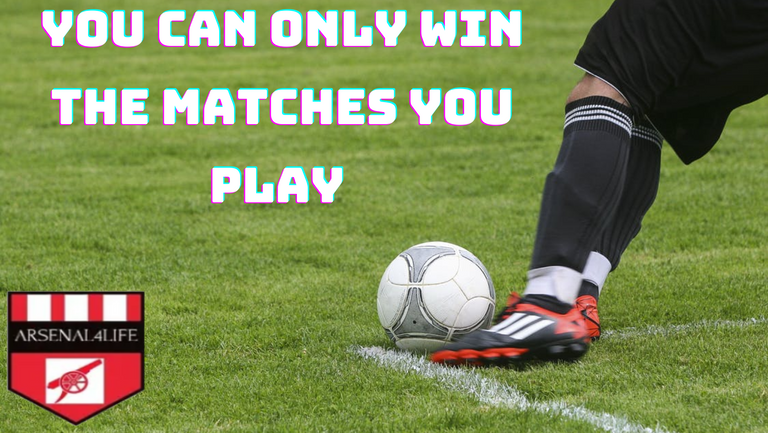 At the end of every solid performance from Arsenal, there's always a new narrative about why we won the match. It is always one thing or the other and never about the obvious improvement in the squad.
At the end of the day, one thing for sure is that you can only win the match that you play in and at the end of the day, getting three points is the most important thing. So far, we have won all the games we have participated in this season and that's why we sit at the top of the table.
No one expects us to win every match we play this season but one thing for sure is that we have won all the matches we have played so far. Our next match is all that matters and it will be yet another challenging experience like every other match that we have played this season.
People like to attribute special importance to some games over others but in reality, it is all three points. People always make a fuss about winning rivals in the "big 6" like that is the only determinant in the race for top spots.
In reality, there are 14 other teams and hypothetically speaking, if you lose ALL the matches against fellow top 6 rivals but win every single match against the other teams, you will end the season with 84 points and that will certainly be enough to give you top 4 =.
Now I'm not saying that will be the case, we will drop points against smaller teams in the future and hopefully learn from our mistakes, so we can come back stronger. However, I know we're also capable of beating our top 6 rivals and this brings me to Manchester United.
6/6 is possible
If we manage to get a victory at Old Trafford on Sunday evening, the entire league will sit up and stop talking down on our achievement so far. It would be a statement victory where we officially announce ourselves as not just top 4 contenders but a team gunning to win the premier league.
Despite being 2 points clear of last season's winners after 5 games, and playing top quality football, no one really considers us title contenders. In some way, I'm actually pleased by the fact that no one is actually bothered by our current position. However, a strong performance against Manchester United will completely alter everyone's perception of what Arteta and the boys are doing this season.
To win at Manchester United, we will need to be at our best and ensure we punish them at every opportunity. The United team still has a long way before they gel as a team and I think they are there for the taking.
I'm not taking anything away from Manchester United and their fat chequebook. This is a club that seems to have endless resources and splash the cash on pretty much any player that is looking for a payday.
They added a couple of names to their squad; out of the lot, I'm fascinated by Martinez because, despite all the talk about his height, he hasn't actually suffered because of it. He has actually handled himself well in aerial duels and is also quite nimble on the ground.
Gabriel Jesus is going to have his work cut out for him as he goes up against another player with a similar centre of gravity and strength. It will be a fascinating contest between the two South Americans
Malacia has looked decent on a couple of occasions but I think Saka will feast. He will be hopeless in a one-v-one against Saka, and hopefully, United don't give the young winger any "special treatment" so he can decimate their defence before they realise what is happening.
Additions could help but I think we're ready
I won't say we're ravaged by injuries but we are short in the central area of midfield. I personally don't think it is cause to panic, as the season is still young and then there's also the World cup and the January transfer window shortly following that.
Injuries to Thomas Partey and Elneny gave Lokonga the opportunity to stake his claim in midfield and he had a good showing against Aston Villa. We're currently being linked to Douglas Luiz and adding him to the squad will give us depth and some level of quality as he's a seasoned player in the Premier League despite being only 24 years old.
I don't think we'll be adding another winger to the squad. From all indications, the young Marquinhos will be a part of the first team fold. In one of Arteta's press conferences, he alluded to this fact and the fact that he has been a part of the first team fold in recent games points to this fact.
I think we have ample cover in most positions and versatile players that could offer us different prospects in different areas of the pitch. We're yet to even see Fabio Vieira in action. He's capable of playing centrally and on the flanks, so he could be a Saka cover whenever he needs rest.
Vieria could also cover for Odegard, and Granit Xhaka, depending on what the game demands. So, overall, I think we're good for at least the first half of the season. No need to make panic signings and then end up having a bloated squad. Until we meet again, up the Arsenal.

---
---