CACHAPA CON QUESO DURO. ¡ES UN PLATO SENCILLO VENEZOLANO CON SABORES DE LUJO! / CACHAPA WITH HARD CHEESE. ¡IT IS A SIMPLE VENEZUELAN DISH WITH LUXURY FLAVORS!
¡Hola mis adorados amigos de Hive! No dejando la oportunidad de manifestar ¿Cuál es mi comida favorita en mi país? Concurso OCD Community Boost Contest #11: Highlighting Foodies Bee Hive. Patrocinado por @ocd y @FoodiesBeeHive. Yo opte por preparar una comida en base de maíz fresco, ya que está de temporada, es rendidora y fácil de adquirir en las zonas de comercio local de mi linda Venezuela.
¡Hello my loving Hive friends! Do not miss the opportunity to express What is my favorite food in my country? OCD Community Boost Contest # 11: Spotlighting the Bee Hive Foodies. Sponsored by @ocd and @FoodiesBeeHive. I chose to prepare a meal based on fresh corn, since it is in season, it is profitable and easy to buy in the local commercial areas of my beautiful Venezuela.
Esta preparación no pasa de moda y es muy gustada por los habitantes de esta tierra venezolana. Su sabor es dulce, su aroma asombrosamente llamativo, su textura irresistible al paladar y su contenido nutricional es tan alto ¡Como tocar las nubes del cielo!
This preparation does not go out of style and is very liked by the inhabitants of this Venezuelan land. Its flavor is sweet, its aroma is surprisingly striking, its texture is irresistible on the palate and its nutritional content is as high ¡As touching the clouds in the sky!
Sin más preámbulo, voy a iniciar con la elaboración de este plato tan consumido en el oriente del País y tan arraigado en la gastronomía Venezolana. CACHAPA CON QUESO DURO.
Without further ado, I am going to start with the elaboration of this dish so consumed in the east of the country and so deeply rooted in Venezuelan gastronomy. CACHAPA WITH HARD CHEESE.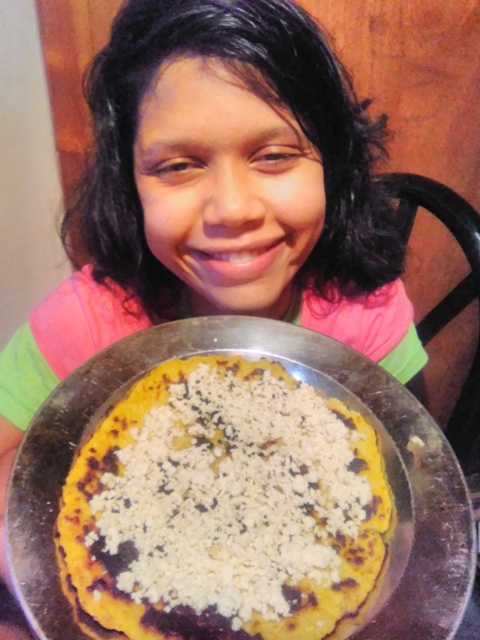 Fotografía tomada por @artmedina.
Esta foto capta el sitio en donde ocurrirá toda la magia culinaria. Y como pueden observar...
LOS INGREDIENTES A UTILIZAR SON LOS SIGUIENTES:
- 2 KG DE MAÍZ FRESCO MOLIDO.
- 1 CUCHARADA DE MANTEQUILLA .
- 1 CUCHARADA DE SAL.
- 1 HUEVO.
- 6 CUCHARADAS DE AZÚCAR.
- 100 MILILITROS DE AGUA.
- 100 MILILITROS DE LECHE.
- ACEITE VEGETAL.
- 1/2 KG DE QUESO.
This photo captures the place where all the culinary magic will take place. And as you can see...
THE INGREDIENTS TO USE ARE THE FOLLOWING:
- 2 KG OF FRESH GROUND CORN.
- 1 TABLESPOON BUTTER .
- 1 TABLESPOON OF SALT.
- 1 EGG.
- 6 SPOONS OF SUGAR.
- 100 MILLILITERS OF WATER.
- 100 MILLILITERS OF MILK.
- VEGETABLE OIL.
- 1/2 KG OF CHEESE.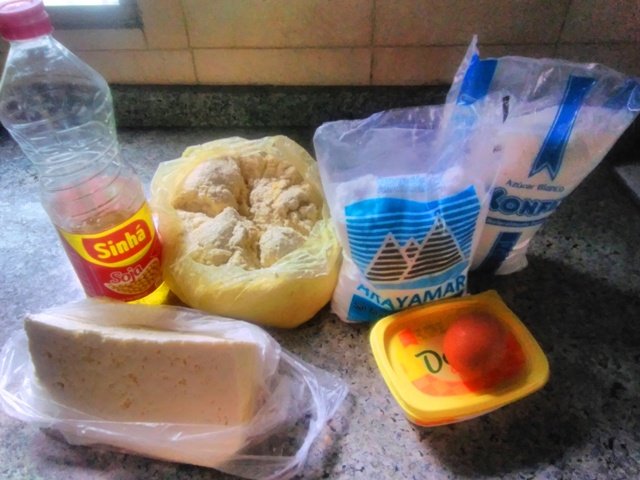 Fotografía tomada por @artmedina.
Colocamos los 2 kgs de mezcla ya molida de maíz fresco en un envase de un preferencia. y agregando la cucharada de mantequilla.
We place the 2 kgs of freshly ground corn mixture in a container of a preference. and adding the tablespoon of butter.


Fotografía tomada por @artmedina.
Seguidamente incorporamos 1 cucharada de sal y un huevo.
Next we add 1 tablespoon of salt and an egg.

Fotografía tomada por @artmedina.
Otorgando el rico dulzor con las 6 cucharadas de azúcar. Viene la parte líquida, que nos ayudará a diluir la espesa mezcla de maíz fresca. Con 100 mililitros de agua .
Giving the rich sweetness with the 6 tablespoons of sugar. The liquid part comes, which will help us to dilute the thick mixture of fresh corn. With 100 milliliters of water.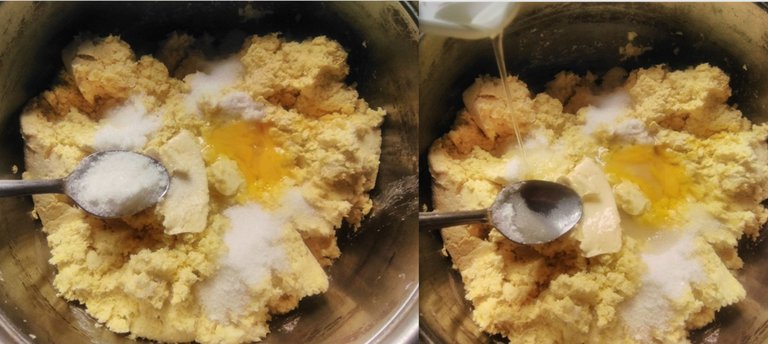 Fotografía tomada por @artmedina.
Incorporamos 100 mililitros de leche. Ya que le da especial sabor a la cachapa y la complementa muy bien.
Mezclamos muy bien para que se incorporen todos los ingredientes involucrados.
We add 100 milliliters of milk. Since it gives the cachapa a special flavor and complements it very well.
We mix very well so that all the ingredients involved are incorporated.


Fotografía tomada por @artmedina.
Preparando a fuego medio el budare y el sartén, ya que asi preparare 2 cachapas en el mismo tiempo. Eficiencia en la cocina xD.
Preparing the budare and the pan over medium heat, since this way I will prepare 2 cachapas at the same time. Efficiency in the kitchen xD.

Fotografía tomada por @artmedina.
Con la ayuda de un cucharón sopero. Lo utilice para la medida de la mezcla de cachapa. También con el le di la forma circular característica de la cachapa.
With the help of a soup ladle. I used it to measure the cachapa mixture. Also with him I gave it the characteristic circular shape of the cachapa.


Fotografía tomada por @artmedina.
Pocos minutos son los necesarios para cocinar la cachapa por ambos lados Ya lista la cachapa, agregamos mantequilla al gusto.
Few minutes are necessary to cook the cachapa on both sides. The cachapa is ready, we add butter to taste.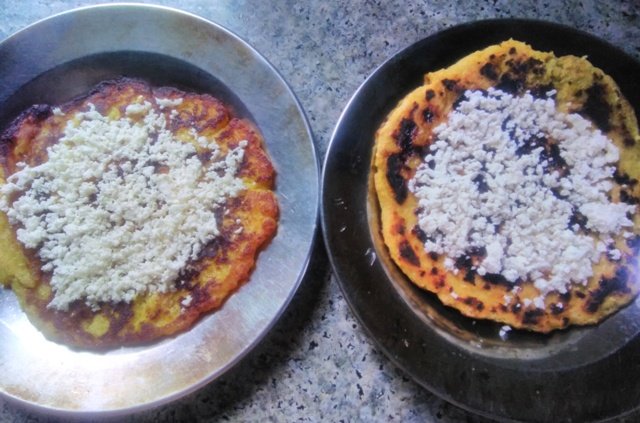 Fotografía tomada por @artmedina.
Pura gloria colocar en la cachapa recién hecha y caliente su buena y abundante cantidad de queso.
Pure glory to place in the freshly made cachapa and heat its good and abundant quantity of cheese.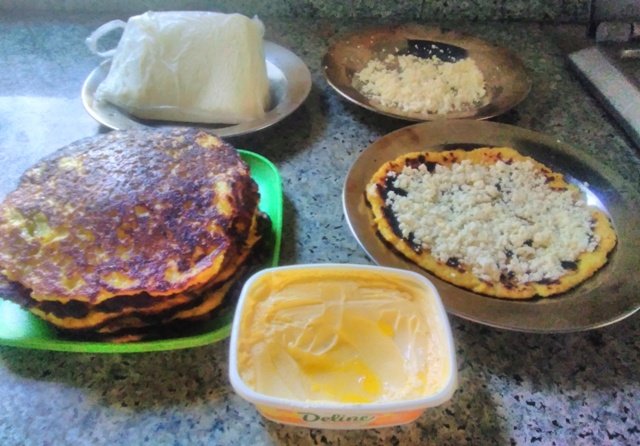 Fotografía tomada por @artmedina.
Como se podran imaginar para tal cantidad de maíz fresco. Realice más de 10 cachapas. Es decir que comí junto a mi familia y quedó para luego. Que bondadosa esta preparación tan deliciosa.
As you can imagine for such an amount of fresh corn. Make more than 10 cachapas. In other words, I ate with my family and it was for later. How kind this delicious preparation.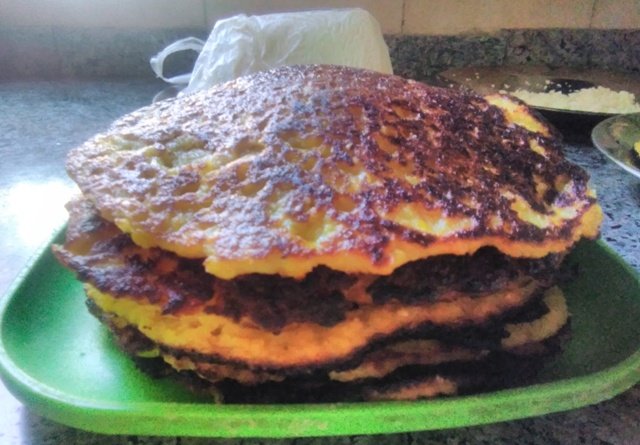 Fotografía tomada por @artmedina.
ESPERO QUE LES HAYA GUSTADO ESTA PUBLICACIÓN ¡BENDICIONES!
I HOPE YOU LIKED THIS PUBLICATION BLESSINGS!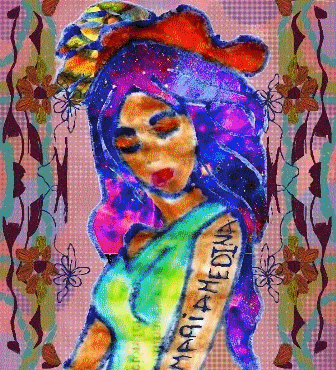 I hope you like it.
See you in the next post.
¡GRACIAS!
Copyright @artmedina - All rights reserved

---
---