¡EL TRAVIESO DE MI GATO TRATA A MI PAR DE PIES COMO SI FUERAN SUS HERMANOS! / ¡MY NAUGHTY CAT TREATS MY PAIR OF FEET LIKE THEY WERE HIS BROTHERS!
¡Hola a todos los Hivers que me ven y me leen! Un saludo a los amantes de los animales catalogados con amor como adorables mascotas... Mi mascota es un gato (un joven prospecto) muy tierno y explorador de su entorno. Tanto que se hace frecuente las llegadas pidiendo auxilio, porque llega a gran velocidad perseguido por otros gatos mayores ¿Por que será este fenómeno? les cuento es que mi gato es confianzudo y le gusta llegar a otras casas con gatos. Y animales que son muy territoriales son ellos. Pienso que no toman con alegría su presencia.
¡Hello to all the Hivers who see me and read me! Greetings to the lovers of animals lovingly classified as adorable pets... My pet is a cat (a young prospect) very tender and an explorer of his environment. So much so that arrivals asking for help become frequent, because it arrives at high speed chased by other older cats. I tell you that my cat is confident and likes to come to other houses with cats. And animals that are very territorial are them. I think they do not take his presence with joy.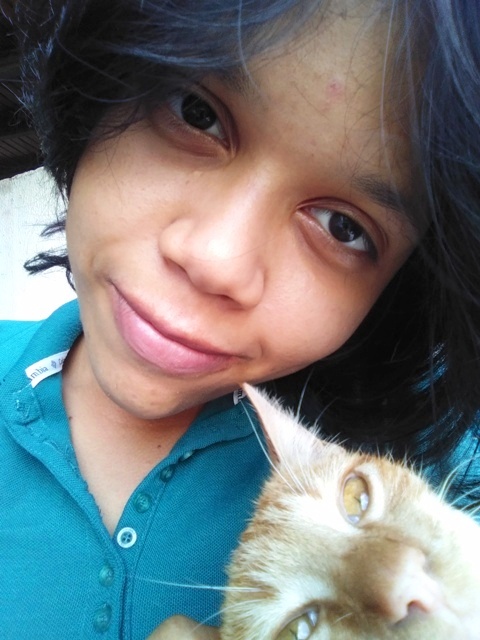 Fotografía tomada por @artmedina.
Pero yo tengo una conexión peculiar con este travieso animalito... Yo puedo estar descansando en mi jardín: meditando, obteniendo rayos del sol (simplemente momento interno a pies descalzos).
But I have a peculiar connection with this mischievous little animal... I may be resting in my garden: meditating, getting rays from the sun (just barefoot internal moment).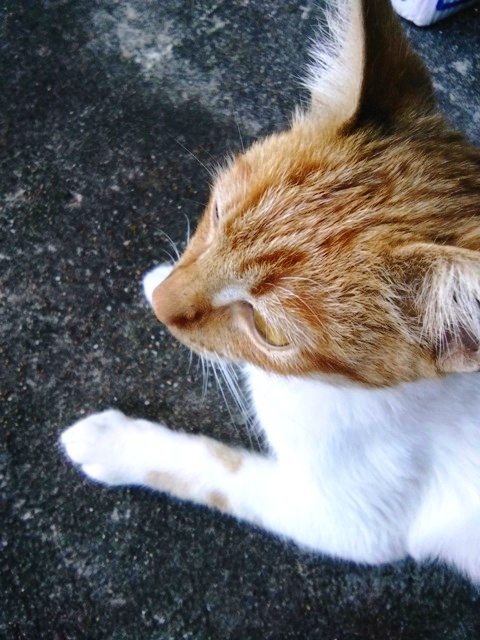 Fotografía tomada por @artmedina.
De la nada y muy sigiloso llega mi mascota demandando atención. Con su tongoneo gatuno y enormes ojos logra su cometido.
Out of nowhere and very stealthy my pet arrives demanding attention. With his cat tongue and huge eyes he achieves his mission.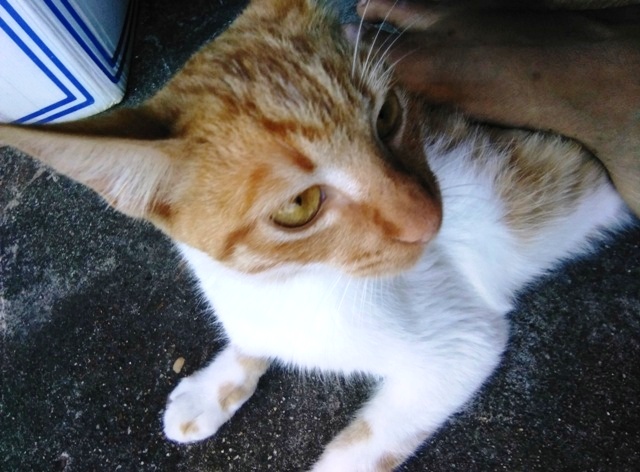 Fotografía tomada por @artmedina.
Toco su pelaje suave y brilloso con mis dedos de los pies y es como si fuera una invitación abierta a jugar con mis pies (como lo haría con otros pequeños gatos).
I touch his soft, shiny fur with my toes and it's like an open invitation to play with my feet (as he would with other little cats).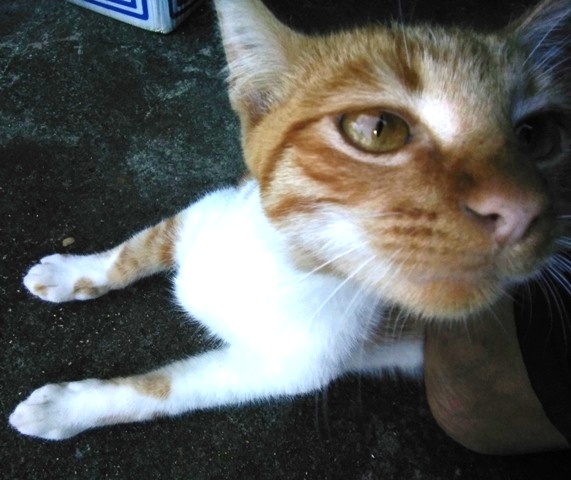 Fotografía tomada por @artmedina.
Reconozco que los juegos con el a veces se ponen intensos, ya que esta creciendo... por ende sus afilados dientes y garras también. Pues soy humana que siente ¡No soy de piedra, OBVIO ESTA! XD
I recognize that the games with him sometimes get intense, as he is growing... hence his sharp teeth and claws too. Well I am human who feels I am not made of stone, OBVIOUS THIS! XD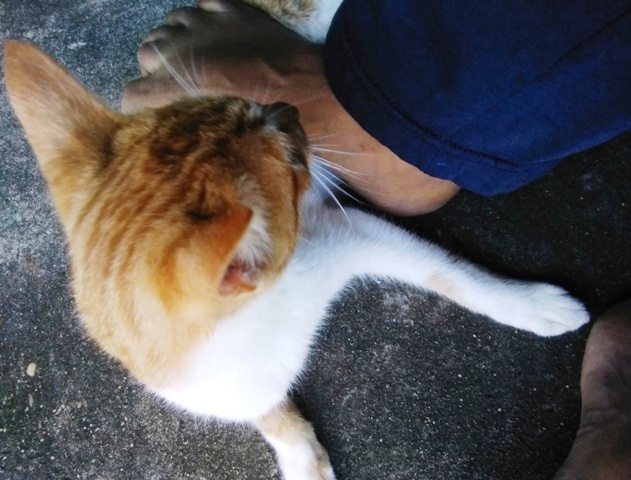 Fotografía tomada por @artmedina.
Pero el enojo por esos fastidiosos sucesos me duran poco... ¡Por esos lindos ojos!
But the anger over these annoying events does not last long... ¡Because of those beautiful eyes!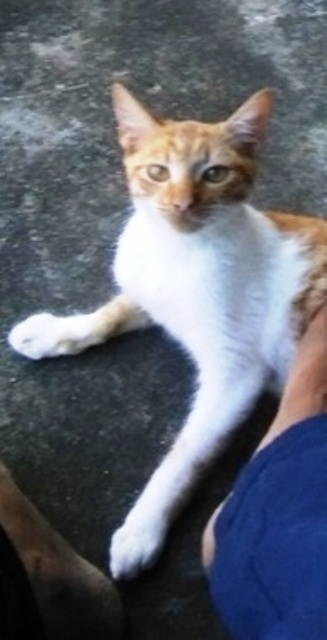 Fotografía tomada por @artmedina.
Definitivamente la vida sin mascotas es insípida... ellos le agregan a tu vida chispa y alegrías.
Life without pets is definitely bland ... they add sparkle and joys to your life.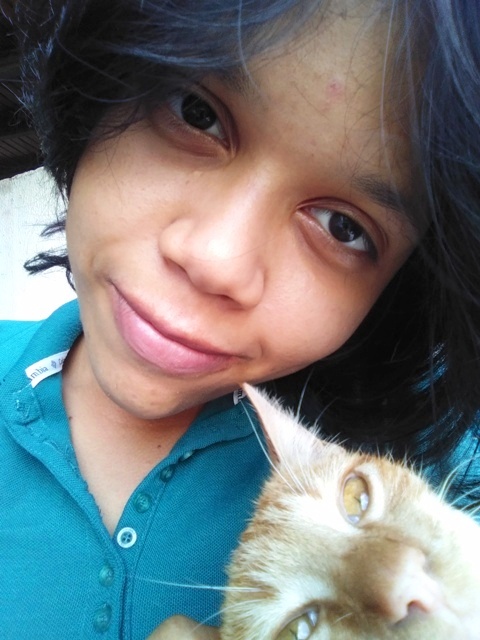 Fotografía tomada por @artmedina.
ESPERO QUE LES HAYA GUSTADO ESTA PUBLICACIÓN ¡BENDICIONES!
I HOPE YOU LIKED THIS PUBLICATION BLESSINGS!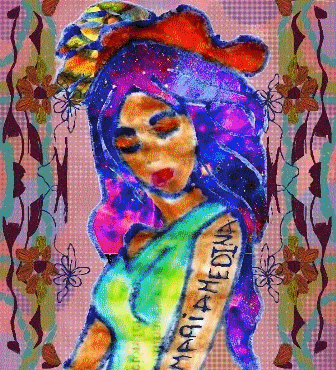 I hope you like it.
See you in the next post.
¡GRACIAS!
Copyright @artmedina - All rights reserved

---
---