MI GATO CATIRE... ¡EL ENCANTADOR DE HUMANOS, ROMÁNTICO EMPEDERNIDO Y CAZADOR TEMIDO! / MY CAT CATIRE... ¡THE HUMAN CHARMER, HUNTED ROMANTIC AND FEARED HUNTER!

¡Hola a todos los Hivers que me ven y me leen! Un saludo a los amantes de los animales y a los catalogados con amor como adorables mascotas de cada uno de los usuarios de @ocd y #hivepets ... Mi mascota es un gato (un joven prospecto) muy tierno y explorador de su entorno. Tanto que se hace frecuente las llegadas pidiendo auxilio, porque llega a gran velocidad perseguido por otros gatos mayores. ¡jajaja!
¡Hello to all the Hivers who see me and read me! Greetings to animal lovers and those lovingly cataloged as adorable pets of each of the @ocd and #hivepets users... My pet is a cat (a young prospect) very tender and an explorer of his environment. So much so that arrivals asking for help become frequent, because they arrive at high speed pursued by other older cats. ¡hahaha!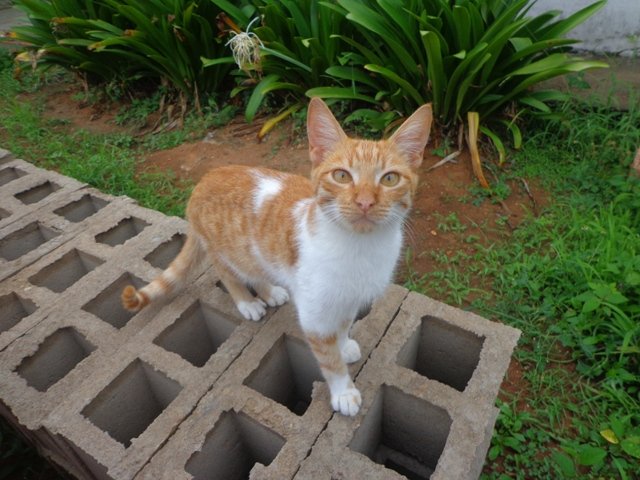 Fotografía tomada por @artmedina.
Tengo una conexión muy bonita con este travieso animalito... Lo obtuve regalado de una vecina cercana. Me veía tan responsable que me otorgó la responsabilidad de cuidar a otra criatura tan peluda y tierna.
I have a very nice connection with this mischievous little animal... I got it as a gift from a nearby neighbor. He saw me so responsible that he gave me the responsibility of caring for another furry and cute creature.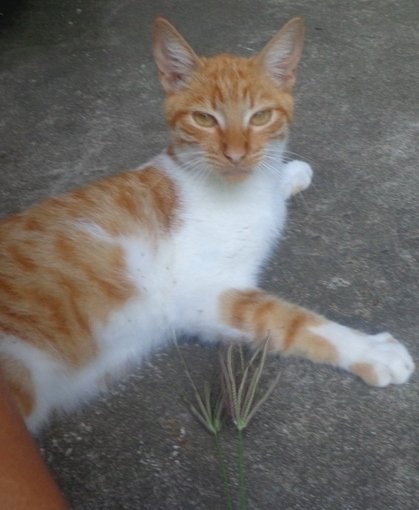 Fotografía tomada por @artmedina.
¿CÓMO SE LLAMA MI GATO Y QUÉ EDAD TIENE?
Este joven gato se llama catire (por su rubio aspecto y ojazos color miel). El es como el William Levy gatuno diría yo (porque a su corta edad tiene amiguitas que sospecho que sobrepasan el límite de la amistad). Carite tiene 11 meses de edad. De la nada y muy sigiloso llega mi mascota demandando atención. Con su tongoneo gatuno y enormes ojos logra su cometido.
¿WHAT IS MY CAT'S NAME AND HOW OLD IS IT?
This young cat is called catire (because of its blond appearance and honey-colored eyes). He is like the cat William Levy I would say (because at his young age he has friends who I suspect are over the edge of friendship). Carite is 11 months old. Out of nowhere and very stealthy my pet arrives demanding attention. With his cat tongue and huge eyes he achieves his mission.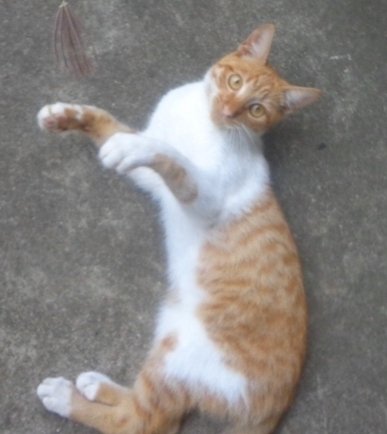 Fotografía tomada por @artmedina.
Tocó su pelaje suave y brilloso con mis dedos de los pies y es como si fuera una invitación abierta a jugar.
Aunque ciertamente disfruta cazar y jugar a perseguir cualquier objeto que se mueva a su alrededor con gran velocidad. Yo arranco una hierba y juego con el. Es muy habilidoso para atraparla.
I touched his soft, shiny fur with my toes and it's like an open invitation to play.
Although he certainly enjoys hunting and playing chasing any object that moves around him with great speed. I pluck a weed and play with it. He is very skilled at catching it.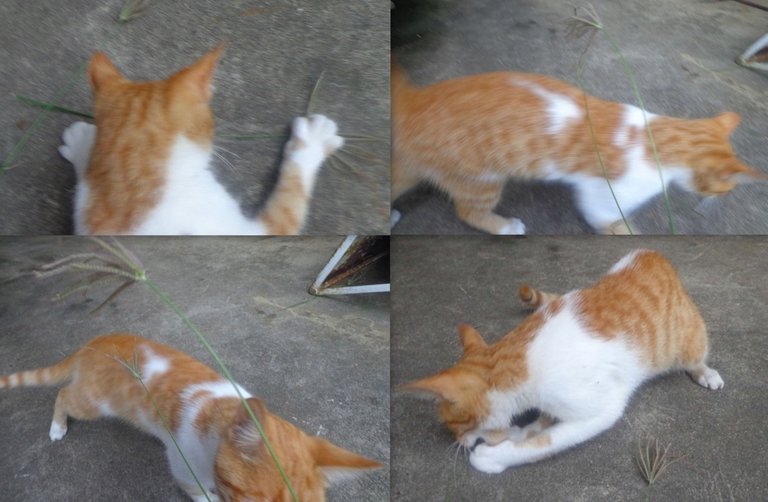 Fotografía tomada por @artmedina.
Reconozco que los juegos con el a veces se ponen intensos, ya que esta creciendo... por ende sus afilados dientes y garras también. Pues soy humana que siente ¡No soy de piedra, OBVIO ESTA! XD
I recognize that the games with him sometimes get intense, as he is growing... hence his sharp teeth and claws too. Well I am human who feels I am not made of stone, OBVIOUS THIS! XD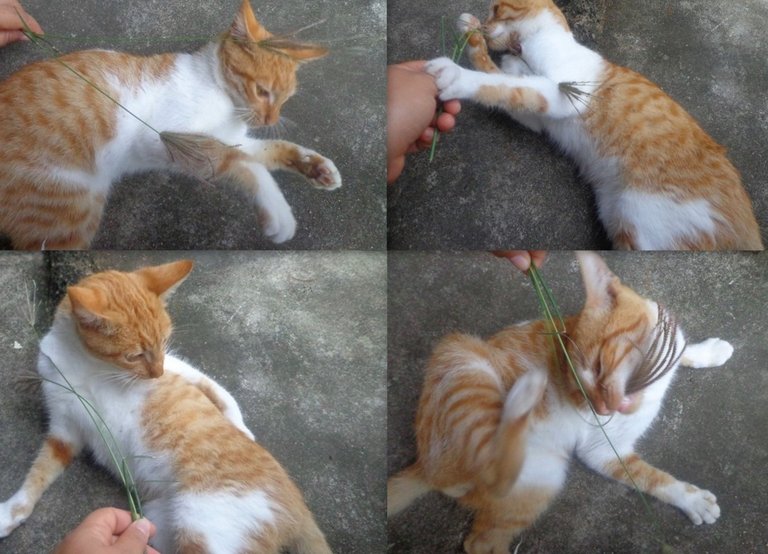 Fotografía tomada por @artmedina.
A mi mascota le gusta comer de todo un poco. Ya les dije que es un buen cazador. A matado insectos reptiles, hasta aves. Lo que no me gusta es que cuando caza deja partes de sus presas cerca mio, como invitandome a comer con él. ¡cosa que no pasará! :D
My pet likes to eat a little of everything. I already told you that he is a good hunter. It has killed reptile insects, even birds. What I don't like is that when he hunts he leaves parts of his prey near me, as if inviting me to eat with him. Which will not happen! :D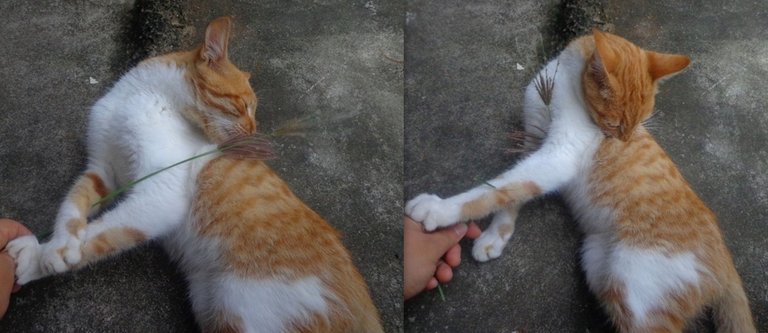 Fotografía tomada por @artmedina.
Definitivamente la vida sin mascotas es insípida... ellos le agregan a tu vida chispa y alegrías.
Es un imán que es atraído por mi cada vez que me voy a sentar en el suelo. Es habitual o cotidiano pisarle la cola sin querer. Esta es su reacción. ¡Pobre!
Life without pets is definitely bland ... they add sparkle and joys to your life.
It is a magnet that is attracted to me every time I go to sit on the floor. It is common or everyday to accidentally step on his tail. This is your reaction. Poor!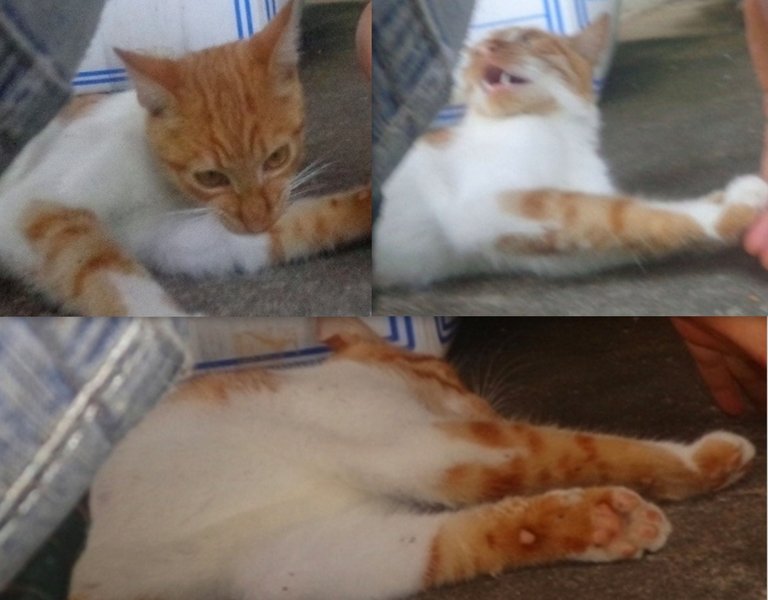 Fotografía tomada por @artmedina.
Les presento su CARA DE BRAVO o de indiferencia, cuando lo regaño justificadamente. Después ando detrás de el queriendo contentarlo. Soy un fracaso reprendiendolo. XD
I present his FACE OF BRAVO or indifference, when I justifiably scold him. Then I walk behind him wanting to please him. I am a failure berating him. XD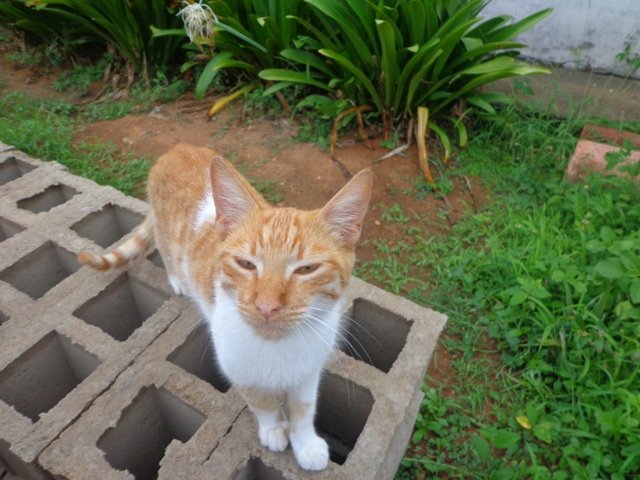 Fotografía tomada por @artmedina.
Me asombra la vista tan amplia y poderosa que tiene. Observa a ver que caza. atacando sin dudar y sin contemplaciones.
I am amazed at the wide and powerful view it has. Watch to see what it hunts. attacking without hesitation and without contemplation.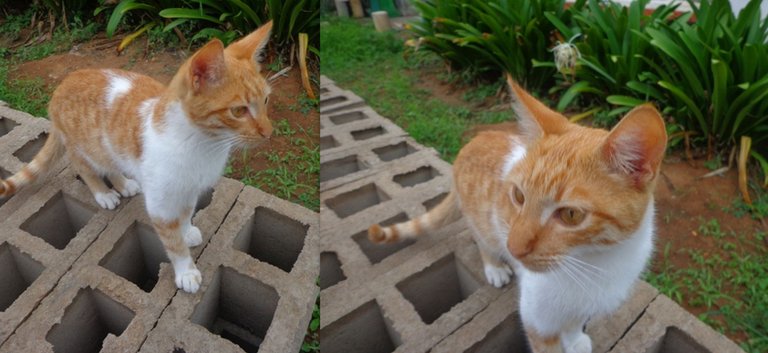 Fotografía tomada por @artmedina.
Quien diria que esas peludas y suaves patas (con letales garras escondidas) fuera el arma efectiva para obtener sus presas.
Si este llavero fuera un reptil... ¡NO VIVE PARA CONTARLO!
Who would say that those hairy and soft legs (with hidden deadly claws) were the effective weapon to obtain their prey.
If this keychain were a reptile... ¡IT DOESN'T LIVE TO TELL IT!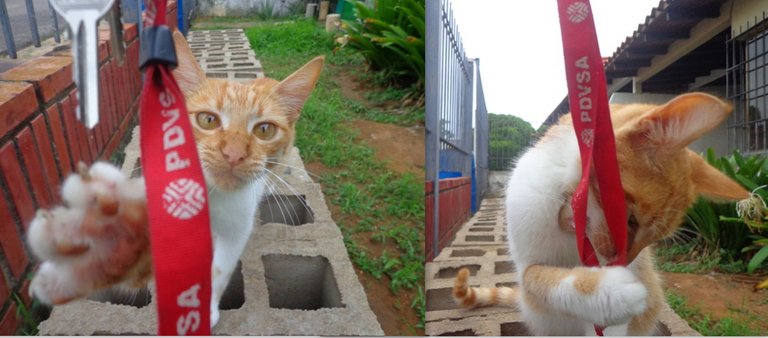 Fotografía tomada por @artmedina.
¿VERDAD QUE ES HERMOSO MI GATO? Acepto piropos o halagos para el o para mi que lo crie ¡jajaja!
¿TRUTH THAT MY CAT IS BEAUTIFUL? I accept compliments or compliments for him or for me who raised him ¡hahaha!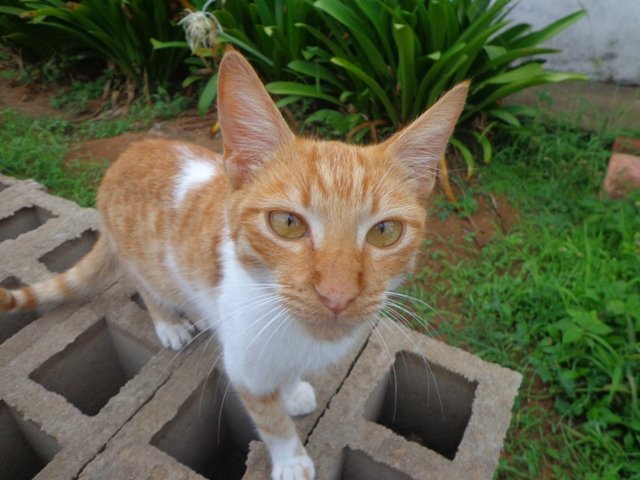 Fotografía tomada por @artmedina.
Tanta energía en tan pequeño ser. Que al final del día esa energía va a mermar para descansar.
So much energy in such a small being. That at the end of the day that energy will decrease to rest.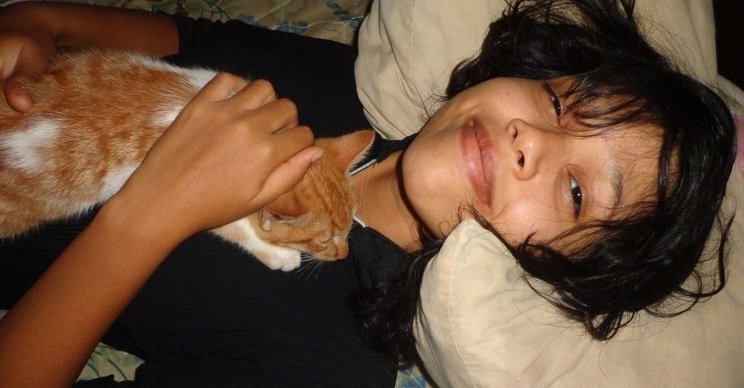 Fotografía tomada por @artmedina.
ESPERO QUE LES HAYA GUSTADO ESTA PUBLICACIÓN ¡BENDICIONES!
I HOPE YOU LIKED THIS PUBLICATION BLESSINGS!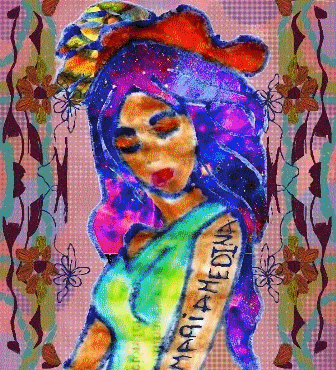 I hope you like it.
See you in the next post.
¡GRACIAS!
Copyright @artmedina - All rights reserved

---
---