PINTURA QUE REFLEJA LA IDIOSINCRASIA DE MARGARITA// PAINTING THAT REFLECTS THE IDIOSYNCRASY OF MARGARITA
Cada casa tiene algo muy especial... cuando somos invitados a pasar a alguna sala de estar podemos apreciar un plus, una esencia única del dueño de la vivienda. Multitud de decoraciones y adornos que podrían o no gustarnos.
Hoy mis queridos amigos de Hive, me siento grandemente intrigada con el talento que suele arropar a muchos. Yo he sido entusiasta de las artes plásticas, muchos de ustedes reconocen que eso es verdad. Pero no quiero hacer un post que hable de mí, quiero hablar de esta pintura.
Each house has something very special ... when we are invited to go to a living room we can appreciate a plus, a unique essence of the homeowner. A multitude of decorations and ornaments that we might or might not like.
Today my dear friends from Hive, I am greatly intrigued by the talent that often surrounds many. I have been an enthusiast of the plastic arts, many of you recognize that this is true. But I don't want to make a post that talks about me, I want to talk about this painting.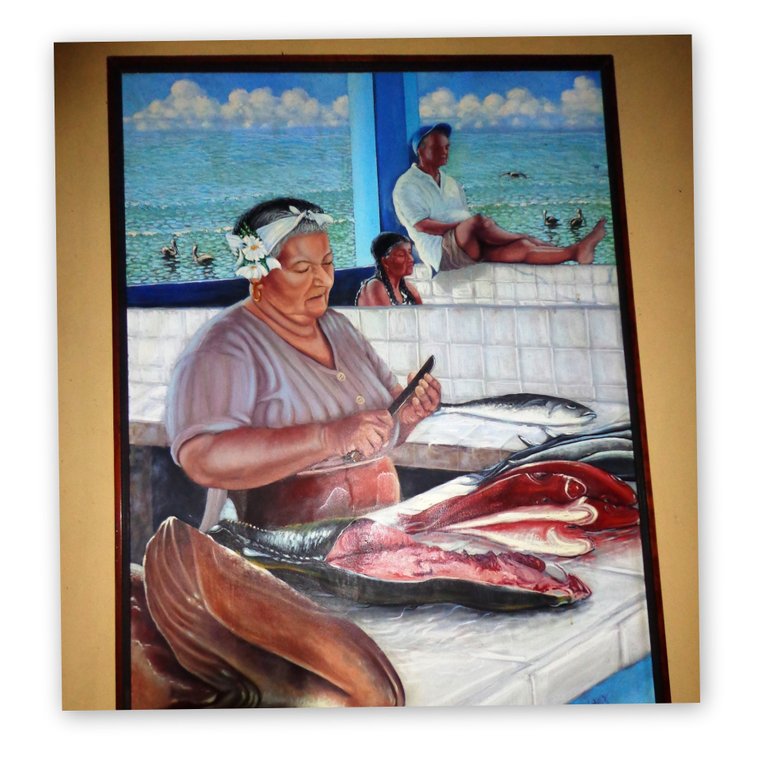 Fotografía tomada por @artmedina.
Se encuentra en la casa de una vecina mía, le pedí permiso para fotografiarla y accedió. Su esposo afirma haber conocido a su pintor, el cual respondió al nombre de SEMIDEY. Originario de la isla de margarita, Venezuela.
Si no te sientes ubicado querido lector.
She is in the house of a neighbor of mine, I asked her permission to photograph her and she agreed. Her husband claims to have met her painter, who went by the name SEMIDEY. Originally from the island of Margarita, Venezuela.
If you do not feel located dear reader.
Margarita, es una de las islas más bellas y turísticas de Venezuela.
Los habitantes tienen acceso a la pesca artesanal, muchos subsisten de esta forma nutricional y económica, ya pueden venderlo en el mercado local y llegar a todos lados del país.
Playas sin contaminación... son muy turísticas, la forma de llegar es a través de un ferry, una especie de barco blindado que carga gran cantidad de pasajeros, pertenencias y hasta automóviles de los visitantes.
Margarita, is one of the most beautiful and touristic islands in Venezuela.
The inhabitants have access to artisanal fishing, many subsist in this nutritional and economic way, they can already sell it in the local market and reach all parts of the country.
Beaches without pollution ... they are very touristy, the way to get there is through a ferry, a kind of armored ship that carries a large number of passengers, belongings and even visitors' cars.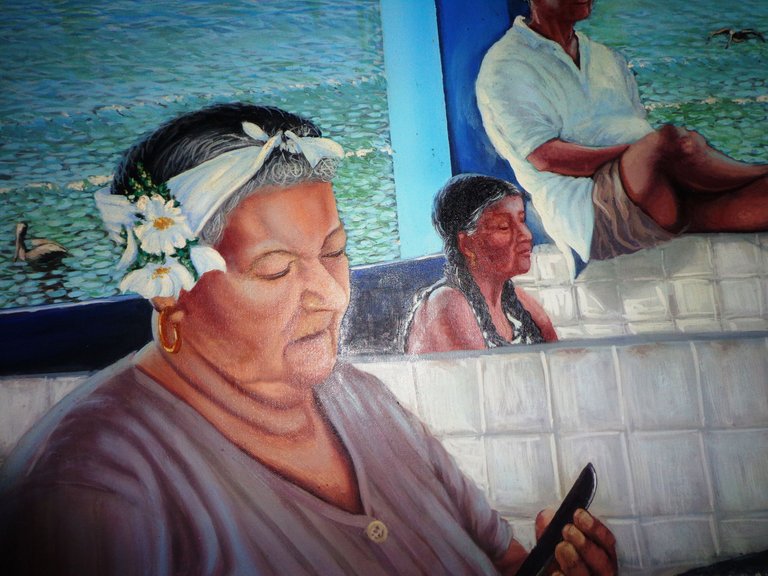 Fotografía tomada por @artmedina.
Enfocándonos en la pintura.
Al escuchar la historia de este pintor y reconocer que sus inicios fueron netamente autodidactas. Me parece algo hermoso y es un recordatorio que en Venezuela hay mucho talento.
Es bastante precisos los detalles en los retratados, atrayente la de cantidad elementos presentes y colores que se me hacen familiares y me gritan vida.
La delicada cabellera de la señora y su cintillo florido. Desde las argolla de su oreja y fondo del mar realmente profundo se nota que fue hecho con amor.
Focusing on painting.
By listening to the story of this painter and recognizing that his beginnings were clearly self-taught. It seems to me something beautiful and it is a reminder that in Venezuela there is a lot of talent.
The details in those portrayed are quite precise, the number of elements present and colors that are very familiar to me and scream life are attractive.
The delicate hair of the lady and her flowery headband. From the rings of his ear and the bottom of the really deep sea you can tell that it was made with love.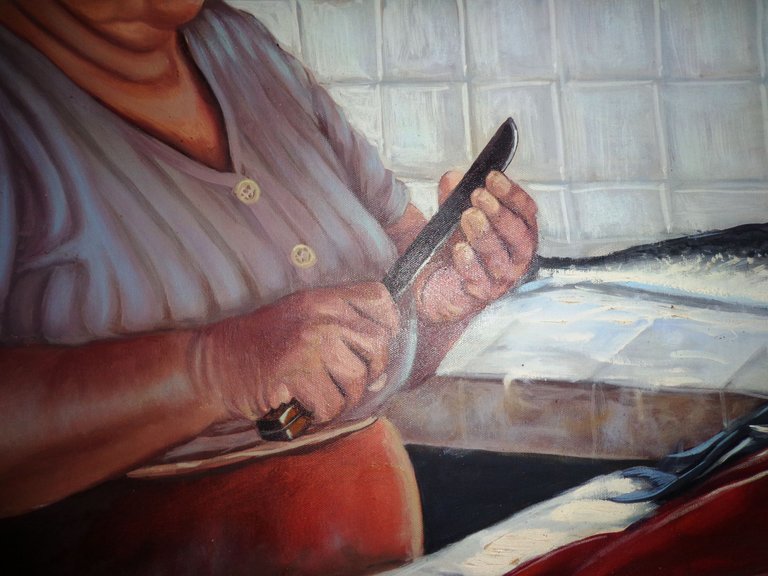 Fotografía tomada por @artmedina.
Su vestimenta acorde a la región y hasta los botones de su camisa me reflejan la pasión de la pintura de SEMIDEY. Sin menospreciar lo común, una mujer luchadora y trabajadora que está en su puesto preparando el filo de su cuchillo para preparar cortes precisos en los pescados.
Me encanta el contraste que consiguió entre las tonalidades oscuras y más claras de los peces.
His clothing according to the region and even the buttons on his shirt reflect SEMIDEY's passion for painting. Without underestimating the common, a fighter and hardworking woman who is in her position preparing the edge of her knife to prepare precise cuts in the fish.
I love the contrast between the darker and lighter shades of the fish.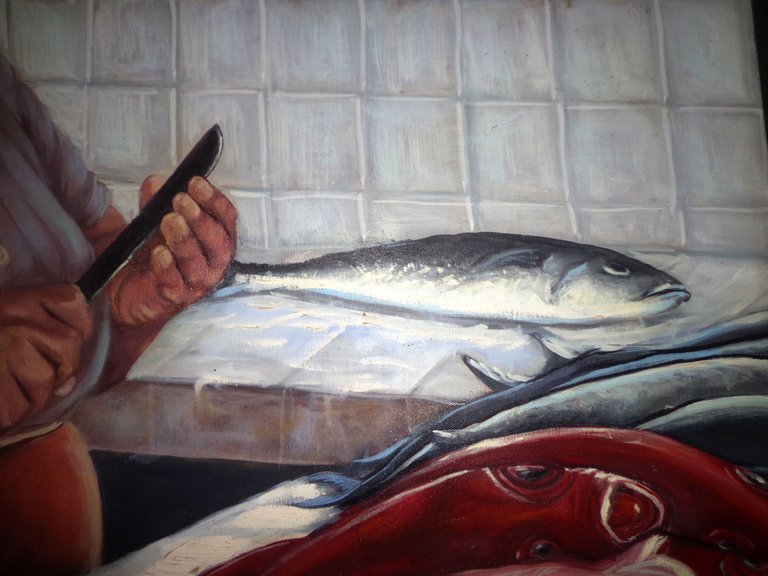 Fotografía tomada por @artmedina.
Semidey en esta pintura 100% al oleo conseguía un realismo encantador. Con esta última foto, casi que puedo saborear lo que sería degustar nuevamente el pescado.
¡Si está crudo! Pero no deja de ser apetitoso, de la altura de las fotografías profesionales de algún restaurante de sushi.
Semidey en esta pintura 100% al oleo conseguía un realismo encantador. Con esta última foto, casi que puedo saborear lo que sería degustar nuevamente el pescado.
¡Si está crudo! Pero no deja de ser apetitoso, de la altura de las fotografías profesionales de algún restaurante de sushi.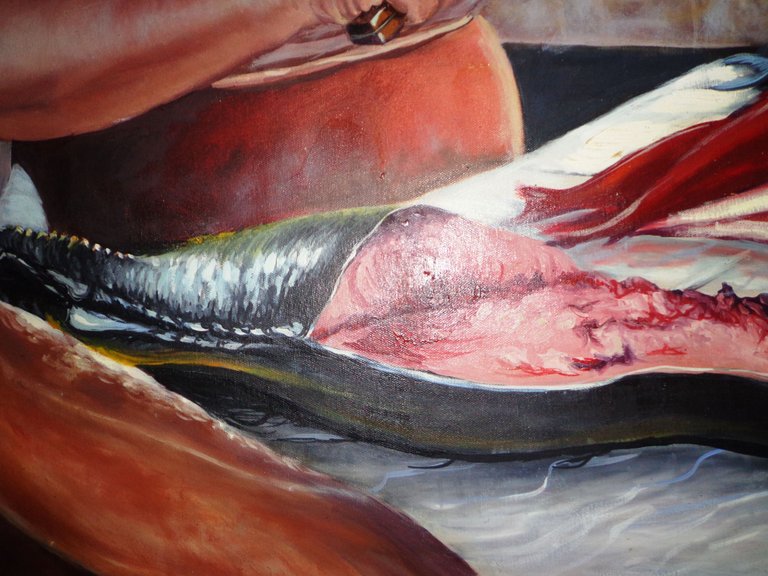 Fotografía tomada por @artmedina.
¡Espero que hayan sido partícipes y disfrutado tanto este post como yo!
Hablando desde el corazón... como alguna vez quien fue niño y insiste en seguir viendo lo común como grandioso. Los sueños de los pintores son plasmados en el lienzo, alguien más compra sus pinturas, pero la identidad queda irreversible de su obra por cuantiosos años.
I hope you have participated and enjoyed this post as much as I did!
Speaking from the heart ... as once who was a child and insists on continuing to see the common as great. Painters' dreams are captured on canvas, someone else buys their paintings, but the identity of their work remains irreversible for many years.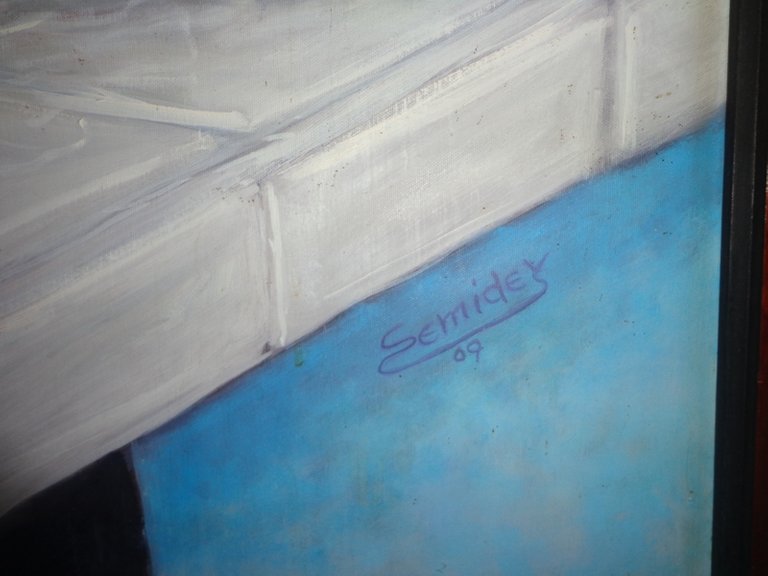 Fotografía tomada por @artmedina.
Investigando sobre el artista plástico Geobany Semidey, encontré que para el 2011 siguió habiendo exposiciones. Esta llamada "Sencillo y Natural". Según artículo de prensa:
Invadió de colores y formas la Sala de Exposiciones institucional en los cálidos espacios del Ecomuseo del Caroní, para el disfrute de toda la comunidad."Sencillo y Natural" es una exposición que vincula arte con naturaleza y fue inaugurada oficialmente con la participación del artista, quien estuvo acompañado por familiares, público y otros exponentes de las artes en la región.
En los cuadros pintados por Semidey se pueden apreciar formas sencillas que hacen honor a las bellezas naturales del oriente del país, una realidad social viva y actual. Los ojos del observador se llenarán de sueños, de cuerpos y formas eróticas, que sus retinas irán captando en cada uno de los lienzos.
Este autor plasma una visión interior de sí mismo en un momento muy especial de su percepción, brindando la oportunidad de vislumbrar el interior del artista, que con su interpretación nos muestra también un pequeño rincón de su propia alma.
"Mis pinturas, buscan tener afinidades formales, pero quiero que estén impregnadas por la libertad en la búsqueda y exploración de nuevas soluciones" - Geobany Semidey
Researching on the plastic artist Geobany Semidey, I found that for 2011 there were still exhibitions. It is called "Simple and Natural". According to a press article:
The institutional Exhibition Hall in the warm spaces of the Caroní Ecomuseum invaded with colors and shapes, for the enjoyment of the whole community. "Simple and Natural" is an exhibition that links art with nature and was officially inaugurated with the participation of the artist , who was accompanied by family members, the public and other exponents of the arts in the region.
In the pictures painted by Semidey you can see simple forms that honor the natural beauties of the eastern part of the country, a living and current social reality. The observer's eyes will be filled with dreams, bodies and erotic forms, which his retinas will gradually capture on each of the canvases.
This author captures an inner vision of himself in a very special moment of his perception, providing the opportunity to glimpse the interior of the artist, who with his interpretation also shows us a small corner of his own soul.
"My paintings seek to have formal affinities, but I want them to be permeated by freedom in the search and exploration of new solutions" - Geobany Semidey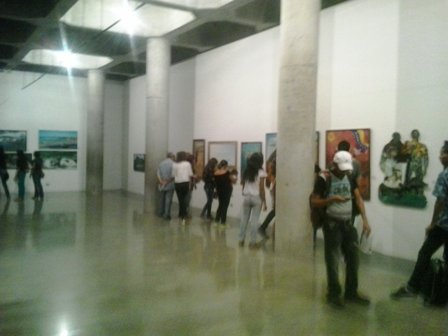 ESPERO QUE LES HAYA GUSTADO ESTA PUBLICACIÓN ¡BENDICIONES!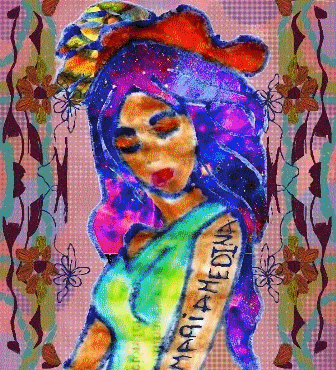 I hope you like it.
See you in the next post.
¡GRACIAS!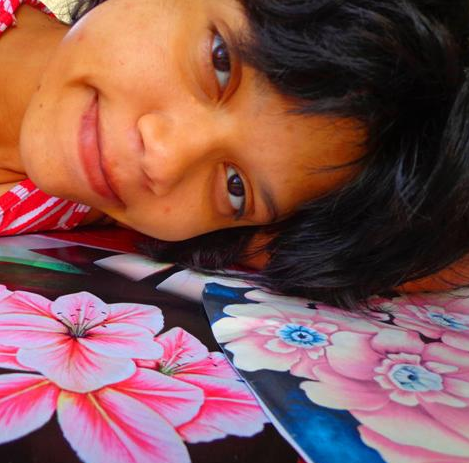 ---
---