[ENG/ESP] Bucatini with egg, bacon and cheese./Bucatini al huevo con tocineta y queso.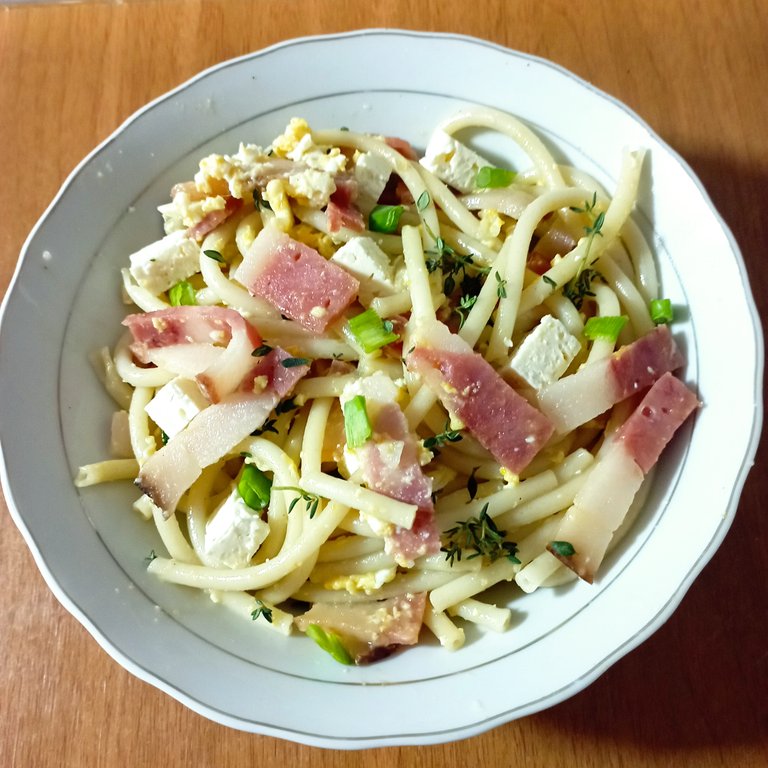 | Bucatini with egg, bacon and cheese. | Bucatini al huevo con tocineta y queso. |
| --- | --- |
| Eating pasta puts me in a good mood. It is one of the carbohydrates that I like the most because of its versatility and although its caloric content is high, we can balance it by adding vegetables and thus consume less carbohydrates. However, this is not the case with this preparation, so I had to reduce the size of my portion in order to continue with the regime of consuming less carbohydrates. I am going to tell you that bucatini is a type of pasta similar to long macaroni but it is much thinner and with a hole in the center which makes it a very light pasta. | Comer pastas me pone de muy buen ánimo. Es uno de los carbohidratos que más me gusta por su versatilidad y aunque su contenido calórico es elevado lo podemos equilibrar agregando vegetales y así consumimos menos carbohidratos. No obstante, este no es el caso de esta preparación por lo que tuve que reducir el tamaño de mi ración para seguir en el régimen de consumir menos carbohidratos. Voy a comentarles que bucatini es un tipo de pasta parecida al macarrón largo pero es mucho más delgada y con un agujero en el centro lo que lo hace una pasta muy liviana. |

Ingredients:
300 grams of bocatini pasta.
200 grams of bacon.
2 eggs.
100 grams of white cheese.
1 tablespoon of butter.
1 sprig of chives.
1 sprig of thyme.
Salt.

Ingredientes:
300 gramos de pasta bocatini.
200 gramos de tocineta.
2 huevos.
100 gramos de queso blanco.
1 cucharada de mantequilla.
1 rama de cebollín.
1 rama de tomillo.
Sal.

| First Step | Primer Paso |
| --- | --- |
| We cook the pasta in abundant water with a spoonful of salt. Normally when I make pasta I go advancing in the preparation of the sauce in the time that the pasta is cooking. But this pasta is fast cooking because it is hollow and thin at the same time, and I must be very careful not to overcook it. In this sense, I started to prepare the bacon when the pasta was already cooked because it also takes a simple and fast process. | Cocinamos la pasta en abundante agua con una cucharada de sal. Normalmente cuando hago pasta voy avanzando en la preparación de la salsa en el tiempo que se va cocinando la pasta. Pero ésta pasta es de rápida conección porque es hueca y delgada al mismo tiempo, y debo estar muy atenta para no cocinarla demás. En este sentido, empecé a preparar la tocineta cuando ya tenia cocida la pasta ya que también lleva un proceso sencillo y rápido. |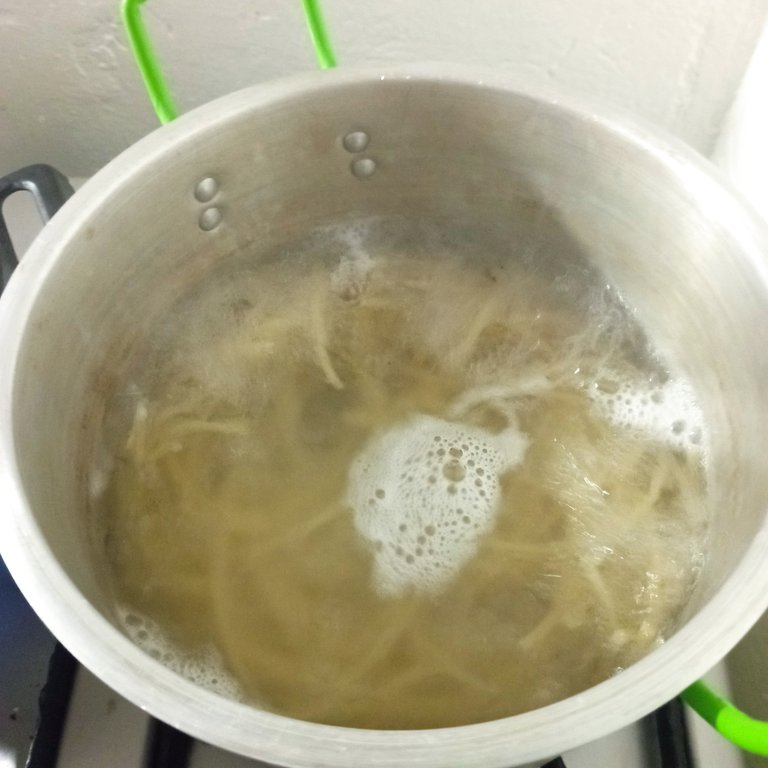 | Second Step | Segundo Paso |
| --- | --- |
| When the pasta was cooked I removed it from the water and quickly cut the bacon and put it in a frying pan with a tablespoon of butter and the bacon, when it began to release the fat I turned it off. I don't like it too toasted. | Cuando la pasta estuvo cocida la retiré del agua y rápidamente corte la tocineta y puse una sartén con una cucharada de mantequilla y la tocineta, cuando empezó a soltar la grasa la apague. No me gusta que quede muy tostada. |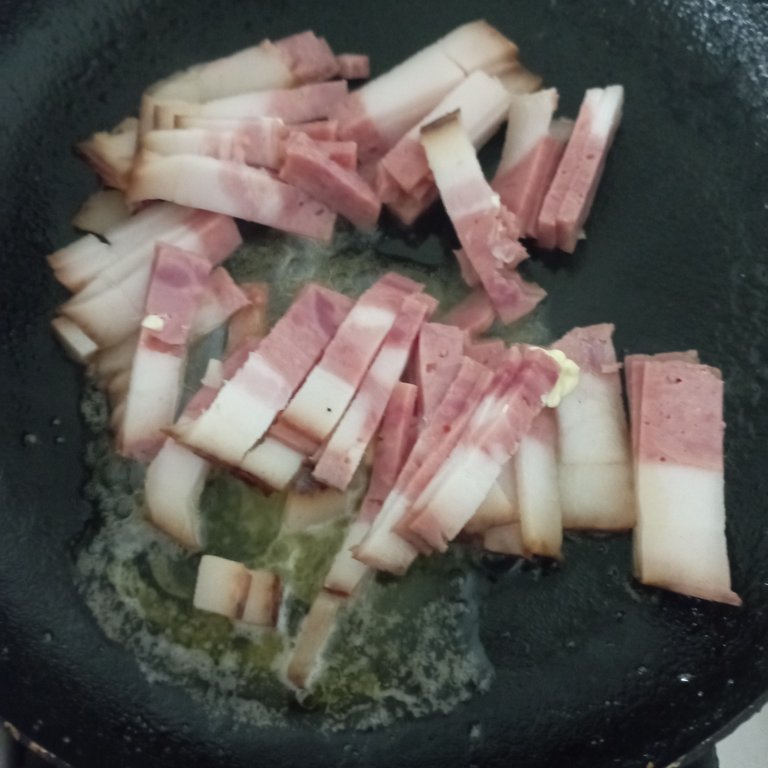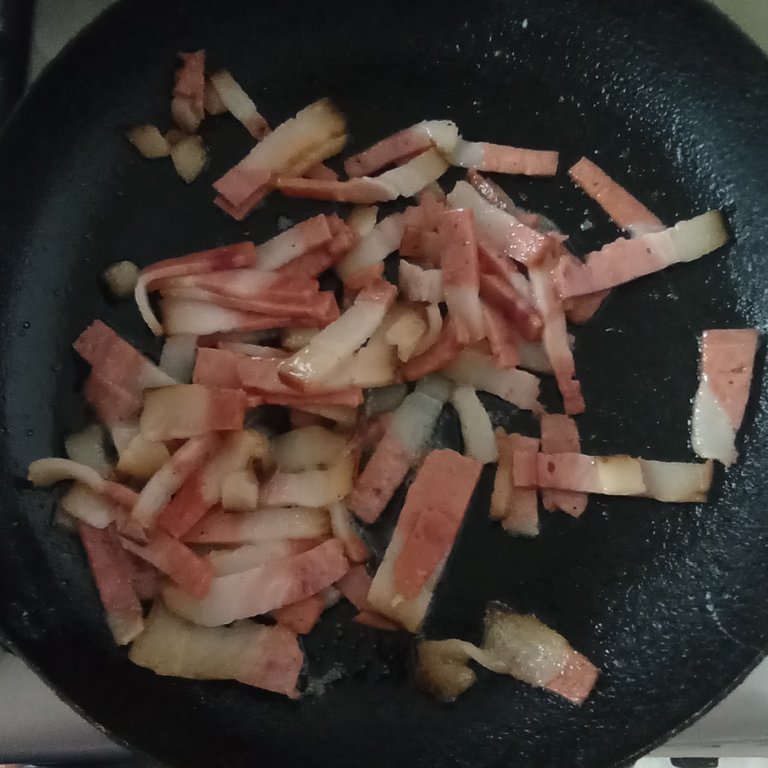 | Third Step | Tercer Paso |
| --- | --- |
| I broke the two eggs and added them completely over the still hot pasta, then the bacon, the thyme and the green part of the chives. Mix everything very well and the heat of the pasta cooked the eggs leaving the pasta a little creamy. | Rompí los dos huevos y los agregué completos sobre la pasta aún caliente. luego la tocineta, el tomillo y la parte verde del cebollín. Mezcle todo muy bien y el calor de la pasta cocinó los huevos dejando la pasta algo cremosa. |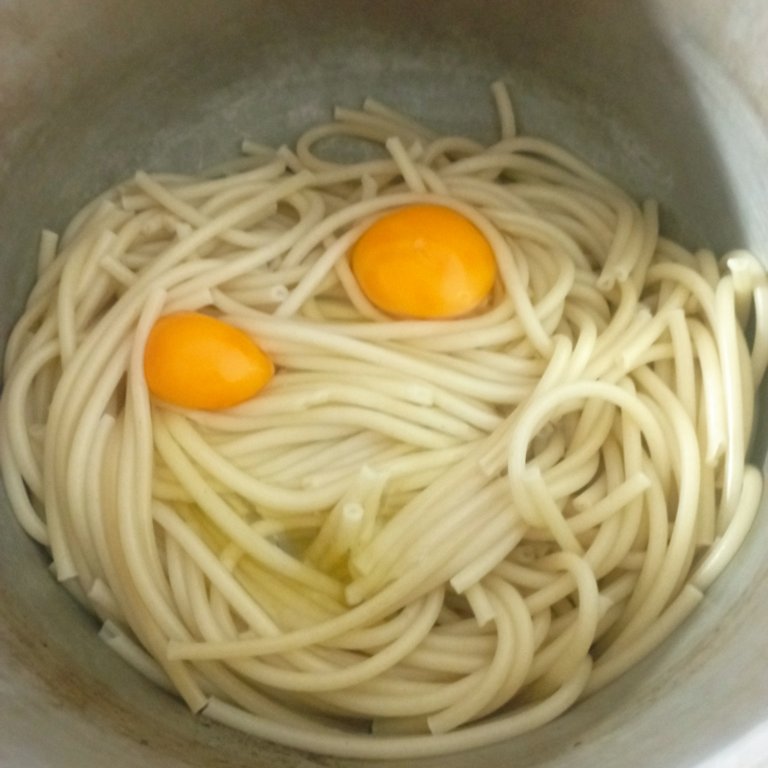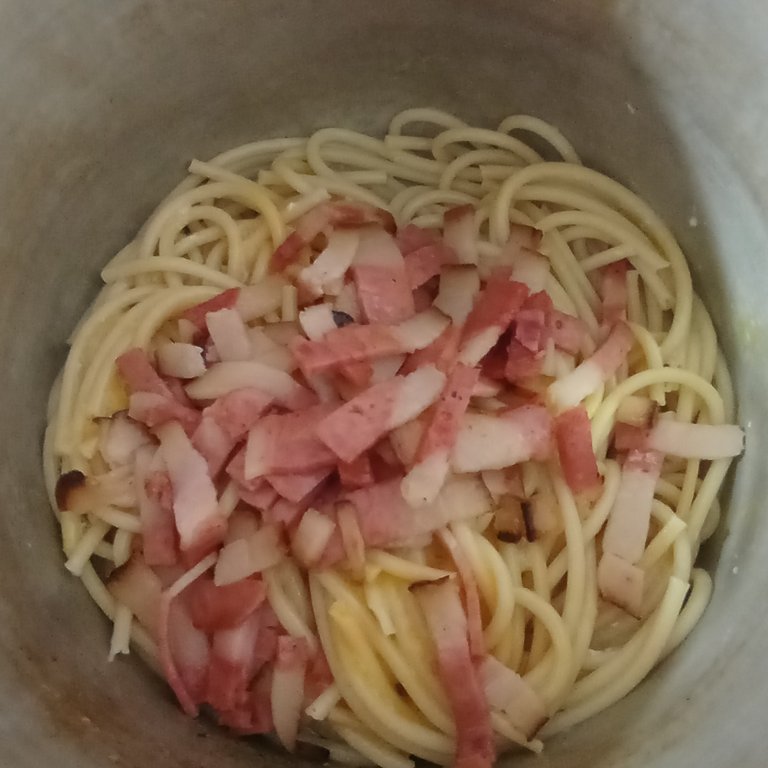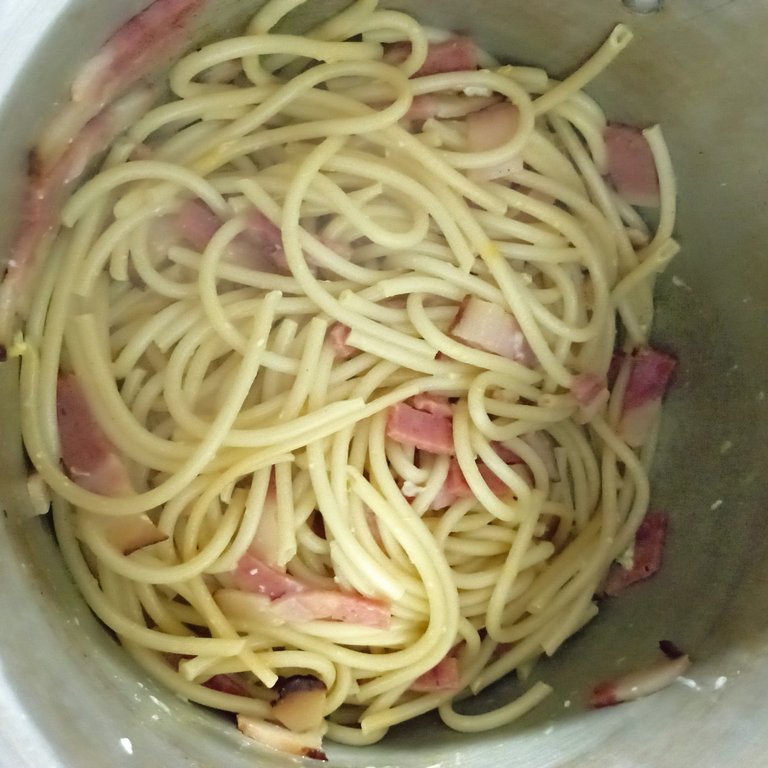 | | |
| --- | --- |
| When it was time to serve I cut the white cheese into cubes and distributed it on each plate and I was completely satisfied with this lunch and I am looking forward to repeat as it was exquisite. Bye bye. | A la hora de servir corté el queso blanco en cubos y lo repartí en cada plato y quedé completamente satisfecha con este almuerzo y con ganas de repetir ya que quedó exquisita. Chao chao. |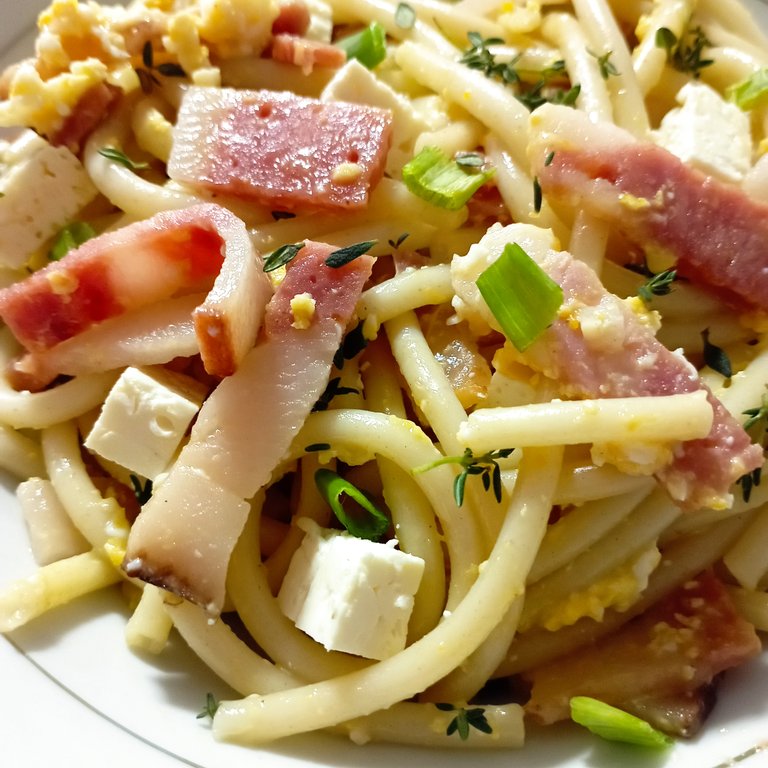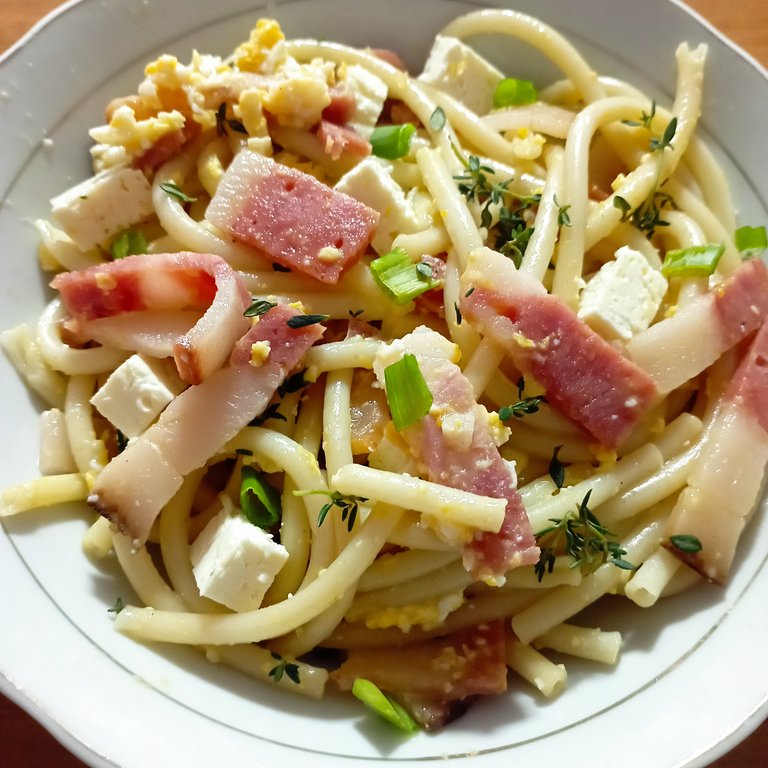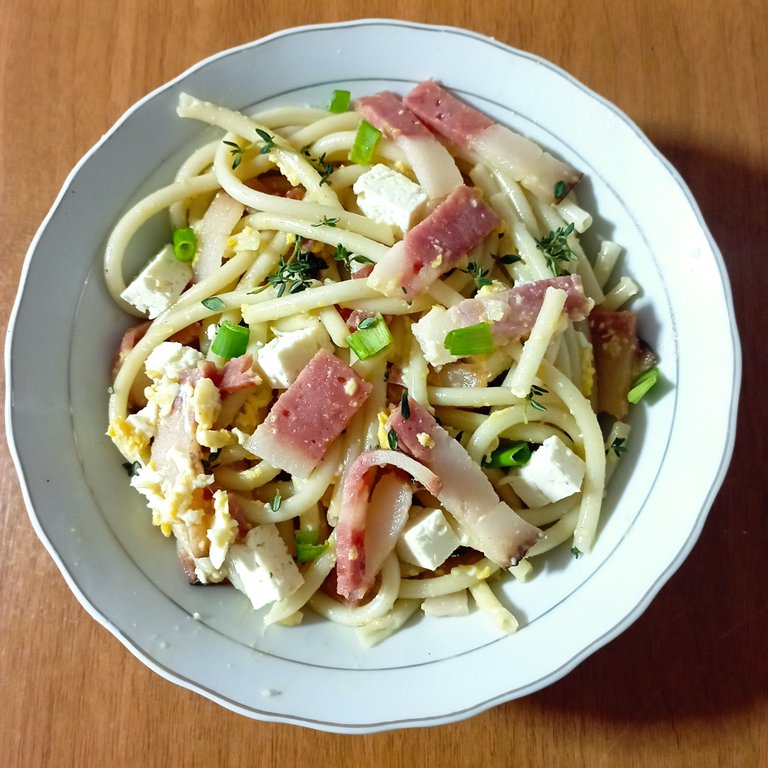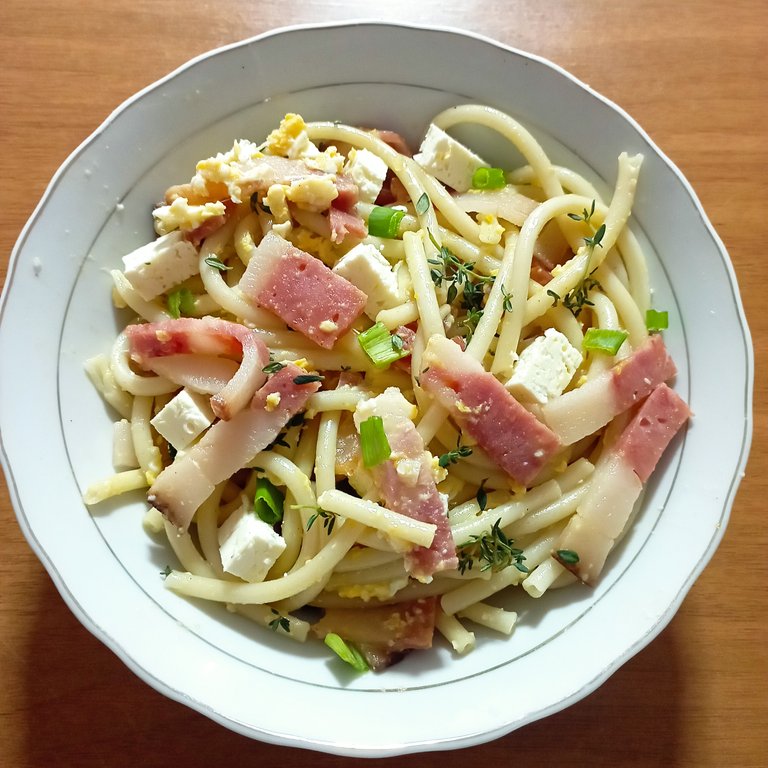 Traductor: DeepL Translate
Imágenes Editadas En : Inshot
Fotos Tomadas Con Mi Teléfono Redmi 10 .

Translated in: DeepL Translate
Images edited in: Inshot
Photos taken with my Redmi 10 phone.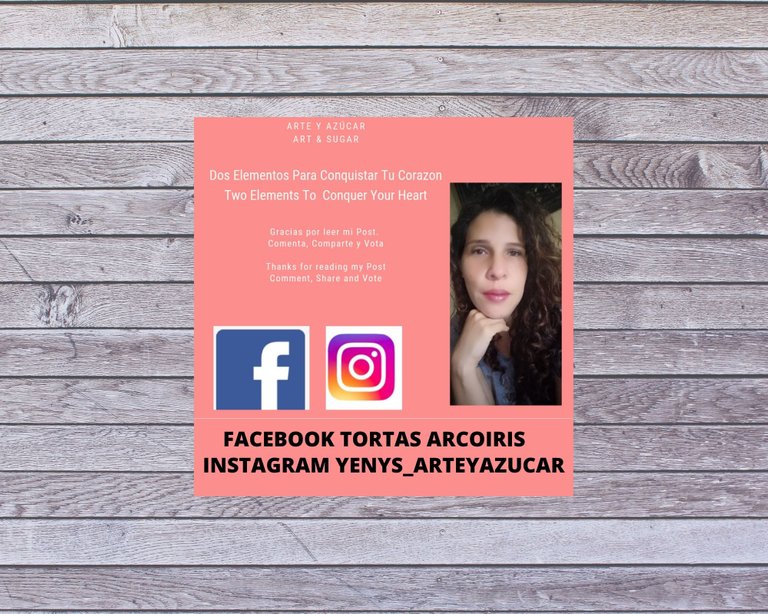 ---
---