Wonderfully Organic and Natural / #MarketFriday
It's Market Friday again, I can't believe how quickly time passes by.
Thank you @dswigle for being such an awesome host to #MarketFriday, one of my favorite communities.
A couple of weeks ago, hubby and I flew to Cape Town on the West Coast of South Africa, to the memorial service of his brother-in-law Chriss, who had been sick for awhile and sadly succumbed to his illness.
Chriss being the person he was, would've been only to happy for us to enjoy our short stay in Cape Town and have fun in remembrance of him as a happy chap who enjoyed life to the fullest and not mope around...so...that's exactly what we did.
While we were there, we stayed with my daughter Angela who lives in Melkbosstrand, a quaint little fishing village on the Cape West Coast, one of my favorite spots in South Africa... it's the most beautiful place on earth with it's own uniqueness.
Angela took us to several Galleries and Markets around Cape Town, one of them being their local weekend Farmers Market which runs on the first Saturday and Sunday of each month.
The Market is professionally organised and run by the surrounding farming community, where they sell the most awesome natural and organic produce, and is well worth the visit.
I would love to share "Melkbos Farmers Market" with you for #MarketFriday hosted by the awesome @dswigle.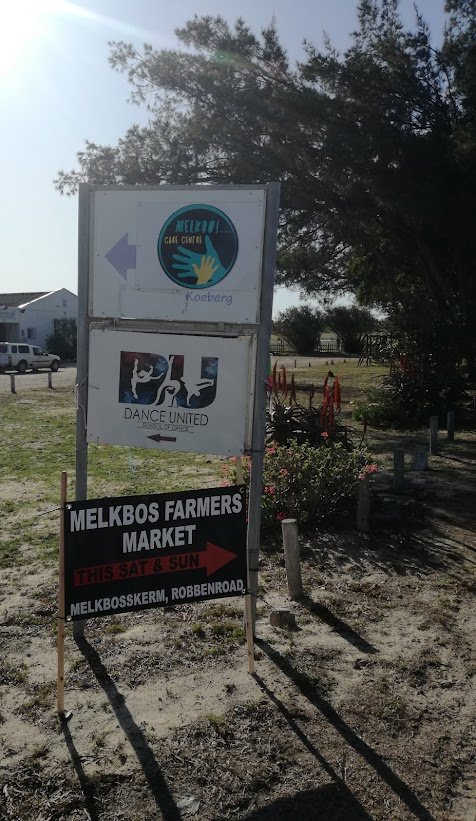 I don't think I've been to such an awesome Market for a long time, the vibe was incredible, actually gave me goosebumps.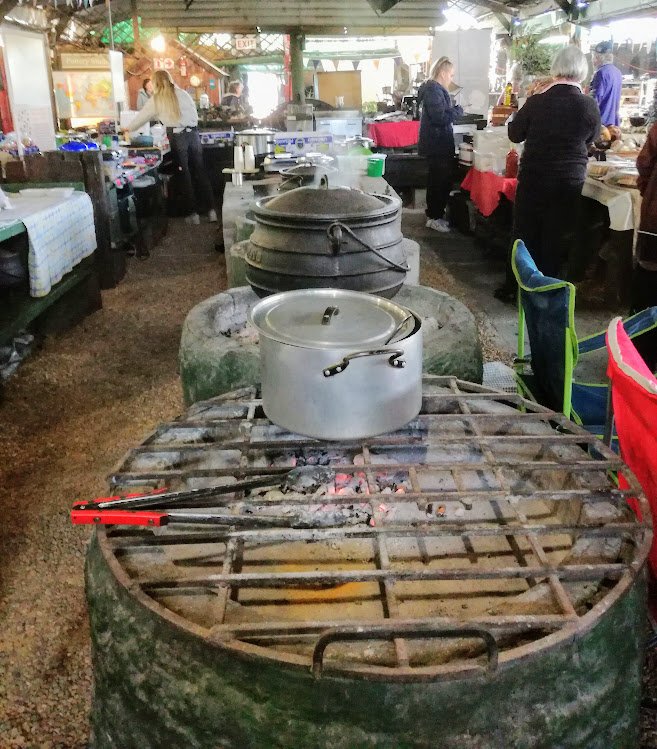 As we entered the hall, we were met with the beat of beautiful country music, hot food cooking on sizzling fires, filling the air with with the different aromas, from curries to oxtail to boerewors, enough to get those taste buds doing somersaults over.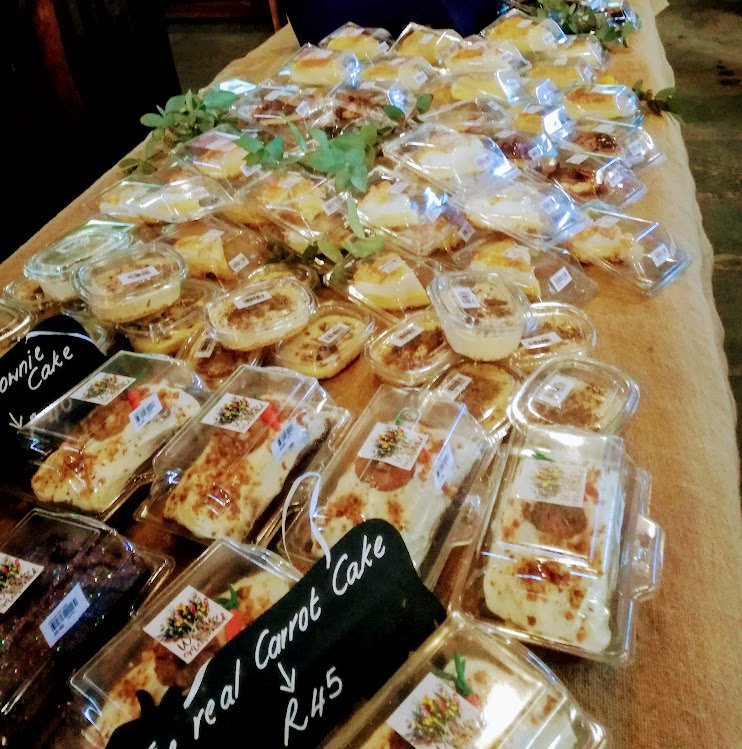 There was a huge variety of different homemade cakes for sale...freshly made to take home for tea.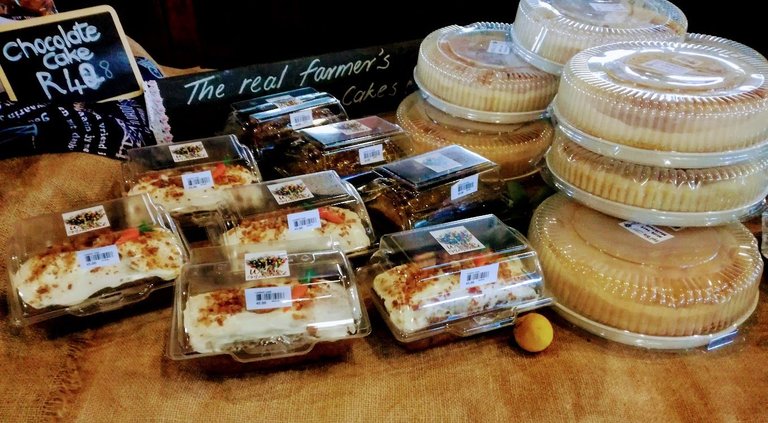 The real farmer's Cakes from chocolate cake to the famous "Ouma's milk tart" to carrot cake, enough to make one's mouth water.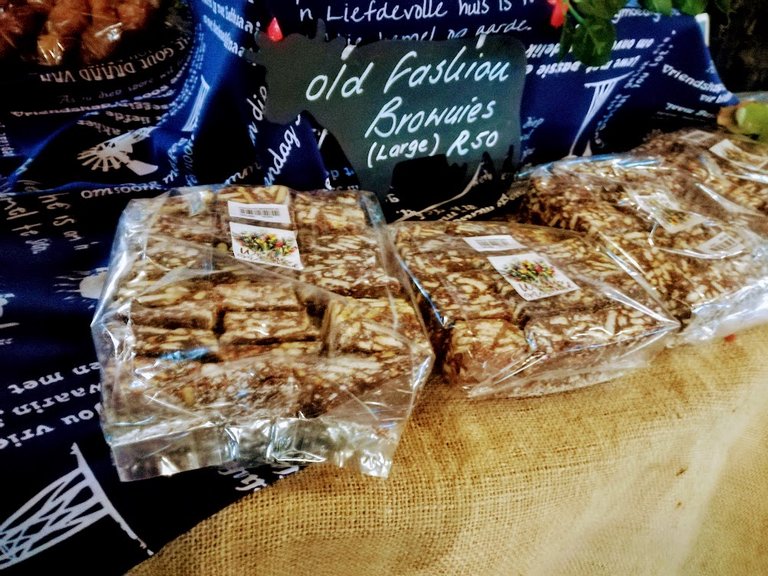 Brownies, one of my favorite cookies, I didn't hesitate to buy some, and of course, I couldn't resist the koeksisters, a South African traditional treat, which is very similar to a type of doughnut, the koeksister is long strips of dough which is plaited and deep fried in oil, then dipped in syrup and coconut. It's absolutely delicious, not very good for the hips though, Lol!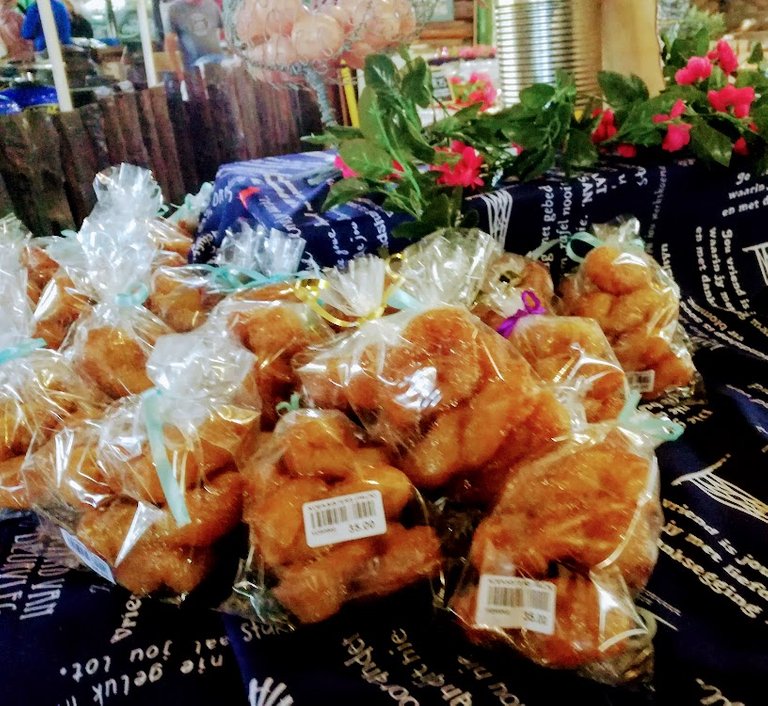 Koeksisters absolutely divine.
I'm sure @fionasfavourites and @lizelle have a lovely recipe for koeksisters.
I've never tried making them yet... I've never had the patience... maybe I'll give it a go soon...Hehe!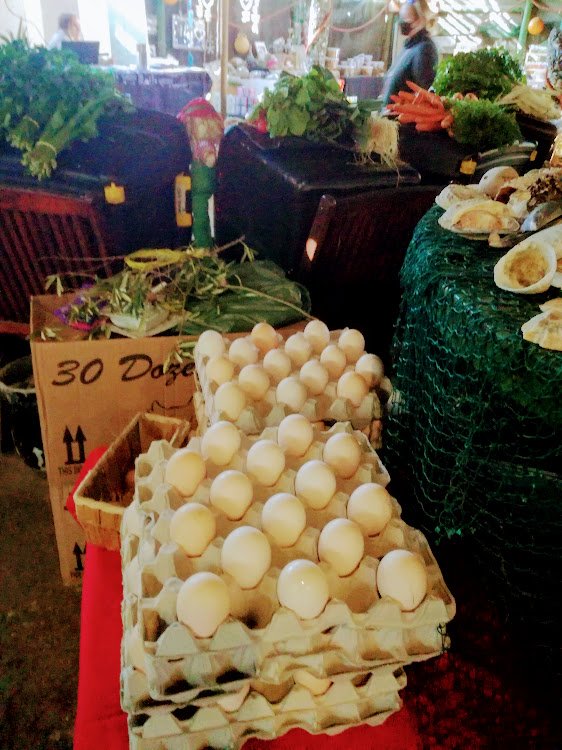 The fresh free-range eggs proudly on display for sale, I thought the price was reasonable at R55.00 per dozen, and double yolk too.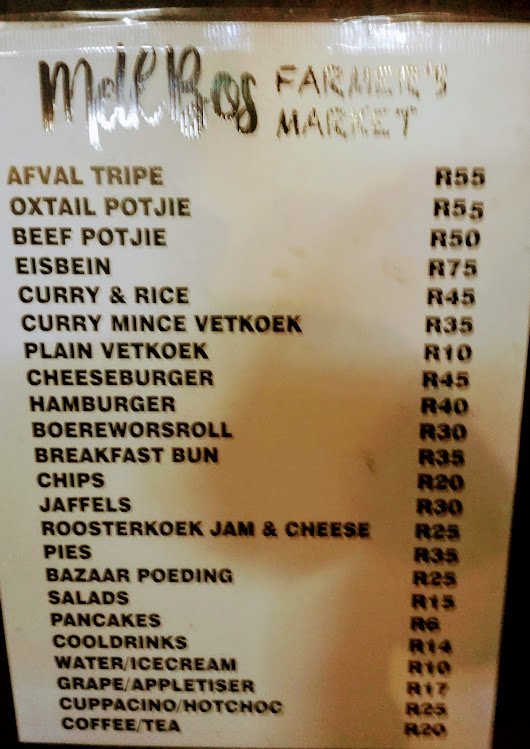 The menu was quite long with the delicious food of one's choice, enough to get the taste buds going.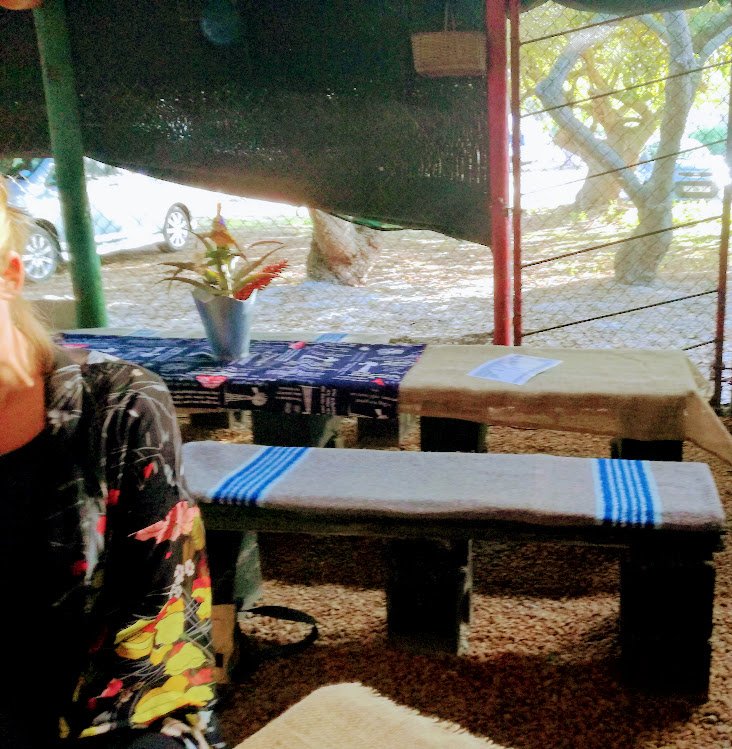 We walked over to the eating area where we settled down for breakfast and coffee on a cold Saturday morning before embarking on the rest of the Market.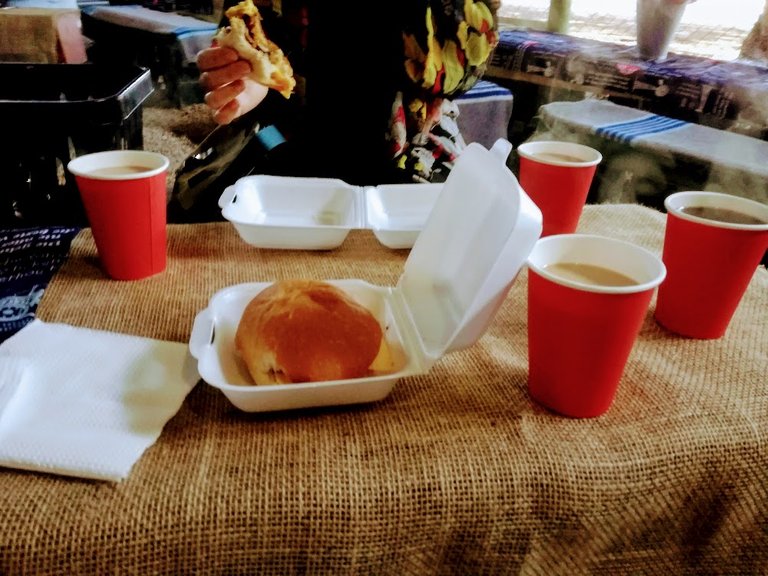 A bacon and egg roll with a hot cup of coffee, was enjoyed by all.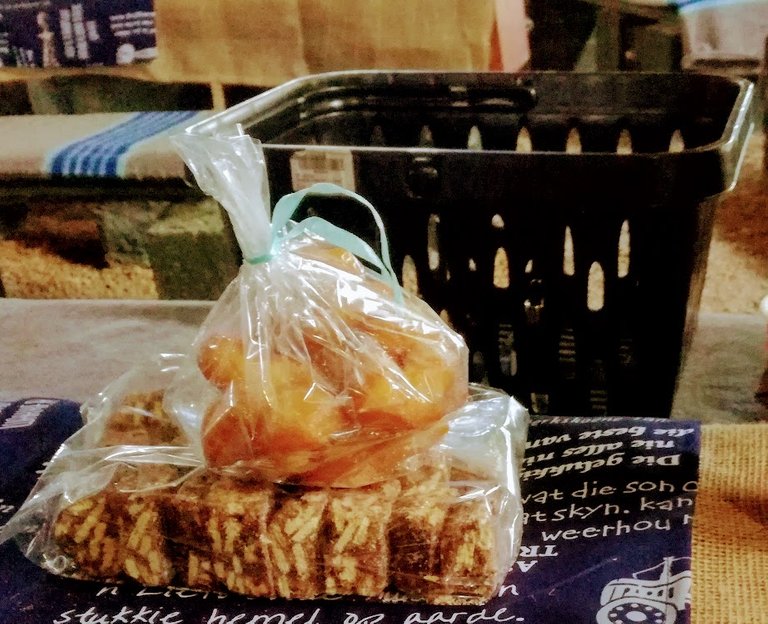 My shopping basket was slowly filling up with some of the delicious goodies on sale.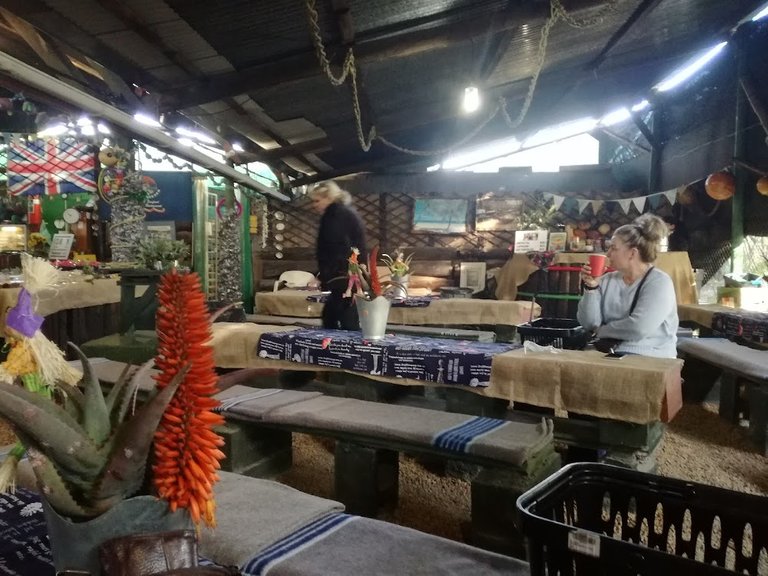 I was quite impressed with the rustic lay out of the eating area, with sack cloth on the tables and warm blankets on the benches to keep the bum warm from the cold.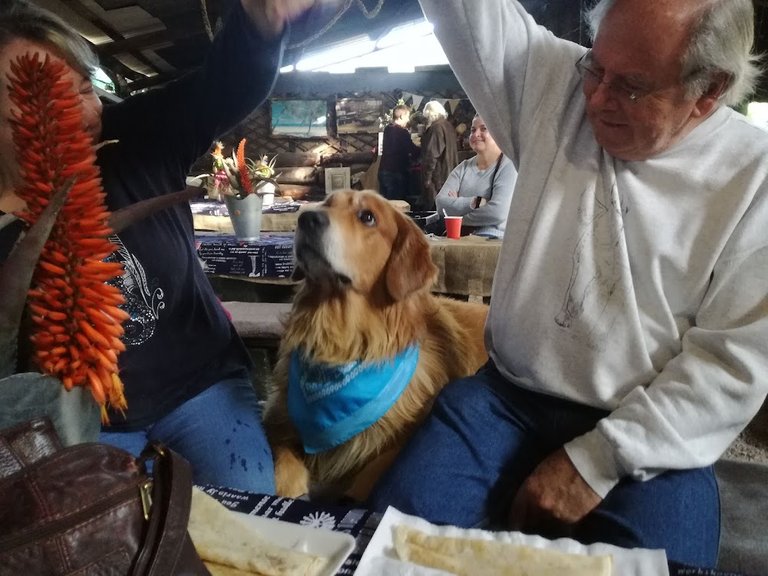 We met up with some new friends who joined us for breakfast, their fur child Merlow, was having a wonderful time enjoying his pancakes, he's such a beautiful well behaved retriever, his trendy boots were so adorable.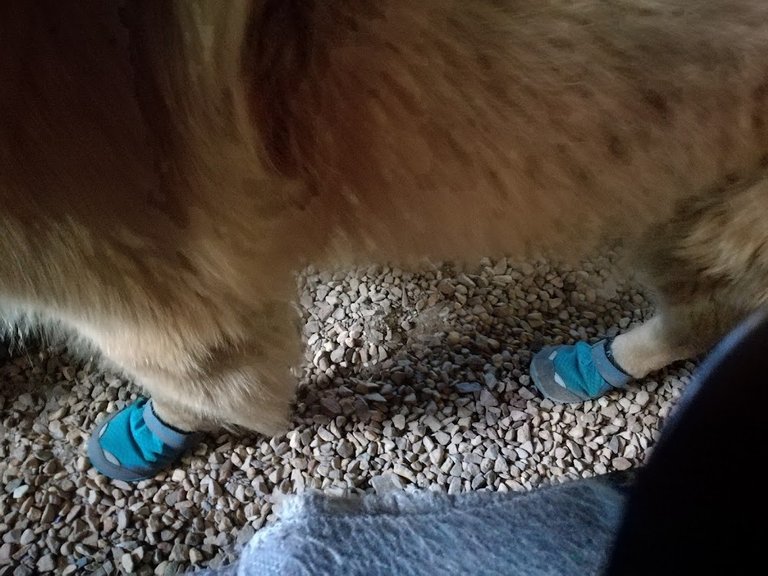 Apparently, he has quite a few different colors in his wardrobe,
I thought they were just to cuuuute.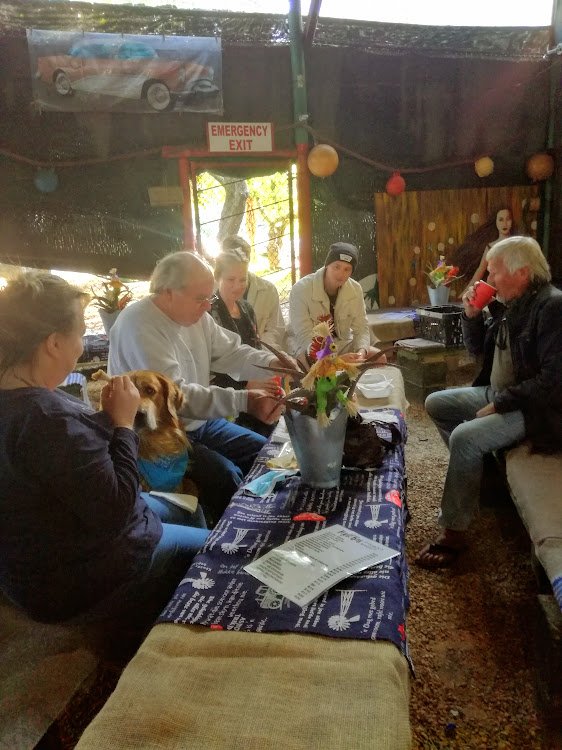 We got chatting and enjoyed the company before exploring the rest of the market.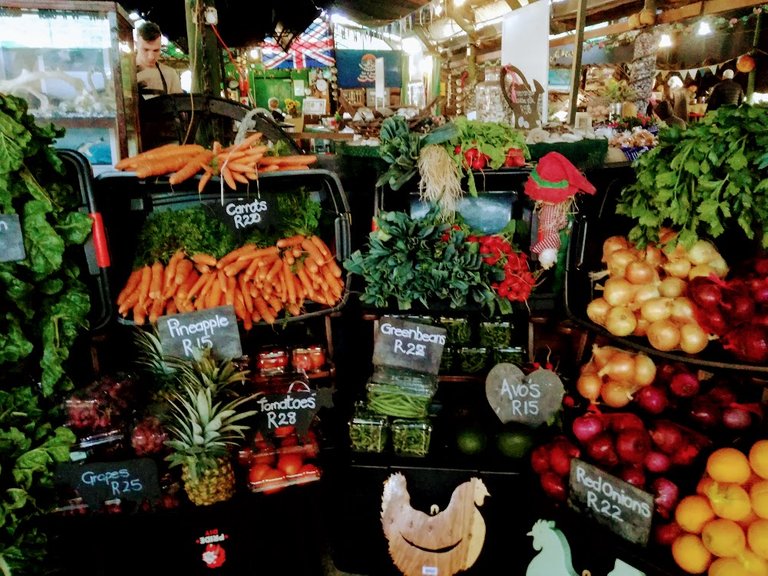 The organic vegetables freshly picked and washed on sale for the day.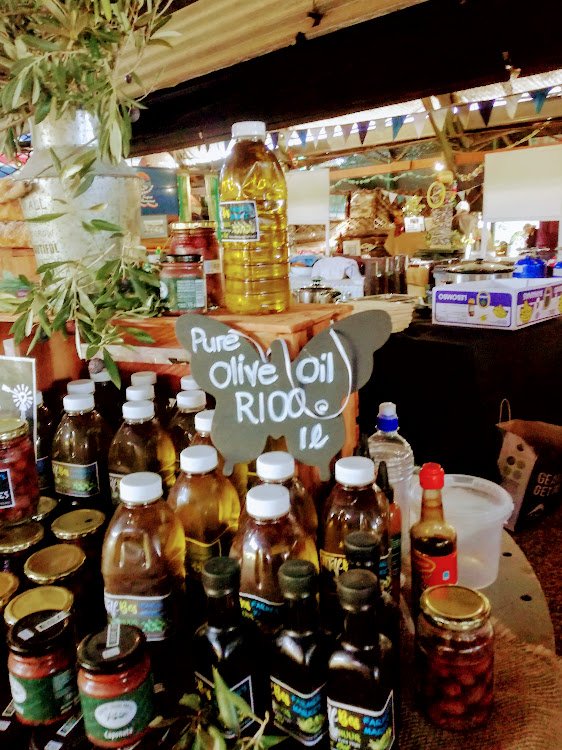 The Cape is well known for its Olive Farming, one can purchase many delicious bottled items made from them.
My daughter has an olive tree growing in her garden, without thinking, I picked a green olive and took a bite,...Oh my word!...what was I thinking hey?...I thought I was going to die. I couldn't get the purple off my mouth and hands...the awful bitter taste in my mouth was enough to make my blood curdle, it was really an unpleasant experience.
I didn't know olives had to ripen and mature for six months before one can actually consume them.
It looked like I'd been on a red wine binge the night before Omg...the blue lips and teeth...what a sight to behold... I eventually got it off with good old baking soda and a toothbrush.
I definitely learnt something about olives that day. "Don't eat them off the tree"Lol!.
Oh dear...ignorance is bliss....what can I say!.

There were hundreds of different types of delicious homemade chutneys lovingly made from every vegetable and fruit one could think of.
I was impressed with the quality and prices of the items.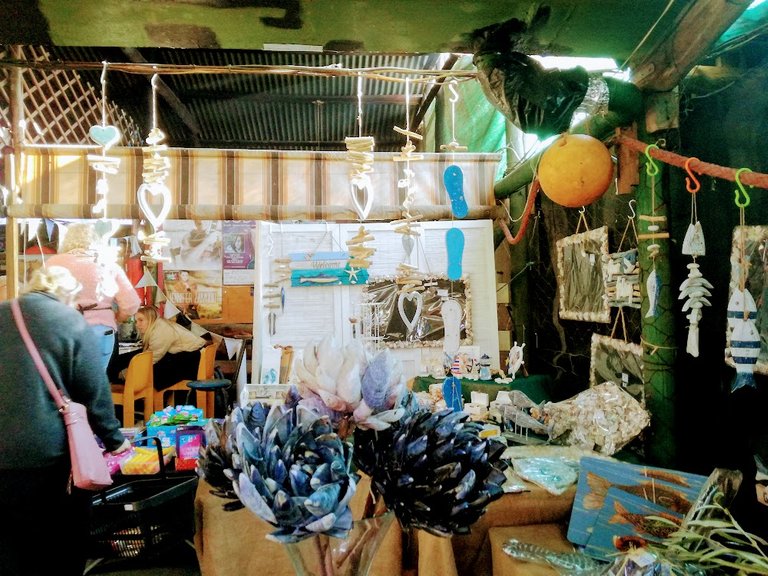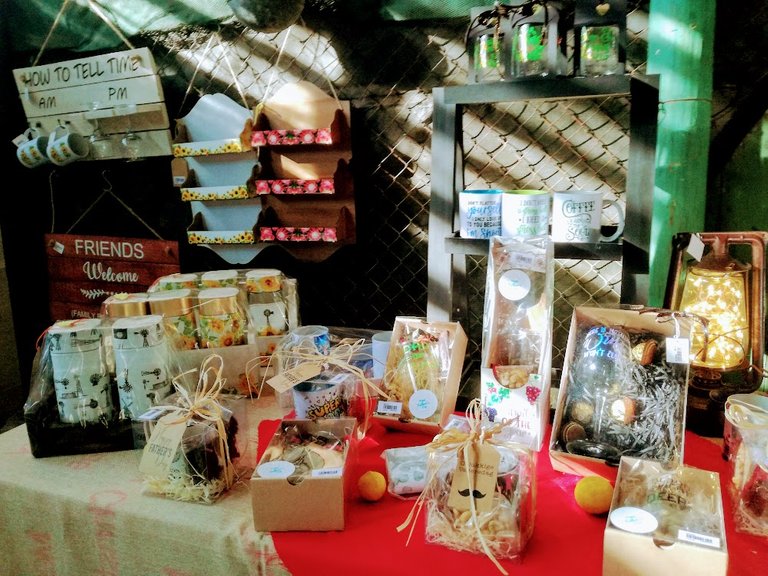 There was beautiful handmade gifts for every occasion and that special person in one's life.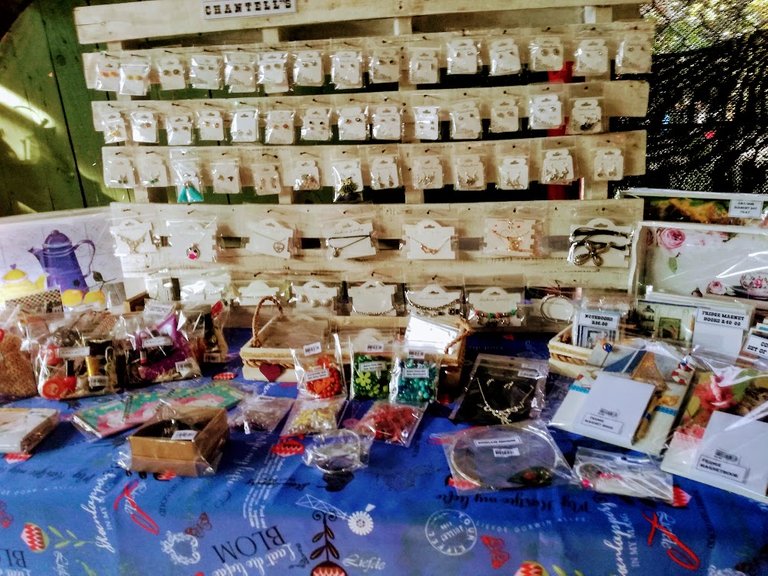 Handmade jewellery and DIY packs of beads for sale.

Handmade spice racks and hanging board quotes to decorate one's kitchen.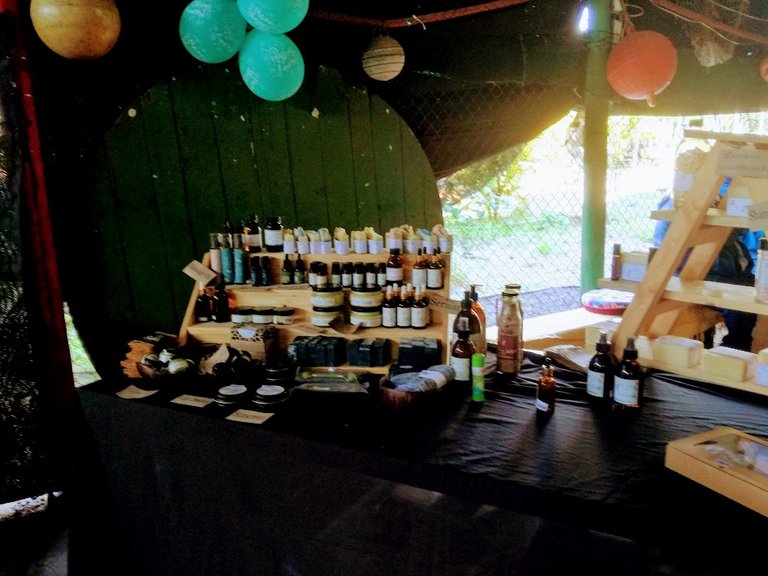 I'm always interested in natural products, so I spoiled myself and purchased some face serum made with Frankincense, vitamin E oil and a whole lot of other natural ingredients, natural soap and balm, made from beeswax and other essential oils.
I didn't realize that the All Natural Balm, was actually "Bum Balm" and can be used for baby's bum rash.
I quickly went to their website and read up about this incredible "Balm"...Well!... no worries...it can quite safely be used on the face.
My face is as soft as a baby's bum, I absolutely love it.
Going to pamper myself, although, hubby also uses it on his face, Hehe...I think we're allowed to pamper ourselves now and then...not so?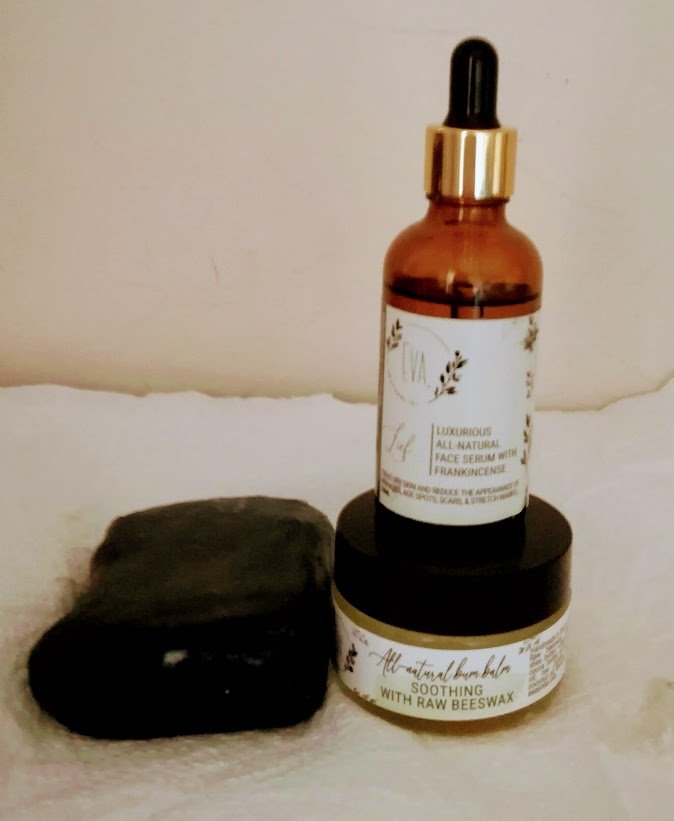 My purchase, and it wasn't even expensive. I think I paid R280.00 for the lot.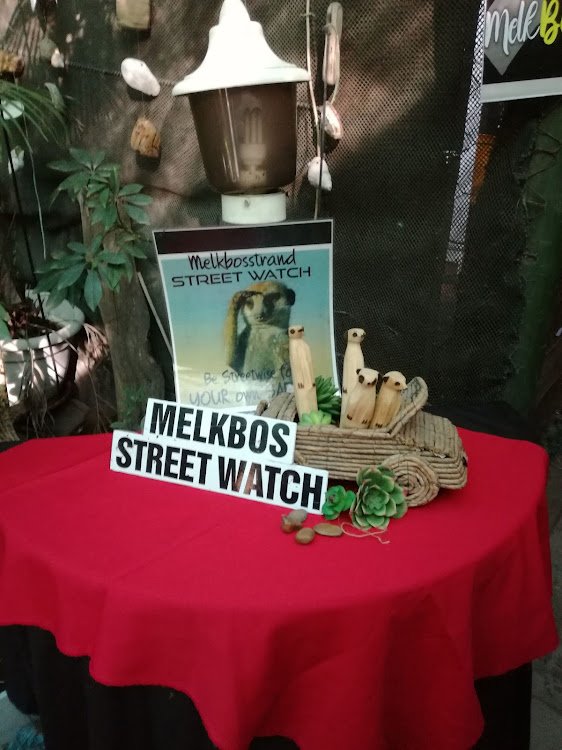 I had a little chuckle when I saw these little meerkats on display outside the entrance, I wasn't sure if they were for sale or not, little mascots I guess, for the local Street Watch Group. I thought they were so cute.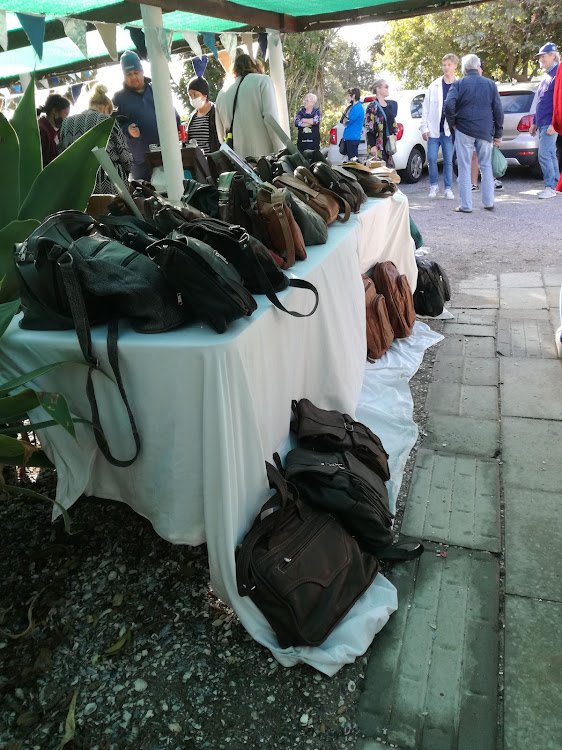 Beautiful handmade leather handbags on display for sale at the entrance of the Market. I need one of those, mine seems to be getting smaller.
Well that was my little adventure through the Melkbos Farmer's Market on the West Coast of South Africa.
I hope you enjoyed it as much as I did.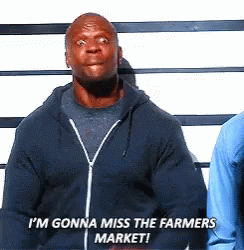 I sure am going to miss it...until next time, have a great day.


HIVE SILVER BLOGGERS SUBSCRIPTION LINK:
If you're between the ages of 40 and 100 and have a passion for blogging and cryptocurrency plus have some wisdom to share, please stop by and subscribe to the new exciting Hive Silver Bloggers Community that is already attracting some of the best talent here on

Thank you for stopping by.

All photos property of @artywink
Original content by @artywink
---
---