TOFU AND BROCCOLI STIR-FRY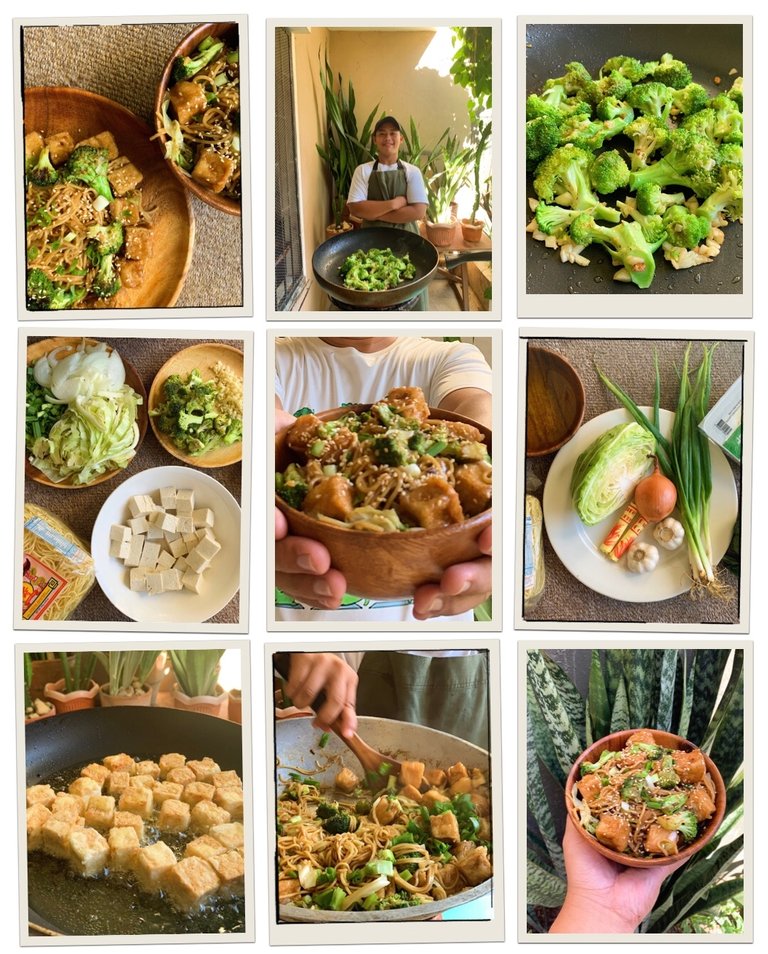 Hello, beautiful people of Hive! I know, I know I haven't been posting some drooling-worthy Vegan recipes for a while now but I am now want to cut the drought of recipes in my blog. So, for this blog, I will show you how to make a very flavorful, simple, and beautiful dish.
TOFU AND BROCCOLI STIR-FRY
Disclaimer: I am not the one cooking this dish but this is my recipe. This is a school project of my friend Dave that I helped to accomplish. This wasn't the first time we did something like this, it's actually the third time already we cooked something for his project. But this is the first time I decided to blog it. I was behind the camera while assisting him with everything from chopping, to cooking and plating. (Yes, including eating too.)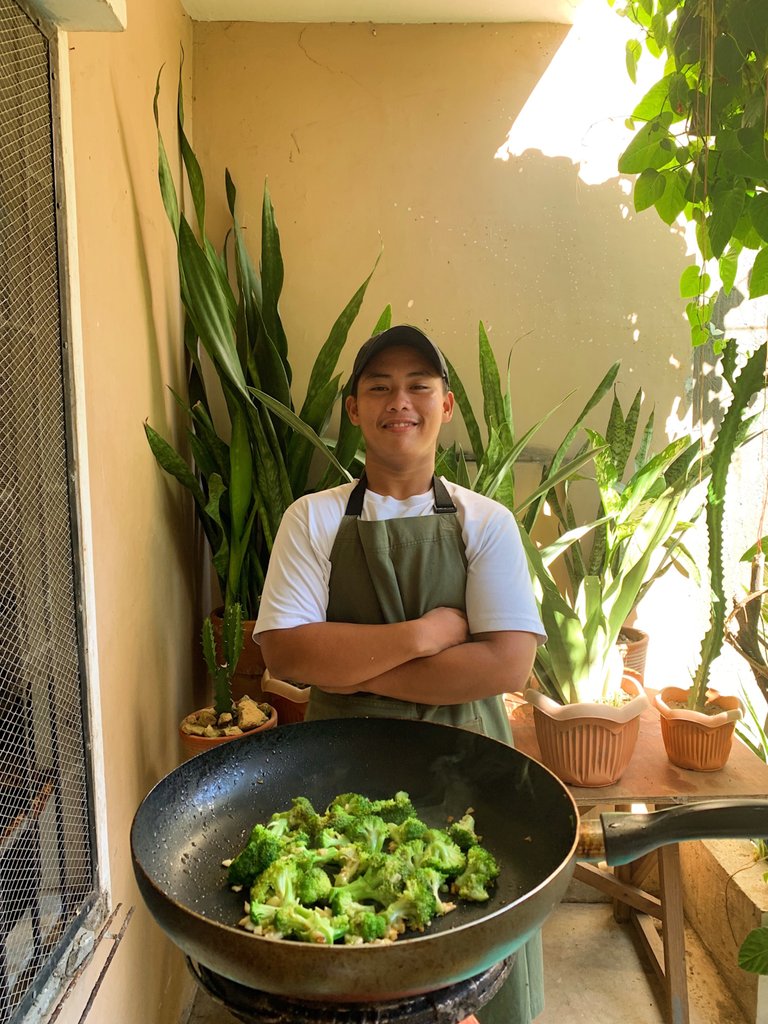 Ladies and gentlemen, our cook for today, Dave!
HERE'S WHAT YOU NEED!
Tools:
frying pan
saute pan
knife
chopping board
mixing bowls
plates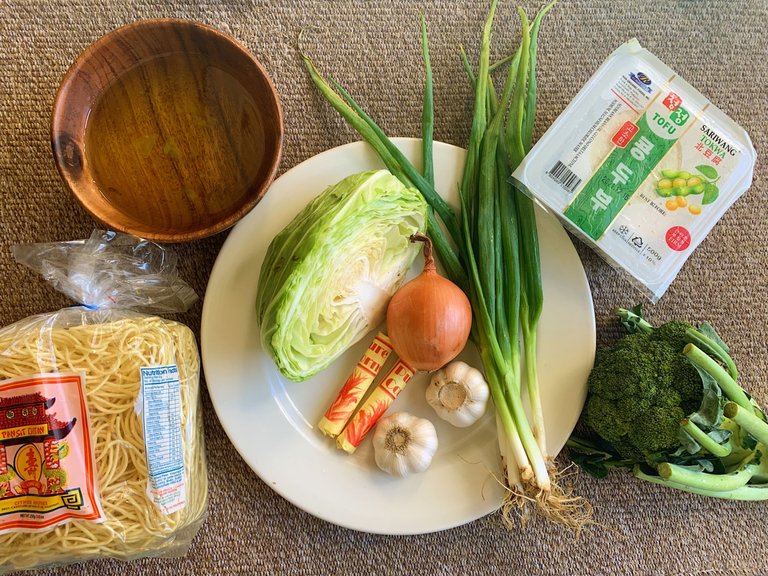 Ingredients:
dried egg-free noodles
1 broccoli, sliced
1 pack firm tofu, cut into cubes
1 large white onion, sliced
1 whole garlic, coarsely chopped
6-7 stalks of green onions, sliced
half a cabbage, sliced
roasted sesame seeds
cornstarch
soy sauce
water
 
Chop the cabbage thinly.
Thin slices of white onions.
Chop the green onions not too thin.
Coarsely chop the garlic.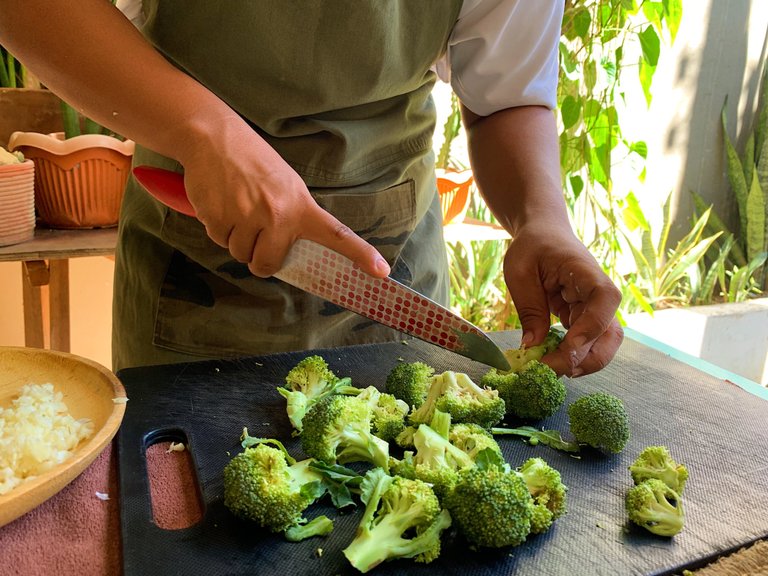 Inspect all broccoli florets from bugs and other insects,
BEST WAY TO SLICE TOFU!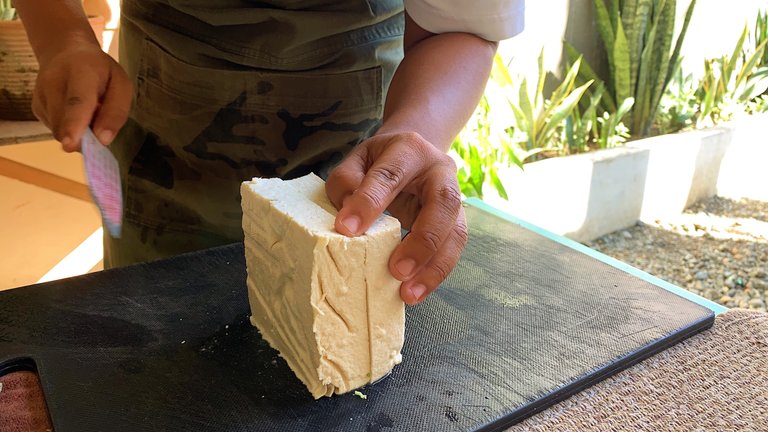 Slice the tofu sideways in half.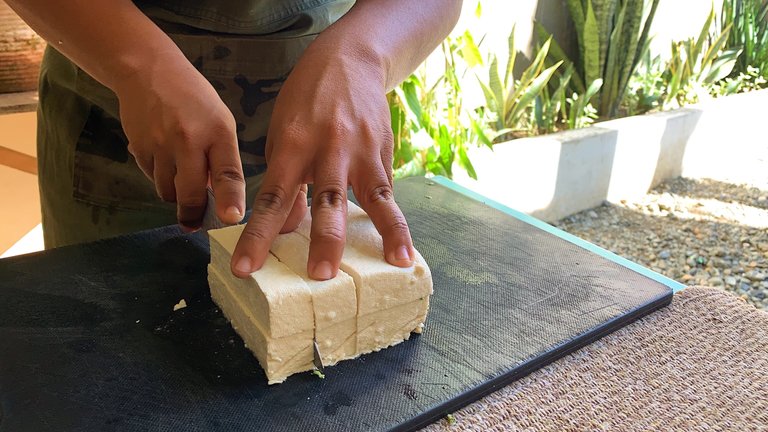 Lay it flat, slice in the center, then cut in quarters.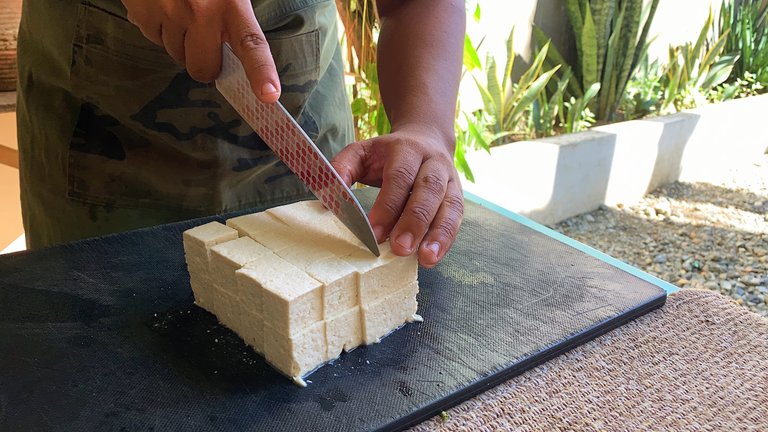 Turn the tofu, slice in the center then quarters.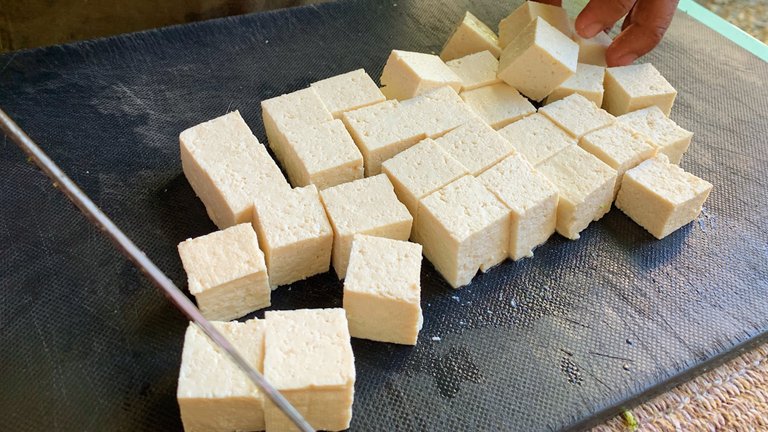 You'll now close to perfect tofu cubes.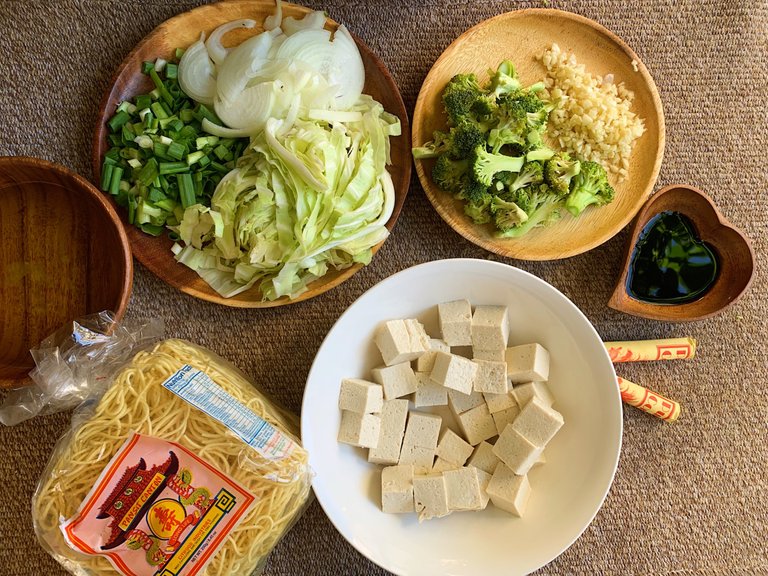 Once everything is ready, let's get cooking!
 
Instructions:

1.Heat some oil in a pan. Add half of the garlic and broccoli. Once cooked set aside.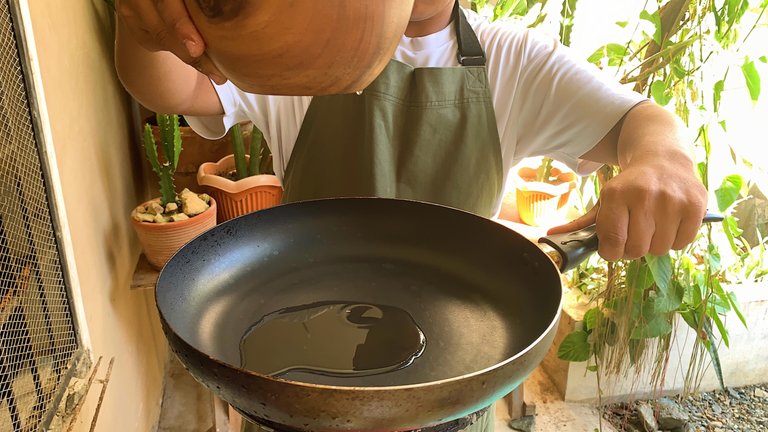 We used vegetable oil for this dish.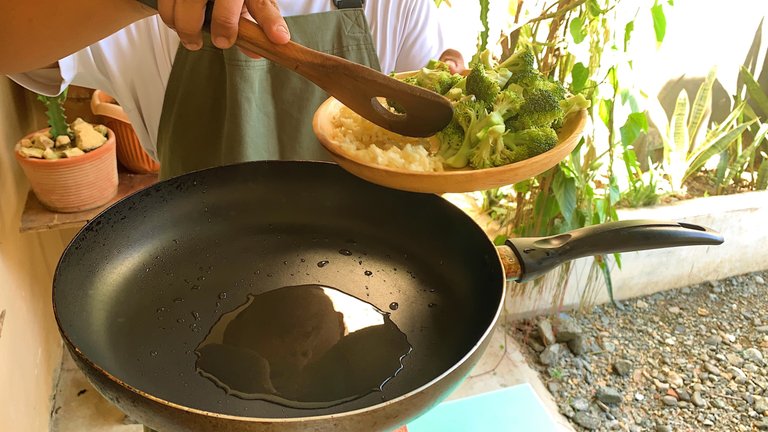 Make sure oil is hot before adding the vegetables.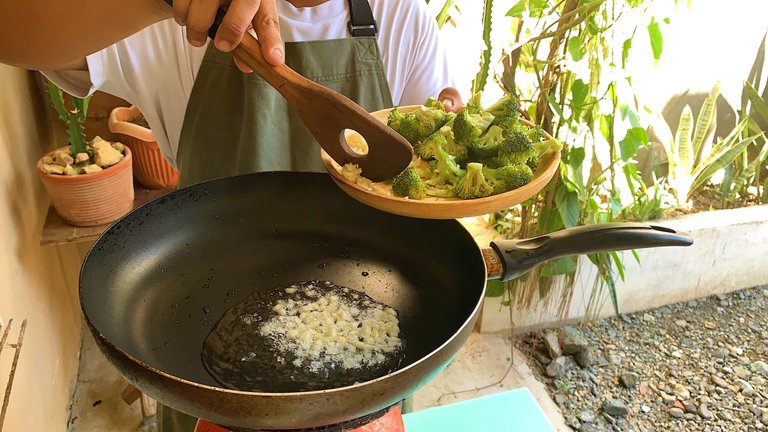 Add garlic and broccoli in hot oil.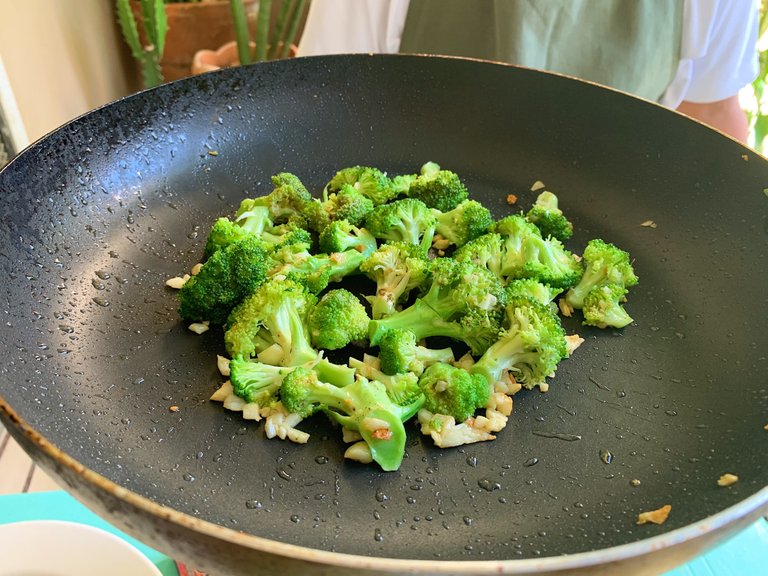 Make sure the sliced part is facing the pan.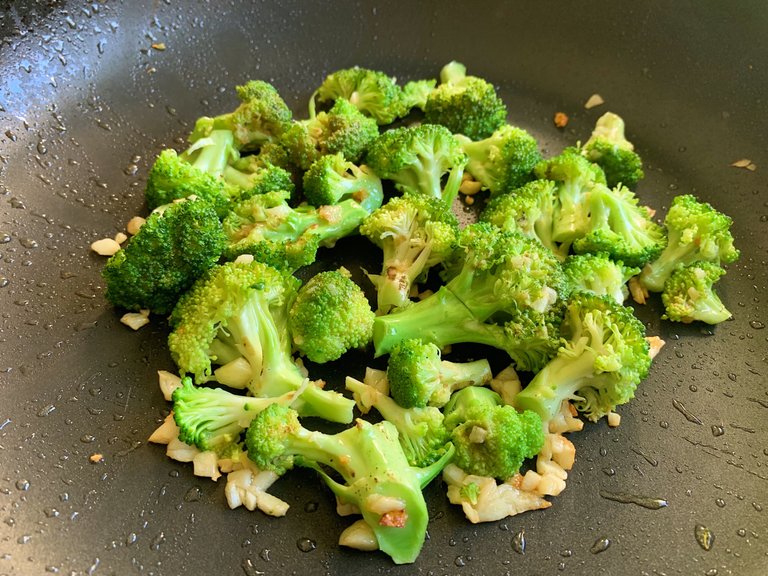 Once you see some browning, it's good to go.
2.In the same pan, add more oil. While waiting for the oil to heat up, add cornstarch to the tofu cubes until covered then fry to a golden brown. Set aside.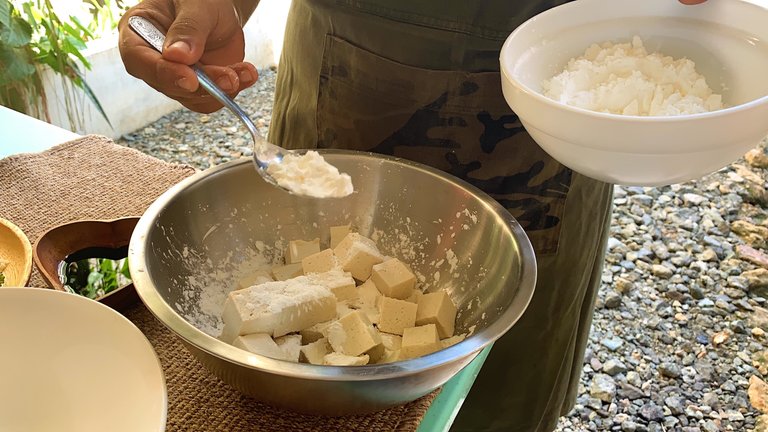 Cover all sides of the tofu with cornstarch. This will add crunchiness to the tofu.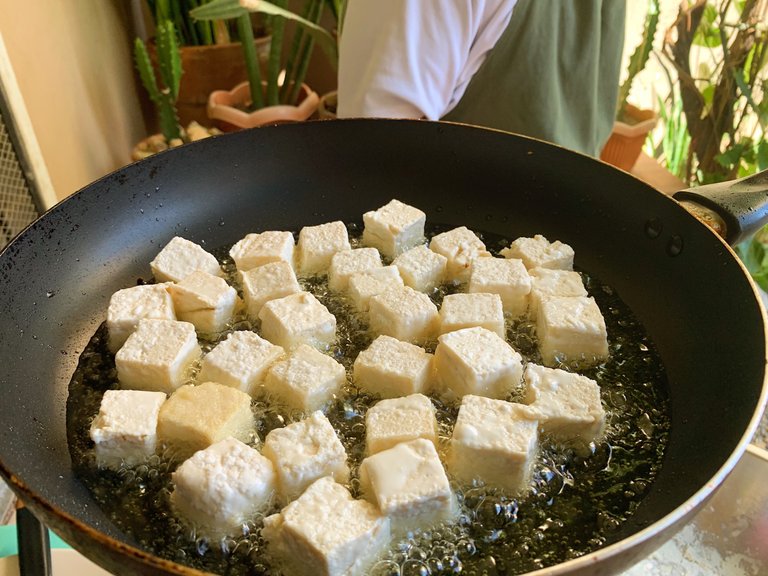 Cook until golden brown. Please do not burn your tofu!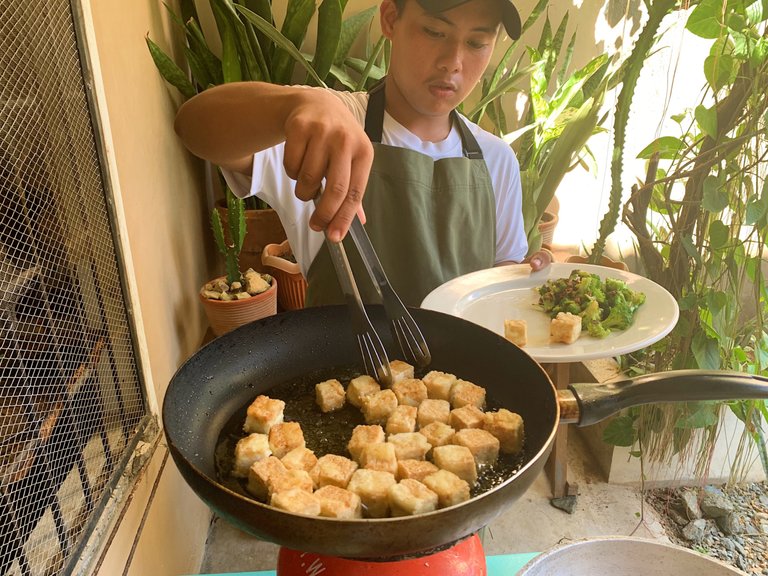 Set it aside together with your broccoli.
3.Heat up some oil in a saute pan. Add the onions. Wait until it is caramelized then add the garlic. Saute until fragrant.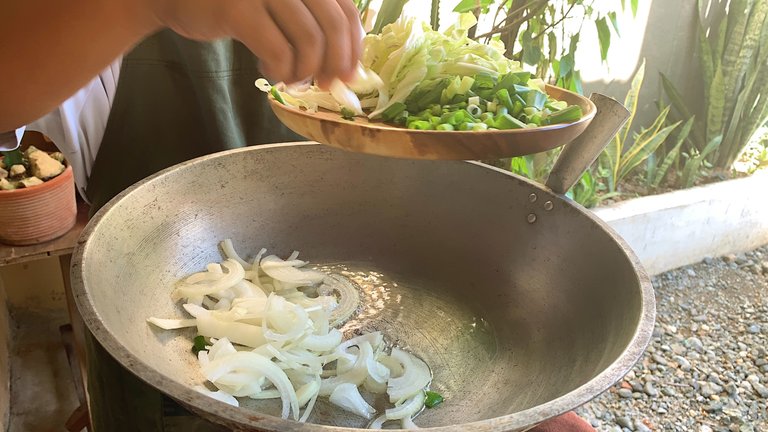 Make sure to break-up the onions.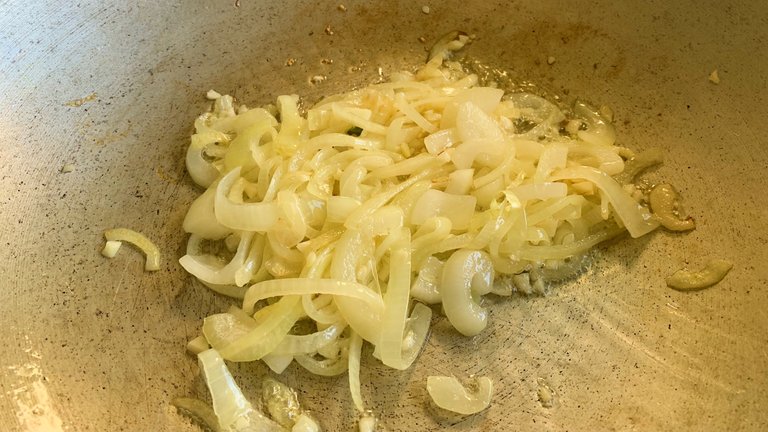 Do not burn the garlic.
4.Add the cabbage. Mix everything then add water.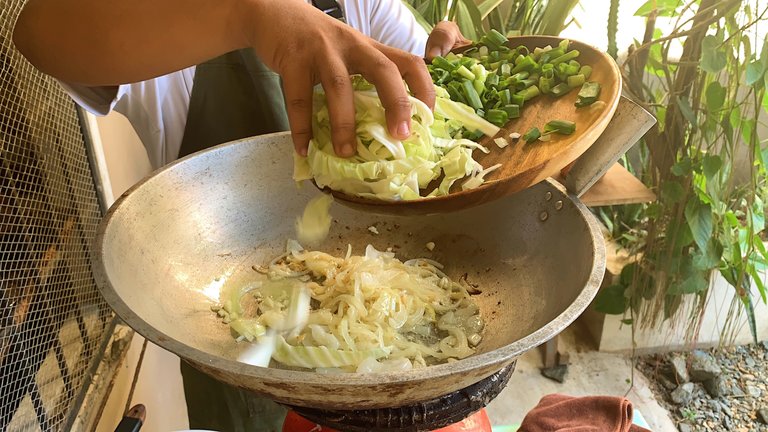 Mix all together.
Add at least 2 cups of water.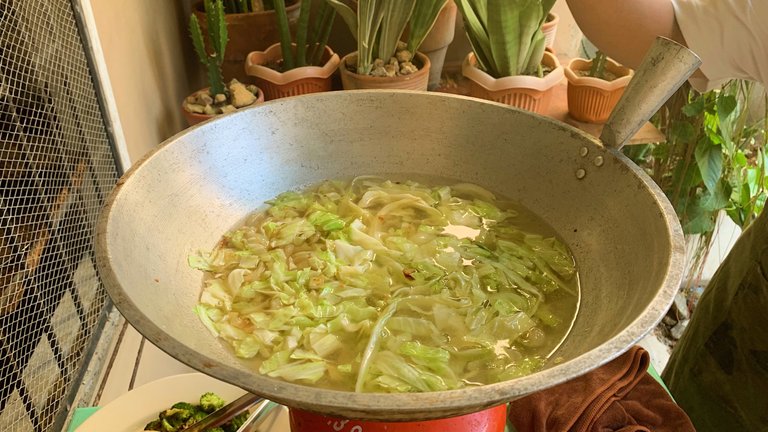 Wait for the water to boil and check from time to time to ensure nothing is sticking in the bottom .
5.Wait for it to boil then add the noodles. Make sure all noodles are soaked and soften in the water.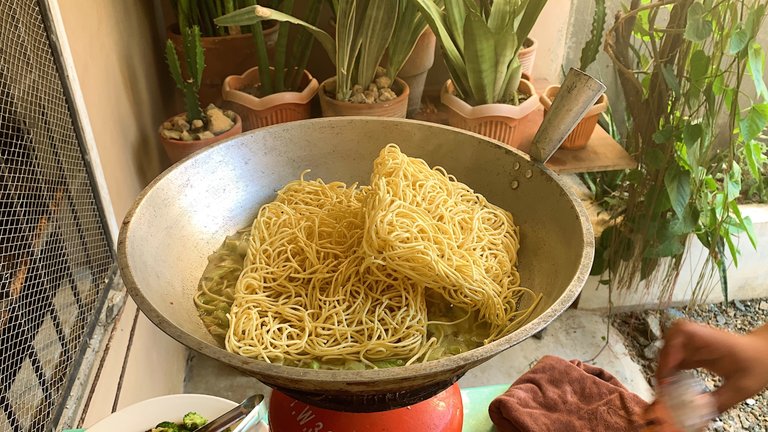 Add 1/4 kilo of dried noodles.
Slowly break the noodles and mix with water.
6.Add the soy sauce depending on your preference. Mix all together. Wait until the noodle absorbed most of the liquid then add the sauteed broccoli and fried tofu.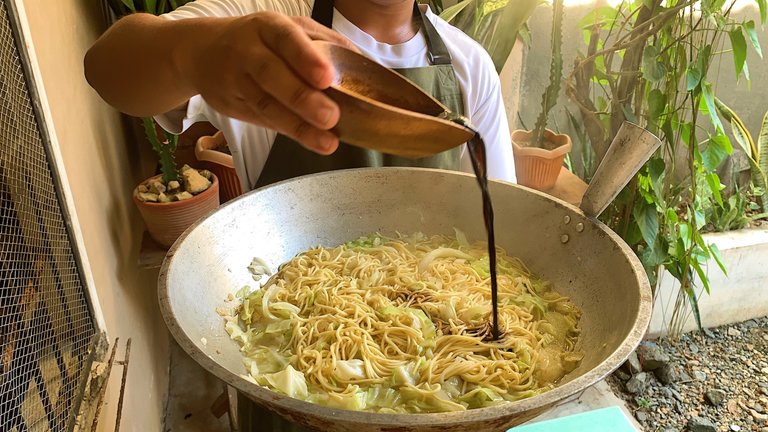 Once soften, add soysauce.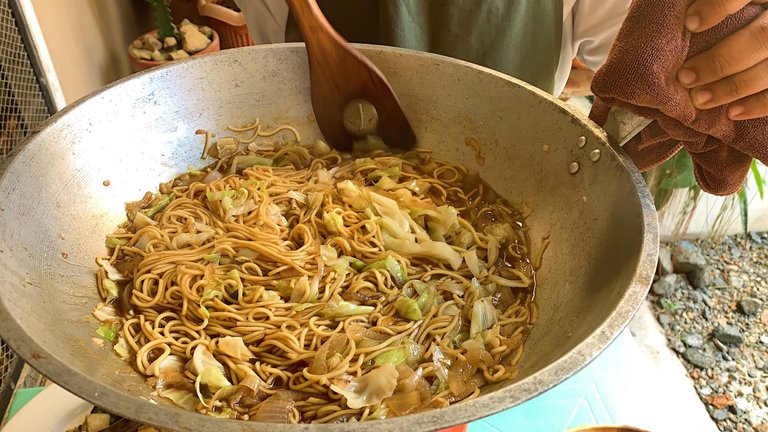 Mix all together and let it simmer for a bit.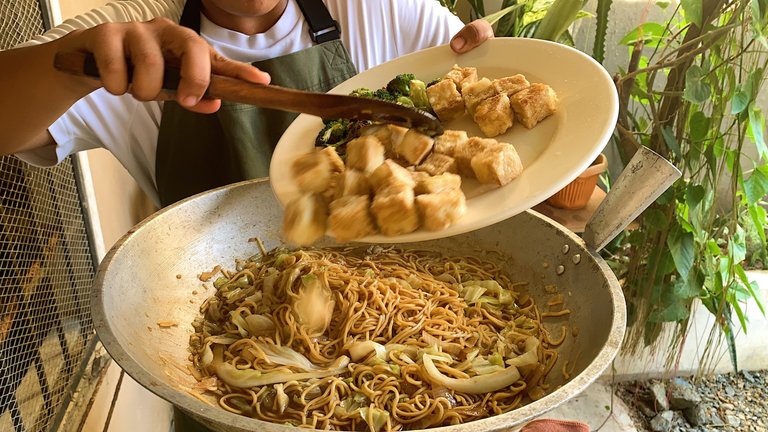 Add the proteins.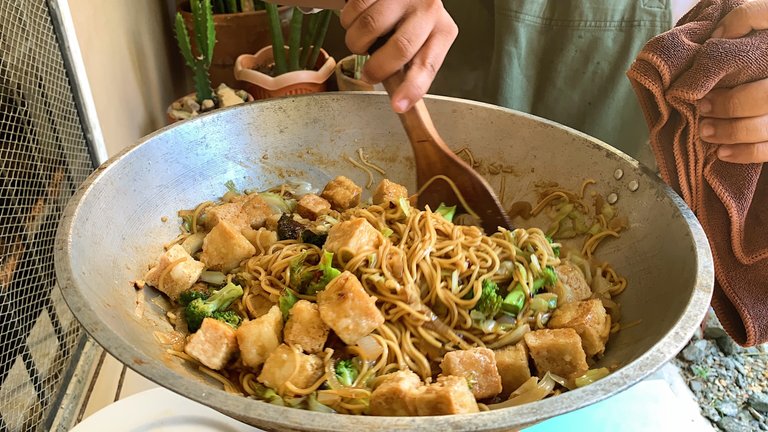 Mix well!
Dave is happy because we are almost done!
7.Mix all together making sure that the broccoli and tofu are covered with the sauce of the noodles. Then add the green onions.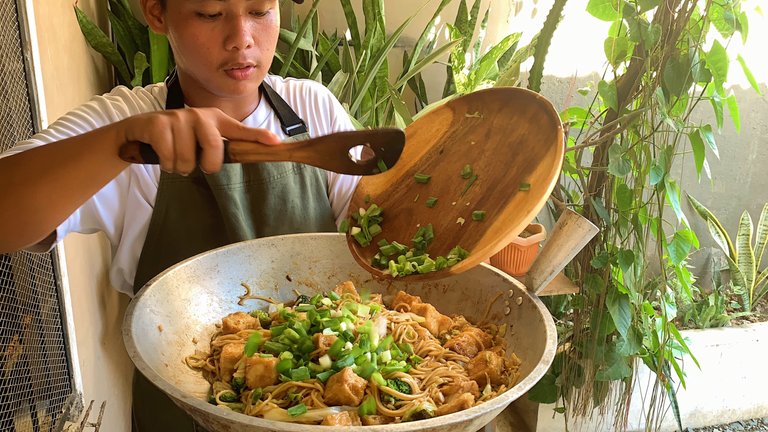 To add more fragrance to the dish!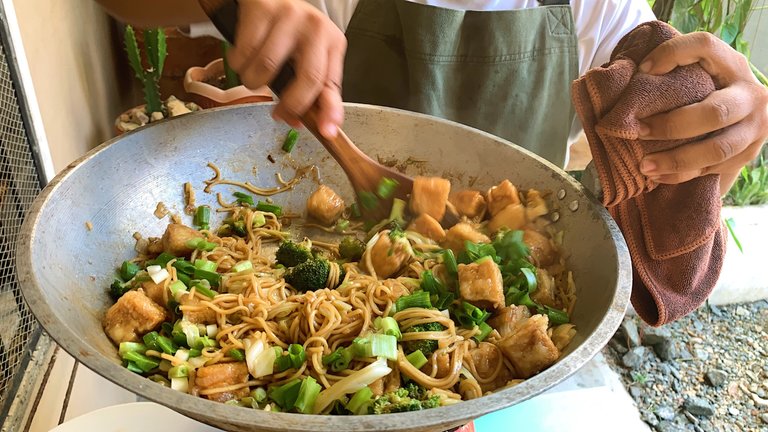 Make sure everything is mix together.
8.Once done, plate your noodles and top the dish with sliced green onions and roasted sesame seeds.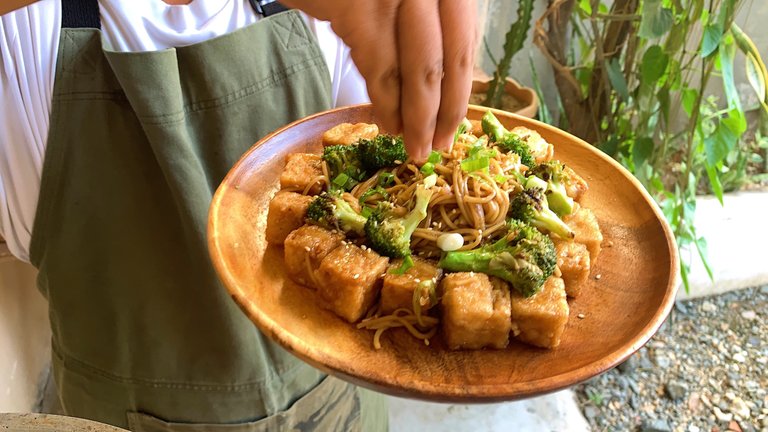 Green onions first!
Then sesame seeds!
 
Notes:
1.You can also add more vegetables to the noodles such as peas, bean sprouts, carrots, or maybe cauliflower instead of broccoli.
2.You can also skip the cornstarch for the tofu and fry it directly but it's nice to have some cornstarch to add some crunch to the tofu.
3.You can also add some hoisin sauce and sesame oil to the dish to add more Asian flavors to it.
There you have it guys. I hope you will try this dish. Dave and I totally enjoyed eating this Tofu and Broccoli Stir-fry for lunch. I am also hoping that Dave will have a good grade for this project. He has another upcoming project soon that I will also share here. Until next time guys!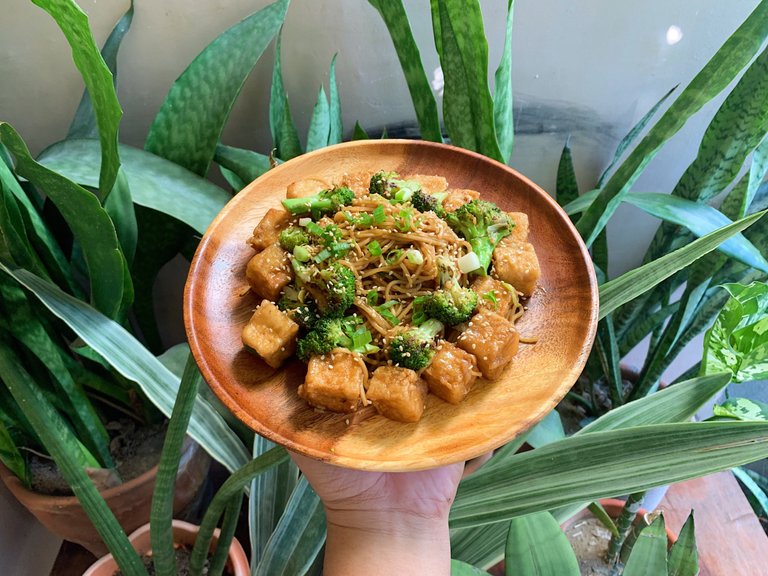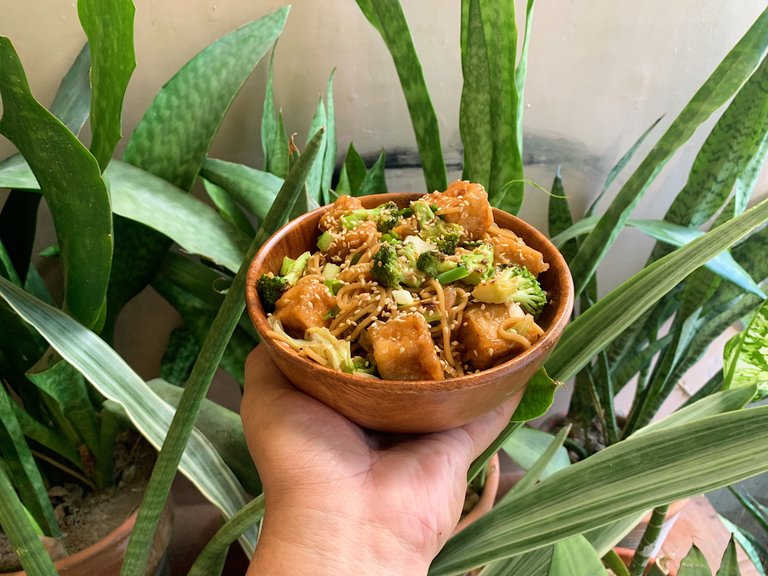 We hope that you will give this recipe a try and let us know what you guys think about it. Dave will be happy to know if you like it or not!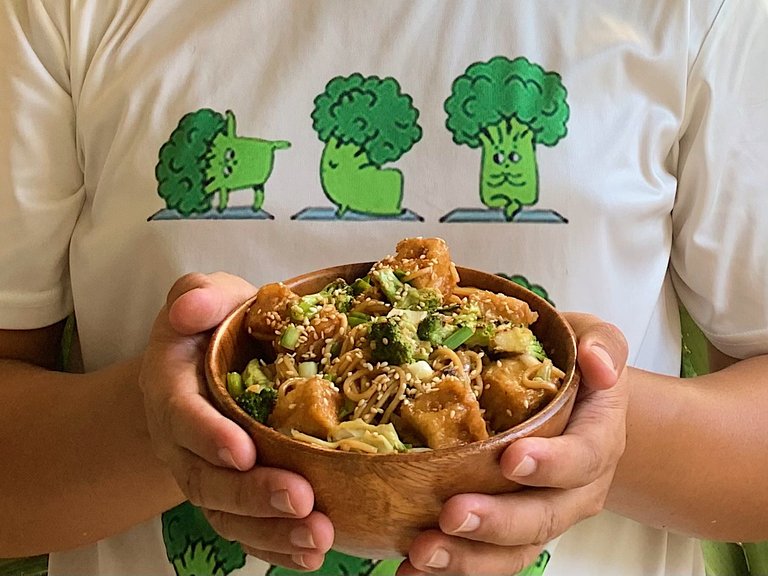 I also happened to wear a shirt with a broccolis doing yoga printed on it while making this dish. Isn't it cute? I actually bought this for my girlfriend but if I run out of shirts, this is my go-to.
---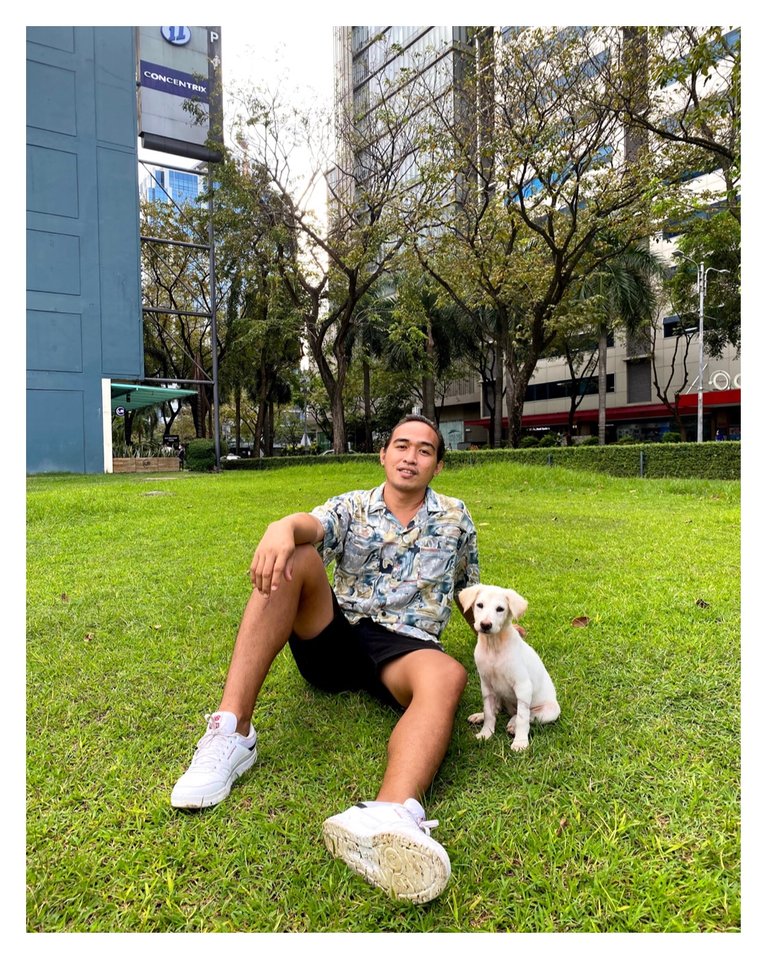 Asa Si Klause blogs about his travels, vegan lifestyle, yoga practice, his fur babies and anything that gives joy to him.
If you love to see more of his content, hit that Follow button, and you might find new places, make more recipes, and practice yoga with him. For blog collaborations or inquiries, feel free to contact him on his social media channels or email him at [email protected]

INSTAGRAM | TWITTER | FACEBOOK



---
---