Arena Breakout: Un juego muy realista | A very realistic game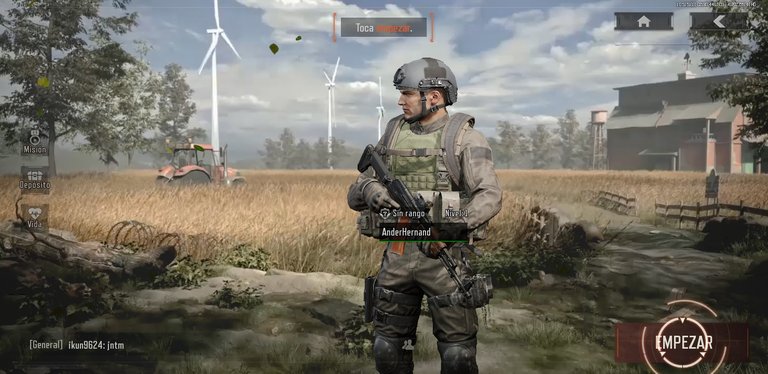 Another game adds to my game catalog and this time one of the ones I've been waiting for this year and this is Arena Breakout, a very realistic game that has a tactical style similar to the well-known PC game called Ecape From Tarkov, with a unique style and realistic systems that make you feel inside the battle. Clearly, it is for mobile and these days I have been playing and learning more about this game, besides mastering the market and knowing how to prepare for each expedition you do.
Otro juego más se suma a mi catálogo de juego y en esta ocasión uno de los que más he estado esperando en este año y este es Arena Breakout, un juego muy realista y que tiene un estilo táctico parecido al conocido juego de PC llamado Ecape From Tarkov, con un estilo único y sistemas realistas que hacen que te sientas dentro de la batalla. Claramente, es para móviles y estos días he estado jugando y aprendiendo más de este juego, además de dominar el mercado y saber como prepararte para cada expedición que hagas.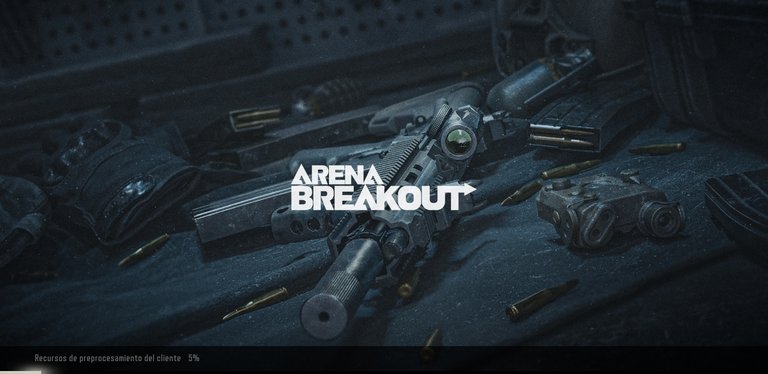 Arena Breakout is a realistic tactical shooter game with similar characteristics to the game mentioned above, having a unique environment and accessibility to players, as its market gives you all the resources without spending in the game, also has other unique features that I will tell you later, I must say that we must take into account everything necessary for expeditions, from taking care of our health, to carry the correct ammunition for our weapons, always leaving room for what we find ourselves in the moments on the battlefield.
Arena Breakout es un juego Shooter tactico realista con características similares al juego mencionado anteriormente, teniendo un ambiente único y accesibilidad a los jugadores, ya que su mercado te brinda todos los recursos sin necesidad de gastar en el juego, también cuenta con otras características únicas que les iré contando más adelante, he de decir que debemos tener en cuenta todo lo necesario para las expediciones, desde cuidar nuestra salud, hasta llevar la munición correcta para nuestras armas, dejando siempre espacio para lo que nos encontremos en los momentos en el campo de batalla.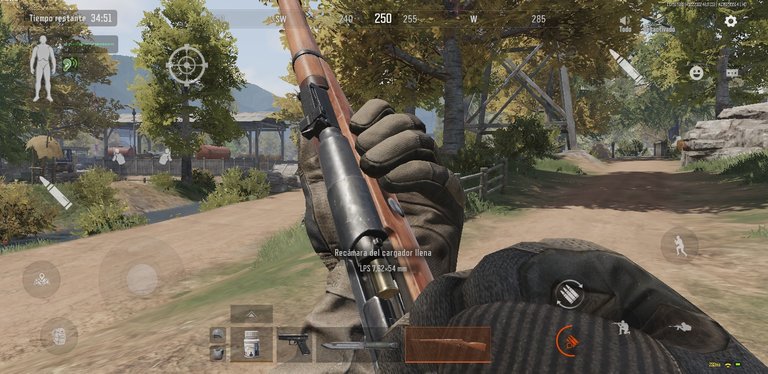 Graphically, it looks great, having a new graphics engine that comes to mobile leaving us very happy with the result and along with the realism, unique details and interesting moments make it a very entertaining game and in turn immersive, each capture taken is in very high graphics to highlight those colors, although it is still in early access leaves us with good expectations.
Gráficamente se ve genial, teniendo un nuevo motor gráfico que llega a móviles dejándonos muy felices con el resultado y junto con el realismo, detalles únicos y momentos interesantes hacen que sea un juego muy entretenido y a su vez inmersivo, cada captura tomada es en los gráficos muy altos para resaltar esos colores, aunque se encuentre aun en acceso anticipado nos deja con buenas expectativas.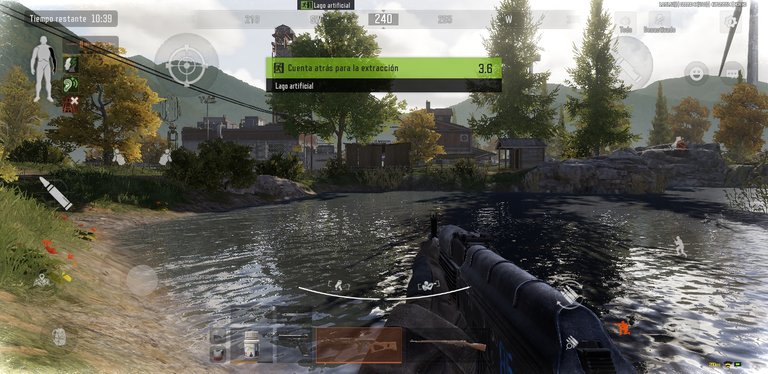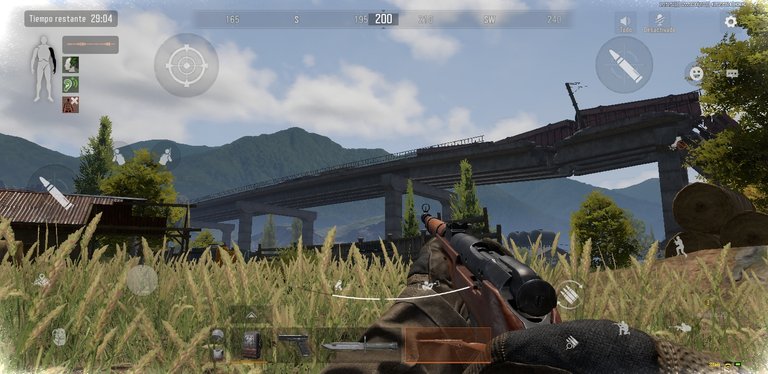 The game has different things which will help us to improve each expedition, from a market system that allows us to obtain any type of things in exchange for money that we will get playing, either weapons, food or drinks, medicine or medical equipment, also necessary attire such as bulletproof vests, vests, backpacks or field bags, helmets, headphones and many other things leaving us with a variety of things and the best without investing money in the game giving us the possibility to improve and have the possibility to achieve our goals against our enemies.
El juego cuenta con diferentes cosas las cuales nos ayudarán a mejorar cada expedición, desde un sistema de mercado que permite obtener cualquier tipo de cosas a cambio de dinero que conseguiremos jugando, bien sea armas, comida o bebidas, medicina o equipo medico, también atuendos necesarios como chalecos antibalas, chalecos, mochilas o bolsos de campaña, cascos, audífonos y muchas otras cosas dejándonos con una gran variedad de cosas y lo mejor sin necesidad de invertir dinero en el juego dándonos esa posibilidad de mejorar y tener la posibilidad de lograr nuestros objetivos contra nuestros enemigos.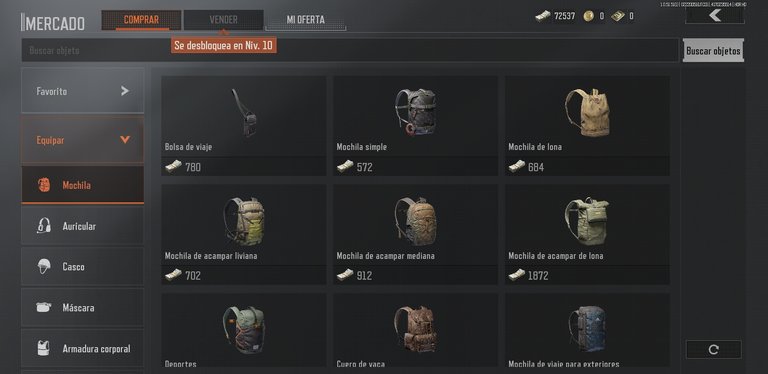 We also have agents who exchange weapons, medical equipment and many other things for our expeditions, besides giving us missions for our expeditions and along with that a great reward, there are many to unlock, but already with the ones we have they give us many activities to do and vary.
También contamos con agentes quienes nos intercambian armamento, equipo medico y muchas otras cosas para nuestras expediciones, además de darnos misiones para nuestras expediciones y junto con eso una gran recompensa, hay muchos para desbloquear pero ya con los que tenemos nos dan muchas actividades para hacer y variar.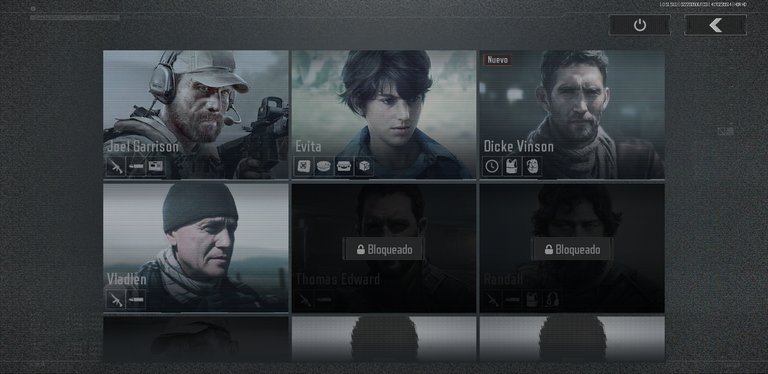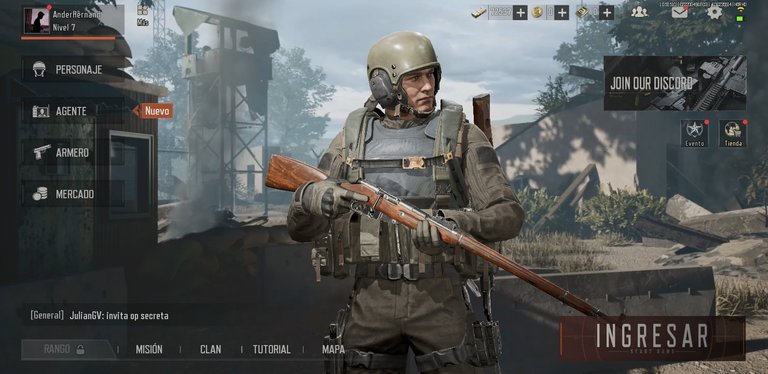 The warehouse or inventory is our most important point, since here we have everything we need to start our expeditions, weapons, ammunition, medicine, food, parts of weapons and various objects give the possibility to save everything we bring from these missions, also in the top left we can see the life of our character among other necessary things that we must review before, being very patient and cautious with everything we need, to go safely to the confrontation.
We also have an armorer to modify our weapons and carry weapons customized to our style and situation.
El almacén o inventario es nuestro punto más importante ya que aquí contamos con todo lo necesario para comenzar con nuestras expediciones, armas, munición, medicina, alimentos, partes de armas y objetos varios dan la posibilidad de guardar todo lo que traigamos de esas misiones, además en la parte superior izquierda podremos ver la vida de nuestro personaje entre otras cosas necesarias que debemos revisar antes, teniendo mucha paciencia y cautela con cada cosa que necesitemos, para ir seguros al enfrentamiento.
También contamos con un armero para modificar nuestras armas y llevar armas personalizadas a nuestro estilo y situación.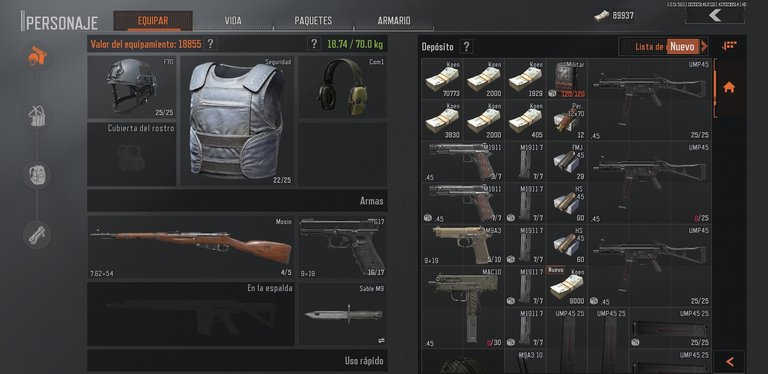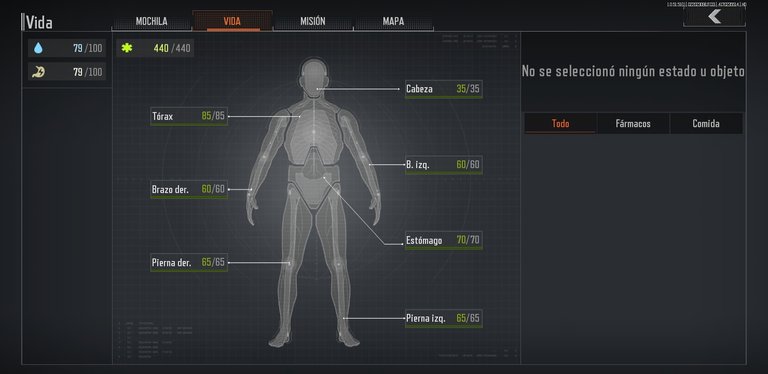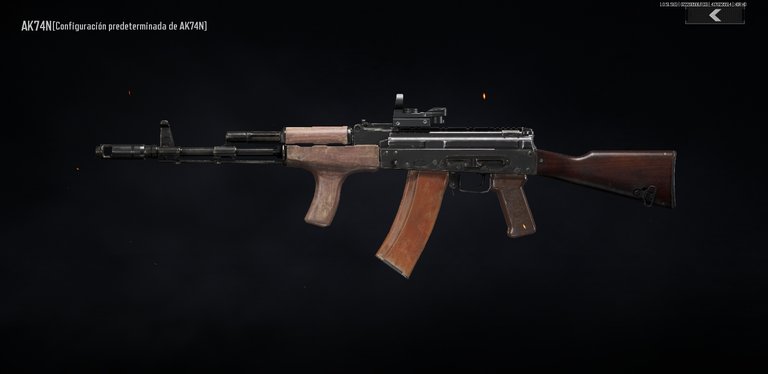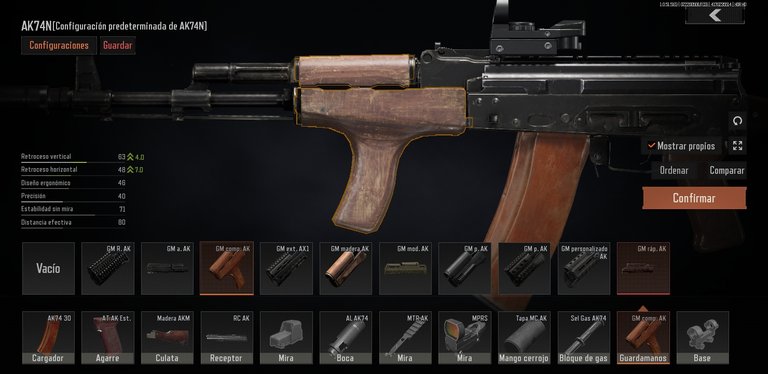 Its gameplay is a clear example of realism, but before starting we have two options to begin our missions, tactical operations which is practically using our character with our weapons and equipment placed by us and the other mode is secret operations which will use a random character with random weapons so as not to risk any of our equipment, but this mode or style of play has a disadvantage and is that we do not have much medical equipment, scarce ammunition and weapons that can give us disadvantage as shotguns or worn weapons.
Su gameplay es un claro ejemplo de realismo, pero antes de comenzar tenemos dos opciones para comenzar nuestras misiones, operaciones tácticas que prácticamente es usar nuestro personaje con armas nuestras y equipamiento colocado por nosotros y el otro modo es operaciones secretas el cual usaremos un personaje al azar con armas al azar para asi no arriesgar nada de nuestros equipamientos pero este modo o estilo de juego tiene una desventaja y es que no contamos con mucho equipo medico, munición escasa y armas que nos pueden dar desventaja como escopetas o armas desgastadas.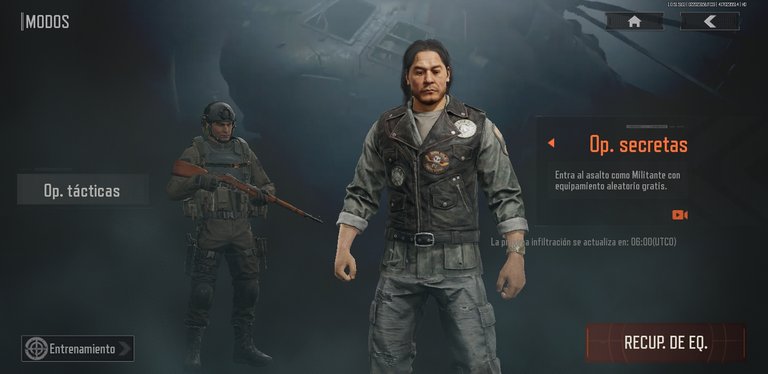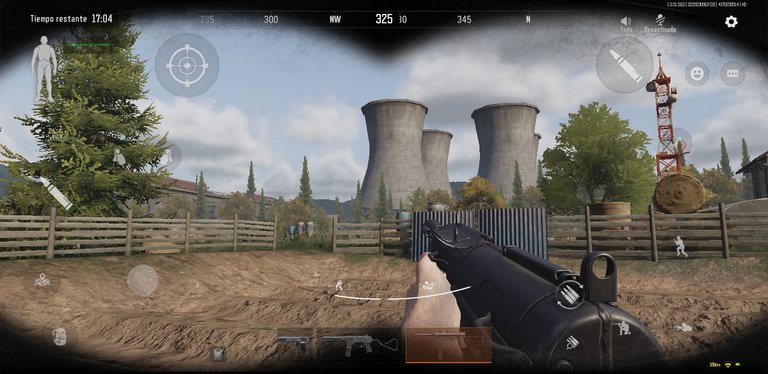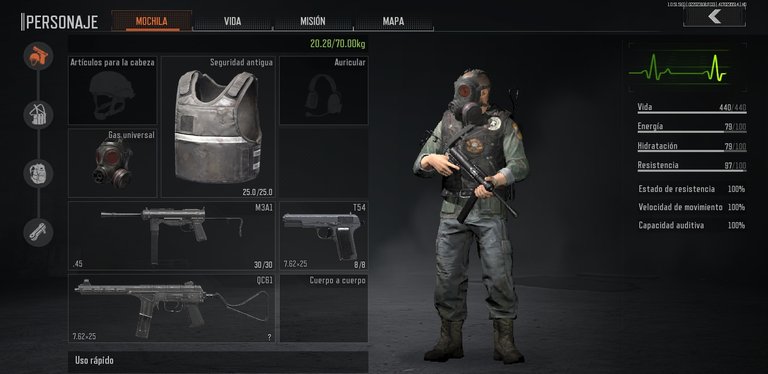 Continuing with the gameplay, it is very immersive thanks to its realism, the weapons feel very real, even shotguns can kill with one shot, precision weapons kill with one shot depending on the location and high rate weapons are difficult to control, distance, control and pressure are important at the time of the confrontations, at the same time that if you get shot it can be very dangerous for us, leaving us hemorrhages, uncontrolled as tremors in our arms, poor mobility in case of a shot to the legs and many disadvantages for which we can not allow to receive a shot.
Continuando con el gameplay, es muy inmersivo gracias a su realismo, las armas se sienten muy reales, incluso las escopetas pueden matar de un solo disparo, las armas de precisión matan de un disparo dependiendo del lugar y las armas de alta cadencia son difíciles de controlar, la distancia, el control y la presión son importantes a la hora de los enfrentamientos, a su vez de que si te dan algún disparo puede ser muy peligroso para nosotros, dejándonos hemorragias, descontrol como temblores en nuestros brazos, mala movilidad en caso de un disparo a las piernas y muchas desventajas por los cuales no podemos permitir recibir algún disparo.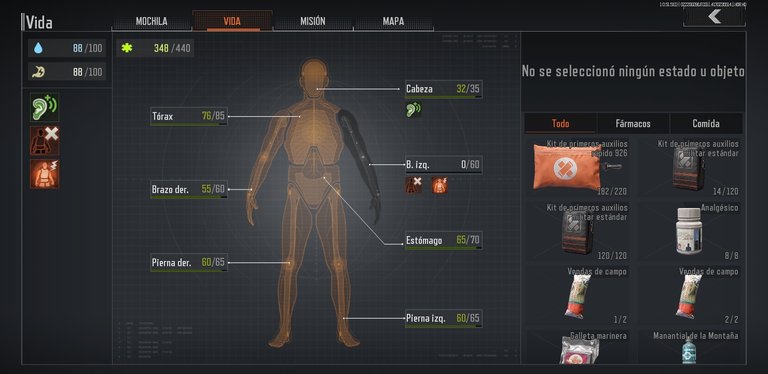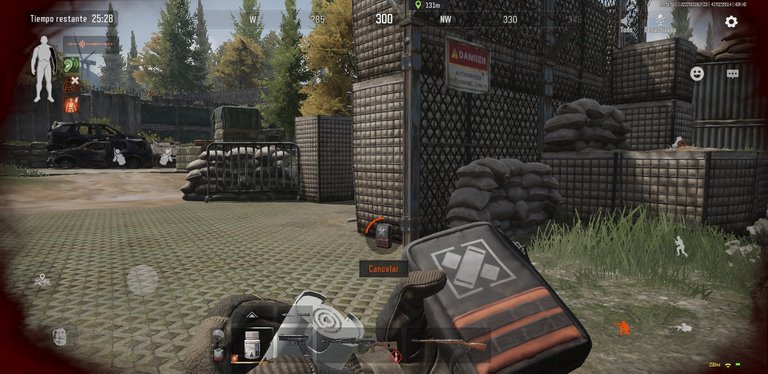 On the other hand, the clashes are hard and even difficult to identify where we can shoot, as the sound is essential here, also stealth is valuable and helps a lot to not detect you both real players and artificial intelligence, although in this way is very slow, but you can get out unharmed from many clashes if you do well, in turn the game has a function to walk and to peek allowing us much in the covers.
Por otro lado, los enfrentamientos son duros e incluso difíciles de identificar de donde nos pueden disparar, ya que el sonido es fundamental aquí, también el sigilo es valioso y ayuda mucho a que no te detecten tanto jugadores reales como la inteligencia artificial, aunque de esta forma es muy lento, pero puedes salir ileso de muchos enfrentamientos si lo haces bien, a su vez el juego cuenta con una función para caminar y para asomarnos permitiéndonos mucho en las coberturas.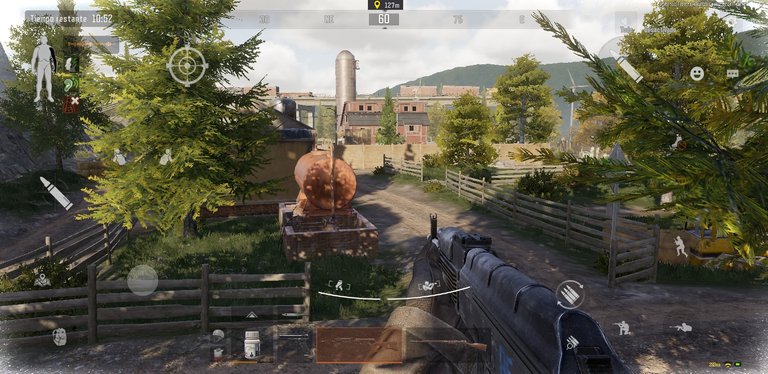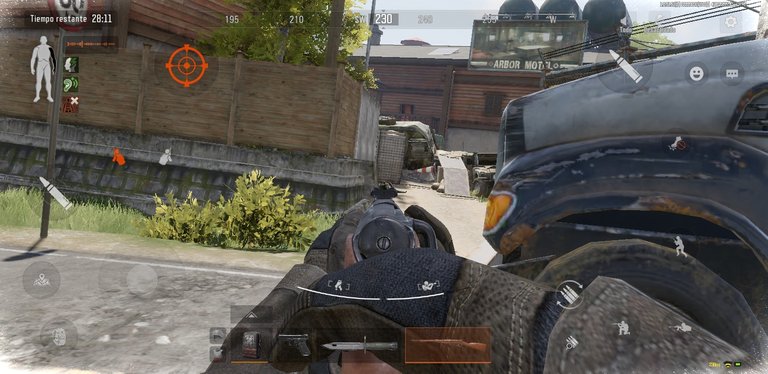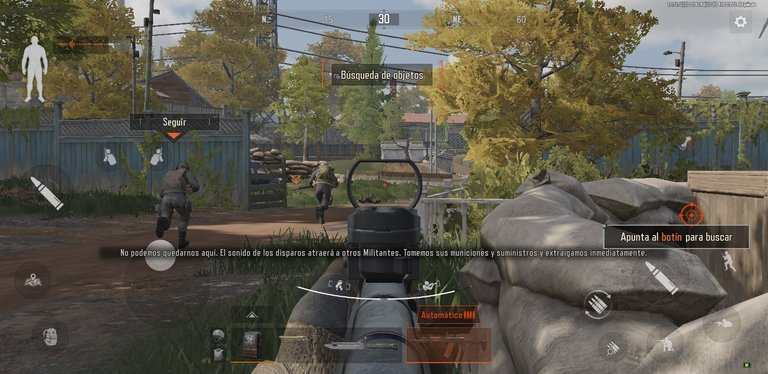 For me an interesting game and that was already missing on mobile, although there are already some that give a similar experience, this has the full package, the only detail is its mobility, there are times that is buggy or when I try to jump a window or something does not, that if it is a negative point, but generally the game is pretty good, the immersion is the best, plus the variety of weapons, ways to start a mission and many other things that make the game very real and striking, it is worth mentioning that each expedition is from point A to point B, but the journey is what makes the game authentic and difficult.
I recommend it if you like this style of game where realism is important, tactical style and patience make it a mission accomplished.
Para mí un juego interesante y que ya hacía falta en móviles, aunque ya existen algunos que dan una experiencia similar, este tiene el paquete completo, el único detalle es su movilidad, hay momentos que se bugea o cuando intento saltar una ventana o algo no lo hace, eso si es un punto negativo, pero generalmente el juego está bastante bien, la inmersión es de lo mejor, además de la variedad de armas, formas de iniciar una misión y muchas otras cosas que hacen del juego muy real y llamativo, cabe mencionar que cada expedición es de un punto A un punto B, pero el trayecto es lo que hace el juego auténtico y difícil.
Lo recomiendo si te gusta este estilo de juego en donde el realismo es lo importante, el estilo táctico y la paciencia hacen de una misión cumplida.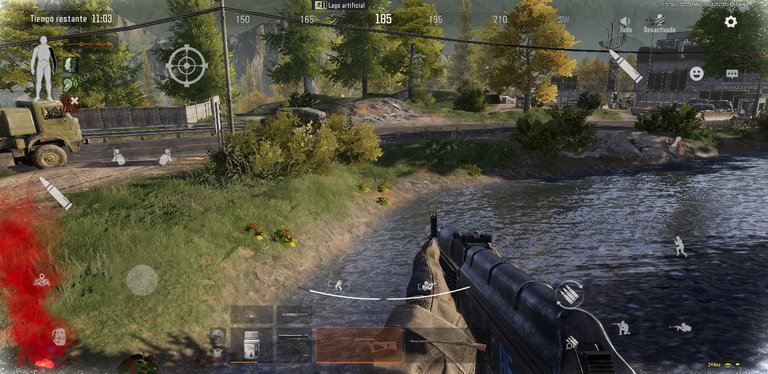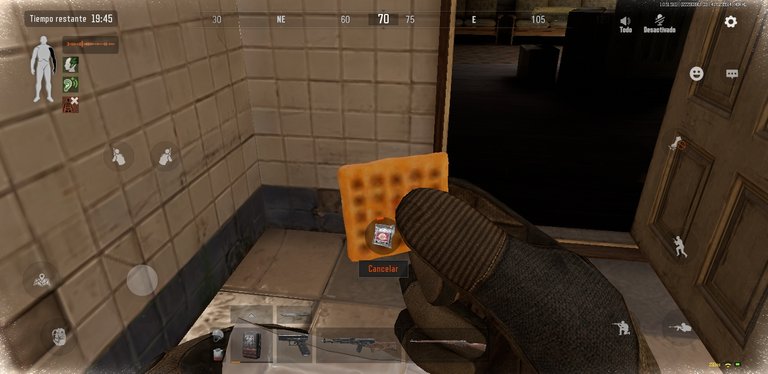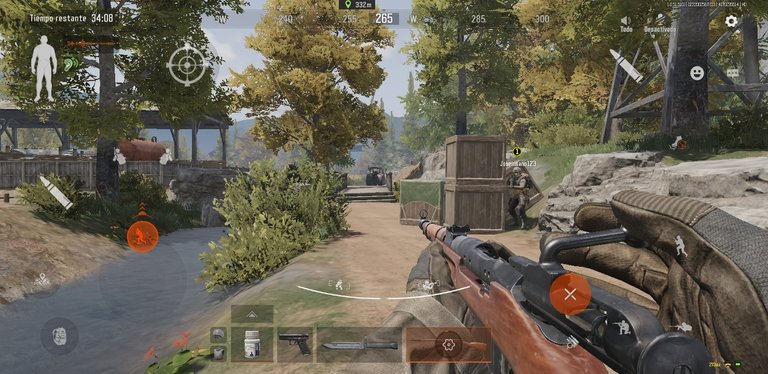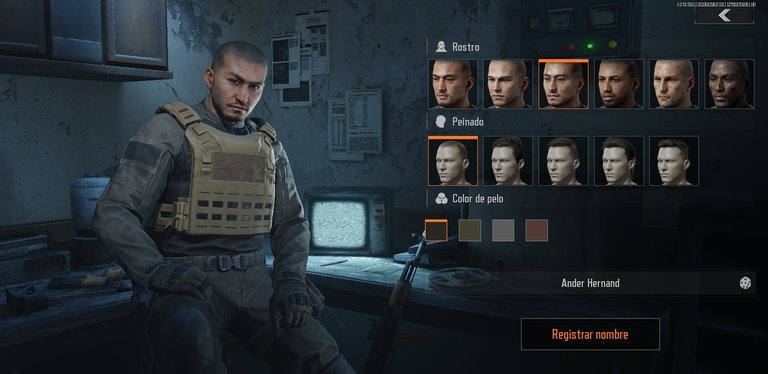 Thank you very much for getting here and have a great day.
Muchas gracias por llegar aquí y que tengas un excelente día.

Teléfono en que juego | Phone on which I play: Samsung S9
Translation: Deepl.com
---
---