Algunas recomendaciones para elegir un Gym. Desde mi experiencia 💪🏽🏋🏽‍♀️ [ESP-ENG]
¡Espero se encuentren muy chicos, bienvenidos una vez más a mi blog! Esta semana decidí mudarme de Gym temporalmente debido a que estoy de vacaciones en la Universidad. Yo venía trabajando durante dos meses de forma online con mi entrenador jhoan.bw y hace unas semanas a él le dieron la oportunidad de trabajar en un Gimnasio propiamente, él trabajaba de forma independiente en un lugar acondicionado antes de eso y pues necesitaba el apoyo de ir llevando a personas a entrenar en el Gym donde está actualmente para que eso le fuese abriendo oportunidades y pues yo quise apoyarlo este mes, así que estoy entrenando con él de forma presencial.
---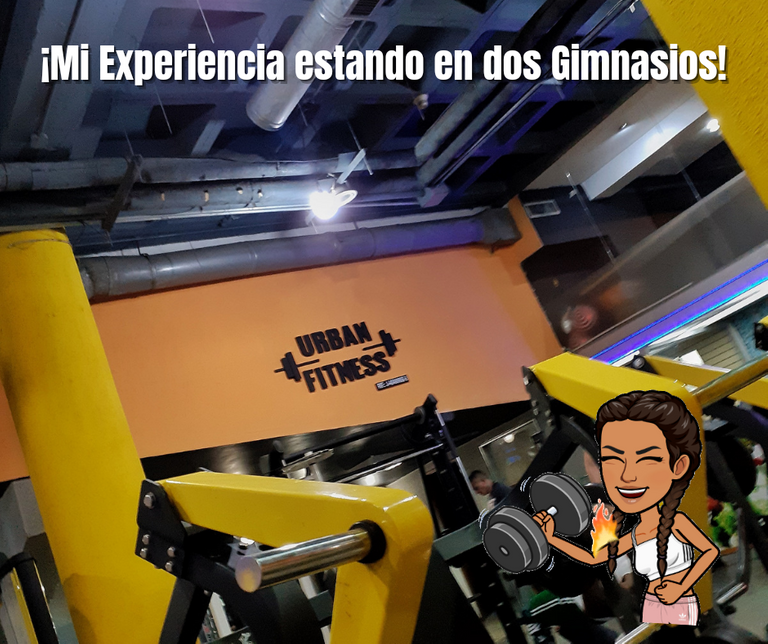 Portada hecha por mi en Canva | Cover made by me in Canva
---
I hope you guys are feeling great, welcome once again to my blog! This week I decided to move from Gym temporarily due to the fact that I'm on vacation at the University. I had been working for two months online with my trainer jhoan.bw and a few weeks ago he was given the opportunity to work in a proper Gym, he was working independently in a conditioned place before that and he needed the support of taking people to train in the Gym where he is currently so that it was opening opportunities and I wanted to support him this month, so I'm training with him in person.

El Gimnasio donde estoy ahorita se llama Urban Fitness, me queda más lejos de donde entrenaba antes, que quedaba a solo cuadras de mi Universidad y no tan lejos de mi casa. El Urban además es un poco más costoso, algo curioso es que allí no se paga inscripción, solo mensualidad, pero aún así hice un esfuerzo para poder costearlo porque lastimosamente no estoy estable económicamente y aparte de eso es la mensualidad de mi entrenador que es aparte. Pero lo importante es que lo logré y me ha ido muy bien estos días.
Este post es para contarles un poco de mis impresiones y las diferentes experiencias que les podría compartir de ambos, ya estoy viendo la posibilidad de compartirles un poco más de contenido y videos referente a mis entrenamientos, sería interesante, díganme en los comentarios si les gustaría…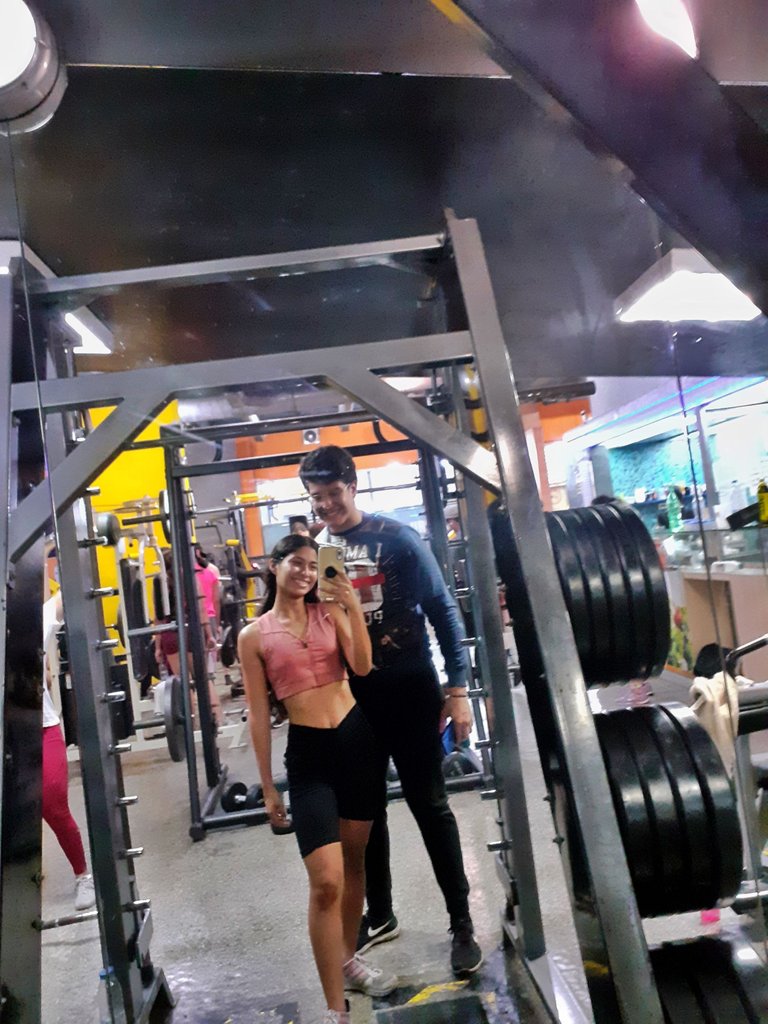 Ahora, el Urban Fitness es un gym bastante bonito a nivel de decoración, le hace justicia al nombre literalmente, da vibras urbanas y eso me gusta bastante. Los colores que más predominan allí son el Amarillo y tiene luces Azules que le da un toque bastante chévere. El Aztro Gym por su parte, es un poco más clásico, de hecho, siempre me llamó la atención que las paredes estuviesen pintadas de Verde Manzana con blanco, si hablamos de la psicología del color, el color Verde está más relacionado con la naturaleza, tranquilidad e incluso lo utilizan para la salud, pero para mí no es un color que sea tan apropiado para un Gym, pero es algo diferente y buena de cierta forma transmite un poco de serenidad mientras están allí dándole uro a los hierros JAJAJA. En cambio, el color Amarillo si es un color que transmite más energía, por ahí llegué a leer que transmite fuerza, acción y da un toque juvenil, que si es mucho más aceptable y adecuado para el concepto del Urban.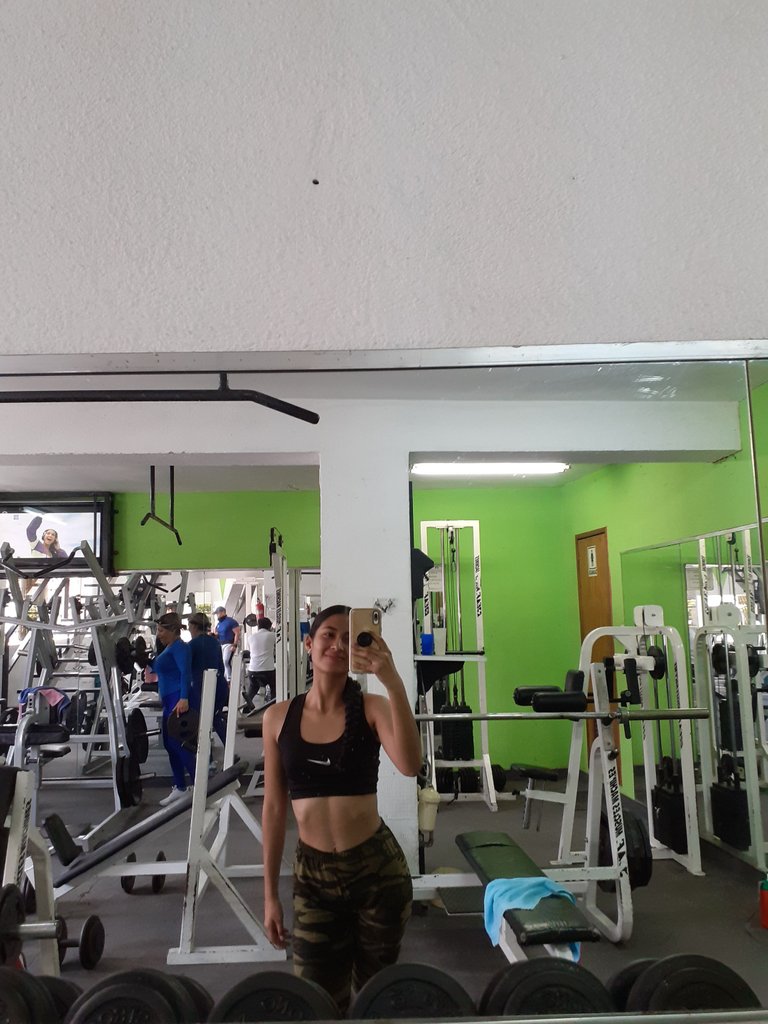 The gym where I am now is called *Urban Fitness*, it is farther away from where I trained before, which was just blocks from my university and not so far from my house. The Urban is also a little more expensive, something curious is that there is no registration fee, only a monthly fee, but still I made an effort to afford it because unfortunately I am not economically stable and besides that is the monthly fee of my coach that is separate. But the important thing is that I made it and I have been doing very well these days.

This post is to tell you a little of my impressions and the different experiences that I could share with you both, I am already looking at the possibility of sharing a little more content and videos about my workouts, it would be interesting, let me know in the comments if you would like...

Now, Urban Fitness is a pretty nice gym in terms of decoration, it does justice to the name literally, it gives urban vibes and I like that a lot. The colors that predominate there are yellow and it has blue lights that give it a pretty cool touch. The Aztro Gym on the other hand, is a bit more classic, in fact, it always caught my attention that the walls were painted Apple Green with white, if we talk about the psychology of color, the color Green is more related to nature, tranquility and even used for health, but for me it is not a color that is so appropriate for a Gym, but it is something different and good in a way conveys a bit of serenity while they are there giving uro to the irons HAHAHAHA. On the other hand, yellow is a color that transmits more energy, I read that it transmits strength, action and gives a youthful touch, which is much more acceptable and suitable for the concept of Urban.

Hablando de Máquinas, el Urban es un poco mejor, porque son máquinas más nuevas, sin embargo, hay varias máquinas que no están bien diseñadas lo cual no es ni bueno ni malo, sino simplemente no valdría mucho la pena usarlas, pero ya depende de los objetivos y gustos de cada quien, además que dentro de todo están bien cuidadas. Tienen variedad en cuanto a Discos y Mancuernas, tanto de goma como de hierro propio, diferentes pesos y es un punto a favor para ellos, ya que en el Aztro Gym por lo menos con las Mancuernas si no tienen tantas opciones de pesos y esto puede retrasar un poquito los avances porque si estás trabajando con un peso, colocándoles un ejemplo propio 5lb de cada lado y quieres aumentar un poco más es difícil porque las mancuernas que le siguen a esas son las de 10lb, no hay como que un intermedio y por ende hay que ingeniárselas. Aparte, en el aztro todos si es netamente de hierro y pesa mucho mucho más, aunque tengas un disco de goma y un disco de hierro que pesen lo mismo, los de hierro los sentirás mucho más pesados, no se la razón, pero es así jajaj.
Cuando yo comencé en el Aztro Gym de las primeras cosas que pensé fue que era pequeño, está too ocupado por las diferentes máquinas y los pasillos son bastante reducidos, y ya se imaginan que puede llegar a ser incómodo en horas pico por la cantidad de gente, pero con todo y eso, es un poco más espacioso que el Urban JAJAJA. También tiene buenas máquinas, las necesarias y más de hecho, son más viejas y algunas están un poco descuidadas, pero siempre y cuando funcionen todo bien jajaj. El Aztro tiene la ventaja de que cuenta con dos pisos, la parte de abajo es de Musculación y en el segundo piso está la sala de Spinning y un Salón bastante amplio para hacer Actividades Aeróbicas; el Urban también cuenta con dos pisos, pero en el de arriba que no es tan grande solo están unas oficinas, por lo que me comentaron, y el salón para Spinning y actividades Aeróbicas está abajo donde igual están las máquinas, es bastante amplio, yo considero que le quita un poco de espacio al Gym pero bueno, es bonito, cómodo y funcional igual.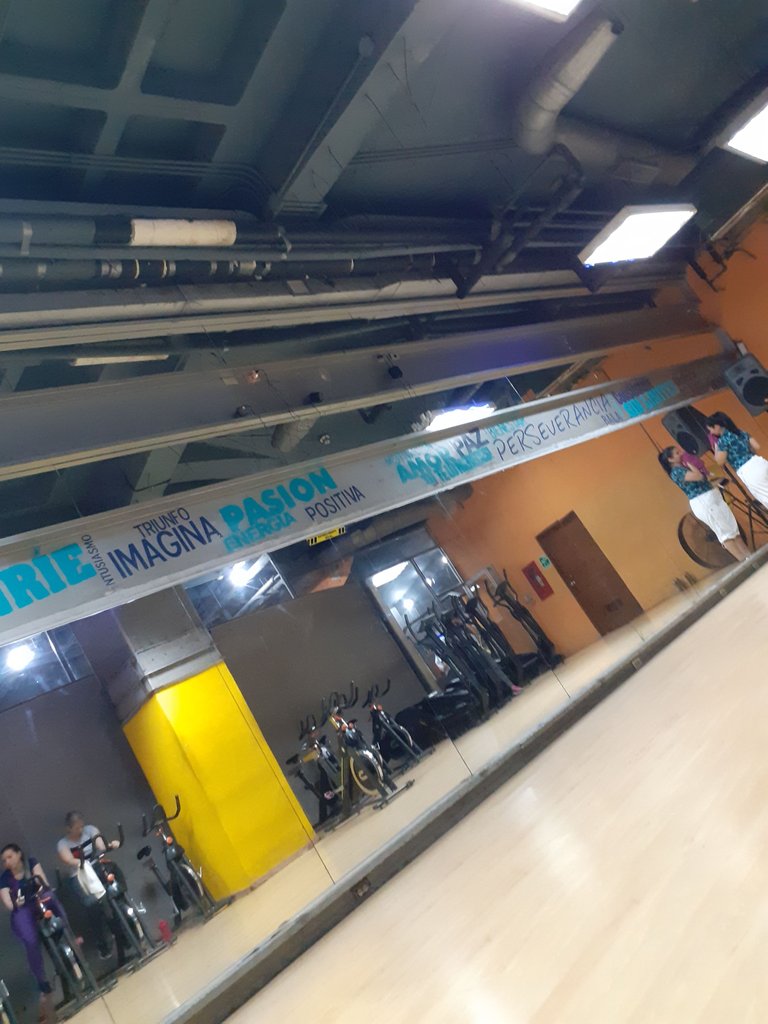 Otra cosa que me gusta del Aztro Gym es que es más ventilado, tiene bastantes ventanas y por lo tanto es más fresco, el Urban no, hace un calor horrible porque es todo cerrado, no hay aires acondicionados, que es bueno, por un lado, pero incómodo a la vez, tienen son unos ventiladores grandísimos en cada esquina que si refresacan si te ponesen frente de ellos, pero por todo el calor y humedad que transpira todo el mundo no es suficiente jajaj, por ser todo cerrado pues.
Speaking of machines, the Urban is a little better, because they are newer machines, however, there are several machines that are not well designed which is neither good nor bad, but simply would not be worth much to use them, but it depends on the objectives and tastes of each person, plus they are well maintained. They have variety in terms of Discs and Dumbbells, both rubber and own iron, different weights and is a plus for them, because in the Aztro Gym at least with the Dumbbells if they do not have so many options of weights and this can delay a little progress because if you are working with a weight, placing an example own 5lb on each side and want to increase a little more is difficult because the dumbbells that follow those are 10lb, there is no such an intermediate and therefore you have to figure it out. Besides, in the aztro all of them are made of iron and weigh much more, even if you have a rubber disc and an iron disc that weigh the same, the iron ones will feel much heavier, I don't know the reason, but that's how it is hahaha.

When I started at Aztro Gym one of the first things I thought was that it was small, it is too busy for the different machines and the aisles are quite small, and you can imagine that it can be uncomfortable at peak hours because of the amount of people, but with all that, it is a little more spacious than the Urban HAHAHAHA. It also has good machines, the necessary and more in fact, they are older and some are a little neglected, but as long as they work everything is fine hahaha. The Aztro has the advantage that it has two floors, the bottom floor is for weight training and on the second floor is the Spinning room and a fairly large room for aerobic activities; the Urban also has two floors, but on the top floor which is not so big there are only some offices, from what I was told, and the room for Spinning and aerobic activities is downstairs where the machines are, it is quite spacious, I think it takes a little space to the Gym but well, it's nice, comfortable and functional anyway.

Another thing I like about the Aztro Gym is that it is more ventilated, it has many windows and therefore it is cooler, the Urban is not, it is very hot because it is all closed, there are no air conditioners, which is good, on the one hand, but uncomfortable at the same time, they have some huge fans in each corner that cool if you put yourself in front of them, but for all the heat and humidity that everyone sweats, it is not enough hahaha, because it is all closed.

Algo también súper importante a mencionar es que en el Urban cuenta con más entrenadores y en su mayoría son bastante buenos y con experiencia, el Aztro si no cuenta con muchos y por lo que he podido notar, las personas no tienen una programación tan detallada y basada en objetivos, porque no se trata de solo ir y hacer cualquier cosa, no, la forma correcta es saber primero lo haces y segundo que tengas una correcta programación para que puedas ver avances ya sea a nivel físico o de fuerza. Como recomendación siempre tengan muy en cuenta esto.
La verdad pudiese seguir haciendo comparaciones, me ha gustado que he tenido la oportunidad de probar dos Gimnasios, de probar distintas máquinas e implementos, me gusta bastante probar cosas buenas, esta vida del Gym la amo y disfruto como no imaginan y espero en algún momento pueda seguir visitando y probando cosas diferentes en otros Gimnasios.
Mientras chicos, la recomendación que les doy, sobre todo a las personas que quisieran estar en un Gimnasio, entrenar o si aún no se deciden, primero atrévanse, anímense, es una experiencia muy bonita si la sabes vivir y te hará mucho bien a largo plazo. Moverse, levantar pesas es Calidad de Vida. Además de eso, pidan recorridos, analicen, en el Urban a diario se escucha "se solicita entrenador para recorrido" jajaja, eso me gusta, es importante además porque el Gym al final de cuentas se convierta en tu segunda casa… y por último, pero no menos importante, sean selectivos con los entrenadores, es importante estar en manos de personas bien estudiadas y con experiencia, porque es delicado, primero, y segundo un buen entrenador te va a saber guiar, asistir, motivarte y lo importante te ayudará a progresar en tus objetivos, que desde el día uno tienen que estar bien definidos por ti.
Something also super important to mention is that the Urban has more trainers and most of them are quite good and experienced, the Aztro does not have many and from what I have noticed, people do not have such a detailed and goal-based **programming**, because it is not just go and do anything, no, the right way is to know first what you do and secondly that you have a correct programming so you can see progress either physically or strength. As a recommendation always keep this in mind.

The truth could continue making comparisons, I liked that I have had the opportunity to try two Gyms, to try different machines and implements, I really like to try good things, I love this Gym life and I enjoy it as you can not imagine and I hope at some point I can continue visiting and trying different things in other Gyms.

Meanwhile guys, the recommendation I give you, especially to people who would like to be in a gym, train or if you still have not decided, first dare, encourage you, it is a very nice experience if you know how to live it and it will do you a lot of good in the long run. Moving, lifting weights is Quality of Life. Besides that, ask for tours, analyze, in the Urban you hear daily "coach is requested for tour" hahaha, I like that, it is also important because the Gym at the end of the day becomes your second home... and last but not least, be selective with the trainers, it is important to be in the hands of well studied and experienced people, because it is delicate, first, and second a good trainer will know how to guide you, assist you, motivate you and the important thing will help you progress in your goals, which from day one must be well defined by you.

Espero que les haya entretenido leerme y les ayude mis recomendaciones si alguna vez desean inscribirse en un Gym, por supuesto nada lo tomen como absoluto, ya que todo depende de cada quien, pero si recomiendo que tengan en cuenta la Calidad en todo aspecto. Coméntenme en los comentarios si entrenan o quieren animarse a dar ese paso para interactuar un poco. Les mando un fuerte abrazo chicos, nos leemos pronto! 💪🏽❤
I hope you have enjoyed reading me and that my recommendations will help you if you ever want to enroll in a Gym, of course nothing take it as absolute, since everything depends on each person, but I recommend that you take into account the **Quality** in every aspect. Let me know in the comments if you train or want to take that step to interact a little. I send you guys a big hug, see you soon! 💪🏽❤


¡Gracias por visitar mi blog!
¡Thanks for visiting my blog!






Fotos de mi propiedad | Photos of my property
Separadores de texto | Text separators
Traducción hecha en Deepl | Tranlation made in Deepl

---
---