Mis cantantes favoritos | Dani J 🎶💃🏽 [ESP-ENG]
Feliz viernes bonita comunidad, espero hayan tenido una excelente semana!! Hoy les traigo otra recomendación musical de otro de mis artistas favoritos de Bachata, Dani J. El es cantante y bailarín, de esos pocos artistas que bailan el género de si música jajaj, por esa razón soy más fan aún, porque lo hace un artista más completo e integral.
---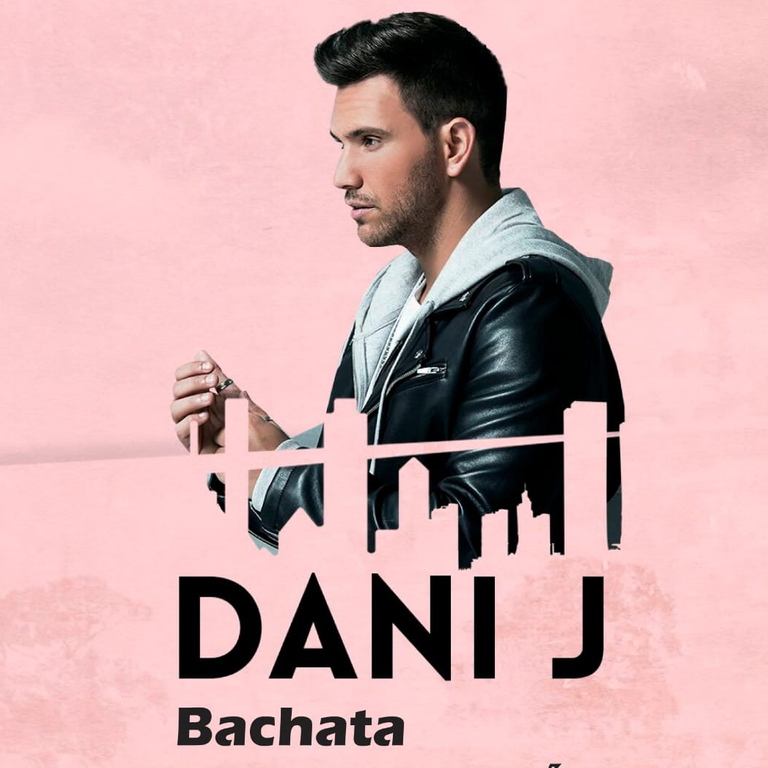 Fuente de la Imagen
---
Dani J es Europeo, específicamente de España, aparte de la Bachata también tiene algunas canciones que Salsa, pero las canciones que les mostraré a continuación son de Bachata, por supuesto. Me gusta de él su voz, sus letras, el ritmo de sus canciones, la estructura musical de ellas, siempre tienen esos puentes instrumentales demasiado increíbles que permiten bailar sabroso JAJAJ, así que si no sabía de este cantante, estoy segura que mínimo una canción de él agregaran en sus Playlists de Bachata.
Happy Friday beautiful community, I hope you have had a great week! Today I bring you another musical recommendation from another one of my favorite Bachata artists, Dani J. He is a singer and dancer, one of those few artists that dances the genre of music hahahah, for that reason I am even more of a fan, because it makes him a more complete and integral artist.

Dani J is European, specifically from Spain, apart from Bachata he also has some Salsa songs, but the songs I will show you below are Bachata, of course. I like his voice, his lyrics, the rhythm of his songs, the musical structure of them, they always have those too incredible instrumental bridges that allow you to dance tasty JAJAJ, so if you didn't know about this singer, I'm sure you will add at least one song of him in your Bachata Playlists.

1. Decídete
Esta canción es de mis favoritas de él, la que más amo, una de las más recientes hecho, que les puedo decir, esta canción te invita a sentir a cantar a todo pulmón, a bailar apasionadamente metiéndote en ese personaje jaja, es muy pero muy buena esta canción en todo sentid. La canta junto a Bachata Heightz, no estoy muy clara si esta es una agrupación o simplemente un nombre artístico, la voz acompañante es de mujer, por cierto, muy bonita que le da a la canción un toque increíble, hace armonía junto con la voz de Dani J...
Esta canción básicamente trata de una persona que vivió momentos íntimos con otra diferente a su pareja, hubo química y pues le cantan a esa persona diciendo que se decida por él, que cree que es mejor, complace sus fantasías y demás JAJAJ. Es bastante interesante esa letra, y con ese ritmo, esos instrumentos uff, de verdad que 20/10 a esta canción... hasta para dedicar sirve JAJAJ.
This song is one of my favorites of his, the one I love the most, one of the most recent, what can I say, this song invites you to feel like singing at the top of your lungs, to dance passionately getting into that character haha, this song is very, very good in every way. He sings it with Bachata Heightz, I am not very clear if this is a group or just a stage name, the accompanying voice is of a woman, by the way, very pretty that gives the song an incredible touch, it makes harmony with the voice of Dani J....

This song is basically about a person who lived intimate moments with someone other than his partner, there was chemistry and then they sing to that person telling him to decide for him, that he thinks he is better, indulges his fantasies and so on JAJAJ. The lyrics are quite interesting, and with that rhythm, those instruments uff, really 20/10 to this song... even to dedicate it is good JAJAJ.

2. Bachata Sensual
Esta canción es DEMASIADO HERMOSA, por favor si tienen pareja y no habían escuchado esta canción y les gusta, y además les gusta bailar, por favor dedíquensela a su pareja y bailen con ella, de seguro el momento sería hermoso, porque la canción es súper romántica, es MADRE CANCIÓN, ok, JAJAJ, para bailar te ofrece una experiencia única, es una Bachata Tango, los momentos instrumentales son perfectos, se siente armonía se puede fusionar, no saben las ganas que yo tengo de aprender junto con alguien que también baile bachata un poco de tango para hacer una coreografía con esta canción, lo disfrutaría muchísimo...
No voy a decir más sobre esta canción para que la escuchen y ustedes mismos se deleiten. Solo les digo que la letra le hace justicia al nombre y es mi canción favorita, que podría escuhar muchas veces, junto con la anterior, de Dani J.
This song is TOO BEAUTIFUL, please if you have a partner and had not heard this song and you like it, and also like to dance, please dedicate it to your partner and dance with her, for sure the moment would be beautiful, because the song is super romantic, is MOTHER SONG, ok, JAJAJ, to dance it offers you a unique experience, it's a Bachata Tango, the instrumental moments are perfect, you can feel the harmony, you don't know how much I want to learn together with someone who also dances bachata a little bit of tango to make a choreography with this song, I would enjoy it a lot. ..

I am not going to say more about this song so that you can listen to it and enjoy it for yourselves. I will just tell you that the lyrics do justice to the name and it is my favorite song, which I could listen to many times, along with the previous one, by Dani J.

3. La Última Noche
Esta canción me va a traer muy bonitos recuerdos siempre, porque fue una de las que utilicé, junto a mis compañeros, para la coreografía de mi graduación como bailarina de Bachata... esta canción me encanta y en ese momento la elegimos, hace ya casi 4 años, porque es romántica muy sensual, y casi finalizando la canción cambia de ritmo a un chachachá, los espacios instrumentales son INCREÍBLES, lo cual por supuesto invita a fusionar en el baile y se disfruta muchísimo más. Además me gusta mucho que en el video hay bailarines, en todos los videos de Dani J hay una pareja bailando, cosa que deberían suceder siempre en los videos musicales de Bachata, porque la Bachata es un género bailable, y que mejor que eso para un video musical? JAJAJA, es mi punto de vista.
La letra es más de desamor, pero no deja de ser buena, Dani J tiene una voz espectacular y expresa demasiado cantando, así que es posible meterse en el papel de la canción y sentir eso que transmite con pasión. Esta canción es, además, diferente al resto por lo que les menciono que incluye otros estilos, incluso hay un pedacito de Tango antes del chachachá que les mencioné, lo cual le da mucha originalidad a la canción.
This song will always bring me very nice memories, because it was one of the songs that I used, along with my classmates, for the choreography of my graduation as a Bachata dancer... I love this song and at that time we chose it, almost 4 years ago, because it is romantic and very sensual, and almost at the end of the song it changes rhythm to a chachachá, the instrumental spaces are AMAZING, which of course invites to merge in the dance and it is much more enjoyable. I also really like that in the video there are dancers, in all Dani J's videos there is a couple dancing, something that should always happen in Bachata music videos, because Bachata is a danceable genre, and what better than that for a music video? HAHAHAHA, that's my point of view.

The lyrics are more of heartbreak, but it's still good, Dani J has a spectacular voice and expresses too much singing, so it's possible to get into the role of the song and feel what he transmits with passion. This song is also different from the rest because it includes other styles, there is even a little bit of Tango before the chachachá I mentioned, which gives the song a lot of originality.

4. Bésame
Esta canción no es de Dani J realmente, es de Luis Fonsi con Myke Towers, pero la traigo porque esta versión es muchísimo mejor que la original jajaj. La voz de Dani J, la base y los instrumentos de Bachata la hacen muchísimo más disfrutable, aparte que no pierde ese toque urbano que ayuda a dárselo Sanco, y el Dj que acompaña a Dani en esta canción. Así que por lo tanto, bailar y fusionar con pasos más urbanos uff, mucha perfección JAJAJ, porque está la esencia de la Bachata y ese toque que le queda demasiado bien para complementar. Es muy enérgica la letra es bastante bonita también, repito no es de Dani, pero si se parece a él, y le quedó excelente esta versión.
De hecho, yo hice un video coreográfico con esta canción, que lo pueden conseguir en mi canal de 3Speak si les interesa verlo, jeje.
This song is not really by Dani J, it is by Luis Fonsi with Myke Towers, but I bring it because this version is much better than the original jajaj. Dani J's voice, the base and the Bachata instruments make it much more enjoyable, plus it does not lose that urban touch that helps to give it Sanco, and the Dj that accompanies Dani in this song. So therefore, dance and merge with more urban steps uff, much perfection JAJAJ, because there is the essence of Bachata and that touch that fits too well to complement. It is very energetic and the lyrics are quite nice too, I repeat it is not Dani's, but it looks like him, and this version is excellent.

In fact, I made a choreographed video with this song, which you can get on my 3Speak channel if you're interested in watching it, hehe.

5. Me Derrumbo
Y para finalizar con este Top, esta canción, original de Dani J, que también me gusta y disfruto muchísimo bailándola. La letra es muy bonita, refiere a que sin esa persona, se derrumba, literalmente jaja, por eso el nombre de la canción, pero lo dice por haber cometido errores con esa persona, así por un lado se podría dedicar jajaj. Los ponches y el puente instrumental que tiene es demasiado bueno para hacer pasos libres, en serio esta canción es muy bonita, sensual, pero también muy enérgica, este tipo de ritmos que no son totalmente lentos pero aún así románticos, me encantan desde un punto de vista como bailarina e instructora.
Para hacer coreografía es buena canción, de hecho hice una para un taller de fin de año en Yoy Salseros, que pienso revivir el video muy pronto junto a @ilazramusic así que espérenlo, porque de corazón quedará muy bonito, es especial para mi revivir coreografías que he hecho y me disfruté creando gracias a canciones tan increíbles como esta.
And to finish with this Top, this song, original by Dani J, which I also like and enjoy dancing to it. The lyrics are very nice, refers to that without that person, it collapses, literally haha, that's why the name of the song, but he says it for having made mistakes with that person, so on the one hand it could be dedicated hahahaha. The punches and the instrumental bridge it has is too good to make free steps, seriously this song is very nice, sensual, but also very energetic, this kind of rhythms that are not totally slow but still romantic, I love it from a point of view as a dancer and instructor.

To make choreography is good song, in fact I did one for a year-end workshop in Yoy Salseros, I plan to revive the video very soon with @ilazramusic so wait for it, because it will be very nice, it is special for me to revive choreography that I have done and I enjoyed creating thanks to songs as amazing as this one.

Y todo es todo por este post chicos, espero que hayan disfrutado escuchando estas canciones. Coméntenme si conocían a este artista y cual fue su canción favorita de este Top para interactuar un poquito. Gracias por haber llegado hasta este punto, les deseo un muy buen fin de semana, que descansen y disfruten mucho. Nos vemos leemos pronto, bye bye!!
And that's it for this post guys, I hope you enjoyed listening to these songs. Let me know if you knew this artist and what was your favorite song of this Top to interact a little bit. Thank you for having reached this point, I wish you a very good weekend, rest and enjoy a lot. See you soon, bye bye!


¡Gracias por visitar mi blog!
¡Thanks for visiting my blog!






Fotos de mi propiedad | Photos of my property
Separadores de texto | Text separators
Traducción hecha en Deepl | Tranlation made in Deepl

---
---