Making Seafood Tumpah For My Family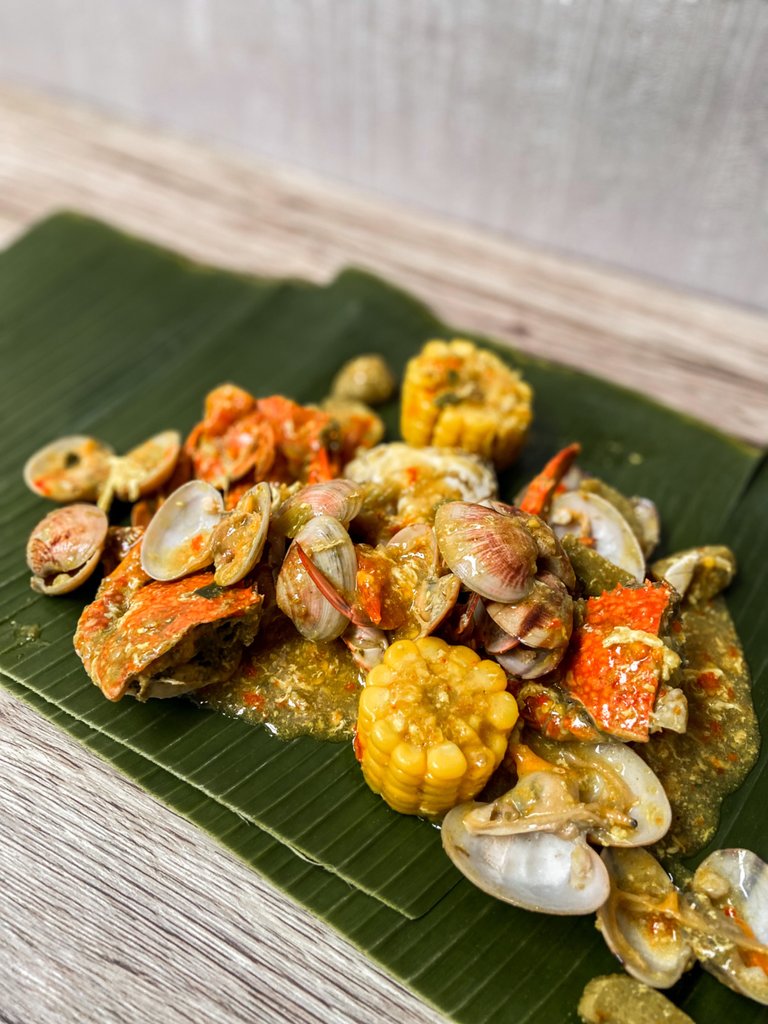 ---
---
Hello everyone,
Yesterday, my husband's cousin invited us to his pregnant wife's 7 month event. They held it at Tanjung Pura's house. The city of Tanjung Pura is a city that is famous for its brackishness, so many fishermen are looking for fish and seafood. It's easy to get all kinds of seafood in brackish, especially crabs and mussels.
My husband's uncle gave us 3 kg of crab and 1 kg of mussels for us to take home. We were very happy to get fresh crabs and mussels, he said it was just harvested this morning. My mother-in-law was very happy and told me all this seafood we will process very well.
So, I took the initiative to cook all this seafood to be made 'seafood tumpah'. The meaning of 'seafood tumpah' is seafood that is cooked and served on a table with a leaf mat. For this gravy from seafood tumpah, it is usually made with a type of Padang sauce.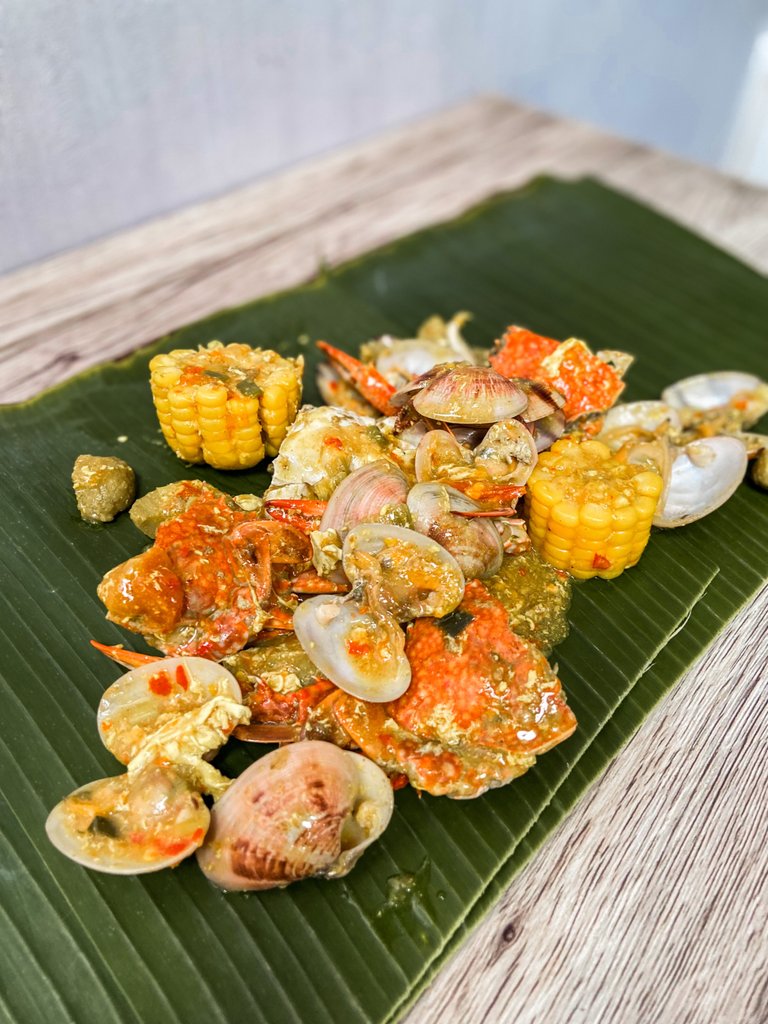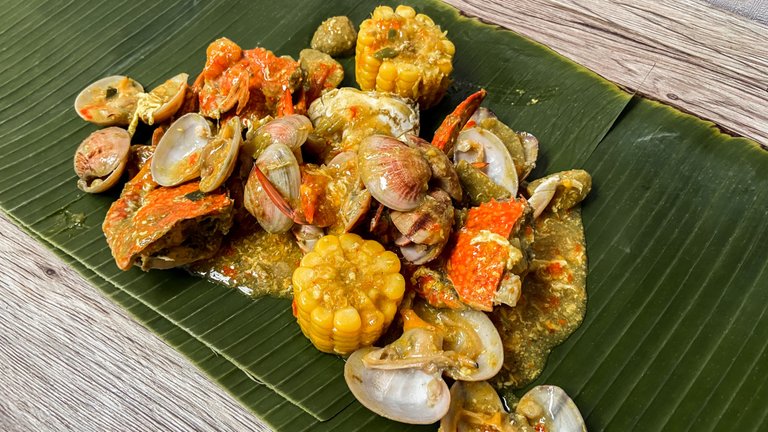 Making Padang Sauce is very easy, just like making gulai padang. But there are some other additions and without using coconut milk. This food is very savory, sweet, sour and slightly spicy. I am very good at making spilled seafood, if there are crabs and mussels, I will definitely cook seafood tumpah for my family.
My in-laws really rely on me to cook this dish, to be honest, my mother-in-law is a little bit not very good at cooking. For foods with a savory taste, she is not very good at making Indonesian desserts. If you cook cenil, candil, kolak and klepon, no doubt about it. However, the human name is not free from shortcomings, right?
Well, this time I will show all hive friends, how to make delicious, simple and fail-proof seafood tumpah. You can try this method at home if you have several types of seafood. So, let's get started:
---
---
Seafood Tumpah On The Making
Ingredients:
3 kg of crab
1 kg of mussels
2 eggs
kg fish balls
100 gr red onion
50 grams of garlic
50 gr red chili
2 tomatoes
2 lemongrass stalks
Lime leaves
2 spring onions
1 block of tamarind
1 segment of turmeric
Pepper
3 candlenuts
2 pieces of corn
Oyster sauce, salt and sugar for flavoring
1 teaspoon cornstarch
---
---
How to make seafood tumpah;
Wash the crab and mussels, then split it into 2 parts of the crab so that it cooks quickly and is easy to clean the inside of the crab.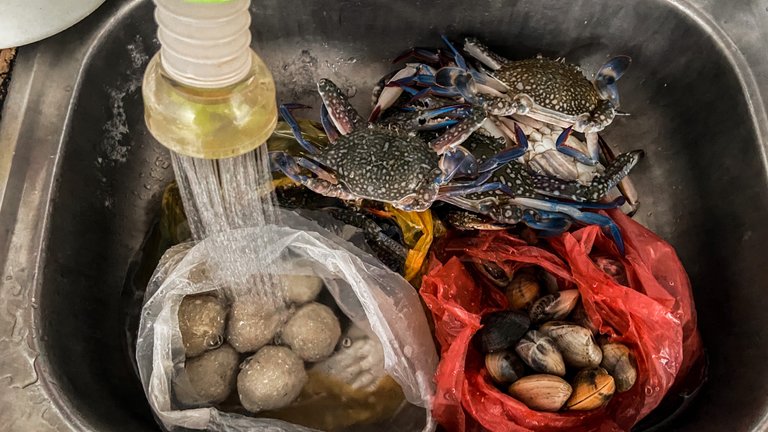 ---
Boil the crab with a little water, then also boil the mussels. Pay attention to the mussels, if it is still closed then open the shell for easy eating and cooking.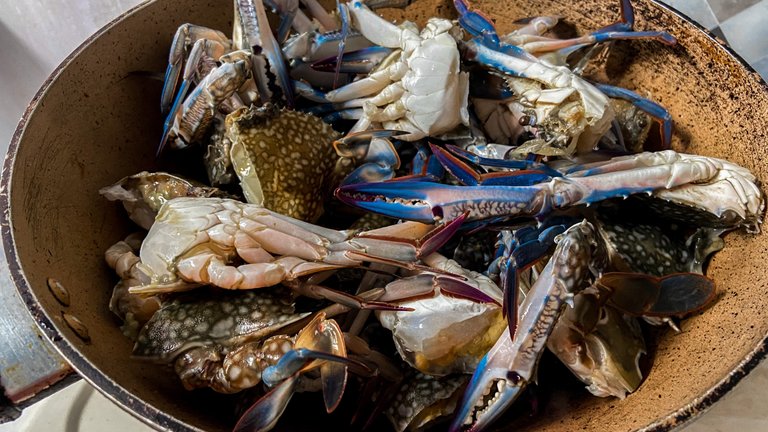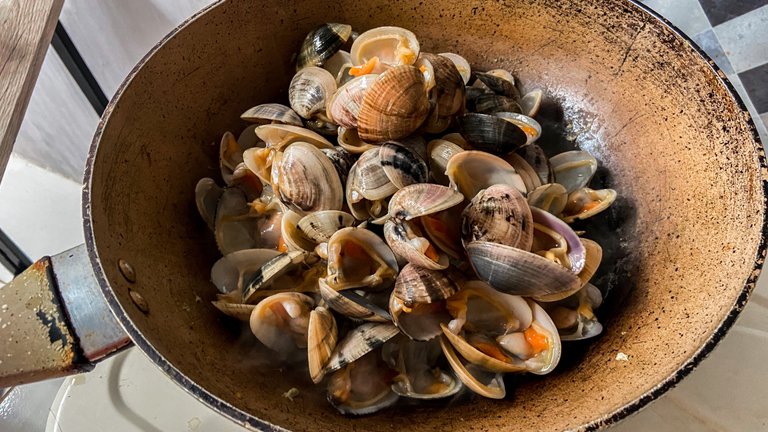 ---
After everything has been boiled, strain and get the remaining water from the seafood stew. Set aside.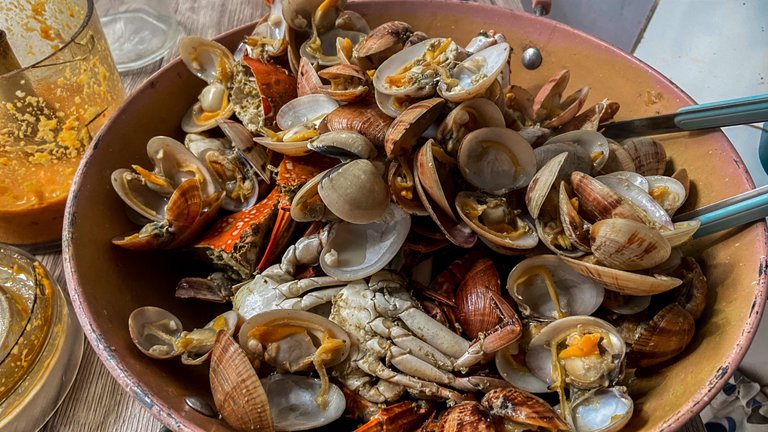 ---
Puree the ingredients; onion, garlic, chili, candlenut and turmeric until very smooth. Fry with a little oil.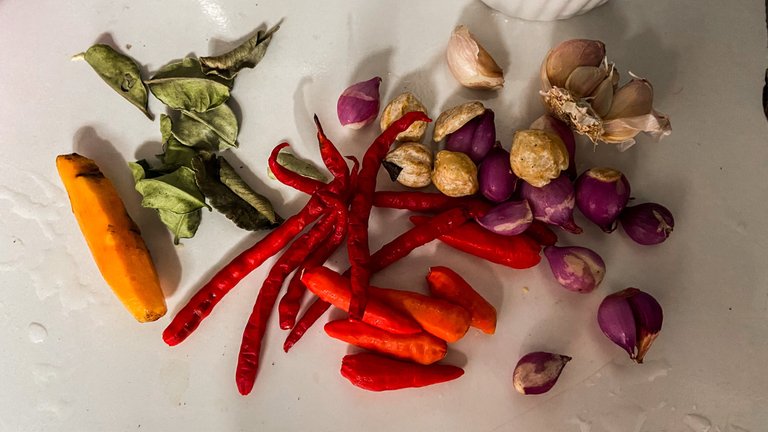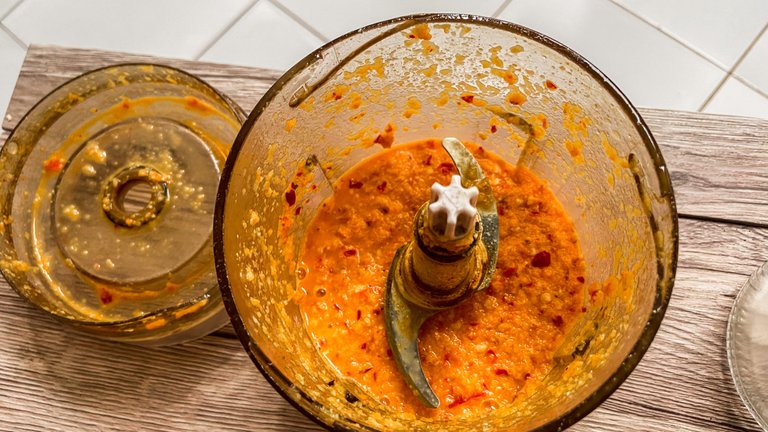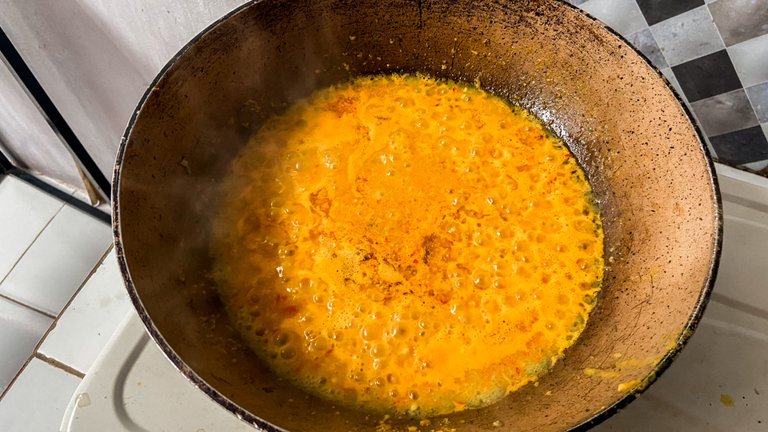 ---
After all the ingredients are sauteed, add the lemongrass and lime leaves, then pour the tamarind water. Mix well.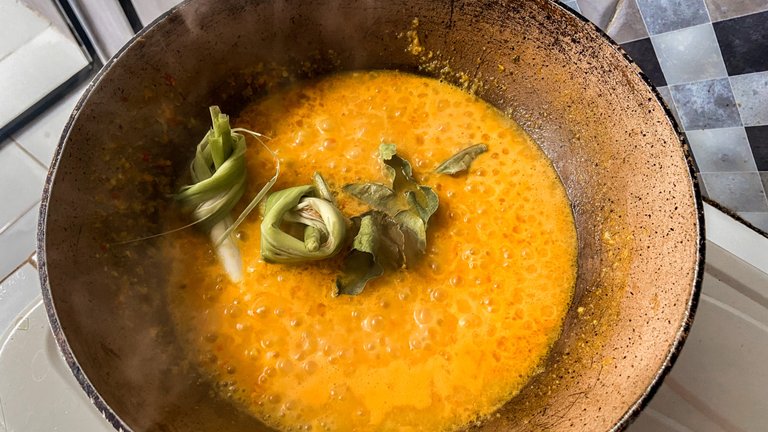 ---
Chop the onions and tomatoes, add them to the stir fry. Cook for 5 minutes.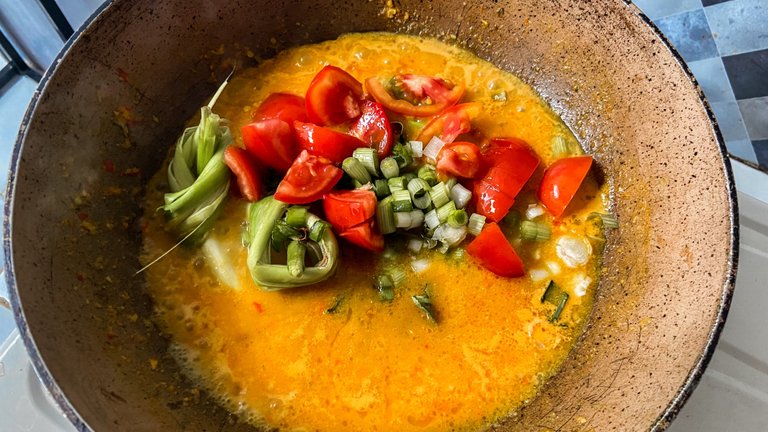 ---
Enter the corn and fish balls that have been cut. Then add the boiled water and cook for 15 minutes so that the corn becomes soft.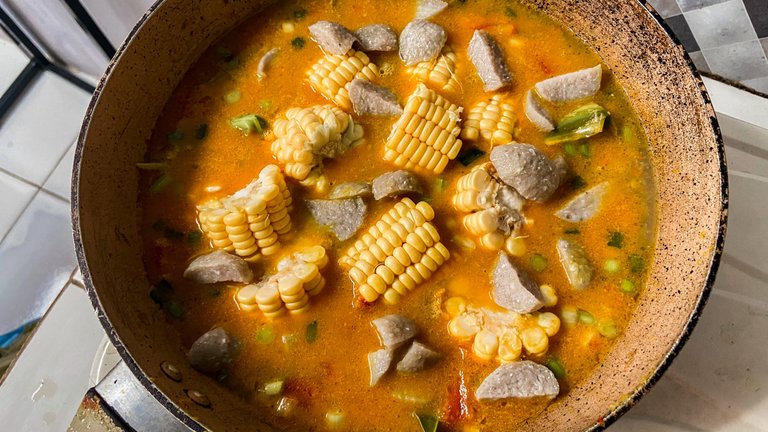 ---
After that, stir 2 eggs into the stir fry and also add the cornstarch that has been dissolved in water so that the gravy thickens, finally add salt, sugar, oyster sauce and pepper to taste.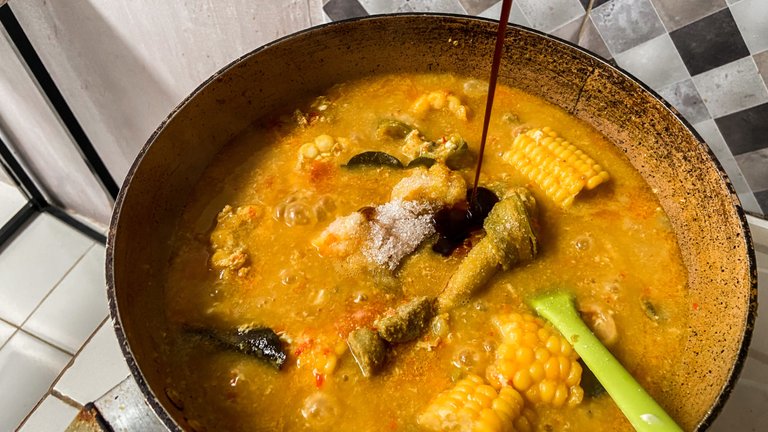 ---
Pour the stir-fried sauce into the cooked seafood, serve on the leaves.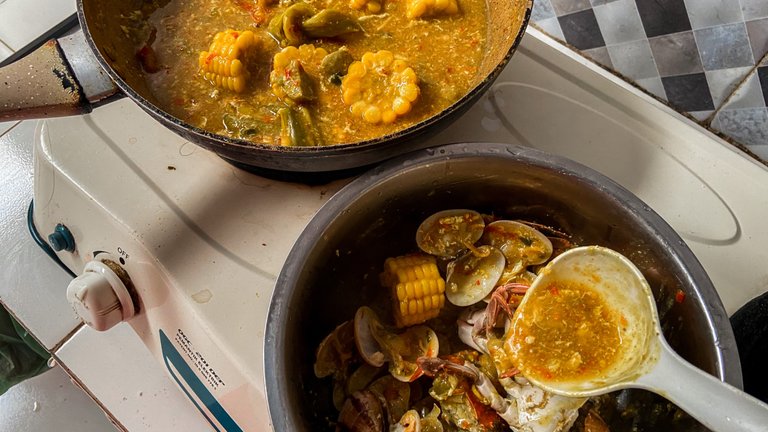 ---
Eating with warm rice is more delicious! Good luck at home!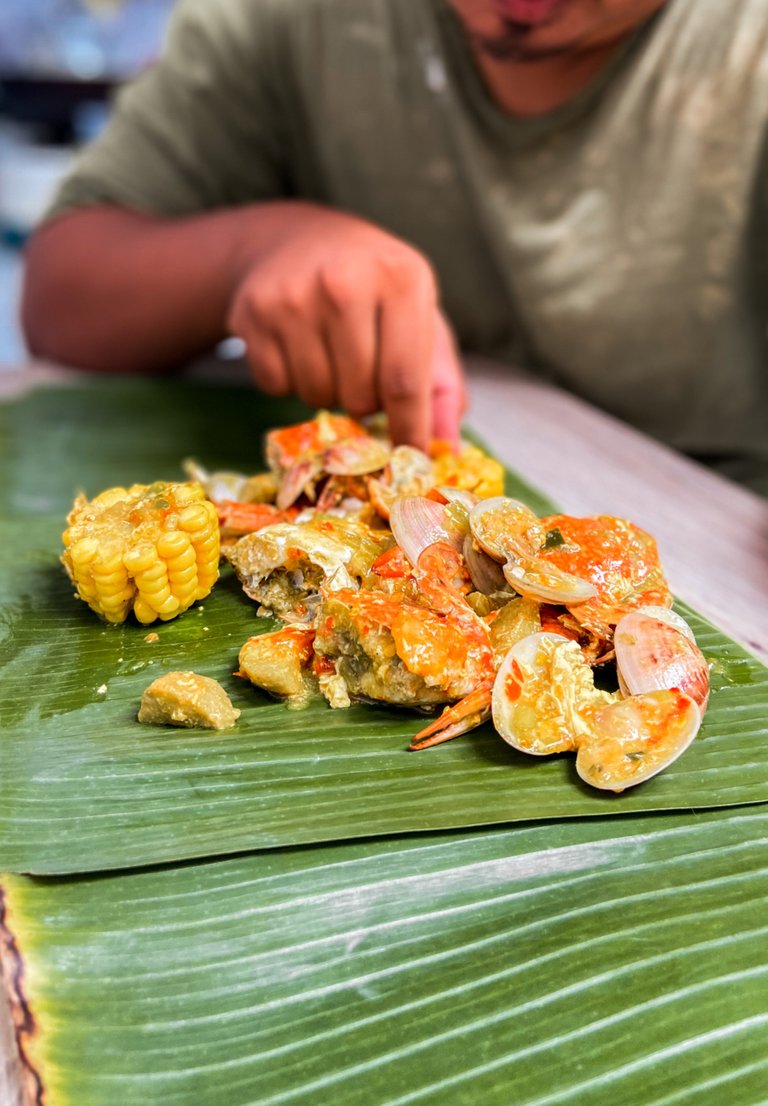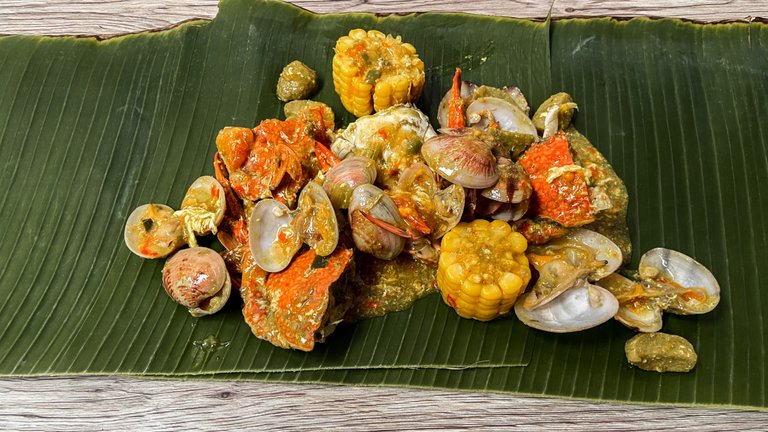 ---
See you the next time hive friends!
---
---
Editing by Lightroom and VN iphone 11
---
---
---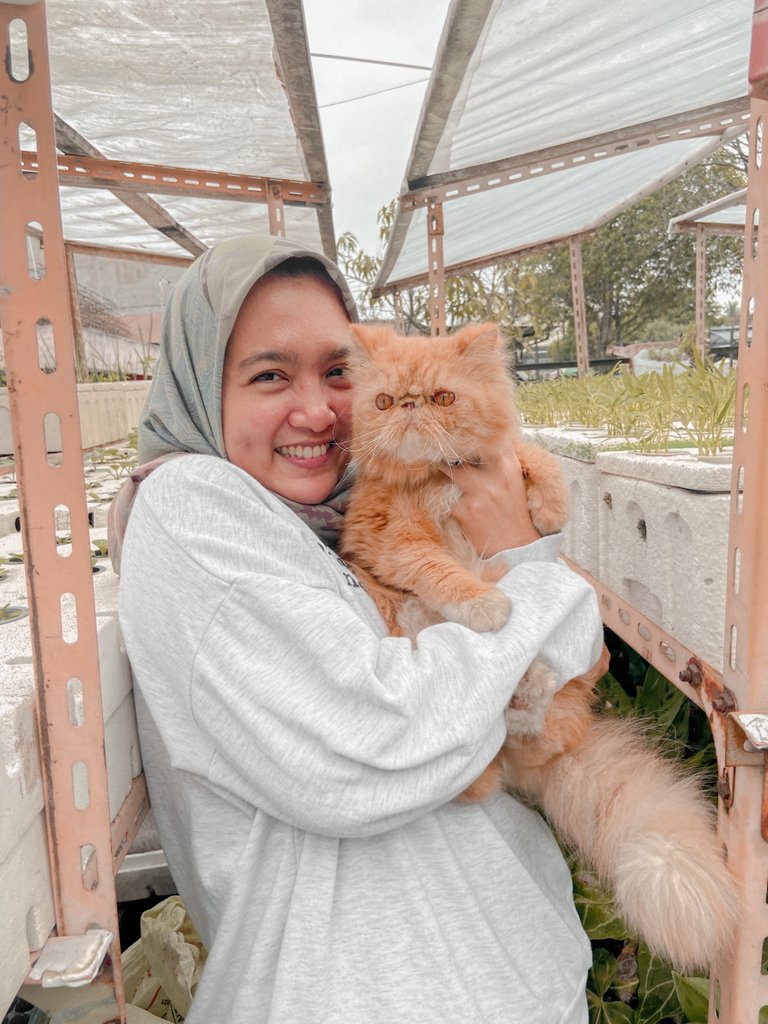 About Author
Annyeong yorobun! Welcome to wita's corner. Author is a full time housewife who loves to eat while writing. Enthusiasm to gardening and cooking. Like the exploration of new things and have many dream is unlimited. Always vote and give suggestions to advance this author.
If you like his content, don't forget to support me and leave a comment below. Make sure to keep read and watch my content. Thankyou so much :)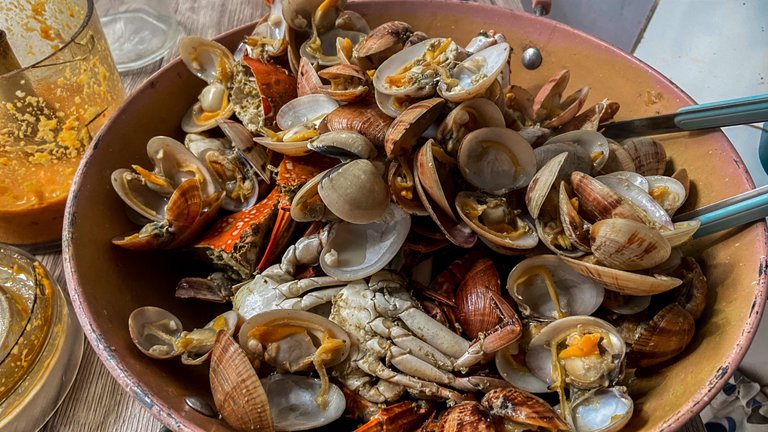 ---
---