Pilastro Signature, Cafe with a Luxurious Natural Concept
---
---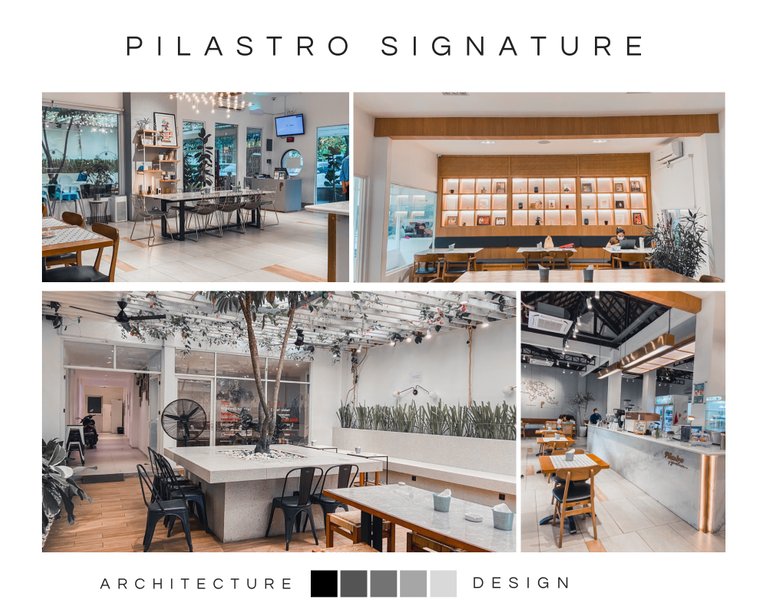 Pilastro, this is the first coffee shop that impressed me, 6 years ago my three friends and I came to this coffee shop to enjoy the variety of food and drinks they provide. Now, this coffee shop has two branches, located in two different places even though they are still in the same city. 6 years ago, I tried the V60 for the first time here, it tastes good and has its own characteristics, now this coffee shop has become bigger, not eroded due to the rapid competition of coffee shops in the city of Medan which is now getting bigger.
This time, my friend and I promised to meet, because my friend will move out of town, we decided to meet at Pilastro Signature. This is the second branch of Pilastro which is in front of Merdeka Walk, a place that I think is a must try because it just opened a few months ago. He said, this second branch is bigger than the previous one and has more interesting food menus.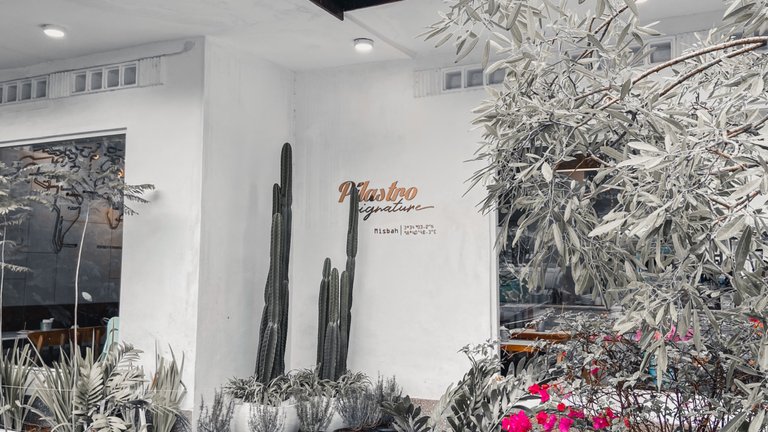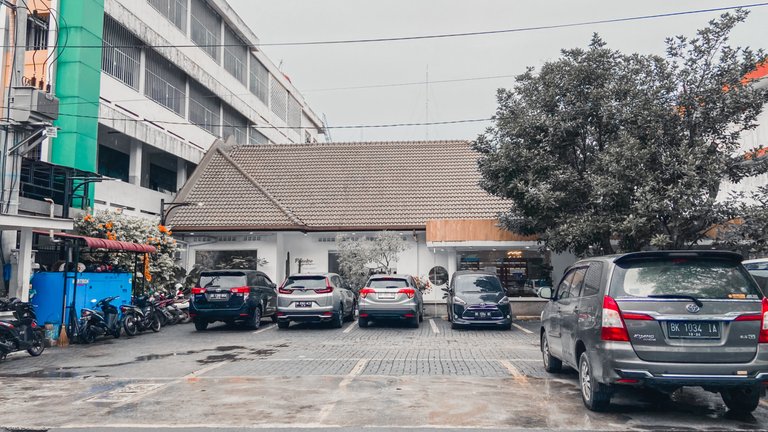 With google maps, I finally arrived when a light drizzle of rain soaked the earth, luckily I arrived at the right time before the rain got heavier. Looking for the right table to enjoy this café while looking at the design of this place which is so luxurious and has its own structure.
This cafe is surrounded by a glass screen that displays many views from the outside, even if you sit in the corner of the room, we will still be able to see many of the views they serve. They plant a lot of plants and there is also a pond filled with fish in the corner of the room. The appearance is really interesting even though you can only see plants and koi fish.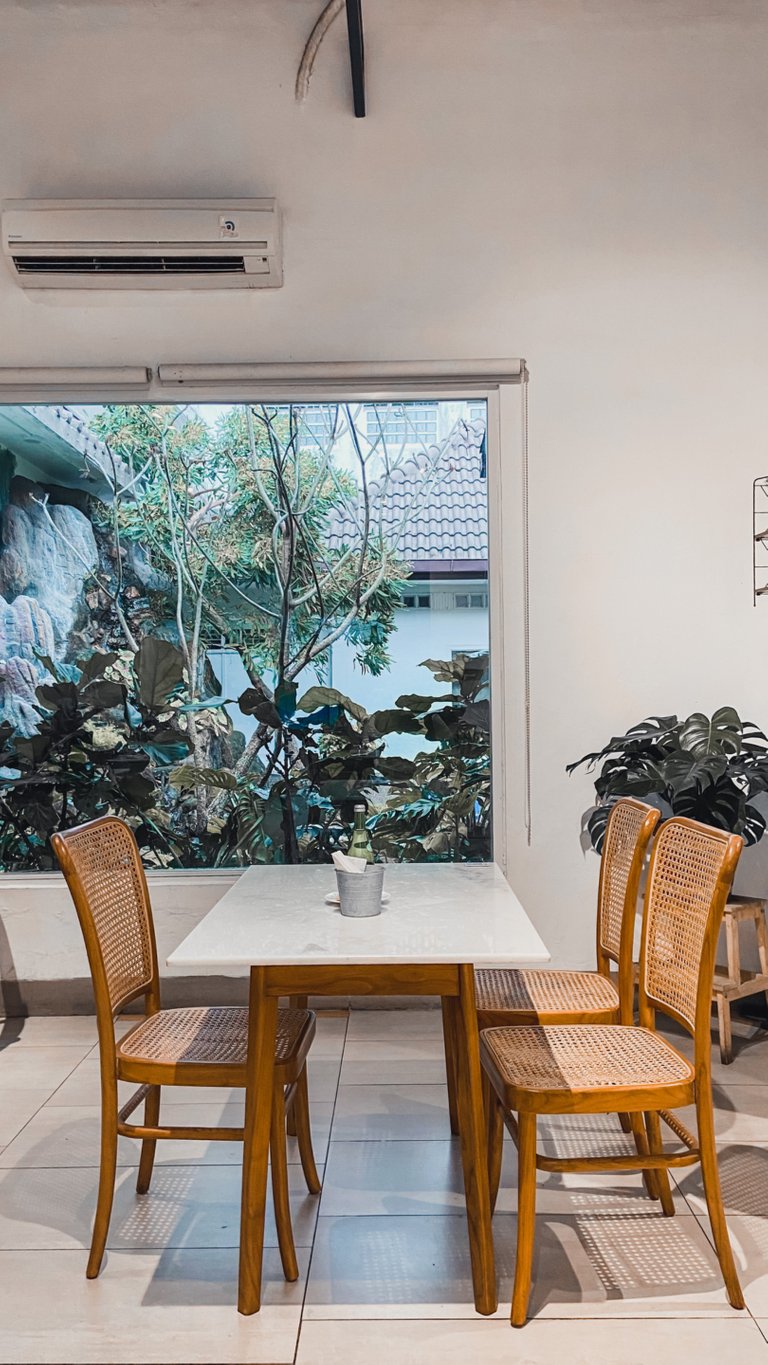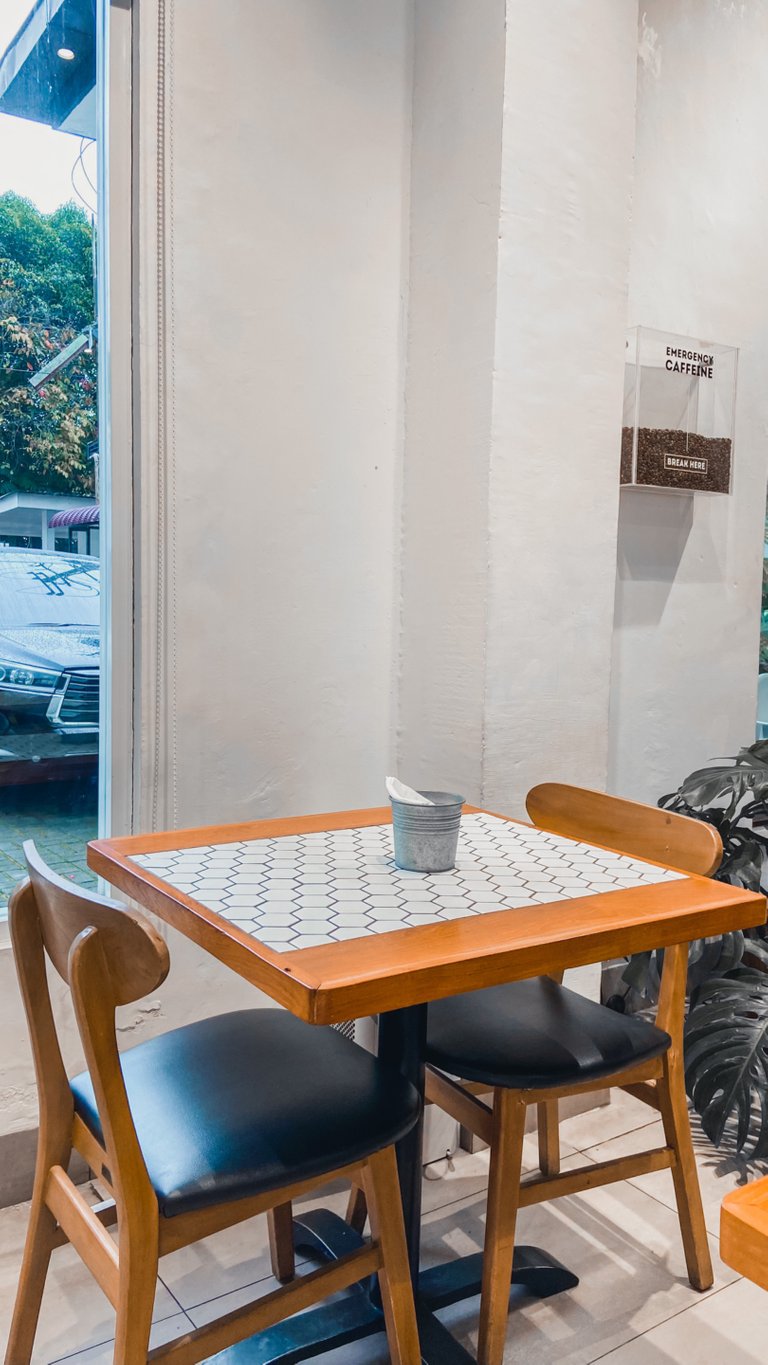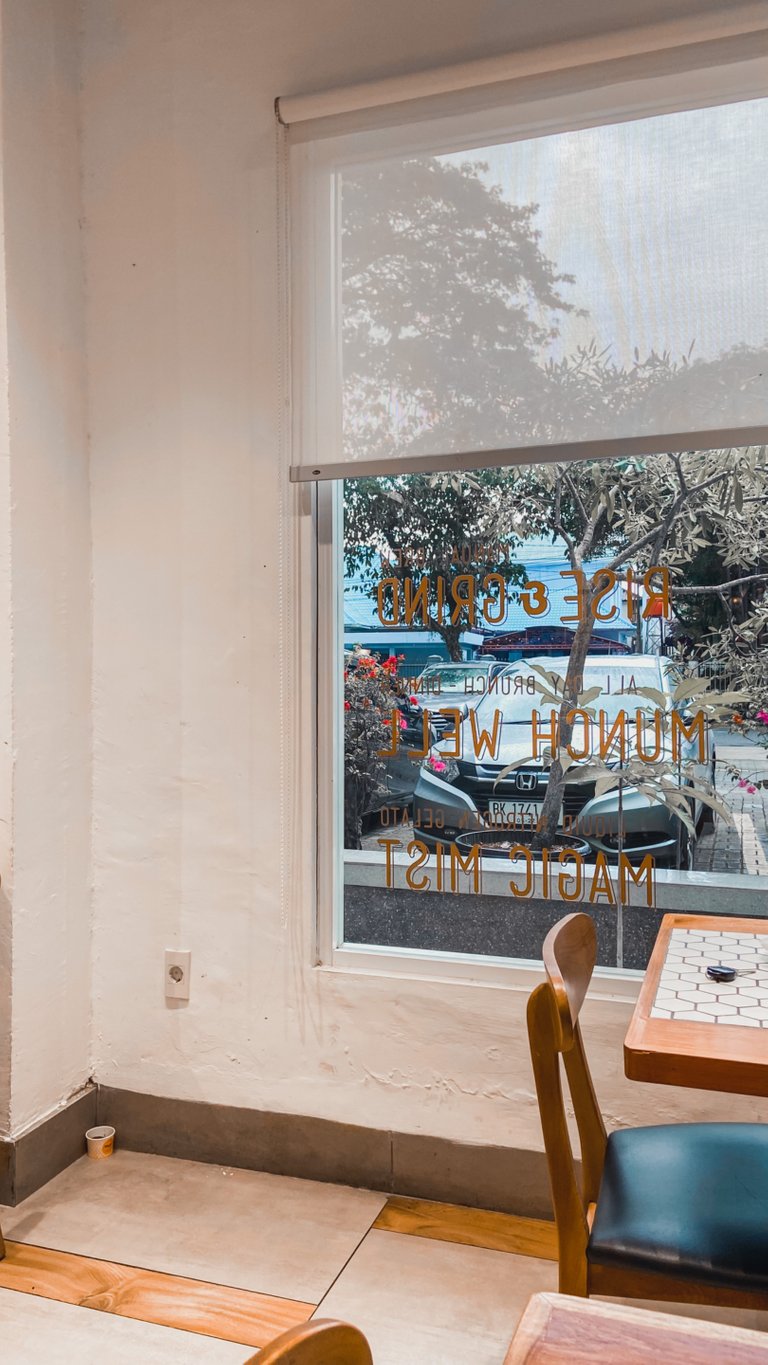 This Pilastro signature uses a very large old house, located in a luxurious complex in the middle of the city. It can be seen from the outside that this house is very large with a very large yard, there are several cars parked neatly in front of the cafe. I just realized that this cafe is right next to the famous school foundation, the Harapan foundation.
The first time you enter the cafe, what you feel is the smell of a very fragrant smell, not like entering a cafe, but like entering a house, very cozy, the smell of tuberose flowers mixed with other floral scents makes this room soothing. It turned out that after I went around, I saw that there was a bucket of flowers placed beautifully in a flower pot. It turns out that the fragrance comes from fresh real flowers, adding a plus to this café.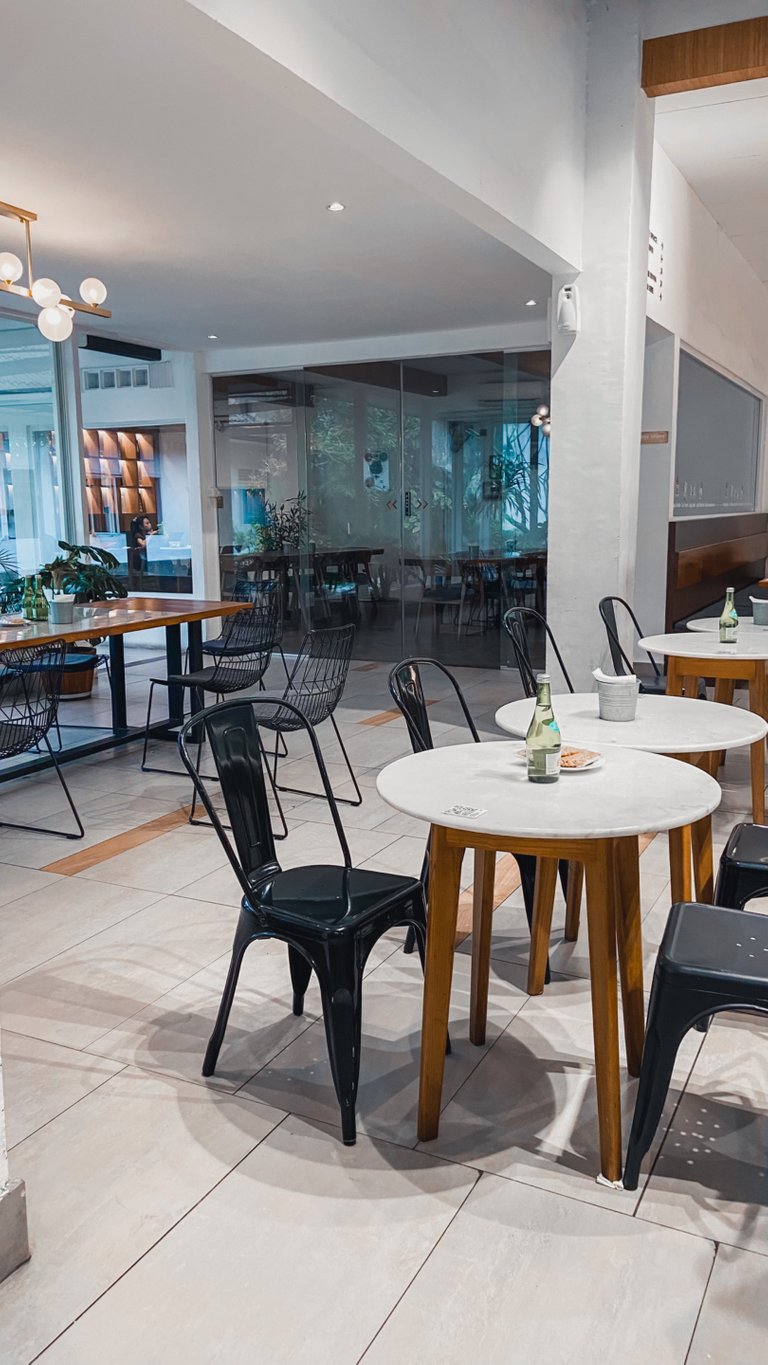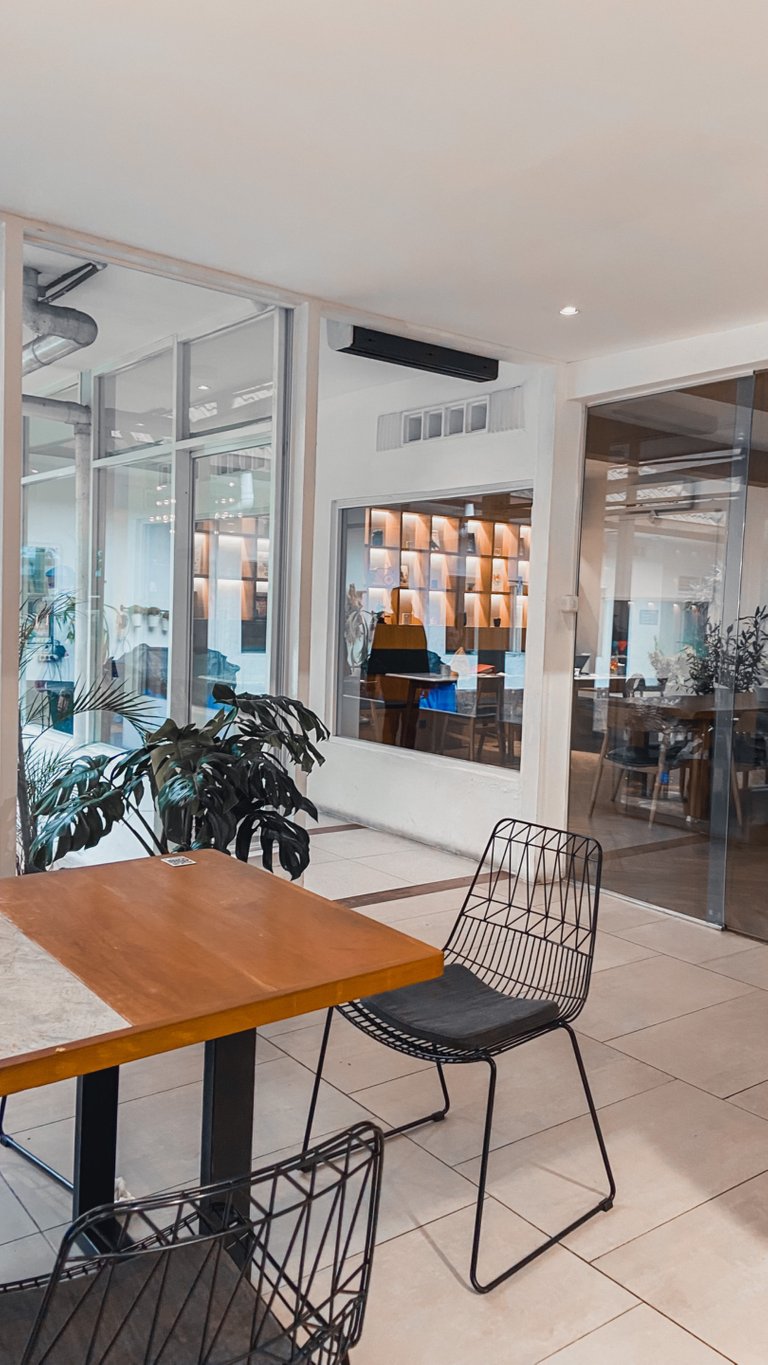 This Plilastro signature has an attractive design that has not been thought of before, changing the layout of an old house that is turned into an aesthetic café with a luxurious feel. The first time I felt I entered a luxury café with fine dining, even though I had never felt that way before.
The chairs are neatly arranged, there are many aesthetic tables and chairs made of Jepara wood and rattan, an elegant luxury feel that is felt when you are in this café. The barista table is made of luxurious marble, mixing marble elements that are rarely used by other coffee shops, they make a barista table very different from the usual. If you know that barista tables usually use woody and industrial designs, the Pilastro Signature is different.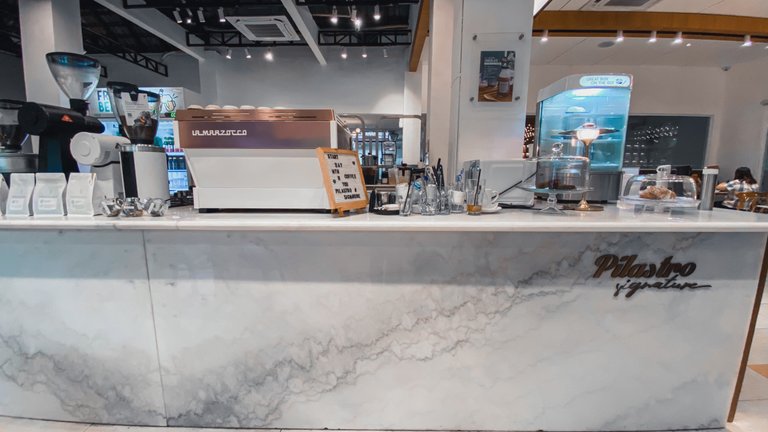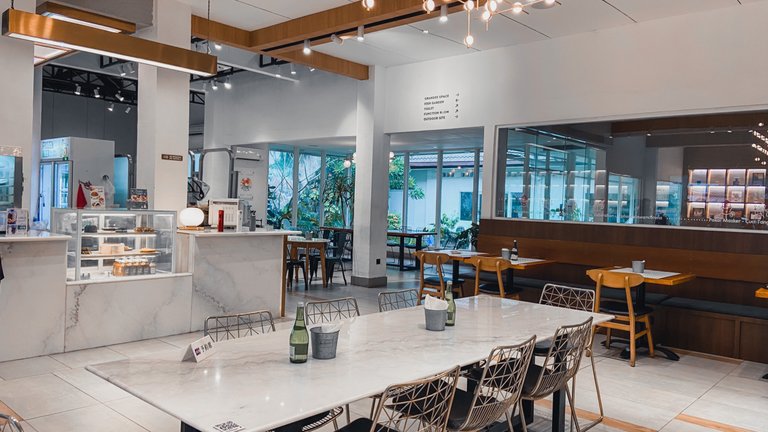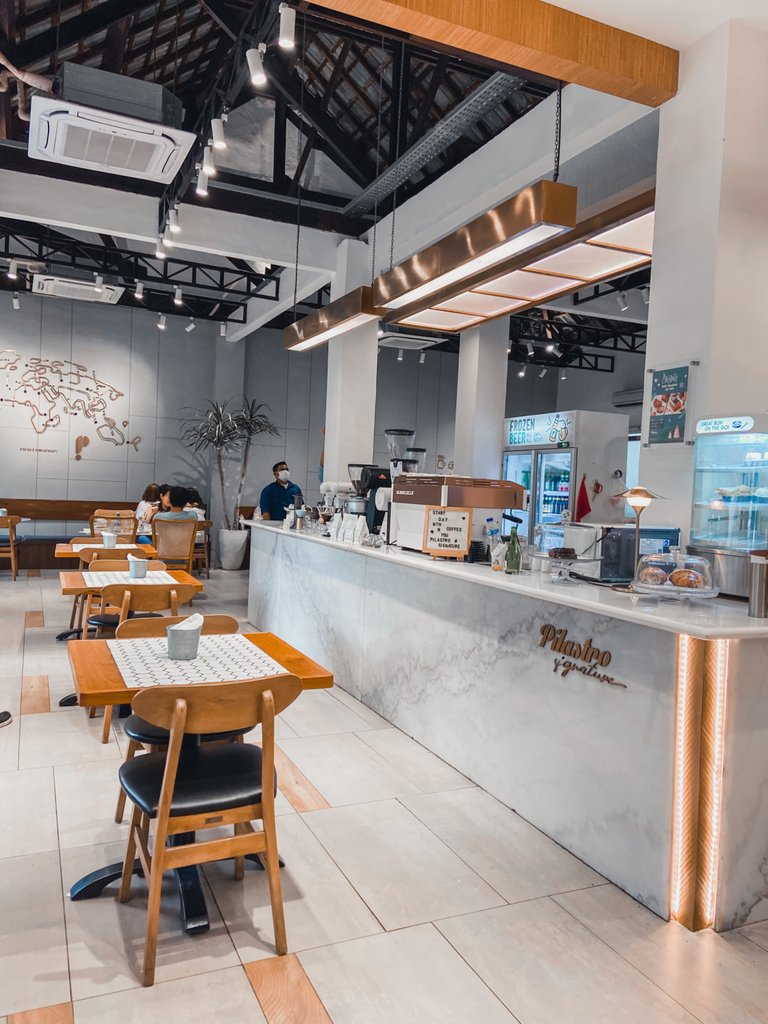 In front of the barista table, there is a table that is the center of attention for everyone because of its luxury. A table made of sturdy marble with a mixture of iron, above it there is a unique, luxurious and orange lamp. Usually this table is ordered and used for social gathering or family gatherings. It seems that someone has booked this table because it has written 'reservation' on the table.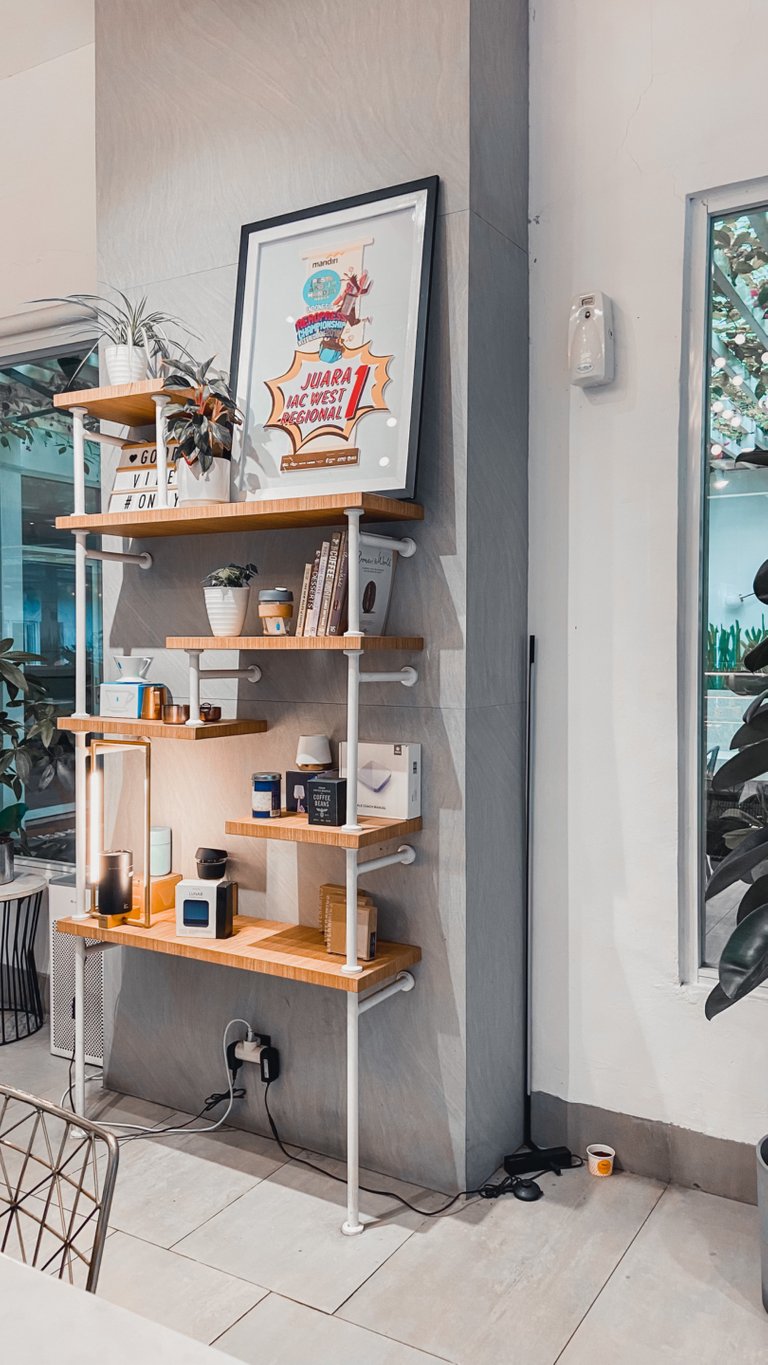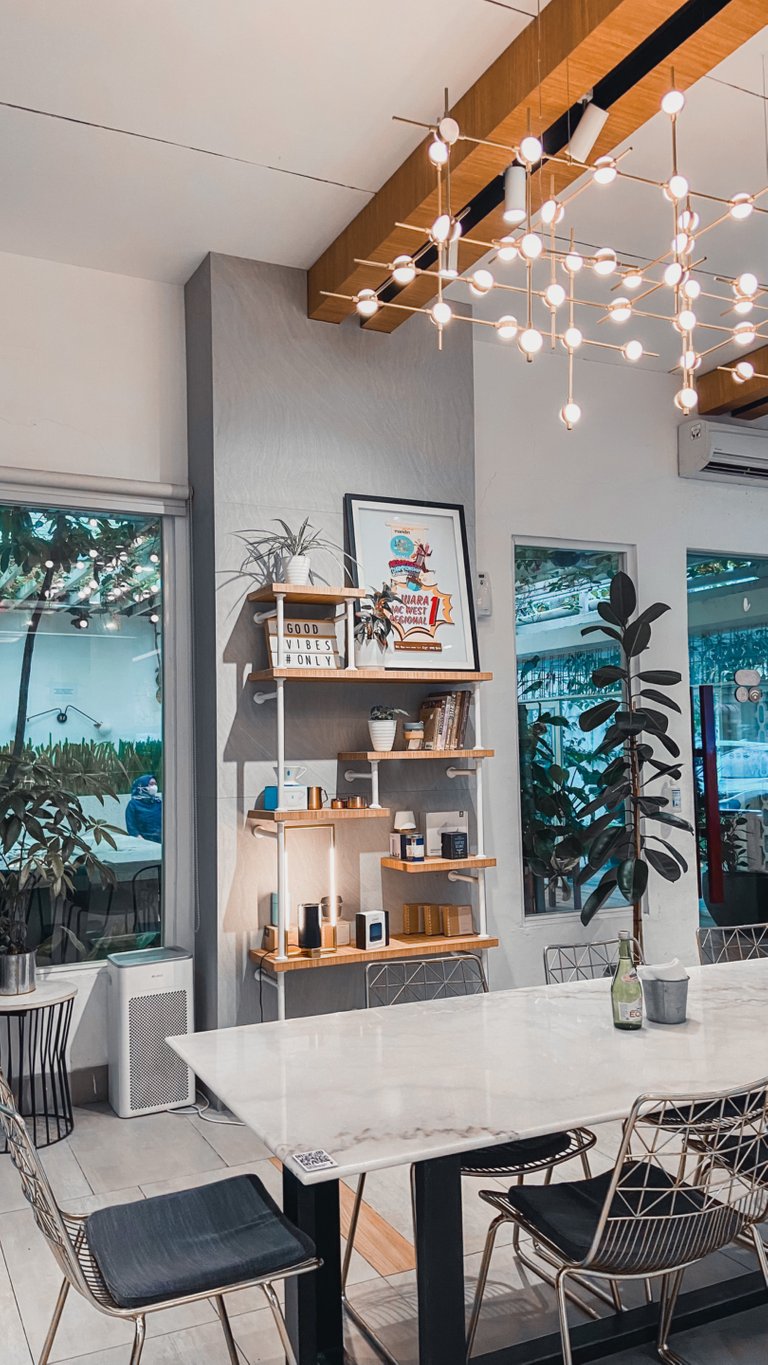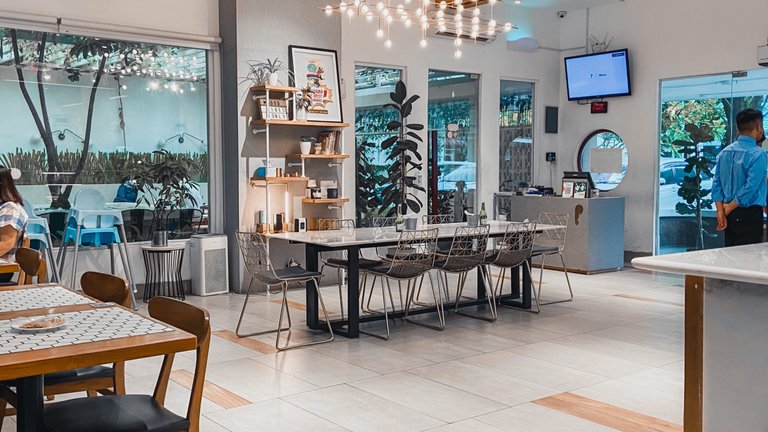 Not only that, this cafe has another room that is dedicated to workspace. With a little Japanese element that is felt in the ambiance of this room, it is very different from other rooms. When you enter, you have to press a button to open the glass door. Even though this room is very soundproof, you can see everything from inside the room. There is no requirement to sit in this room, but at least it can be used for work or meetings with clients.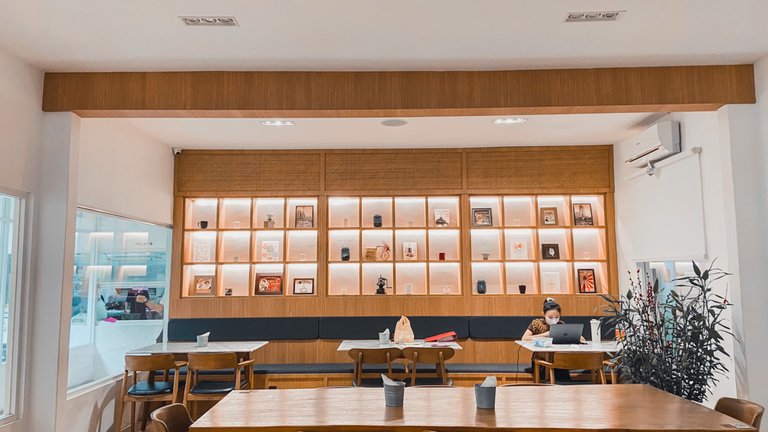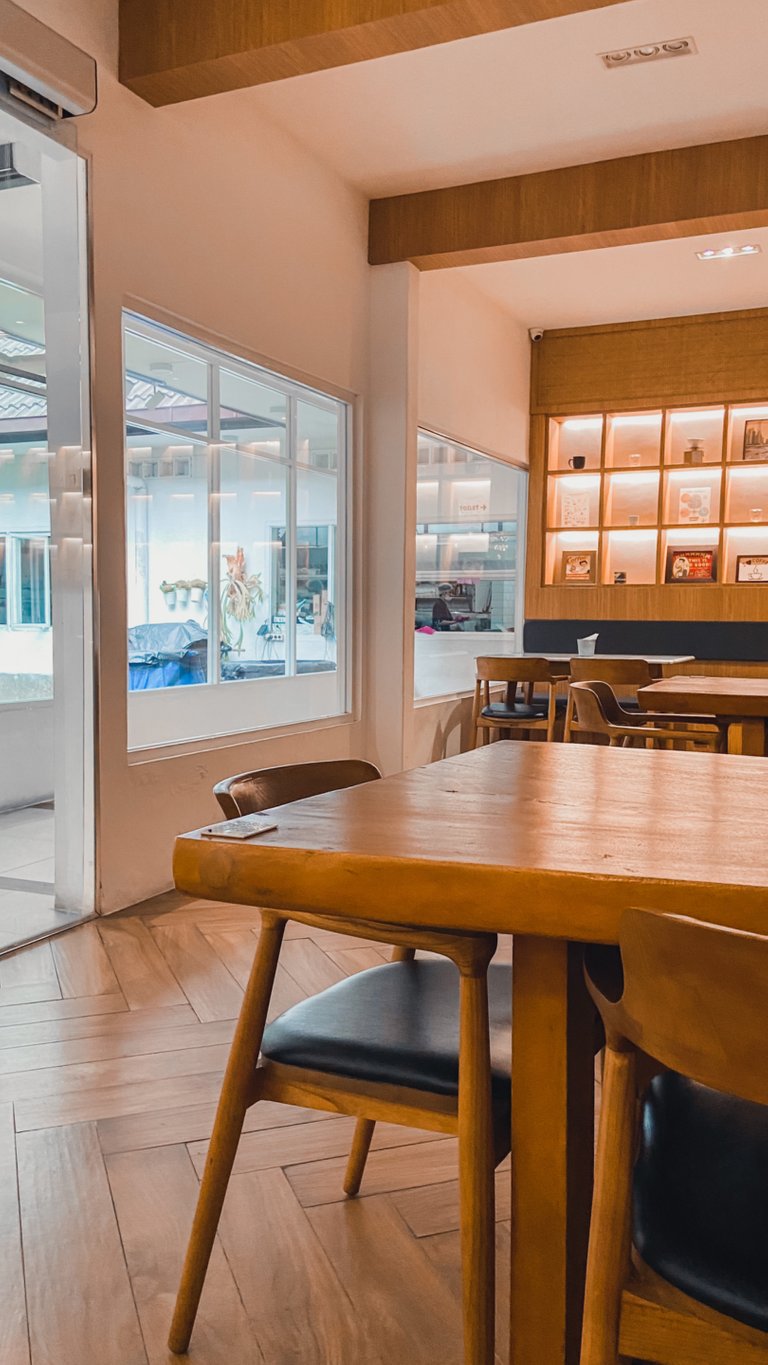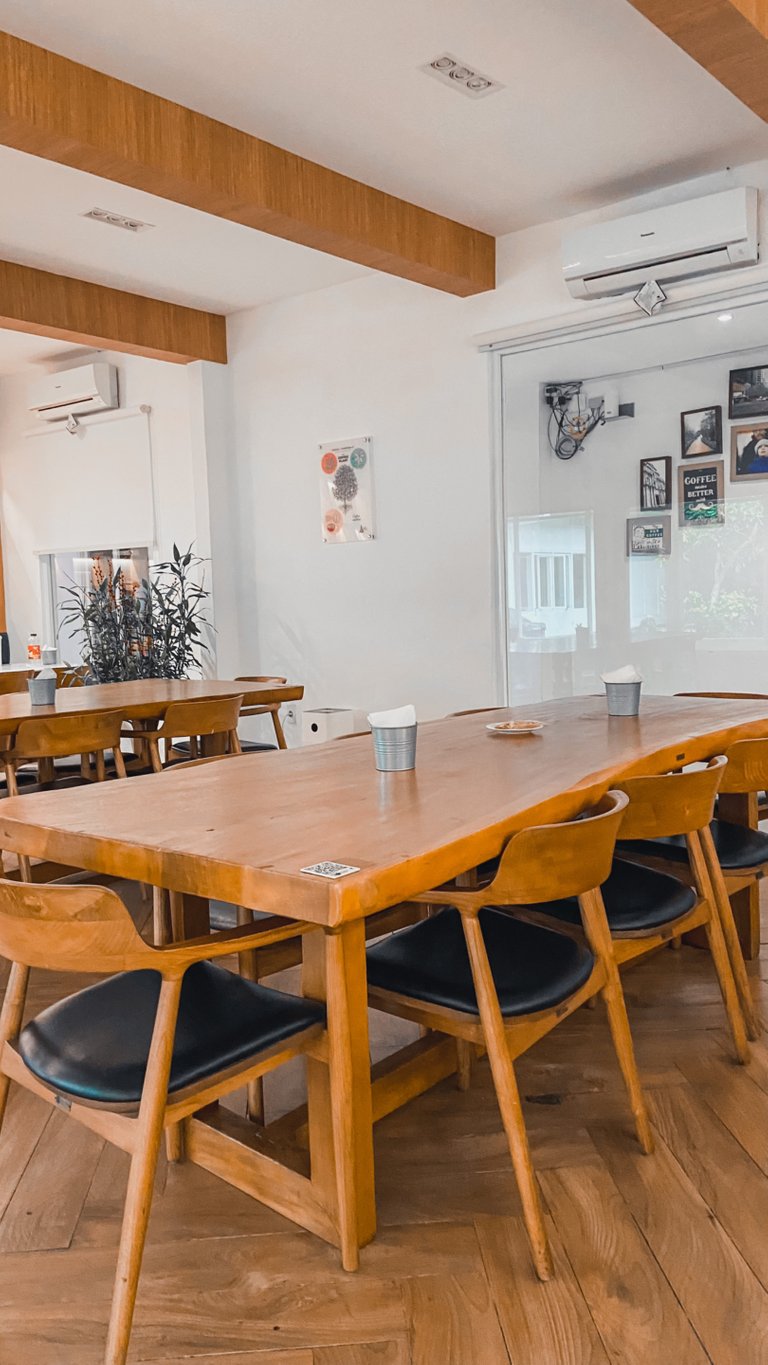 In addition, there is a grandee space if you may be a smoker, usually a room that has air conditioning is strictly prohibited to smoke because the smoke will only be trapped in the room, but there is a room that is reserved for those who like free air, outdoor or if sitting relaxed with friends hanging out, so that the noise does not disturb other people in the room.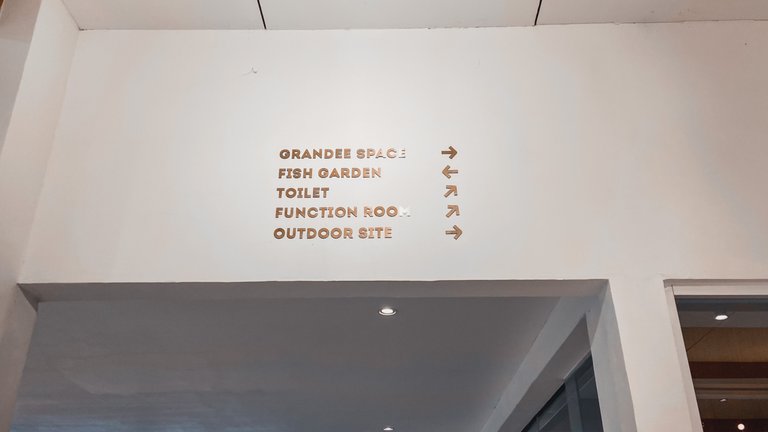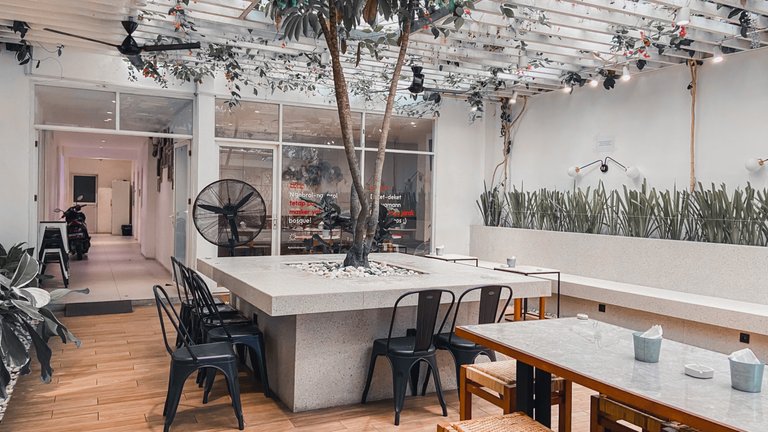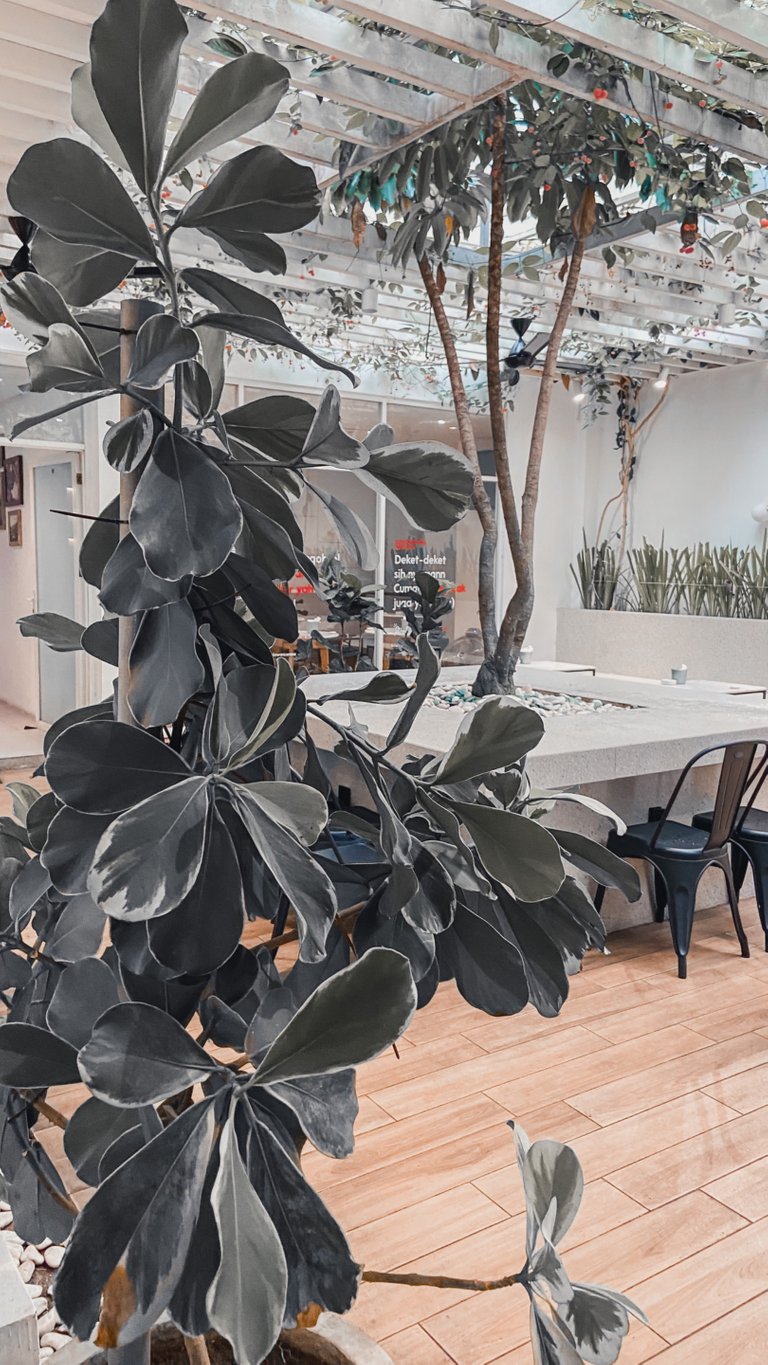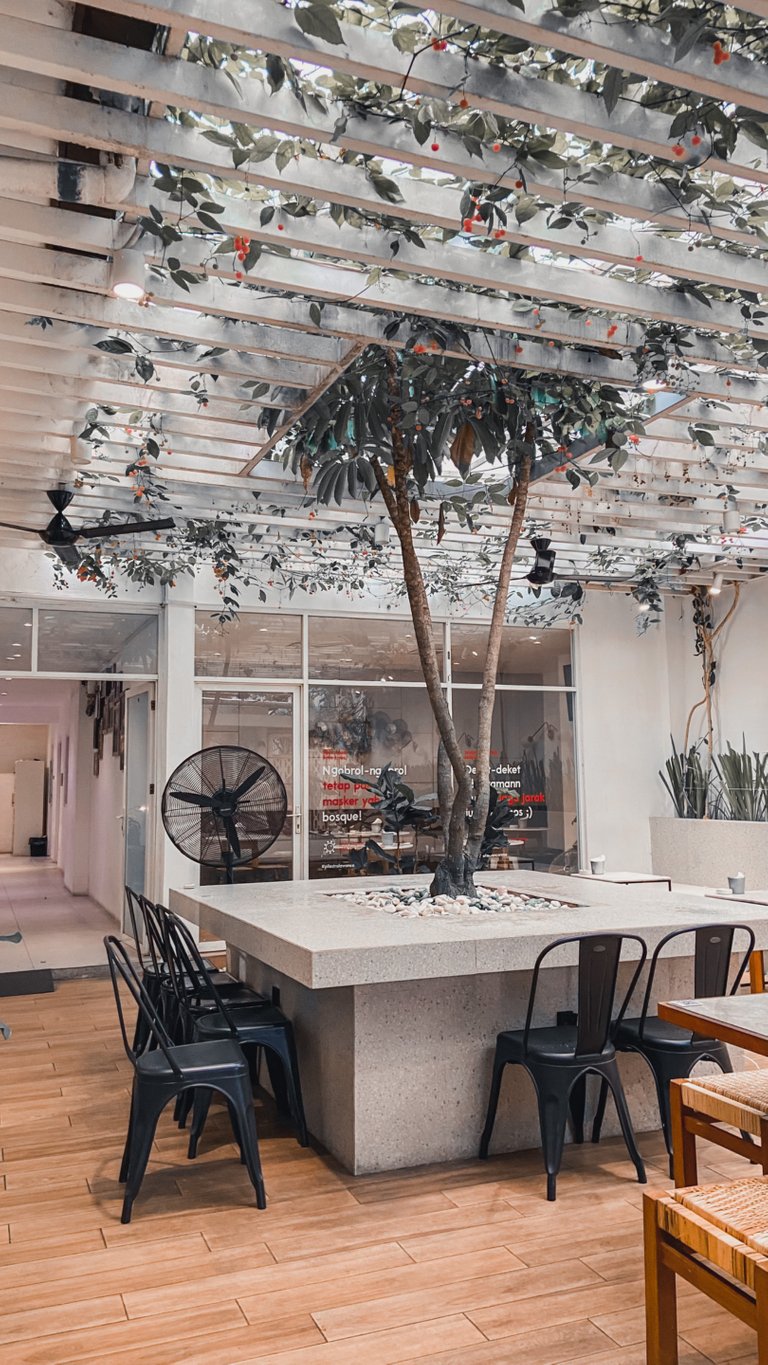 The outdoor space is perfectly designed with lots of refreshing plants and trees. Very good concept, even though you are outdoors you can still feel the fresh air from the trees and plants that are well maintained. Unfortunately because of the rain, no one is sitting here. The table made of cement that is perfectly designed around a small tree is simply amazing. On the floor, using ceramic with wood elements, if you use real wood it may be difficult to take care of it, especially if it is exposed to termites and eroded due to rain and hot sun. A very well thought out concept.
It's very comfortable to be in this Pilastro Signature, I don't even feel like I've been sitting for 2 hours while waiting for the rain to stop to go home. Like I said, this place is so comfortable with ambiance and floral fragrance that makes the mind and soul refreshed.
---
See you the next time hive friends!
---
---
Editing by Lightroom and VN iphone 11
---
---
---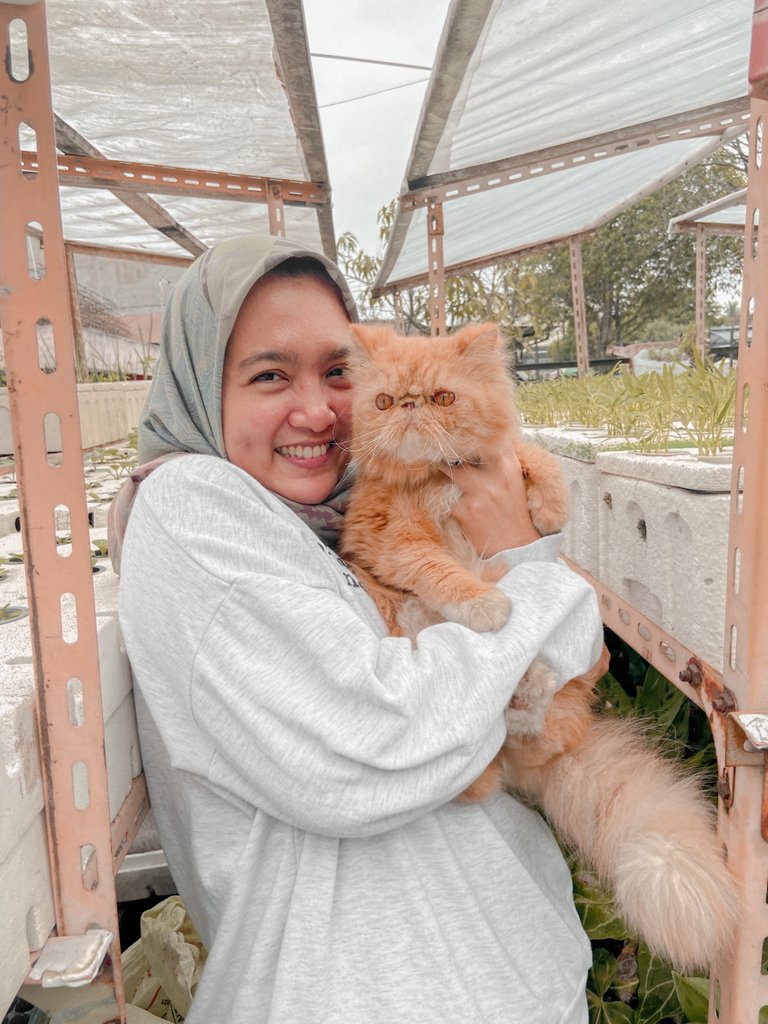 About Author
Annyeong yorobun! Welcome to wita's corner. Author is a full time housewife who loves to eat while writing. Enthusiasm to gardening and cooking. Like the exploration of new things and have many dream is unlimited. Always vote and give suggestions to advance this author.
If you like his content, don't forget to support me and leave a comment below. Make sure to keep read and watch my content. Thankyou so much :)

---
---