Why Indonesians Like Nasi Uduk for Breakfast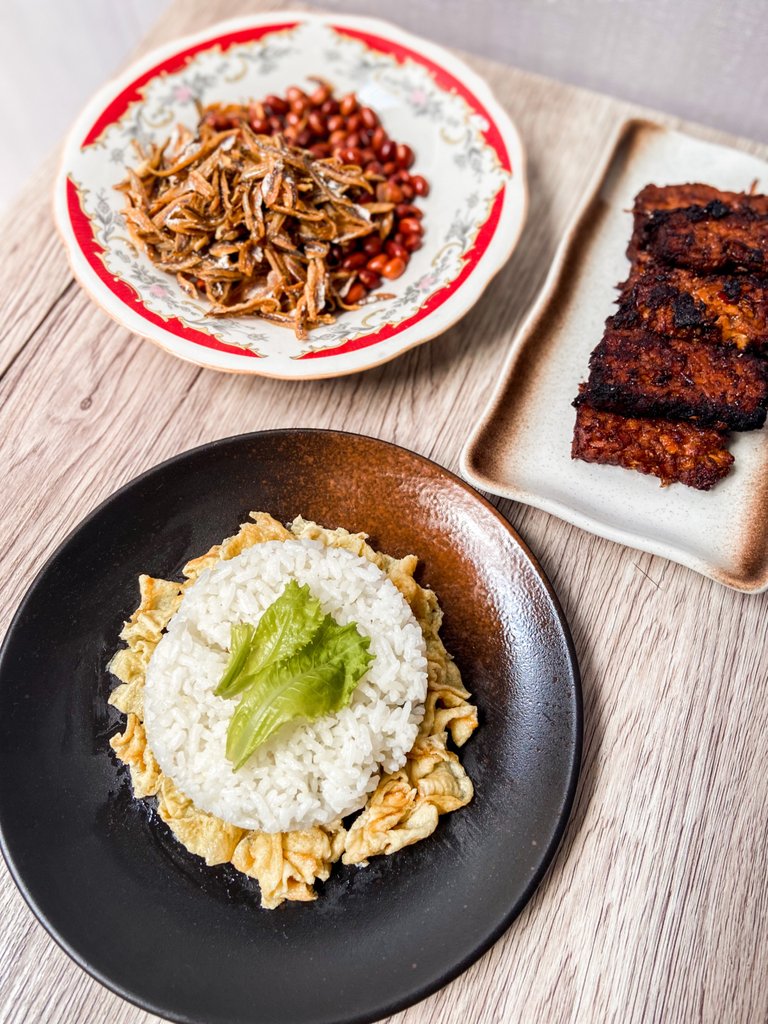 ---
---
Hello Asean Hive Community! How are you today?
For Indonesian citizens, who doesn't know Nasi Uduk? This food is very typical of a breakfast menu that cannot be missed. Nasi uduk is the right food for you to try if you are in Indonesia. He said, this uduk rice was inspired by kebuli rice? Is that true?
Nasi uduk is made by cooking or steaming with coconut milk and some aromatic spices such as lemongrass, bay leaf, pepper, coriander and lime leaves. So that the distinctive aroma of the aromatic spices makes this rice very tasty to eat. Not only that, Nasi uduk also has several side dishes such as anchovies, tempe bacem, eggs, sweet potato chips and many more, depending on taste.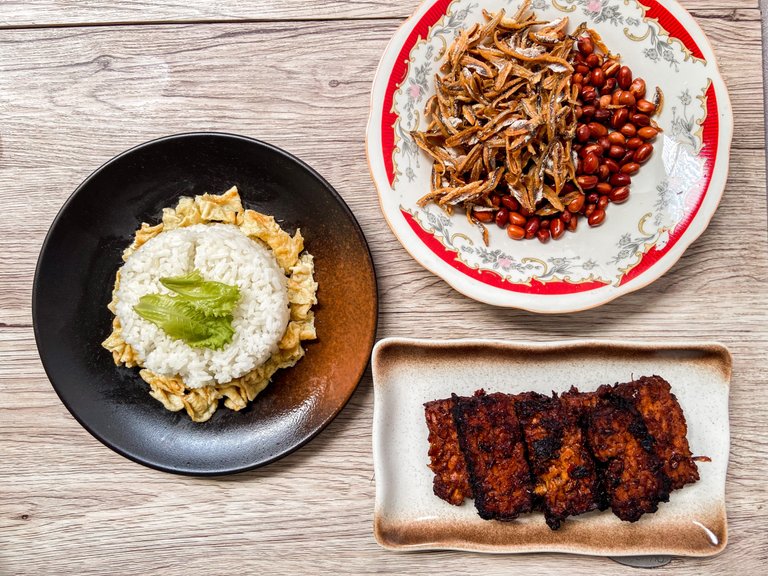 I used to sell nasi uduk shortly after resigning from a company where I had worked for 3 years. I resigned because of illness that required me not to be able to work well there. I decided to sell breakfast in front of my house, and thankfully there were very many buyers.
One of the food menus that my customers are most interested in is Nasi Uduk. In addition to being very simple to take to the office, Nasi Uduk can also make you full throughout the day, lasting until your lunch schedule. Nasi uduk is also quite cheap, usually the most expensive is around 10,000 rupiah.
I sell nasi uduk with several side dishes such as sambal eggs, anchovies, tempeh orek, tauco and potato chips. For one portion sold at 8000 rupiah at that time. Then, this morning, my husband said he really missed the nasi uduk I made. I just realized that I haven't made nasi uduk in almost 3 years.
While preparing breakfast, I checked some food ingredients, if I could prepare it for today's breakfast with minimal ingredients. And it turns out, my husband is lucky because the ingredients to make simple rice uduk are very complete.
This time I want to give you a simple recipe, you can use some ingredients at home. This time I prepared Nasi uduk with anchovies and fried peanuts, tempe bacem and sliced ​​omelet. Don't forget the special aromatic uduk rice.
For the nasi uduk recipe, I used several ingredients such as;
3 cups of rice
Lemongrass
Bay leaf
Lime leaves
Salt to taste
65 ml thick coconut milk
120 ml of water
For the side dishes I use;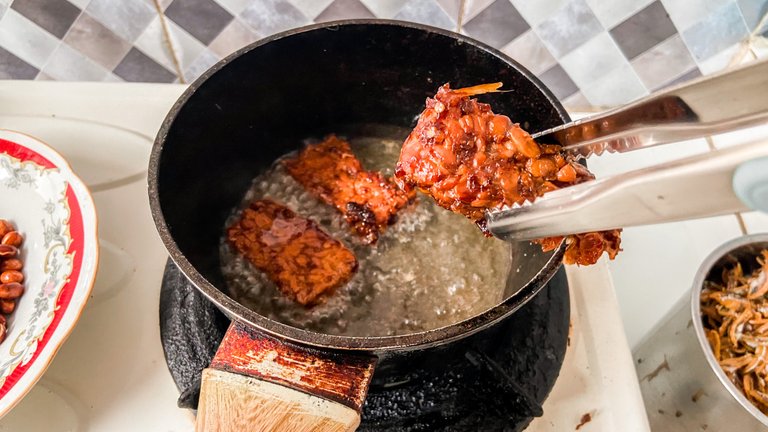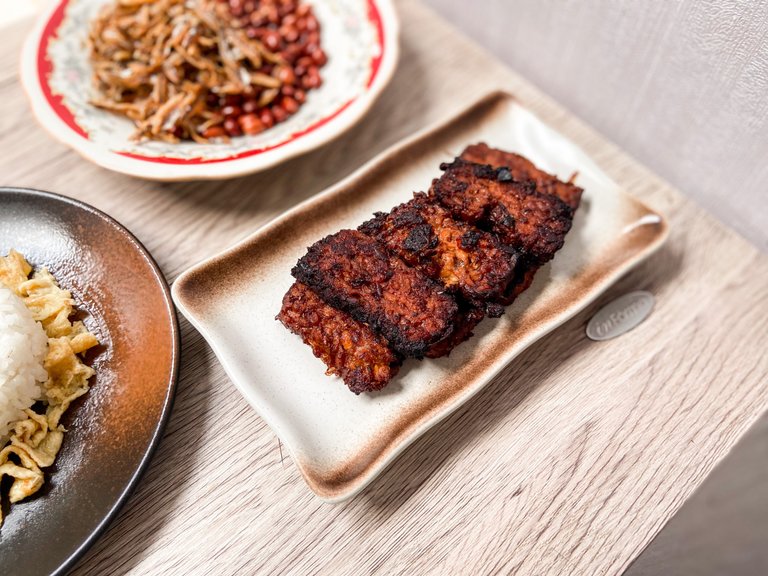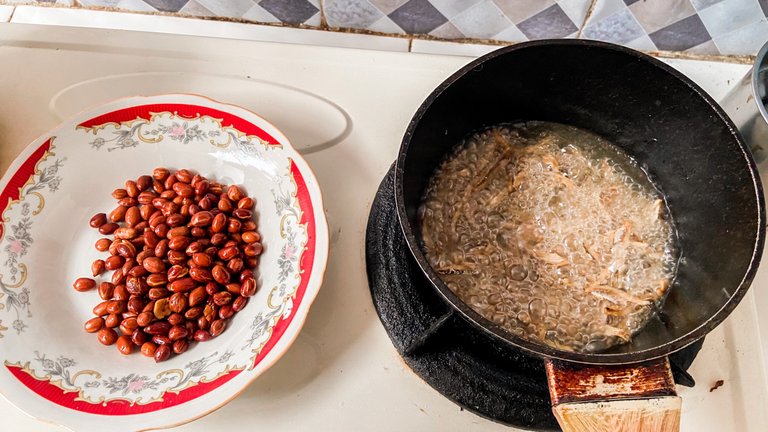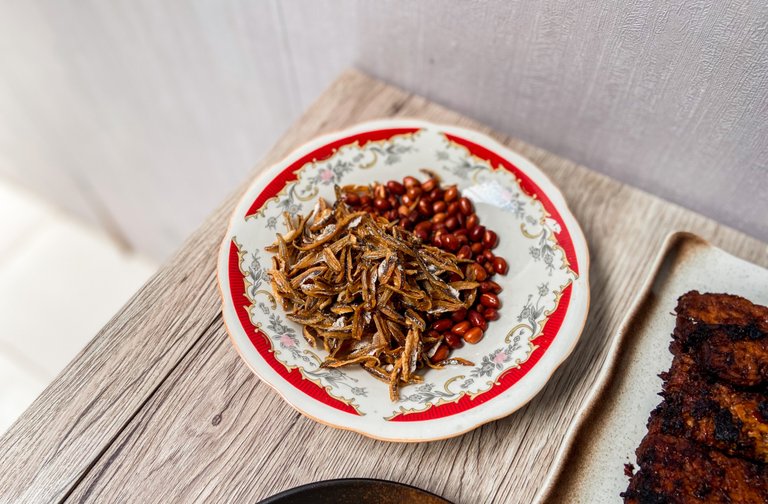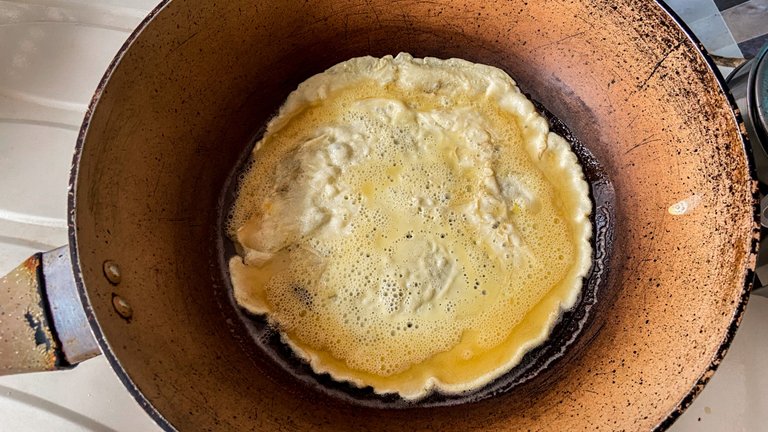 How to make Nasi Uduk;
I cook nasi uduk the way it is cooked like normal rice. Wash the rice you want to use, then add all the ingredients according to the instructions above.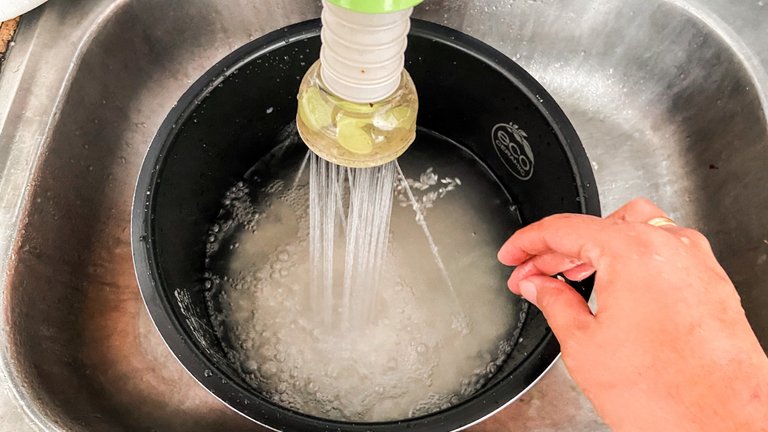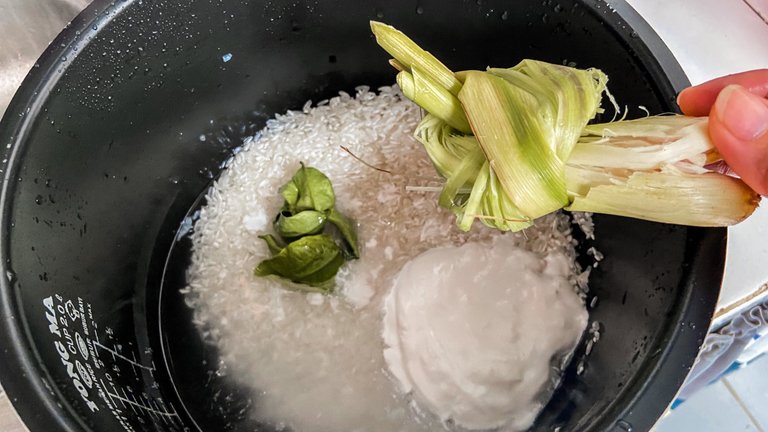 Cook the rice until it is cooked and after it is cooked, match it so that the rice is grainy and mixed with the coconut milk that settles.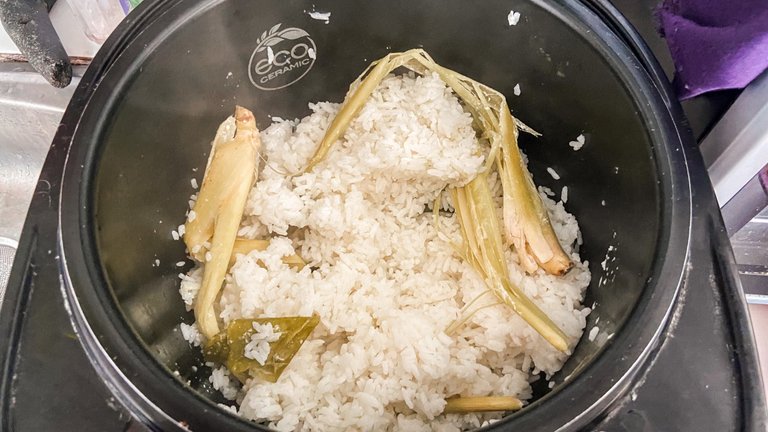 Nasi uduk is very delicious and simple for breakfast. It has an aroma that will make us feel appetizing and excited. I like Nasi Uduk, I usually buy it at my subscription. For this special day for my husband who asked for my homemade nasi uduk. Sometimes, I like to make nasi uduk for special events such as wirid, social gathering and other events held at my house. Very simple and easy to serve. Nasi uduk is loved by all Indonesians. So you don't have to think about other foods.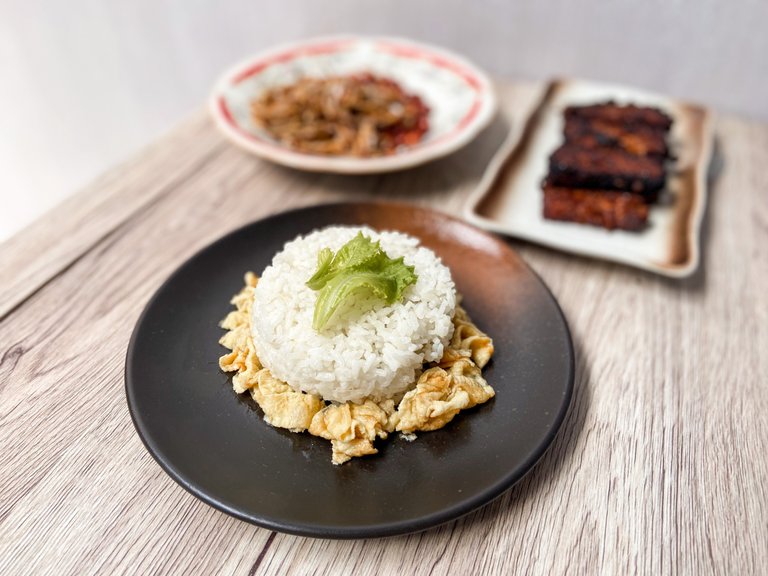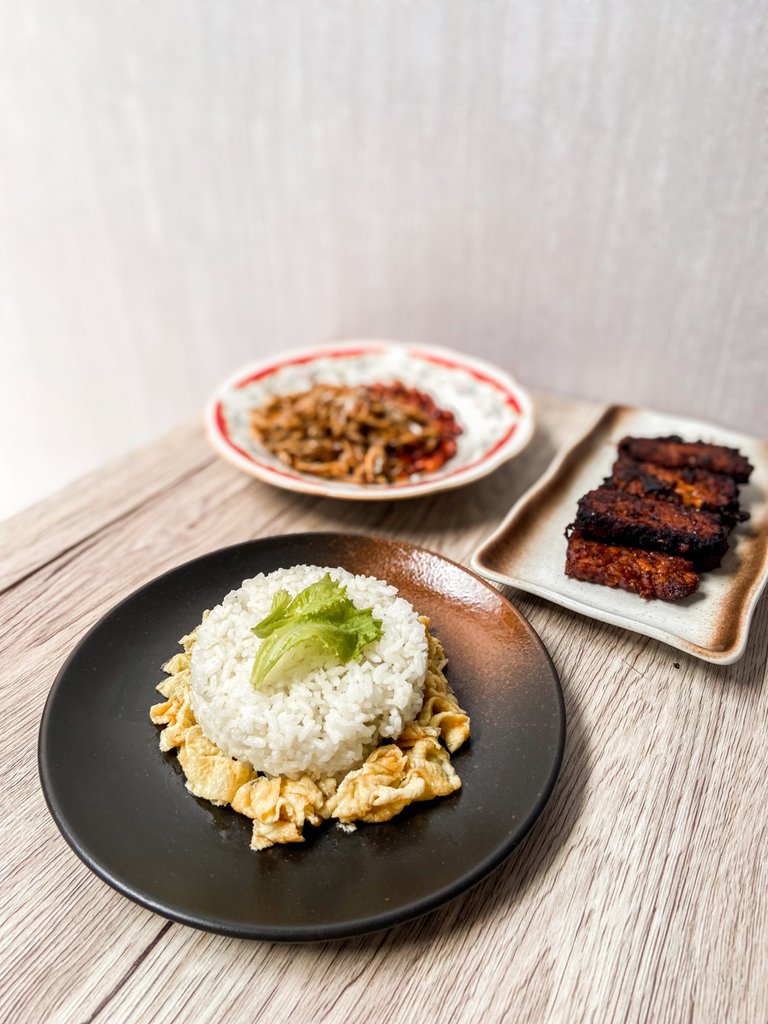 For nasi uduk itself, you don't have to spend more energy to make it. Unlike making kebuli rice, mandhi and others, uduk rice only requires a rice cooker or steamer. It also tastes delicious.
So, want to try Nasi Uduk at home? You must to try this recipe and comment below hive friends!
i cant wait to see you in comment :)
---
See you the next time hive friends!
---
---
Editing by Lightroom and VN iphone 11
---
---
---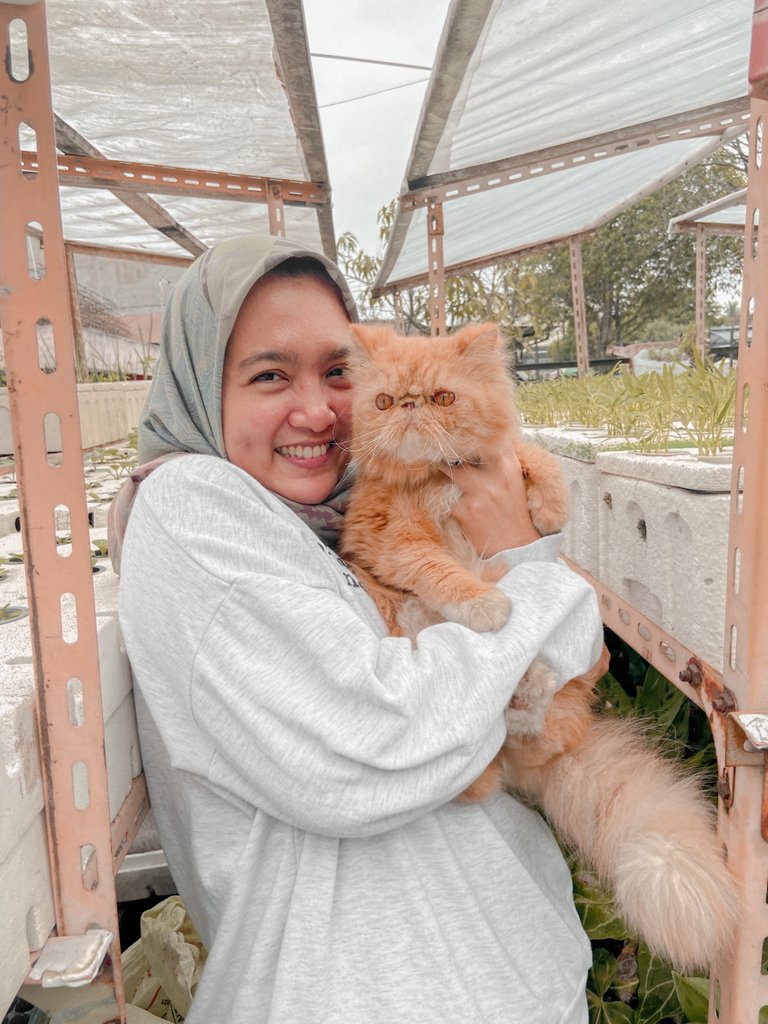 About Author
Annyeong yorobun! Welcome to wita's corner. Author is a full time housewife who loves to eat while writing. Enthusiasm to gardening and cooking. Like the exploration of new things and have many dream is unlimited. Always vote and give suggestions to advance this author.
If you like his content, don't forget to support me and leave a comment below. Make sure to keep read and watch my content. Thankyou so much :)

---
---