Yi Tiao Xian Family Reflexology
---
---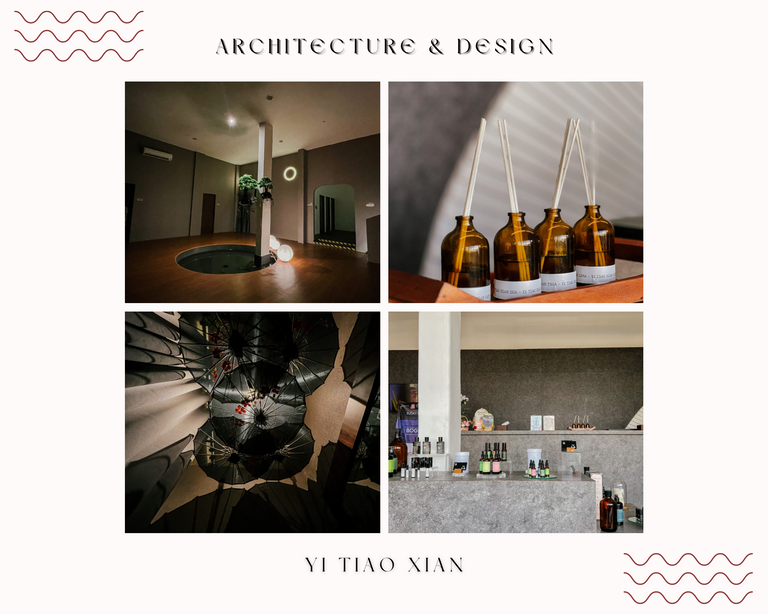 We are humans, as humans we must know about the needs for our bodies, not just about clothing, food and housing, we must know the needs for our souls and bodies. For example, like running a hobby by setting aside time, or doing whatever you like, such as gardening to relax yourself from the stress of lots of work and things that stress you out.
For example, I really like to relax myself by spending time at the gym and reflexology, for me these two places have a positive impact on my stiff body, providing lots of endorphins that are enough to make me fresh and able to return to my activities by reducing all the emotions and stress that impact good for my health.
Usually, I do reflexology once a month, because my body really likes to get stiff and it can affect other illnesses, sometimes my body's immune can drop quickly and it's easy to get sick, like flu, fever and headaches. Maybe this is due to the habit that my mother often does, she really spoiled me with various massages when I was little. In fact, I have a regular therapist who is often called home just to massage my body when I'm sick or need help.
Since my chilhood, when I was 1 year old, massage was an alternative treatment that my mother did for me, so I rarely went to the hospital because if I got a good massage, I would immediately recover from my illness. Even though I know this doesn't fit medical logic, that's what happened to me. So, every month there is a spa or reflexology place that I go to to release my body to make it more fit.
There is a reflexology place where I have been a regular for the past 3 months. Starting from curiosity because the place is not far from my house, I ventured to come and do a reflexology treatment there. So, after that I became addicted because the place is super comfortable and cozy, besides that the therapists are very good at using their hands and their ability to massage. In fact, I really like it because it feels very soft but able to shoot at the right point.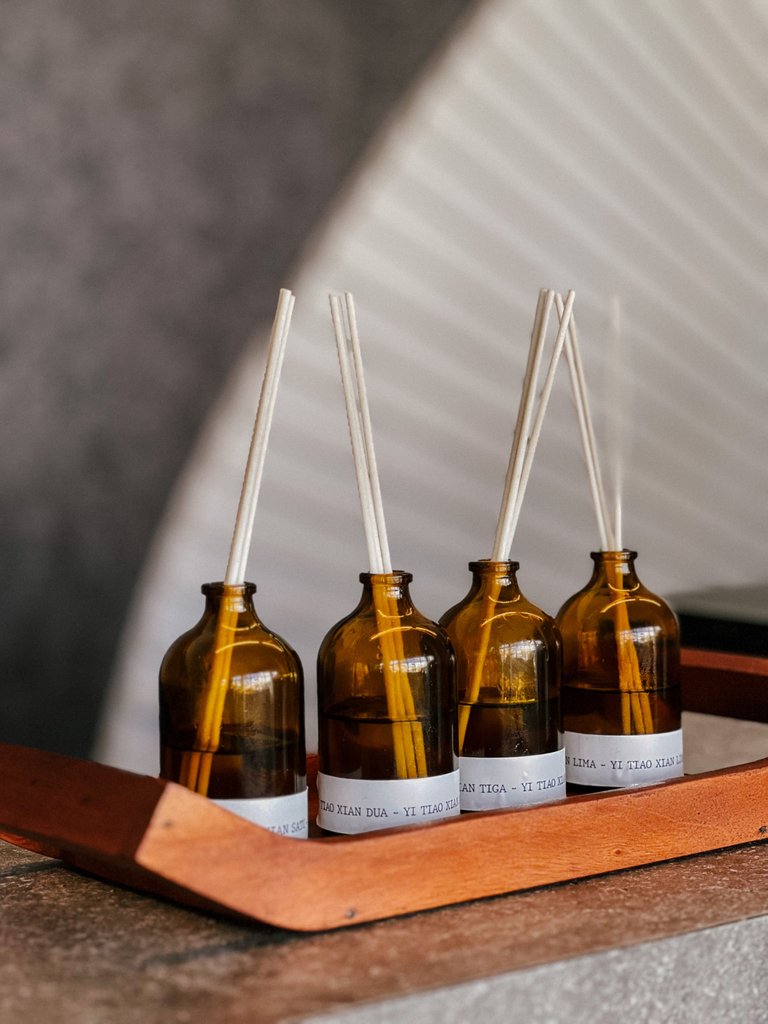 Yi Tiao Xian, if translated in language to be 'A Line', I think there must be a meaning to the name. Maybe that line connects the needs of the soul and body which is not far from the word 'stress release' from a massage. Located on Jalan Katamso, Medan city which is not far from a new hospital on the same street. I think the selection of the perfect location is not far from the hospital which can be a place for you to unwind.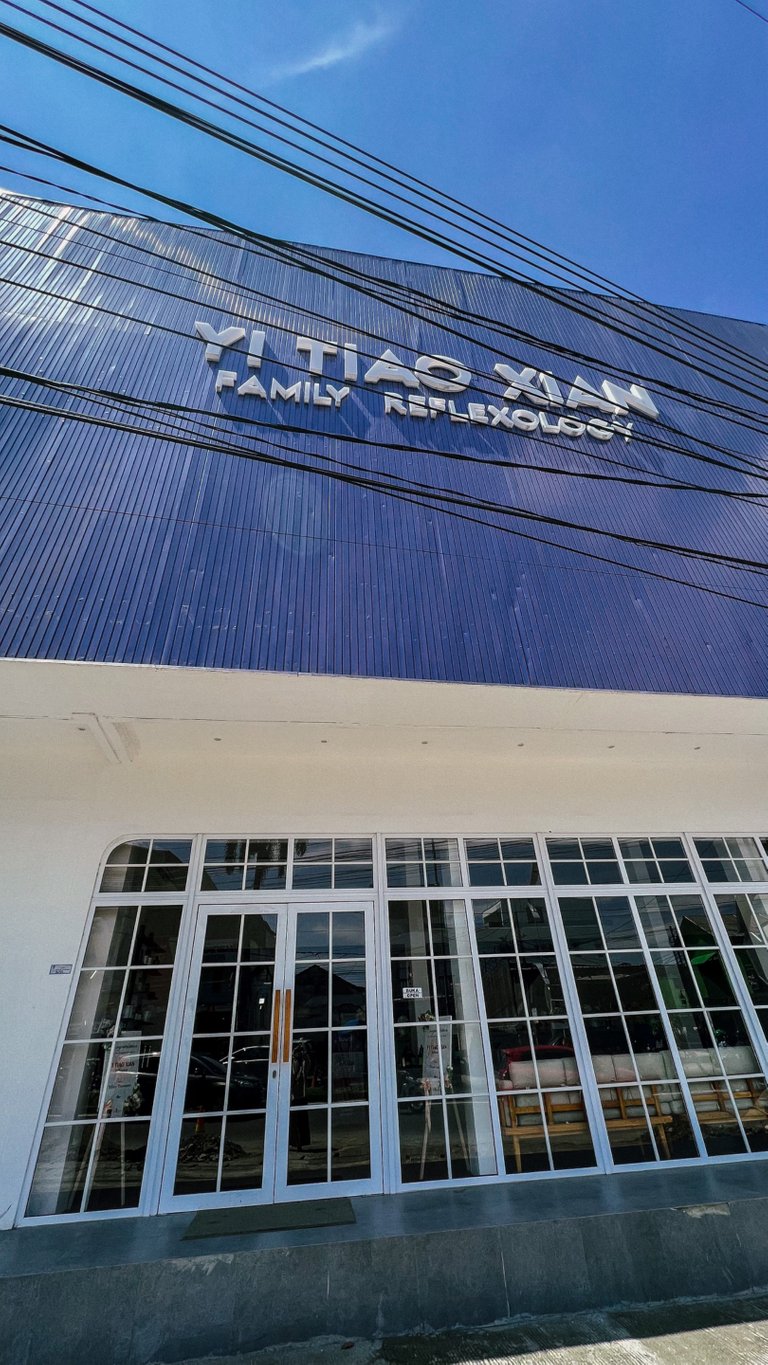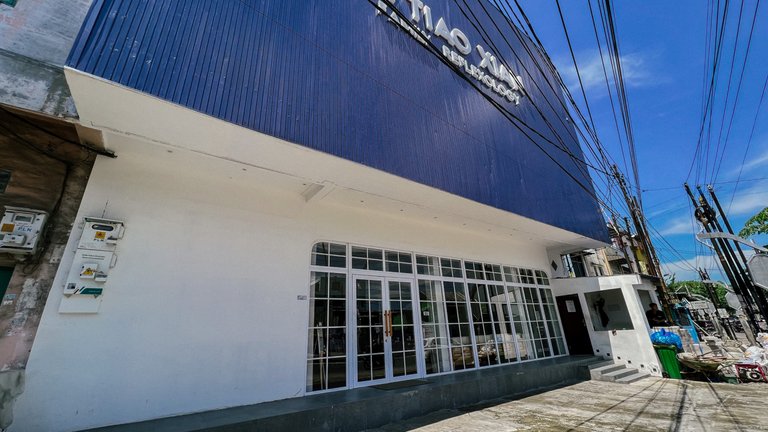 Yi Tiao Xian is one of the reflexology places that I would recommend for those of you who need a perfect massage from someone who is proficient in doing reflexology, especially for those of you who like to walk every day, so that it can improve blood circulation which may be stiff. I think reflexology will take you to a comfortable rest with massage and some treatments that will pamper your body, especially the feet and head.
As soon as you enter from the main door, you will be sniff with the fragrance of aromatherapy oil which is so delicious and indulgent, then before doing the treatment you have to make a reservation and pay for it in advance. So, the waiting room for Yi Tiao Xian is located at the same time as the reservation area. While waiting, I will also explore several corners of the building which I will discuss in terms of design and architecture.
I think, a place like this must pay more to make a comfortable place, because it will have an impact on customer satisfaction. On the one hand, a good place as a place for reflexology will increase the benefits many times over. This waiting room from Yi Xiao Tian even makes me not want to move, because the sofas and the wide building make this place very beautiful and pleasing to the eye.
Before entering for treatment, I was given a glass that I could fill with some welcome drinks and snacks. Here you can refill as much as you like, for drinks and snacks. I also really like the glass because there is a small carving that looks like a koi fish, indicating good luck as a Chinese belief.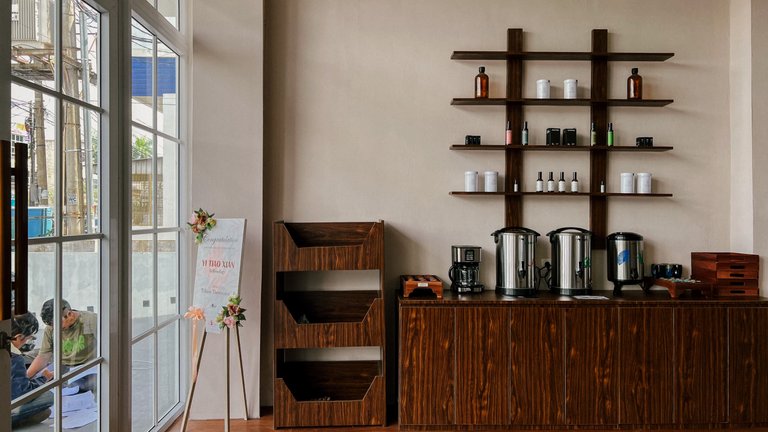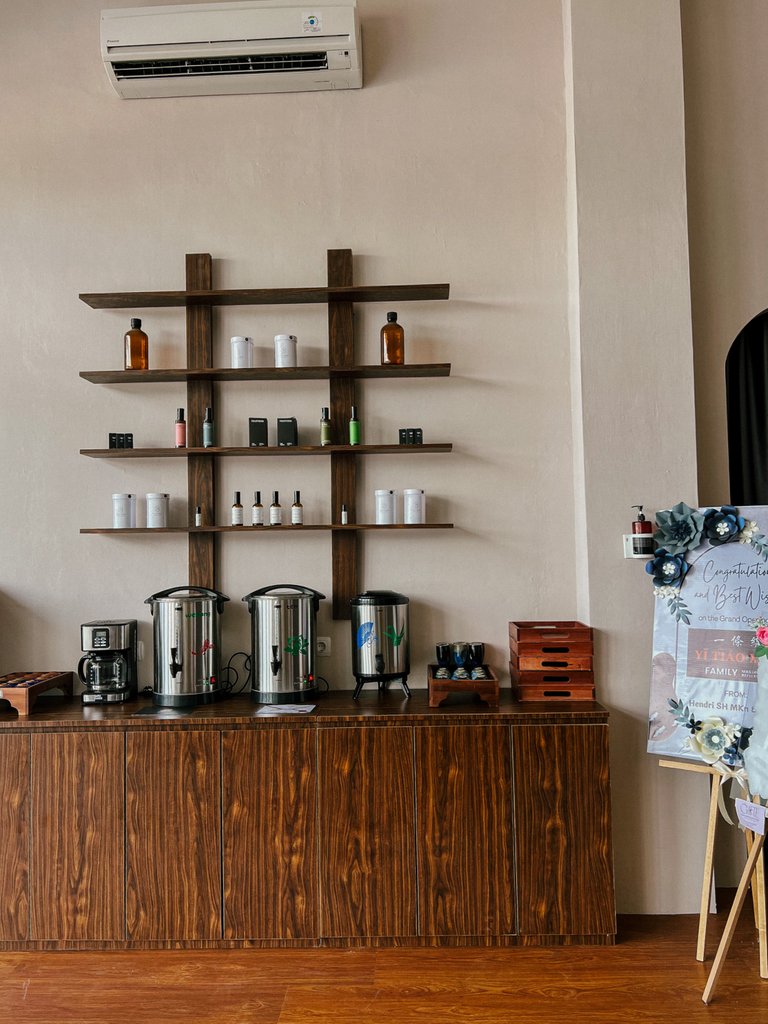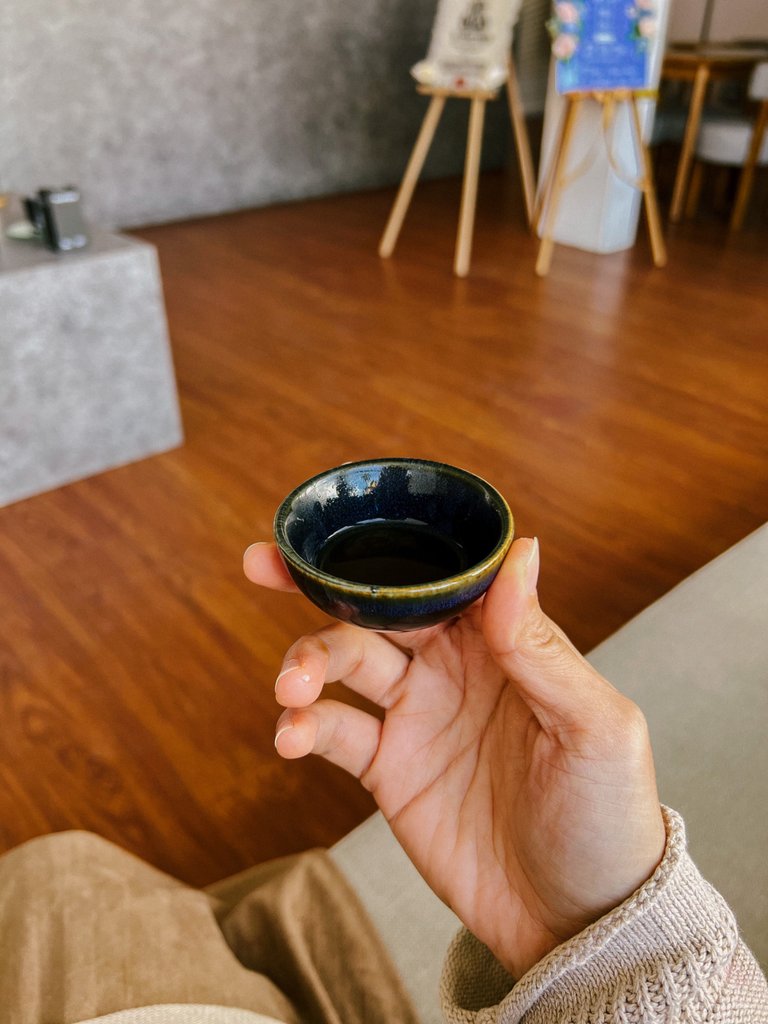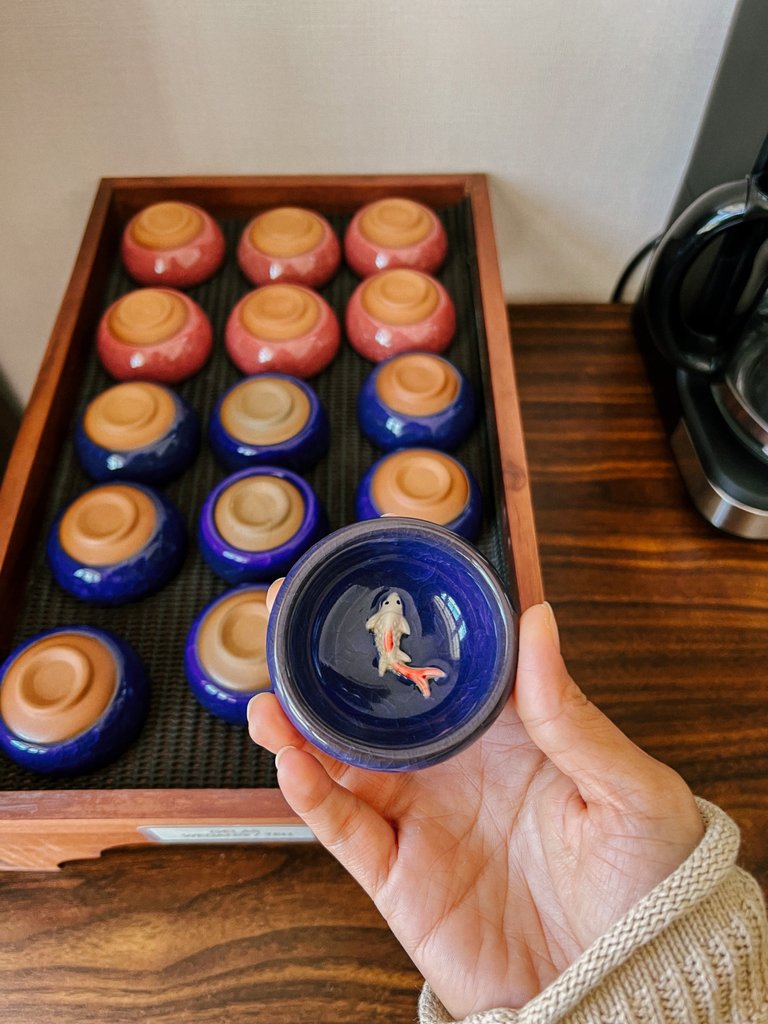 This corner is a corner that is liked by visitors, clean and tidy, everything is very neat and simple. Some of the dispensers are fully stocked with wedang ginger, tea and hot water. Then next to the table there is a shelf full of snacks that you can take as you please.
This is a reservation place, it seems very wide and elongated. There were two people taking care of making reservations and also on the table there were some flowers to say 'Congratulations for the Opening of Yi Xiao Tian' which seemed to be very well preserved even though they had been on display for a very long time. The flowers seemed to adorn the table very beautifully and aesthetically, so that the cashier's table looked very beautiful and cool to the eye.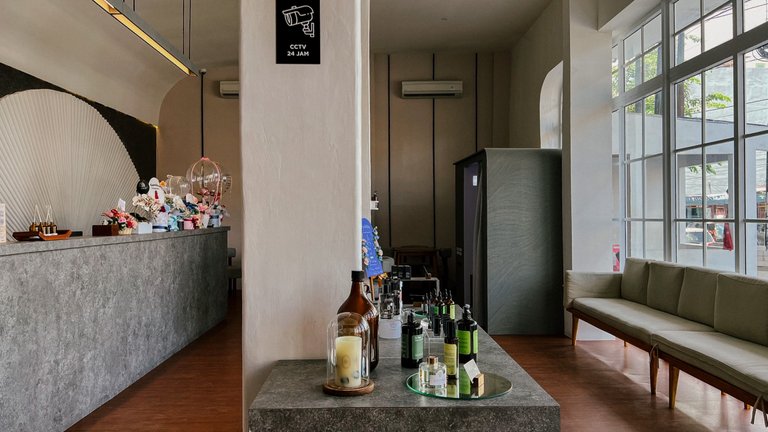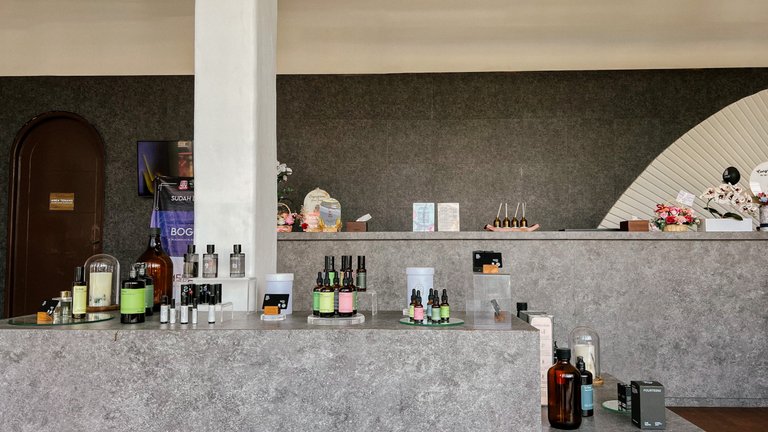 Right in front of the cashier's counter, I saw that there were many aromatherapy products that they displayed for sale. Now the bar is fully stocked with various bottles of products from one of the well-known brands of local aromatherapy products, made in Indonesia. Yes, this country is no less interesting in products like this, because it has agricultural products that are used as oil such as citronella, jasmine, cinnamon, peppermint and others. The table looks made as if it were on a rock, the color is dark gray with some spots and a texture similar to polished stone. It looks very elegant with a wooden floor which is indeed a partner, like a modern industrial design.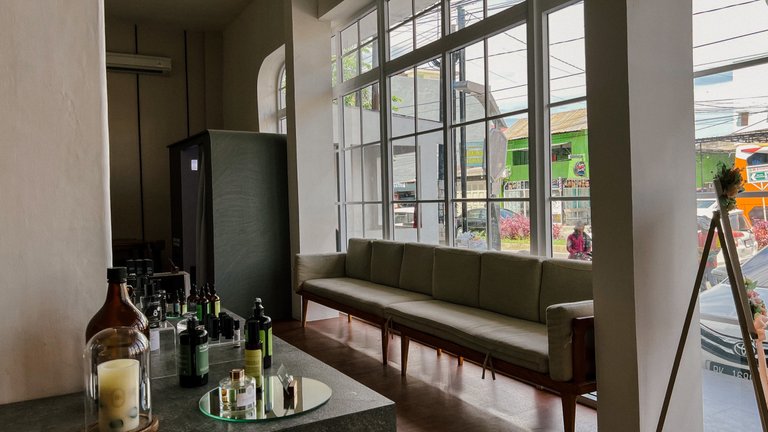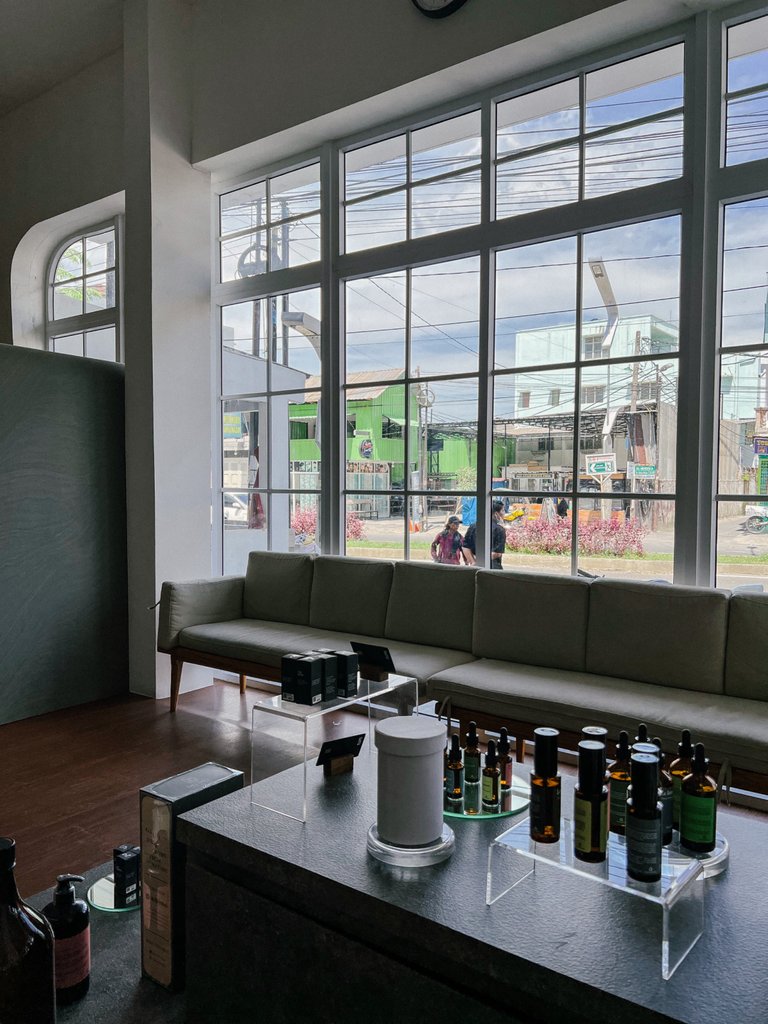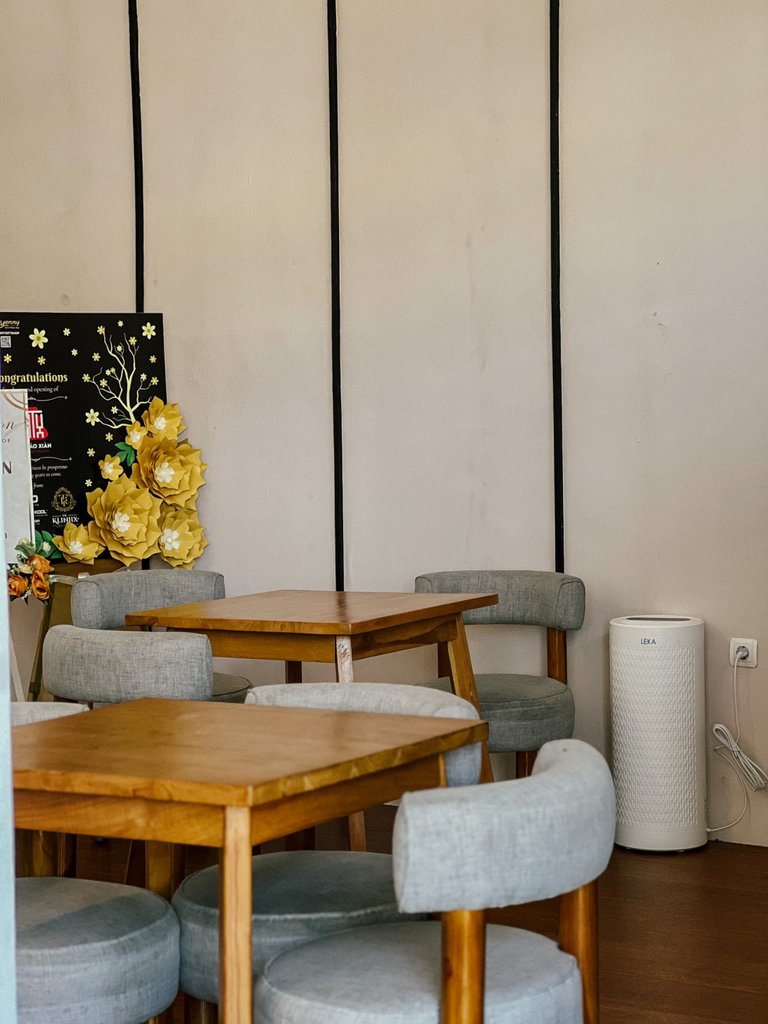 So with several tables, chairs and sofas with colors commensurate with the tables and floors, everything looks very integrated with all the accents and design details of this room. It was even more interesting when I was allowed to enter the shoe changing room, lined with shelves used to store sandals and shoes which are very safe in storage.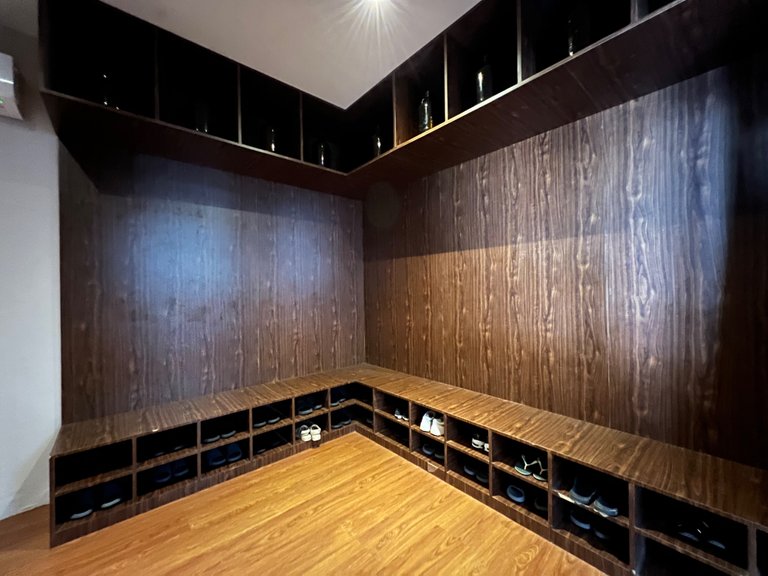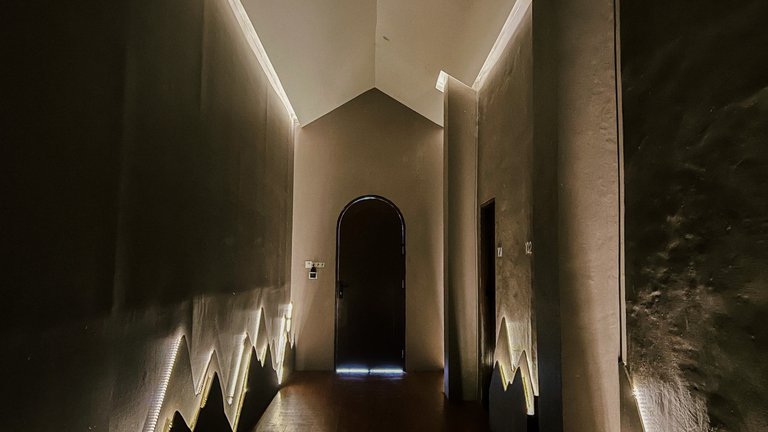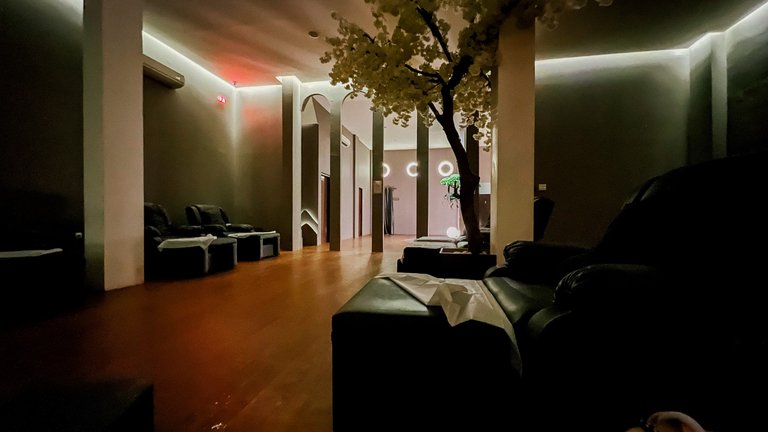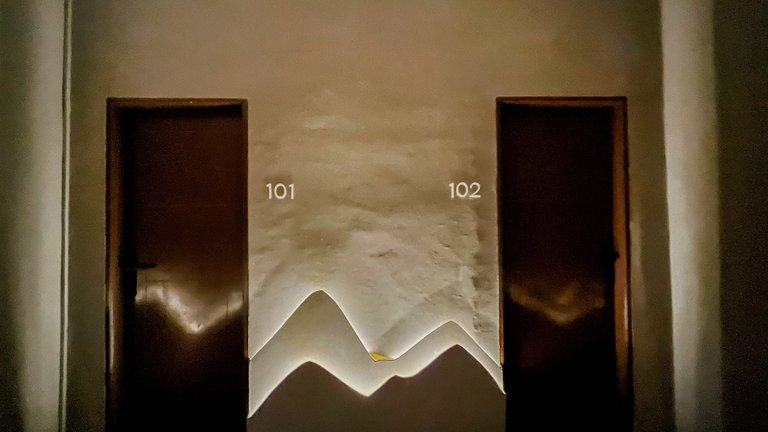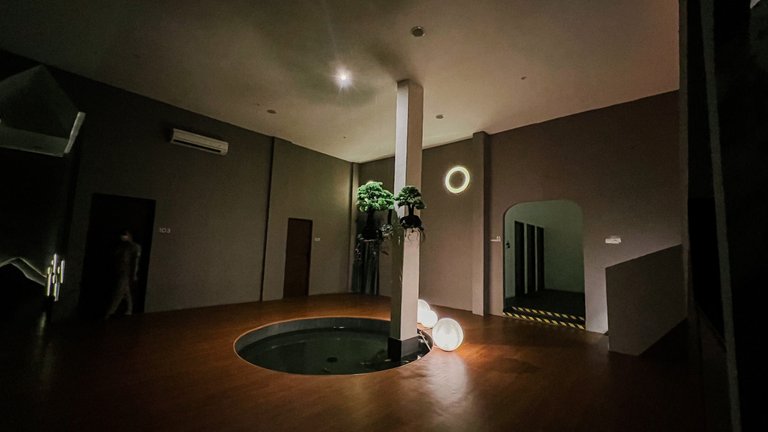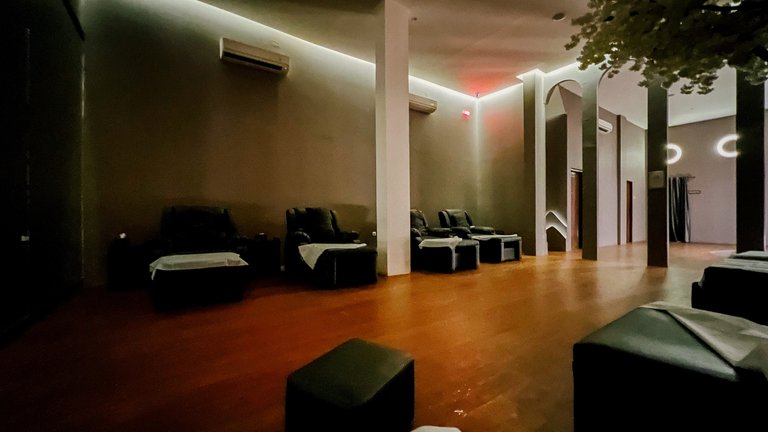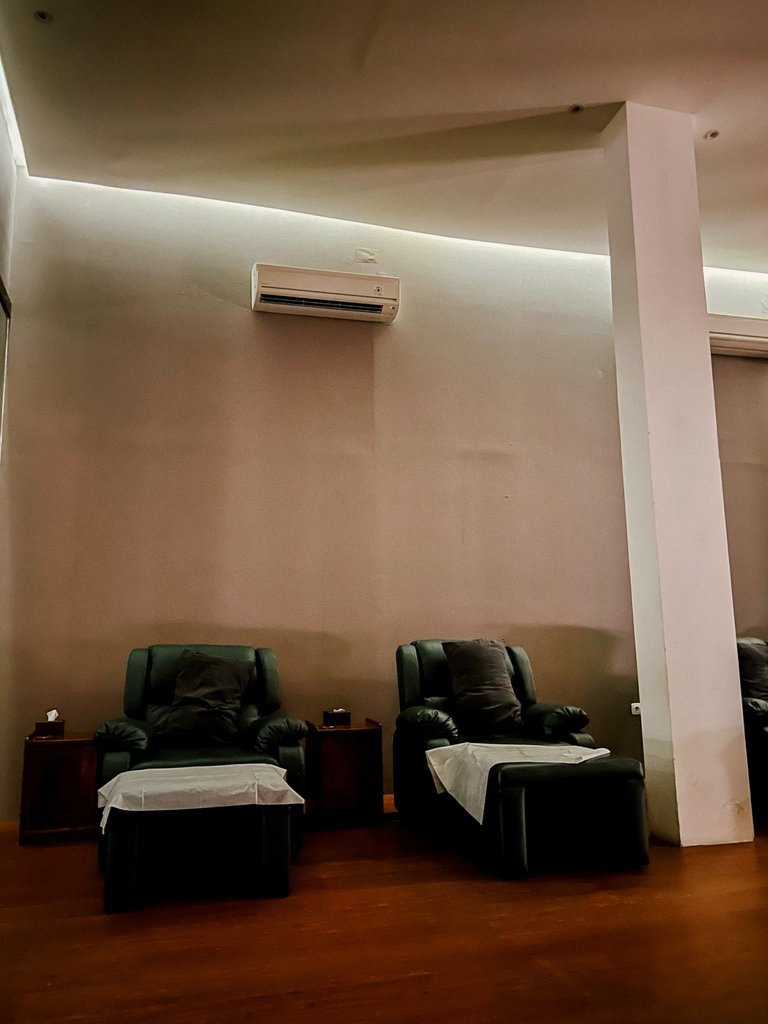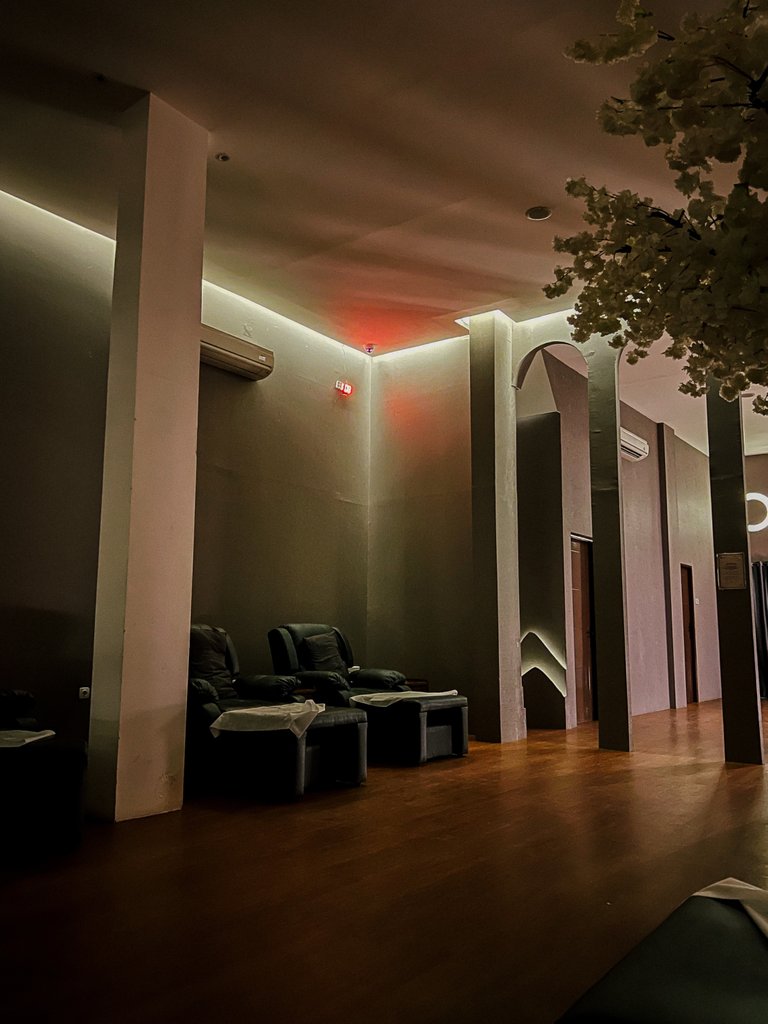 I entered the treatment room which is on the first floor, even though it looks dark, I felt a positive ambiance from this place. Don't forget I also took some footage. The room is very big, there are several toilets and changing rooms which are clean and comfortable. right in front of the toilet, there is a small pond filled with lots of koi fish which give an asmr like dripping water and running water. There is also minimal lighting which will give a 'cozy' impression and make you sleep very well.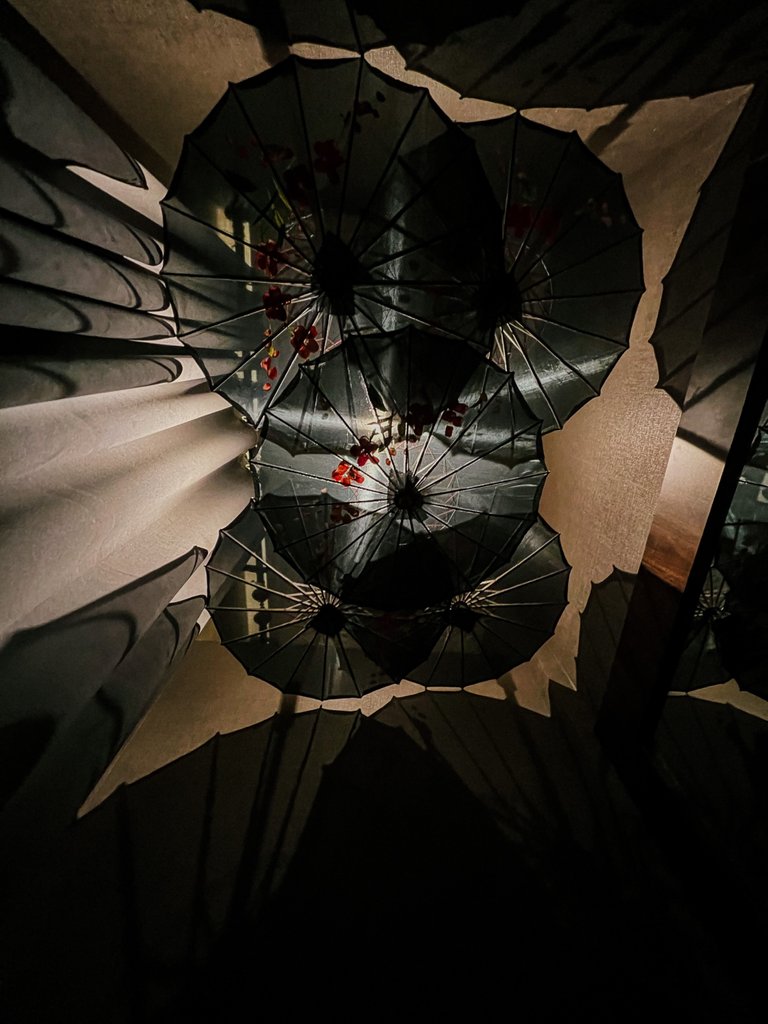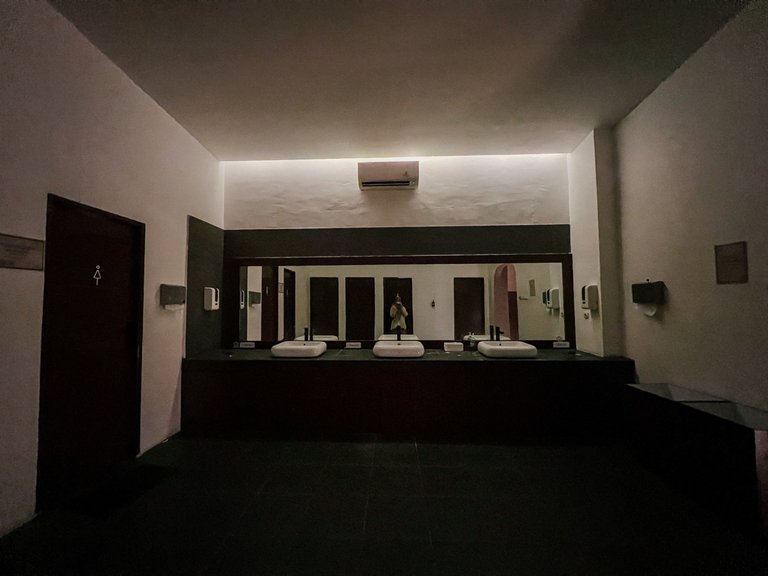 I think this is the biggest reflexology place in Medan city. There are so many reflexology like this in my city, but this is one of the best that this city have, of course, with a cheap price. If you are looking for something more expensive and private, may be a lot but this is what I can get with the budget I have. In fact, I enjoy the pleasures of reflexology just by spending 9 dollars for 2 hours of treatment. Of course with a happy hour discount, for Monday to Thursday at 10.00am-12.00am.
---
See you the next time hive friends!
---
---
Editing by Lightroom and VN iphone 11
---
---
---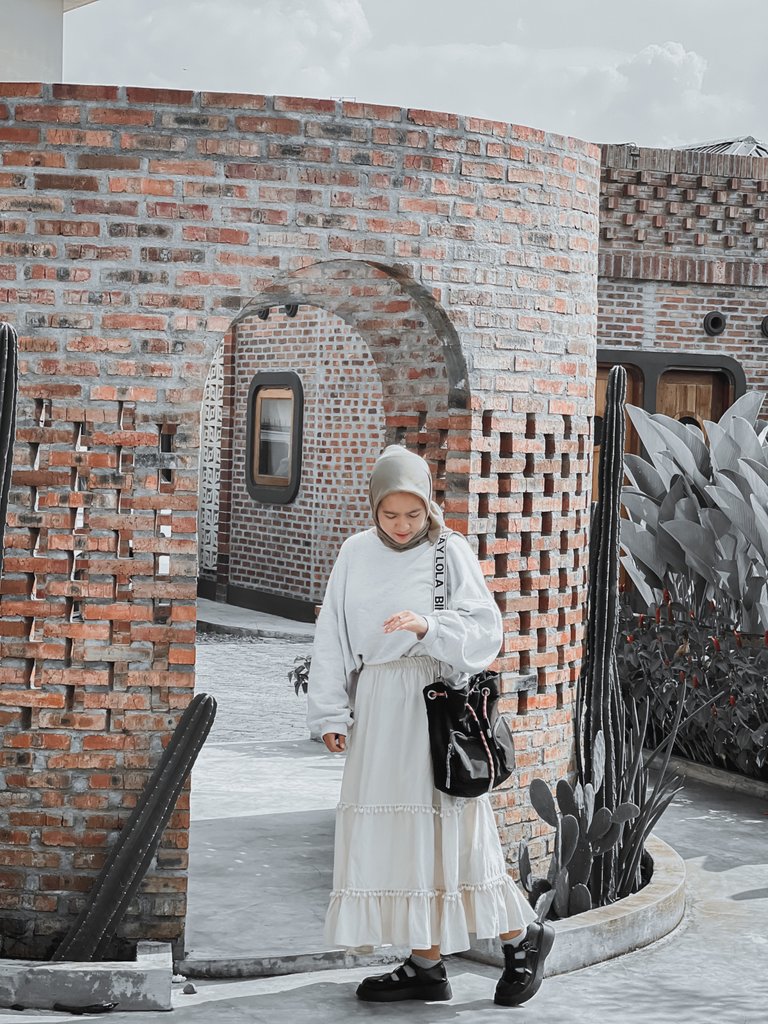 About Author
Annyeong yorobun! Welcome to wita's corner. Author is a full time housewife who loves to eat while writing. Enthusiasm to gardening and cooking. Like the exploration of new things and have many dream is unlimited. Always vote and give suggestions to advance this author.
If you like his content, don't forget to support me and leave a comment below. Make sure to keep read and watch my content. Thankyou so much :)

---
---