Black Widow is entertaining... that's all - Black Widow [ENG/ESP]
English
---
Marvel has managed to create a great empire with their movies, from 2008 with Iron Man to 2021 with Black Widow which was the last movie released and of which I come to tell you how was watching this movie, it is very important to remember that this is my opinion and you can leave yours in the comments to know what you think about the movie. Let's see, first hand I tell you that the Black Widow movie is fine, just like that, it's fine and I don't regret saying it, I'm not saying it's bad or anything like that but I'm not saying it's an excellent movie either.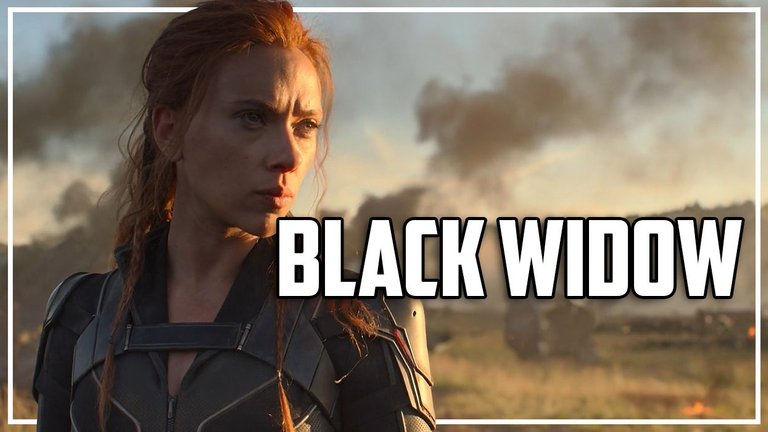 This whole world of cinema or art we know that it is subjective and that by logic the opinions about what we see, either in the cinema or on a streaming platform, varies according to the tastes of the person but this time I have to say that Black Widow did not exceed my expectations. When I saw the trailers they released I imagined something in the style of Black Panther or The Avengers 1 but to my surprise it fell about halfway.
The film is set between the events in Civil War and Infinity War and here we explore a somewhat different side of Natasha where she is a fugitive for everything that happened in Captain America: Civil War, but the story is not about running from the law but comes loaded with a more familiar touch and about the burden of the past. We have Natasha who has just received a message from her sister which is the answer to undo the mind control to which the Black Widows are subjected, then Natasha goes in search of her sister and they have a confrontation, you know how any normal way to greet each other.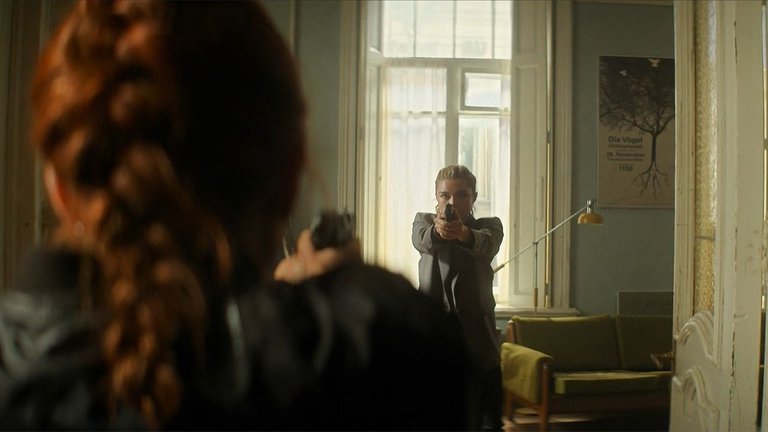 The two exchange some information and then are chased by the other Black Widows and Taskmaster. Natasha and Yelena come to the conclusion to take down the person who is controlling the Black Widows and go to free their "father" who is in prison to tell them where Dreykov is, unfortunately the Red Guardian does not know where the Red Room is and they turn to Melina who is still working for Dreykov.
Then it is not very difficult to know what happens, they are all driven by the feeling of family and for the first time they decide to act as such, they put together a plan to get to Dreykov, kill him and free the other Widows from his mind control. The movie is entertaining, the action sequences are always the best, it's Marvel we can't expect a low level. The final fights are almost always the best and the whole sequence of the base being destroyed and Natasha falling in the air at the same time she fights with Taskmaster was amazing, that's not counting the little confrontation they had when they fall to the ground, it was short but great.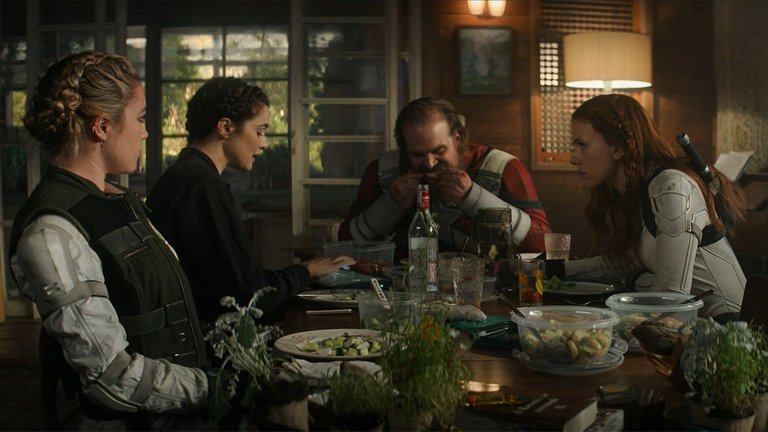 The family relationship they have is a bit forced and that may be the intention because in the end the only thing that united them as a family was the intention to kill Dreykov, but that sudden acceptance of now we are all a family and act as such does not seem quite right, maybe that subplot is a fundamental part for the development of the film but it was something that I saw very forced because somehow the film has to move forward.
How the Red Guardian had to lower his ego to work together with his family was a well handled aspect, since we see him in jail and we appreciate a little bit his inflated personality we know the kind of person he is, he only thinks about himself but when he goes to try to comfort Yelena we notice a little bit the possible change he is having just because of the family moment they had a few seconds ago.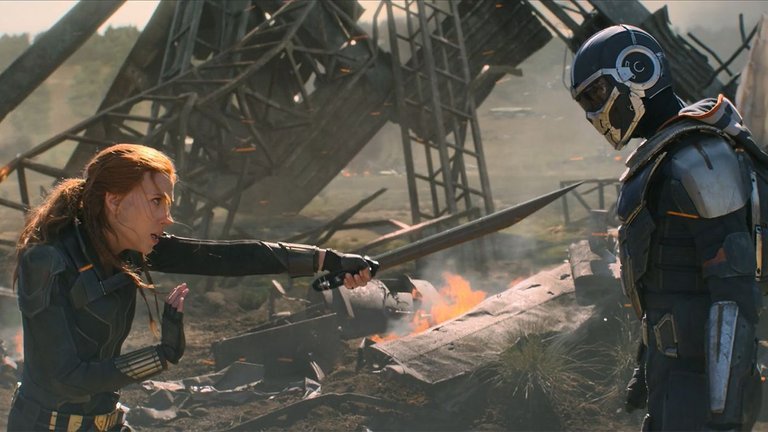 I'm not saying that Black Widow is a bad movie, I'm just saying that it is not up to the level of what Marvel had us used to, a point that could also play against the movie is that it was not released at the time it should have been released, possibly if the movie had been released a few years ago it would have had a better impact. The movie is entertaining, it has good action scenes and although it is Marvel in some moments the effects are noticeable, but to criticize it only for that would be a big mistake on my part. My recommendation is to see it if you do not have another movie that catches your attention or if you are interested in continuing to see the MCU it is important to see it.
---
The screenshots used in this post were taken by me.

Español
---
Marvel ha logrado crear un gran imperio con sus películas, desde 2008 con Iron Man hasta 2021 con Black Widow que fue última película estrenada y de la cual les vengo a contar que tal me fue viendo esta película, es muy importante recordar que esta es mi opinión y que ustedes pueden dejar la suya en los comentarios para saber cuál que piensan sobre la película. A ver, de primera mano les digo que la película de Black Widow está bien, así, a secas está bien y no me arrepiento de decirlo, no digo que sea mala ni nada por el estilo pero tampoco digo que una excelente película.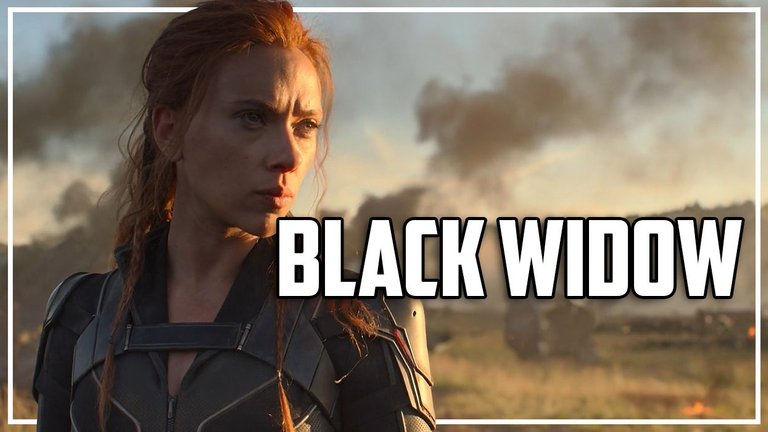 Todo este mundo del cine o del arte sabemos que es subjetivo y que por lógica las opiniones sobre lo que vemos, ya sea en el cine o en una plataforma de streaming, varía según los gustos de la persona pero esta ocasión tengo que decir que Black Widow no superó mis expectativas. Cuando veía los trailers que lanzaban me imagina algo al estilo de Black Panther o Los Vengadores 1 pero para sorpresa se quedó como a medio camino.
La película se sitúa entre los acontecimientos en Civil War e Infinity War y aquí exploramos una faceta un tanto diferente de Natasha donde es fugitiva por todo lo que paso en Capitán América: Civil War, pero la historia no va sobre huir de la ley sino que viene carga con un toque más familiar y sobre la carga del pasado. Tenemos a Natasha que acaba de recibir un mensaje de su hermana la cual la respuesta para deshacer el control mental al que están sometidas las Viudas Negras, acto seguido Natasha va en busca de su hermana y tienen un enfrentamiento, ya saben cómo cualquier forma normal de saludarse.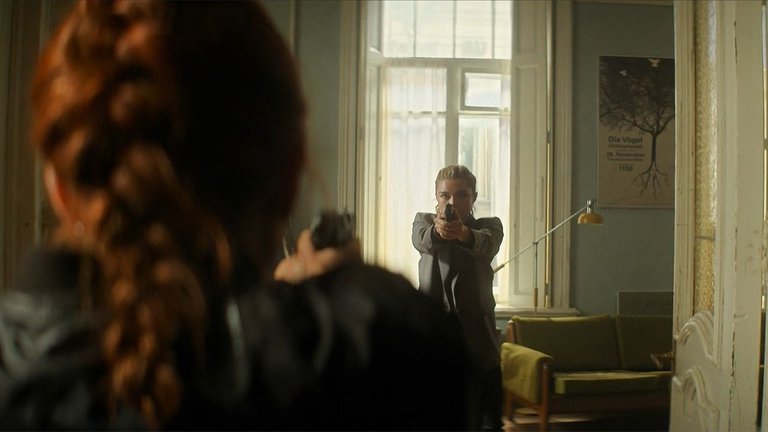 Ambas intercambian un poco de información y luego son perseguidas por las otras Viudas Negras y Taskmaster. Natasha y Yelena llegan a la conclusión de acabar con la persona que está controlando a las Viudas Negras y van a liberar a su "padre" que está prisión para que les diga donde está Dreykov, lastimosamente el Guardián Rojo no sabe dónde se encuentra la Habitación Roja y acuden a Melina que sigue trabajando para Dreykov.
Luego no es muy difícil saber lo que ocurre, a todos los lleva el sentimiento de la familia y por primera vez deciden actuar como tal, arman un plan para llegar hasta Dreykov, matarlo y liberar a las otras Viudas de su control mental. La película es entretenida, las secuencias de acción siempre son las mejores, es Marvel no nos podemos esperar un nivel bajo. Los combates finales casi siempre son los mejores y toda la secuencia de la base destruyéndose y Natasha cayendo el aire al mismo tiempo que pelea con Taskmaster fue increíble, eso sin contar el pequeño enfrentamiento que tuvieron cuando caen al suelo, fue corto pero genial.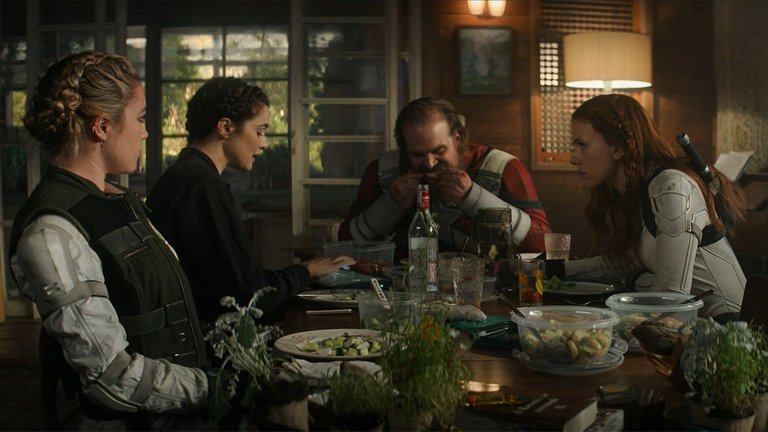 La relación de familia que tienen la veo un poco forzada y pueda que esa sea la intención porque al final lo que único que los unió como una familia fue la intención de acabar con Dreykov, pero esa repentina aceptación de ahora todos somos una familia y actuemos como tal no me parece del todo bien, puede que esa sub-trama sea una parte fundamental para el desarrollo de la película pero fue algo que vi muy llevado a la fuerza porque de alguna manera la película tiene que avanzar.
Como el Guardián Rojo tuvo que bajar su ego para trabajar en conjunto con su familia fue un aspecto bien llevado, desde que lo vemos en la cárcel y apreciamos un poco su personalidad inflada sabemos el tipo de persona que es, solo piensa en sí mismo pero cuando va a tratar de consolar a Yelena se nota un poco el posible cambio que está teniendo solo por el momento en familia que tuvieron hace unos segundo atrás.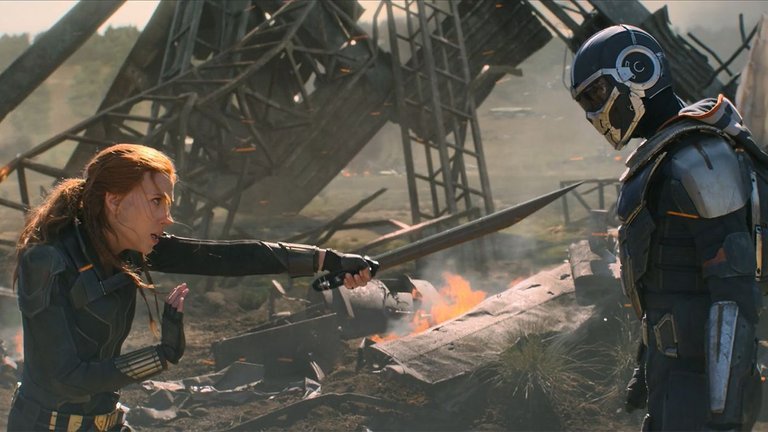 No digo que Black Widow sea mala película, solo digo que no está a la altura de lo que Marvel nos tenía acostumbrados, un punto que también pudo jugar muy en contra de la película es no la estrenaron en el momento que tenía que hacerlo, posiblemente si la película se hubiese estrenado hace unos años atrás habría tenido mejor repercusión. La película es entretenida, tiene buenas escenas de acción y aunque sea Marvel en algunos momentos los efectos si se notan que son efectos, pero criticarla solo por eso sería un grave error de mi parte. Mi recomendación es que la vean si no tienen otra película que les llame la atención o si les interesa seguir viendo el UCM es importante que la vean.
---
Las capturas usadas en este post fueron tomadas por mí.

---
---