This film is more than just a copy - Nobody [ENG/ESP]
English
---
You probably remember John Wick, this movie about a retired mobster, you could say, whose house is broken into one night, his car is stolen and the dog that his dead wife had left him as a gift is murdered. I think we all know this story for having seen the movie or for some memes, the truth is that this movie is entirely action and may hide a whole background beyond what is shown on screen but that is not the case this time. In this opportunity I will tell you how it is, for me, its "copy" with a comedy tone and a little more dialogue.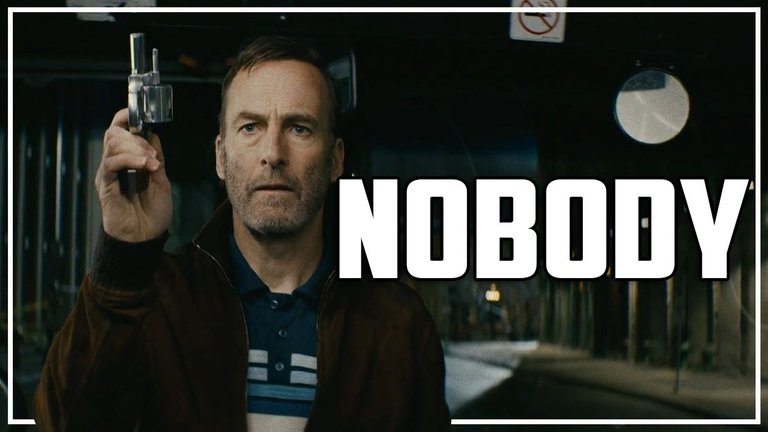 Nobody is a film that follows the seemingly ordinary and everyday life of Hutch Mansell, who has two children with his wife Becca and works as a clerk in a company, one night two people break into his house and he simply lets them go having the opportunity to stop them. To the other people's bad luck, Hutch is not who he appears to be because a few days later he seeks information about his attackers. It is evident that already from the spark that ignites the plot we can see the parallels it has with John Wick.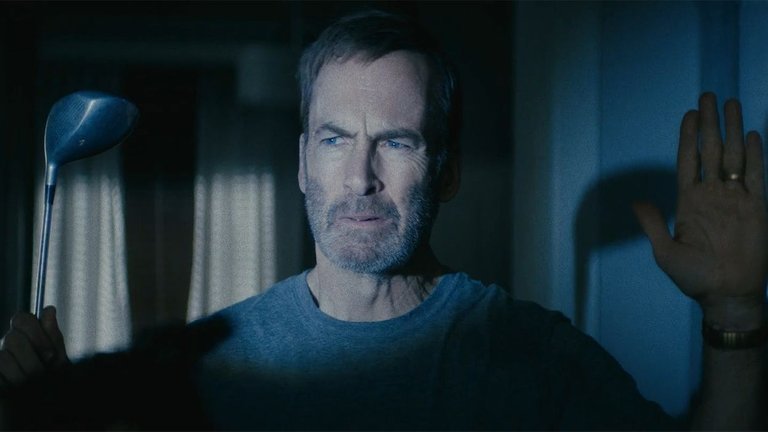 To say that this movie is a copy of John Wick would be an insult and flattery at the same time, the plots of both movies are almost the same, let's see, two men who lead a "normal" life that are forced to bring out their darkest side when they are forced because their house was broken into, coincidence, I don't think so. Although the plots are quite similar and as much as I want to say they are the same I can't do it, and I don't feel guilty about that. I'll tell you right off the bat that I liked Nobody a lot more than the first John Wick movie and you probably won't agree with me.
While both have an element of sadness and melancholy, Nobody makes it different and adds a dash of comedy, which although comedy doesn't fit very well in this type of plot Nobody carries it well, it doesn't have enough comedy to die of laughter but it doesn't convey its deep sorrow either. Nobody is that kind of movie where you just sit down and enjoy it, it has the potential to be a movie with a super complex plot but it doesn't and instead it just says: Enjoy what you are watching.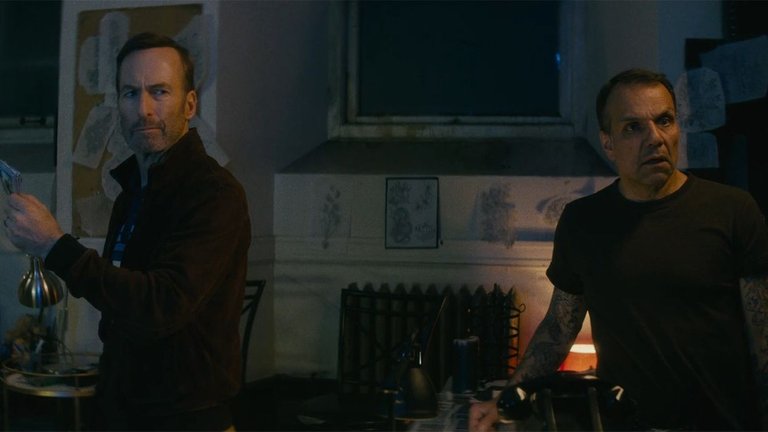 As can not be so obvious not everything in this movie is action, it also has its story and that is something I appreciate a lot in a movie. On the one hand we have Hutch living a simple everyday life, who apparently has some kind of problems to relate in a better way with his family and how he tries to change things, when they are robbed in the night you can really feel that now everything is going downhill for Hutch and although in a way it is true it does not.
When Hutch finds the house of the assailants we see a little of his true nature that although he awakens little by little, I didn't really understand what Hutch really was by the end of the movie. The real plot starts when the fight on the bus occurs and coincidentally one of the people that Hutch hit is the brother of a Russian "mafia", you see the kind of parallels it has with John Wick only this time it is the protagonist who messes with who should not. From this point on almost everything works as some people expect, the protagonist is attacked by the bad guys, manages to kill the people who want to kill him and goes in search of the villain.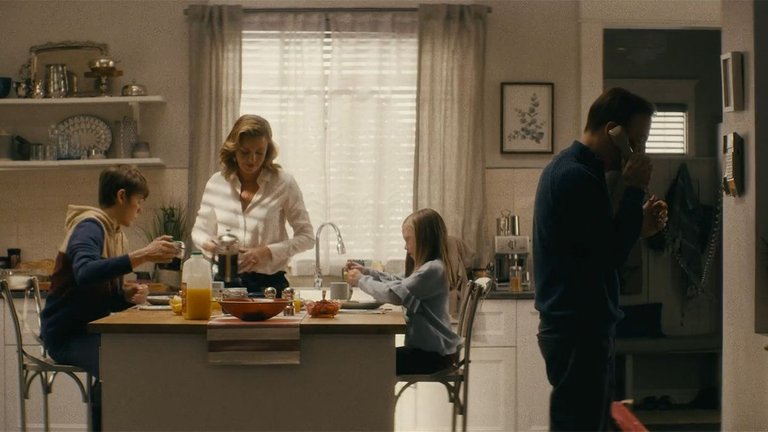 If everything seems generic to me I don't care and even if it looks like John Wick in certain aspects I don't care, the movie works no matter where you look at it, this is the kind of movie that no matter how much you look at it you will be entertained, I would like everything to be good but unfortunately it can't be, as it is a movie that gives priority to what is great it leaves a little aside the subplots, Hutch's relationship with his family is explored enough to make his current state clear but it doesn't talk enough about how they got there and not much is said about who Hutch really was in the past, which even if you get the joke of the movie being called Nobody and Hutch constantly saying he's nobody when asked about it still needs a little more context. That and that the spark that ignites the plot is a beating of the wrong guy.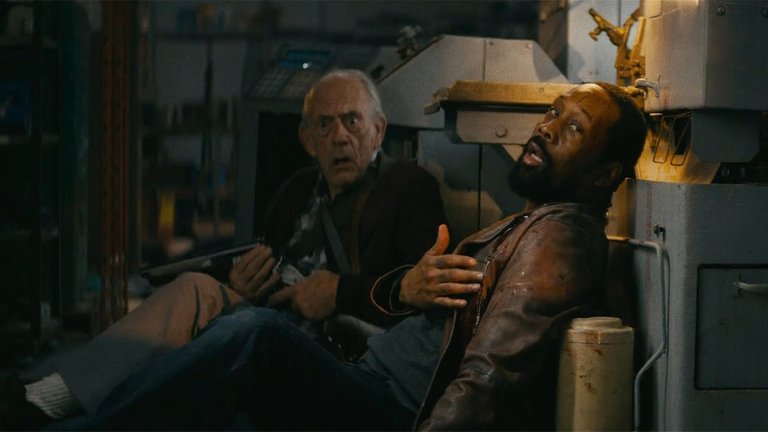 The theme of comedy is something taken a little lightly, for my taste some of the dialogues that had this intention did not make me laugh and I think the joke of Hutch asking about a cat bracelet while pointing a gun at someone is a little outdated, I do not know whether to take it as a joke given the context of the dialogue. I am obliged to make special mention to Christopher Lloyd's work in this movie, some of the scenes where he was present were the ones that really got a good laugh out of me, besides being the ones I loved the most, truly his participation here was the best.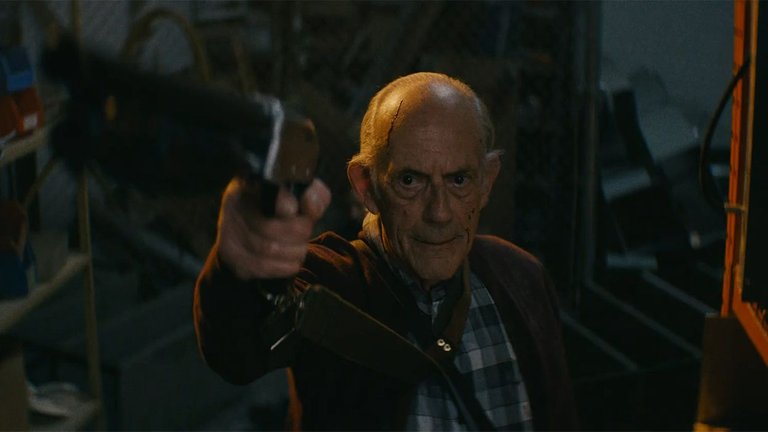 Nobody has its own essence, although it resembles John Wick, it manages to differentiate but I find it difficult to explain what makes it so different, to understand me you have to see it and I really mean it. The soundtrack manages to fit with every moment it appears, you feel that this is really the song that goes in that moment. Nobody does not have a complex plot that leaves you thinking for days about what you saw but it manages to entertain you and sometimes get a laugh out of you, I think this is the first time I emphasize it so much Nobody is great and you should at least give it a chance, I assure you that you do not lose anything by watching it.
---
The screenshots used in this post were taken by me.

Español
---
Posible y muy probablemente recuerden a John Wick, esta película sobre un mafioso, podría decirse, retirado al que un día por la noche entran en su casa, roban su auto y asesinan al perro que le había dejado como regalo su esposa muerta. Creo que todos conocemos esta historia por haber visto la película o por algunos memes, lo cierto es que esta película es enteramente de acción y puede que oculte todo un trasfondo más allá de lo que se muestra en pantalla pero eso no es caso en esta ocasión. En esta oportunidad les contare que tal está, para mí, su "copia" con un tono de comedia y un poco más de dialogo.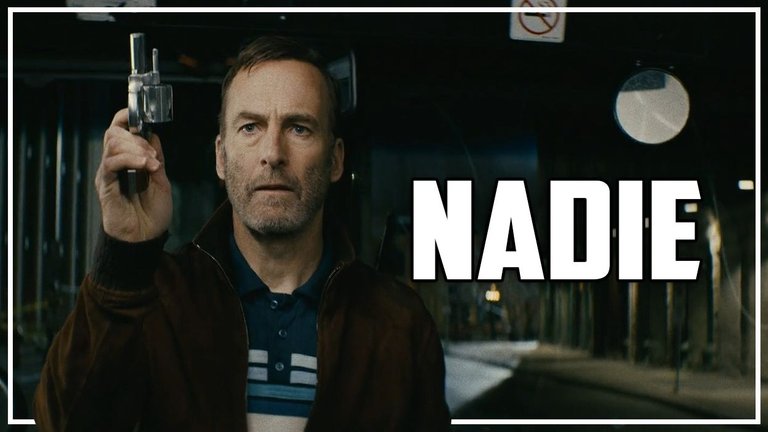 Nobody es una película que sigue la vida aparentemente ordinaria y cotidiana de Hutch Mansell, quien tiene dos hijos con su esposa Becca y trabaja como oficinista en una empresa, una noche dos personas irrumpen en su casa y este simplemente los deja ir teniendo la oportunidad de detenerlos. Para mala suerte de las otras personas, Hutch, no es quien aparenta ser porque unos días después busca información de sus atacantes. Es evidente que ya desde la chispa que enciende la trama podemos ver los paralelismos que tiene con John Wick.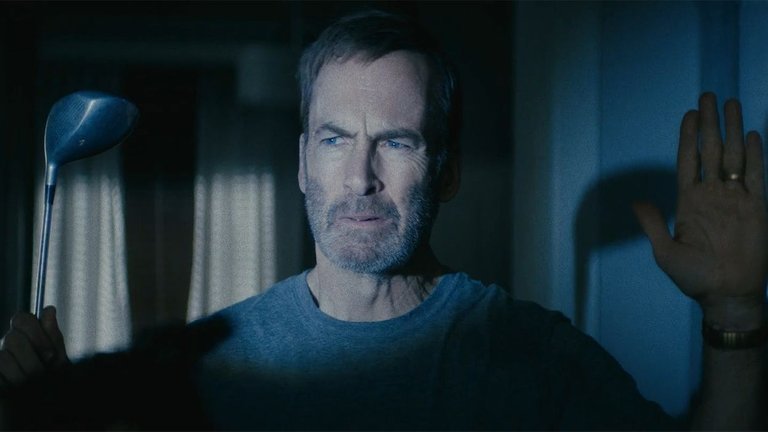 Decir que esta película es una copia de John Wick sería un insulto y halago al mismo tiempo, las tramas de ambas películas son casi iguales, a ver, dos hombres que llevan una vida "normal" que son obligados a sacar su parte más oscura cuando son obligados porque entraron en su casa robar, coincidencia, no lo creo. Aunque la trama se parezcan bastante y por más ganas que tenga de decir con son lo mismo no lo puedo hacer, y no me siento culpable de eso. De buenas a primeras les digo que Nobody me gustó mucho más que la primera película de John Wick y probablemente no estén de acuerdo conmigo.
Mientras que las dos cuentan con un elemento de tristeza y melancolía, Nobody lo hace diferente y le agrega una pizca de comedia, que aunque la comedia no quede muy bien en este tipo de tramas en Nobody la llevan bien, no tiene la suficiente comedia como para morir de la risa pero tampoco te transmite su profundo pesar. Nobody es ese tipo de película en el que te colocas a verla y simplemente la disfrutas, tienen el potencial para ser una película con una trama súper compleja pero no lo hace y en lugar de eso solo te dice: Disfruta lo que estás viendo.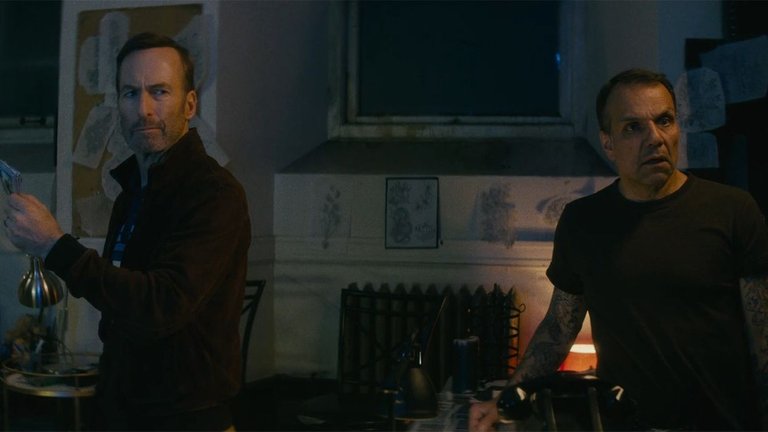 Como no puede ser tan evidente no todo en esta película es acción, también tiene su historia y eso es algo que aprecio mucho en una película. Por un lado tenemos que Hutch vive una vida cotidiana y simple, que por lo visto tiene una clase de problemas para relacionarse de una mejor forma con su familia y como intenta cambiar las cosas, cuando son robados en la noche de verdad puedes sentir que ahora todo se va ir cuesta abajo para Hutch y aunque de cierto modo sea verdad no lo hace.
Cuando Hutch da con la casa de los asaltantes vemos un poco de su verdadera naturaleza que si bien va despertando poco a poco, no termine de entender que era Hutch realmente al final de la película. La verdadera trama inicia cuando ocurre la pelea en el autobús y que casualmente uno de las personas a las que Hutch golpeo es hermano de un ruso "mafioso", ya ven la clase de paralelismos que tiene con John Wick solo que esta vez es el protagonista quien se mete con quién no debe. A partir de este punto casi todo funciona como ya algunos se lo esperan, el protagonista es atacado por los malos, logra acabar con las personas que lo quieren matar y va en busca del villano.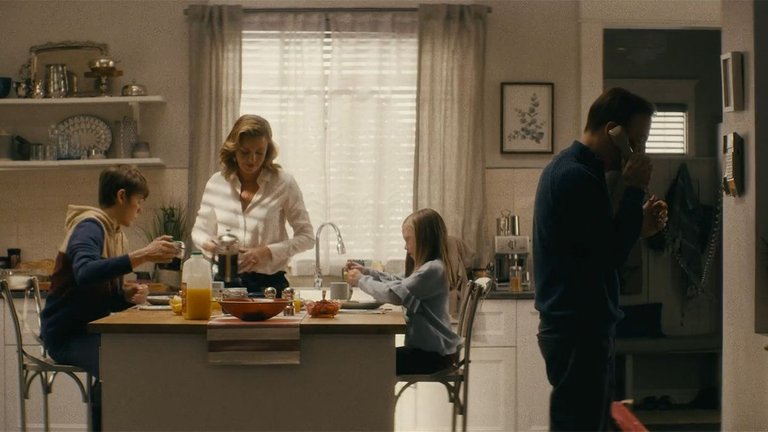 Si todo parece genérico a mí no me importa y aunque se parezca a John Wick en ciertos aspectos me da completamente igual también, la película funciona vea por donde lo veas, esta es el tipo de películas que por más vueltas que le des te va a entretener, me gustaría que todo fuera bueno pero lastimosamente no puede ser así, como es una película que le da prioridad a lo que genial que es digamos que deja un poco de lado las sub-tramas, la relación de Hutch con su familia se explora lo suficiente como para dejarnos claro su estado actual pero no habla lo necesario para saber cómo llegaron a eso y tampoco se dice mucho sobre lo que era realmente Hutch en el pasado, que aunque capte el chiste de que la película se llame Nobody y que Hutch constantemente diga que no es nadie cuando le pregunten de igual manera hace falta un poco más contexto. Eso y que la chispa que enciende la trama sea una golpiza a quien no debía.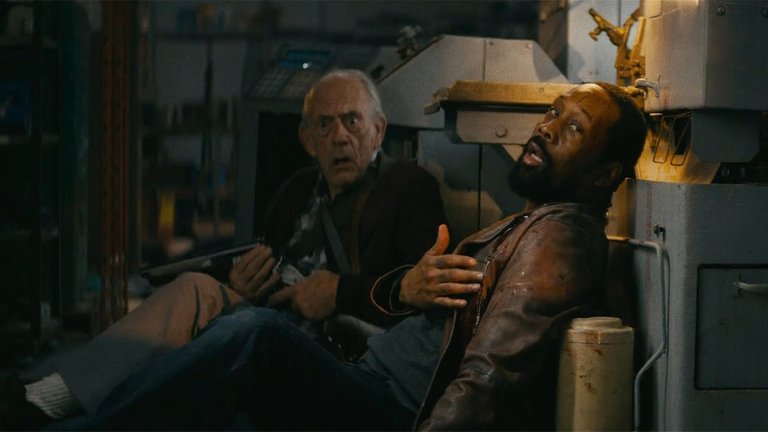 El tema de la comedia es algo toman un poco a la ligera, para mi gusto algunos de los diálogos que llevaban esta intención no me dieron risa y creo que chiste de Hutch preguntando sobre una pulsera de gato mientras apunta a alguien con arma está un poco desfasado, que no sé si tomarlo como chiste dado el contexto del dialogo. Me veo en la obligación de hacer mención especial al trabajo de Christopher Lloyd en esta película, algunas de las escenas donde tenía acto de presencia fueron las que de verdad lograron sacarme una buena risa, aparte de ser las que más ame, de verdad su participación aquí lo mejor.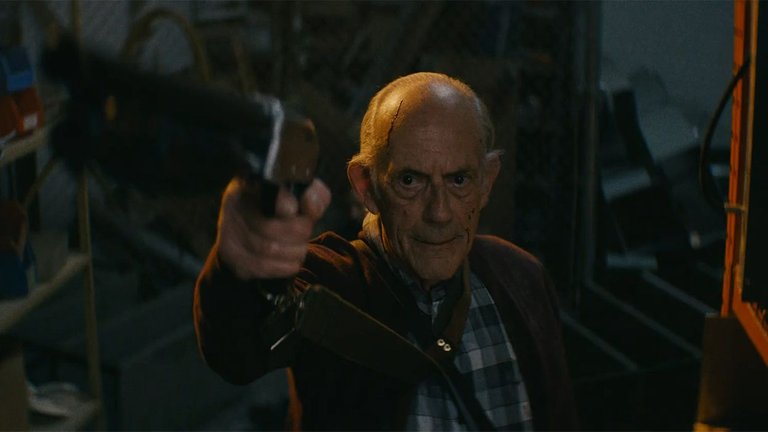 Nobody tiene esencia propia, si bien se parece John Wick logra diferenciar pero me resulta complicado explicar que es lo que la hace tan diferente, para poder entenderme tienen que verla y se los digo de verdad. La banda sonora logra encajar con cada momento es que aparece, sientes que de verdad esa es la canción que va en ese momento. Nobody no tiene una trama compleja que te deja pensando por días sobre lo que viste sino que logra entretenerte y en algunas ocasiones sacarte una risa, creo que esta es la primera vez que lo recalco tanto Nobody es genial y verían por lo menos darle una oportunidad, les aseguro que no pierden nada al verla.
---
Las capturas usadas en este post fueron tomadas por mí.

---
---