Adventure Week 2022: Tyrunt and Amaura debuts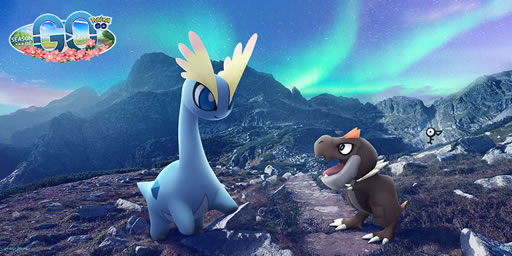 Thumbnail image is from https://pokemongolive.com/
Ahoy! The annual Adventure Week event in Pokémon GO has started today. This event will last until Sunday, June 12th at 8 pm local time. With this Adventure Week event all the Fossil Pokémon will be featured, and a few Rock-type Pokémon as well. Not all of them will be in the wild. For some of them you truly have to adventure to either Hatch them from Eggs or complete Field Research tasks.
A bit more on those soon. First the event bonuses.
With this event there is 2x XP for Spinning PokéStops and even 5x XP for spinning a PokéStop for the first time. This is indicated with a white circle around the PokéStop. So these are aimed at adventuring and exploring for sure. I don't know if I'll be able to visit new places, maybe I can try to go to some different cities in the weekend.
Another bonus is 1/2 Hatch Distance for Eggs incubated during the event period.
There is also a Timed Research, the Adventure Challenge, which you can find under the Today view. It requires a lot of walking and exploring. With 3 Incubators and 2 encounters in the rewards. I assume those will be Tyrunt and Amaura, but will have to find out once I complete them. But could be Shieldon and Cranidos.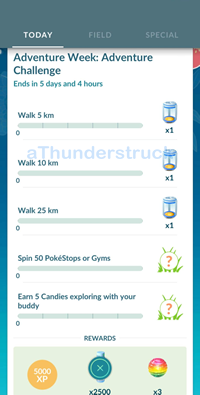 Here is a photo of all the wild Pokémon, as you can find on Niantic's post about the event found at https://pokemongolive.com/en/post/adventure-week-2022/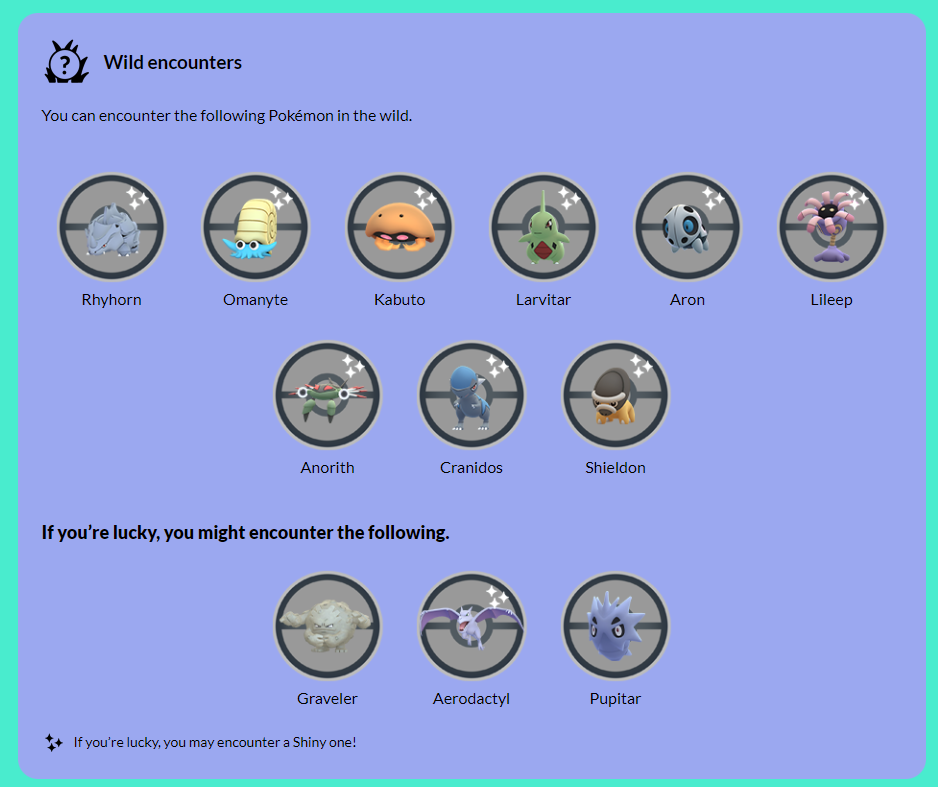 As you can see those are mostly Fossil Pokémon, and then a few Rock-type Pokémon being Rhyhorn, Graveler, Larvitar and Pupitar. On top of the Fossil Pokémon I'm also hyped about the Larvitar and Pupitar. I have only one perfect one which has the Rock-type moveset, so I'll be hoping to find one during this event in the wild or from Trading to make that one into a Dark-type attacker.
The evolutions of these wild encounters seem to be appearing as well. Because earlier today before making the post I ran into a wild Bastiodon! And I've also seen a Ramparados on the nearby radar. This Bastiodon was a new Pokédex registry for me! Here is a photo of that and its stats.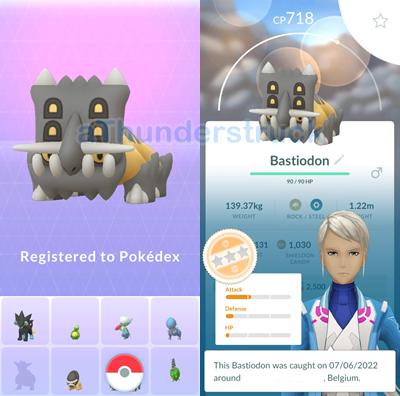 This also reminds me that maybe I should evolve a Lucky Cranidos and Lucky Shieldon for their Lucky Pokédex entries. Because I'm pretty sure I already have them Lucky, just never evolved! 😅😅
Not all the Fossil Pokémon are appearing in the wild
Tirtouga and Archen have been added back in 2020 I believe, but unfortunately won't be appearing in the wild during this event. The only way to get Tirtouga, Archen, Tyrunt and Amaura is by hatching them from 7 km Eggs or completing Field Research tasks with encounters.
Here is the list of Pokémon hatching from 7 km Eggs that you receive during the event: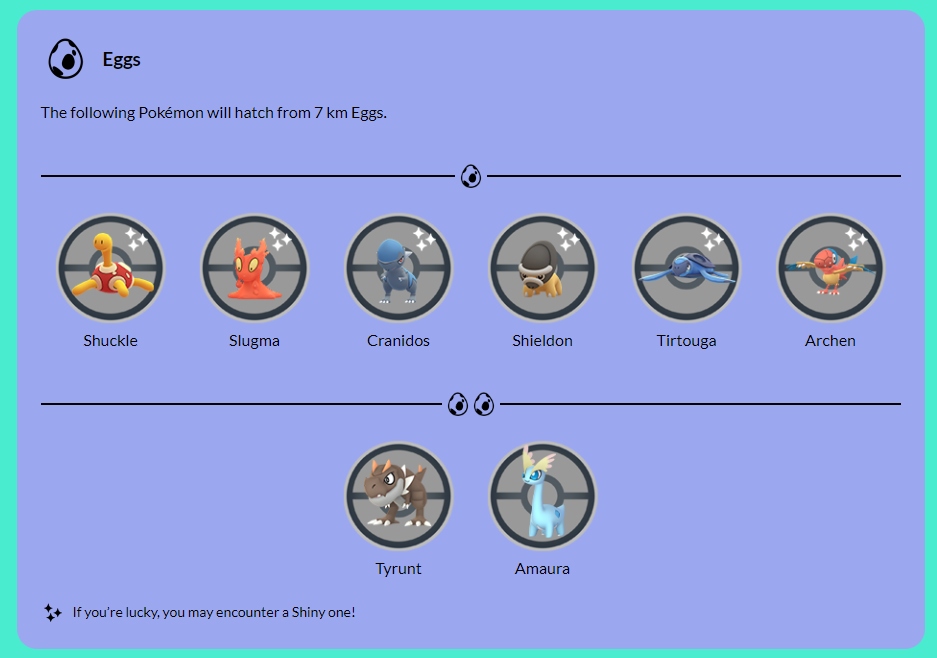 Event Field Research Tasks
Now that we mentioned the Eggs, let's get to the Event Field Research Tasks. As it's best to go for a combination of Eggs and Field Research tasks to try and get those Fossil Pokémon.
Almost all of the Event ones will be for Pokémon encounters. Here is the list:
Catch 15 Rock-type Pokémon: Omanyte ✨ OR Kabuto ✨
Hatch 2 Eggs: Aerodactyl ✨
Hatch 4 Eggs: Tirtouga ✨ OR Archen ✨
Spin 15 Pokéstops or Gyms: Lileep ✨ OR Anorith ✨
Spin 25 Pokéstops or Gyms: Tyrunt or Amaura
Spin 2 Pokéstops you haven't visited before: Cranidos ✨ OR Shieldon ✨
Earn 3 Candies exploring with your Buddy: Tirtouga ✨ OR Archen ✨
Walk 5 km: Tyrunt OR Amaura
There are also tasks to Walk 1 km with 5 Poké Balls OR 3 Great Balls OR 2 Ultra Balls.
I'll mostly try to find and complete the ones with Tirtouga, Archen, Tyrunt and Amaura. Maybe the ones with Aerodactyl too because my best so far is a 98% and so I'm still trying to find a perfect one. A few months ago a friend caught one, but unfortunately it was already gone by the time I got there.
Ultra Unlock
As part of the Ultra Unlock by achieving all global challenges during GO Fest last weekend, there will be Unown F in Raids, which can be Shiny. I probably won't be doing these Raids and instead use my free daily Raid Pass for Groudon.
On Monday, June 13th, the weekly Adventure Sync rewards will be increased.
Ultra Unlock Research Day will take place Sunday June 12th from 11 am to 3 pm local time. There will be limited Research Tasks from PokéStops in this time period with Cranidos and Shieldon encounters. There will be a higher chance to encounter them Shiny. During those 4 hours there will be several Rock-type Pokémon in the wild. And in those 4 hours Tyrunt and Amaura will also be in the wild!
Sunday June 12th from 11 am to 12 pm and from 1 pm to 2 pm local time Amaura will be appearing in the wild. And from 12 pm to 1 pm and from 2 pm to 3 pm local time Tyrunt will be appearing in the wild.
---
---