Opening 47 Diamond Loot Chests for EoS Rewards on May 15th & Opening 10 Chaos Legion Packs
---
Ahoy fellow Splinterlands players. Yesterday the latest season in Splinterlands ended on May 15th. I recorded the opening of my End of Season chests yesterday but uploading the video today.
Most of my battles were once again in the Modern format where I battled in Gold League throughout the whole season. Near the end of the season I then advanced to Diamond 3 so I get Diamond End of Season loot chests in the next season.
In the Wild format I got my rating up to the point in Silver 1 where I could advance to Gold 3 but didn't really battle much there past that. So I didn't get anywhere near close enough for a leaderboard placement.
Maybe playing a bit less in Wild has helped me to get to 47 Diamond End of Season loot chests this time! That's 4 more chests than I had in the previous 2 season endings.
In the video you can see I had a bit of battling before the season ended to work away a bit of my energy, still keeping it around 30 though. I might consider getting it a bit lower next time and see if I can get an additional chest.
Now it's time to go open those Diamond Loot Chests
From opening those 47 Loot Chests I get the following rewards displayed in a screenshot from splintershare info made by deadzy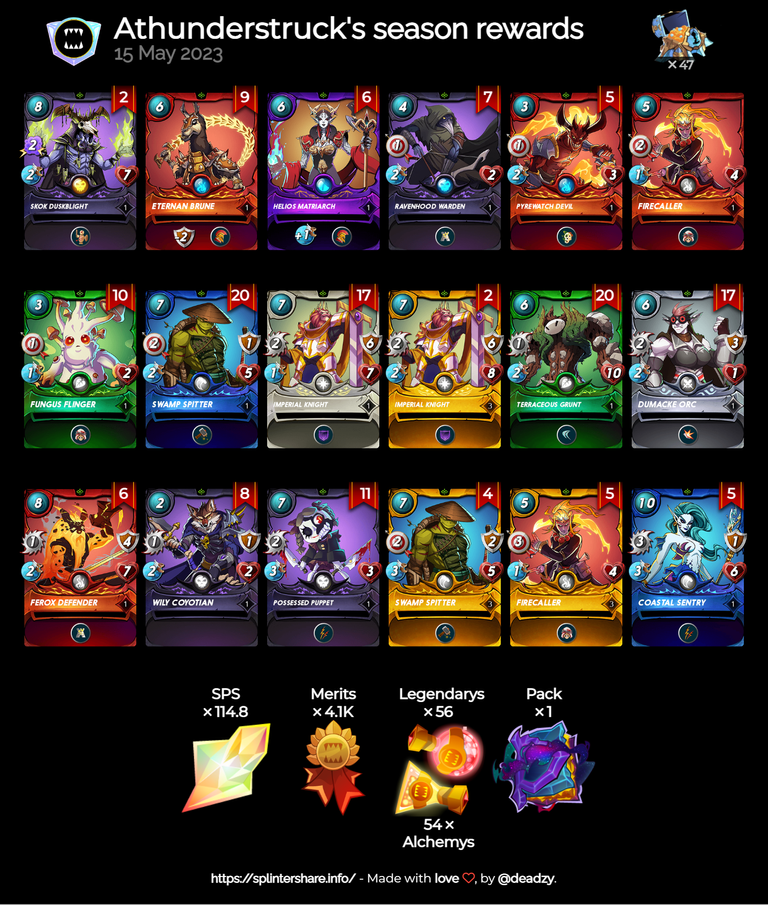 Here are those rewards in bullet list:
SPS: 114.8
Merits: 4100
Legendary Potions: 56
Alchemy Potions: 54
Chaos Legion Packs: 1
About the same amount of SPS as in the previous End of Season, like 1 SPS more. Waaaay more merits because of that 3.6k merit drop. So from these chests I can buy an additional 2 Gladius Cases. I should buy a bunch more soon and open them. Way less chests this time, I hope that means more of the chests were card drops this time.
Let's look at the cards now.
Common Cards:
5x Coastal Sentry
11x Possessed Puppet
8x Willy Coyotian
6x Ferox Defender
17x Dumacke Orc
20x Terraceous Grunt
17x Imperial Knight
20x Swamp Spitter
10x Fungus Flinger
1x Firecaller
5x GOLD FOIL Firecaller
4x GOLD FOIL Swamp Spitter
2x GOLD FOIL Imperial Knight
Rare Cards:
5x Pyrewatch Devil
7x Ravenhood Warden
6x Helios Matriarch
9x Eternan Brune
Legendary Card:
Yay nice 3 of the cards turned out to be gold foil and all multiple copies of those too. It's the first time I'm getting that Swamp Spitter in Gold Foil so looking forward to use it. I got Imperial Knight in Gold Foil a few days ago from the daily chests and I think with these copies I can get that Gold Foil to level 5 now.
Awesome a legendary too!! I had Skok Duskblight already but still at level 1 so now I'll be able to go and upgrade him to level 2 and find out what extra ability he gets!
I was hoping I could now get Helios Matriarch to level 3 for silver league with this drop. But nope turns out I'm 1 short of upgrading to level 3 😅
Time to open 10 Chaos Legion Packs like I usually do after claiming my End of Season rewards. From those 10 packs I get the following cards, leaving out the Common Cards (except for Gold Foil).
Rare Cards:
1x GOLD FOIL Pelacor Arbalest
1x Mycelic Infantry
1x River Nymph
1x Djinn Apprentice
1x Molten Ash Golem
1x Soul Strangler
1x Time Mage
1x Tenyii Striker
1x Pelacor Arbalest
1x Angelic Mandarin
1x Thaddius Brood
Also got 1 Epic Card and 1 Legendary Card in the packs. I'll let you find out in the video which those were.
I was hoping that the Gold Foil luck would continue a bit but unfortunately the Pelacor Arbalest was the only Gold Foil in here. Still nice to get 1 Gold Foil in here though!
Vruz with Martyr ability Season delegation
With my last Season ending video I started a seasonal delegation giveaway for a level 5 Vruz with the Martyr ability.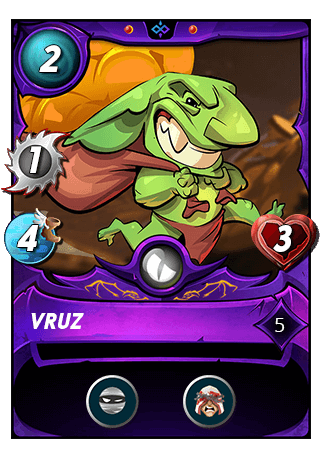 To use it at that level you need a Dragon Summoner, or Lux Vega. Dragon Summoners need to be Rare level 4, Epic level 3 or Legendary level 2 in order to play Vruz at level 5.
Winner of the Seasonal Delegation
I used https://hivetools.up.railway.app/picker/ to choose the winner. Here is the result.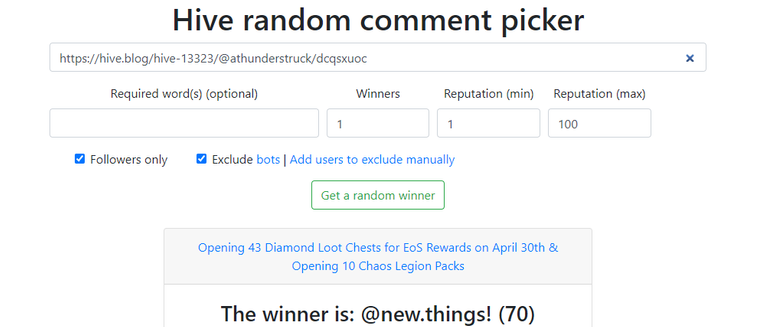 Congratulations @new.things you won the seasonal delegation! It was already delegated to you. Enjoy!
How to participate
It's really simple, just two steps
Follow me on the Hive blockchain
Leave a comment saying you want in and then add your best reward in your End of Season loot chests or the reward you were happiest with
You have until the end of the current season to leave a comment to participate. The winner will be drawn when I claim my End of Season chests.
That's it for the rules to participate. Good luck to anyone that wants to join!
That wraps it up for this video.
Thanks for watching!
If you haven't signed up for Splinterlands yet and want to check it out, you can do so with my referral link at: https://splinterlands.com?ref=athunderstruck
---
▶️ 3Speak
---
---