Magikarp Spotlight Hour with Mega Level 2 Bonuses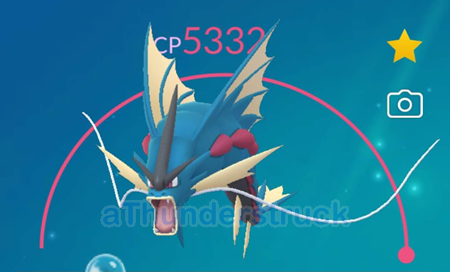 Ahoy! Earlier this week during the weekly Spotlight Hour, Magikarp was featured. This is happening during the Water Festival with a 2x Catch Candy bonus active from the event.
I already had more than enough XL Candy because Magikarp has been appearing in the wild quite regularly since the introduction of XL Candy. I decided it's time to level one of my Gyarados to level 50. For this I chose my Gyarados that I also use to Mega Evolve. Powering a Pokémon up from level 40 to level 50 requires 250,000 Stardust and 296 XL Candy of that species. (For a Lucky Pokémon it would be 125,000 Stardust).
Here are some screenshots from powering it up.

I included screenshots from its stats to Mega Evolve.
At level 40 the CP was 3391 and when Mega Evolved it had 4717 CP. Now at level 50 it has 3834 CP and when Mega Evolved it has 5332 CP. That's a pretty decent increase. The stats increase from level 40 to 50 is definitely not as high as from level 30 to 40, but it still does become stronger.
So it's definitely always best to focus on having strong fighting parties at level 40 before considering to power some Pokémon further up to level 50.
Spotlight Hour
Niantic recently released an update to Mega Evolution, where Pokémon can now reach Mega Levels 2 and 3 for increased bonuses. I'll try to write a post about Mega Level 2 soon! I just keep postponing it 😅
At Mega Level 2 you get a greater chance for XL Candy from catching Pokémon with the same type as your active Mega Pokémon and some bonus exp. So for this week's Spotlight Hour I decided to have my Mega Gyarados active, and also track the stats of the Candy that I get!
Here are screenshots from before the hour started.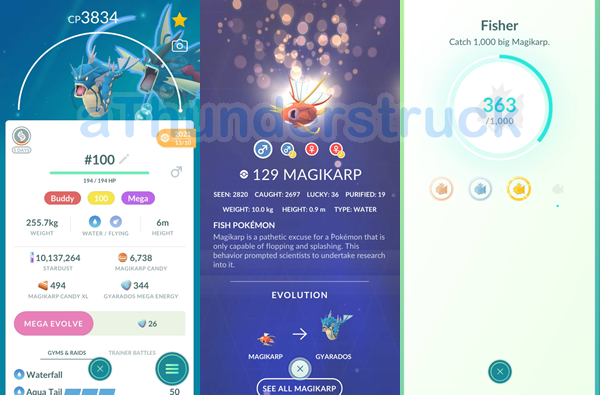 And here are the screenshots after the hour was over.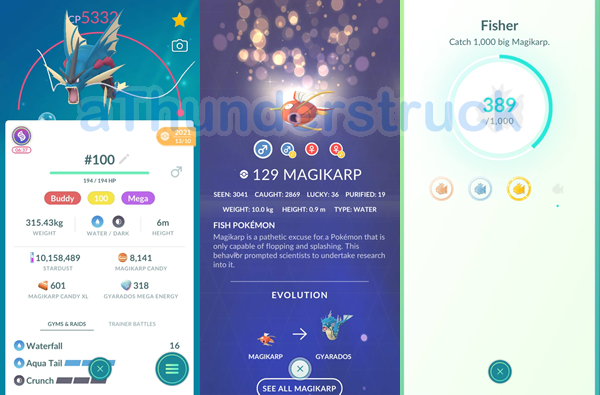 I started with 2697 Magikarp caught, and finished with 2869 Magikarp caught. That's 172 Magikarp caught. Of which 26 were big Magikarp that contribute to the Fisher Medal. This is a medal that will still take a loooong time to get to platinum. If you receive big Magikarp from trades, it counts for the medal. But you unfortunately can't search Pokémon by weight as far as I know.
Before it started I had 494 Magikarp Candy XL and after the hour I had 601 Magikarp Candy XL. That's a difference of 107 XL Candy. I did also transfer the Magikarp from the spotlight hour before I took the screenshot because I wanted to make sure I had enough storage space, so it's not a 100% from the catches. Though about 80-90 is from catching.
If you like this data, I can definitely try to get these stats for most Spotlight Hours that I can participate in with a Mega Evolved Pokémon. This time making sure I get the screenshot before transferring any of the catches.
---
---