Opening 65 Loot Chests for EoS Rewards on November 15th & Opening 10 Chaos Legion Packs
---
Ahoy, yesterday the latest season in Splinterlands ended on November 15th. Classic me editing the video and making the thumbnail the next day and posting then instead of on the day itself.
Just like the last season I decided to go for Gold league in the Wild format during this season, I moved up to gold there when there were about 6 days left in the season. In the modern format I played until Silver 1 and still played a bit then. I played a bit in both formats while I was still in Silver 1 for both, but once I moved up to Gold in Wild format I kinda stopped playing in Modern. That's because of the lower focus points earned from battling in Silver Modern when I have gold loot chests thanks to playing in Wild.
On the last day of the season I checked the Modern silver leaderboards, I was about 500-600 rating away from making it into the top 10 to 25, so I figured I wouldn't be able to get there. Instead I did some more battles in Wild then before the season ended.
This time I got to 65 End of Season chests and they're gold loot chests as my highest achieved rank was Gold 1 during this season.
Let's see what I get from them.
From opening those 65 Loot Chests I get the following rewards displayed in a screenshot from splintershare info made by deadzy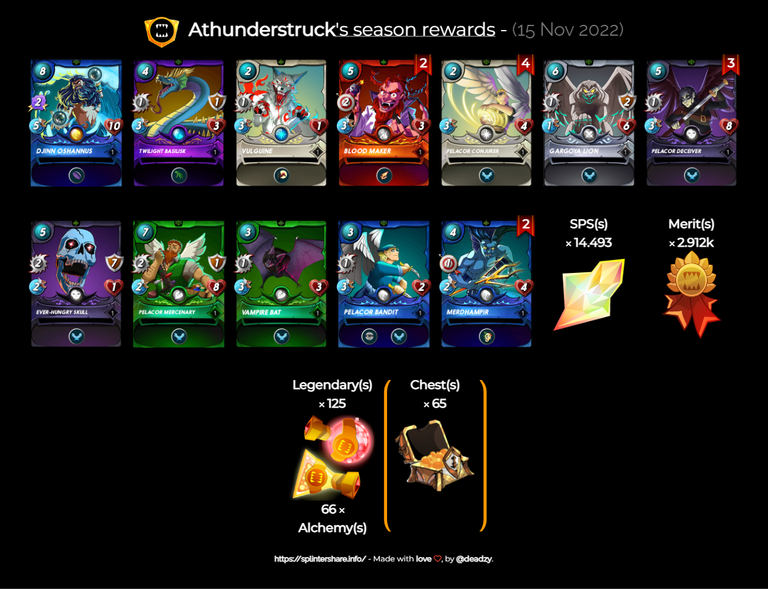 Here are those rewards in bullet list:
SPS: 14.493
Merits: 2912
Legendary Potions: 125
Alchemy Potions: 66
Common Cards:
2x Merdhampir
1x Pelacor Bandit
1x Vampire Bat
1x Pelacor Mercenary
1x Ever-Hungry Skull
3x Pelacor Deceiver
1x Gargoya Lion
4x Pelacor Conjurer
2x Blood Maker
Rare Cards:
1x Vulguine
1x Twilight Basilisk
Legendary Card:
When it comes to the SPS drops, no big drops like the last 2 season endings, in fact the total SPS I got this time is even less than a third of the big SPS drop I got in the last season ending. BUT on the other hand I did get a Legendary card drop this time!! A Djinn Oshannus. That one is always such a great drop to receive! 😄 I hope that one day I'll be pleasantely surprised and discover a Gold Foil Djinn Oshannus when I flip him over. That would be so amazing!
This time no Gold Foil card in the season ending unfortunately, still the Djinn Oshannus drop was really great!
Time to open 10 Chaos Legion packs like I've done in the past few videos.
From those 10 packs I get the following cards, leaving out the Common Cards.
Rare Cards:
2x Life Sapper
1x Regal Peryton
2x Xenith Archer
1x Thaddius Brood
1x Time Mage
1x Obsidian
2x General Sloan
1x Goblin Tower
1x Portal Spinner
1x Dhampir Stalker
Epic Cards:
1x Dax Paragon
1x Weirding Warrior
1x Magic Necrosi
1x Wave Brood
Legendary Cards:
1x Uriel the Purifier
1x Quix the Devious
Wow this was a really great pack opening!! I got 13 Rare Cards in those 10 packs and on top of that 4 Epic Cards AND 2 Legendar Cards!!
The only unfortunate thing is that out of those 10 packs not a single card was gold foil just like the last season ending.
BUT despite no gold foil card that was a really great pack opening. Especially with one of the two Legendary cards being a Summoner!
It was quite funny, last season ending when I also opened 10 Chaos Legion Packs I got a Uriel the Purifier which was the first one that I now own myself. Then this next season ending I open another 10 Chaos Legion packs and I get Uriel the Purifier again 😂 Which is great! Now I need to get just one more and then I can combine them into level 2. He gets healing at level 2 so that'll be really beneficial. I might buy another one of him soon so I can level him up.
Then I also got a Quix the Devious! Really awesome for one of the Legendary cards to be a Legendary Summoner! I already owned Quix the Devious from early on when I opened the packs I got in the pre-sale, but haven't gotten any since then. Now this is my second Quix the Devious, so just like with Uriel the Purifier I will now need 1 more and then I can bring him to level 2. I don't use him often right now just because he's level 1 which means my Monsters will also be lower level, but once I get him to level 2 I'll probably use him more often.
This season ending and the opening of those 10 Chaos Legion packs combined together was really good! Hoping for some gold foil cards next time though!
That wraps it up for this video.
How many chests did you end up getting for your End of Season rewards and what was one of the best rewards you got from them?
Thanks for watching!
If you haven't signed up for Splinterlands yet and want to check it out, you can do so with my referral link at: https://splinterlands.com?ref=athunderstruck
---
▶️ 3Speak
---
---