Opening 66 Loot Chests for EoS Rewards on October 31st & Opening 10 Chaos Legion Packs
---
Ahoy, yesterday on October 31st the latest season in Splinterlands has ended. Happy Halloween to everyone as well for that October 31st, even if my post is a bit late :P
I did record the video yesterday on October 31st when I opened my End of Season rewards.
This season I decided to go for Gold league in the Wild format again instead of in the Modern format. When there were about 6 days left in the season, maybe 5, I decided to move on from Silver 1 to Gold. At the same time I was also in Silver 1 for the Modern format.
I decided to try and challenge the leaderboards there in Silver league. However I was mostly battling in Wild in the Gold league, so I didn't make that good progress to keep close to the leaderboards in Modern. On the day the season ended I did some battling, but was still about 200 rating away from a top 25 place. I decided to quickly switch to Wild again and get like 2 more wins there to get one additional end of season loot chest, because in Modern it would require at least 6 battles with the Season Points I was getting there from battling in Silver.
With that final chest from a few wins in the Wild Format, I ended up with 66 Gold end of Season Loot Chests.
Let's see what I get from them.
From opening those 66 Loot Chests I get the following rewards displayed in a screenshot from splintershare info made by deadzy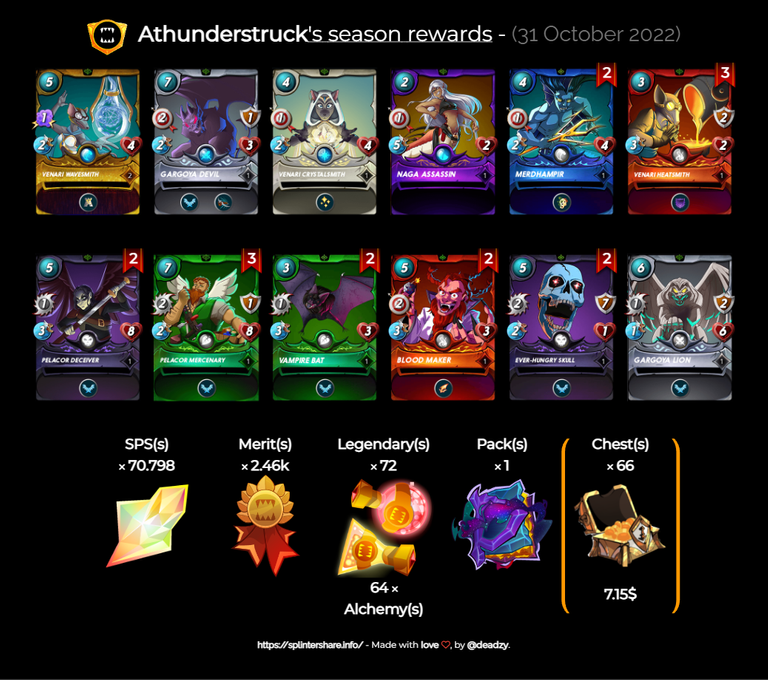 Here are those rewards in bullet list:
SPS: 70.798
Merits: 2,460
Legendary Potions: 72
Alchemy Potions: 64
Chaos Legion Pack: 1
Common Cards:
1x Gargoya Lion
2x Ever-Hungry Skull
2x Bloodmaker
2x Vampire Bat
3x Pelacor Mercenary
2x Pelacor Deceiver
3x Venari Heatsmith
2x Merdhampir
Rare Cards:
1x Naga Assassin
1x Venari Crystalsmith
1x Gargoya Devil
1x GOLD FOIL Venari Wavesmith
Wow that 52 SPS drop was even higher than the big drop I got in my last season end of season loot chests. That also helped to bring the total amount of SPS from these chests higher than what I got last season.
No Epic or Legendary cards this time around, but I did get 1 Gold Foil Venari Wavesmith so that was good to get!
Time to open 10 Chaos Legion packs like I've done in the past few videos.
From those 10 packs I get the following cards, leaving out the Common Cards.
Rare Cards:
2x Soul Strangler
1x Venari Spellsmith
1x Celestial Harpy
1x Goblin Tower
1x Obsidian
1x Tenyii Striker
2x River Nymph
1x Life Sapper
1x Mycelic Slipspawn
1x Tarsa
Epic Cards:
1x Magi of Chaos
1x Tusk the Wide
1x Nerissa Tridawn
Legendary Card:
This was another pretty decent pack opening! 12 Rares, 3 Epics and a Legendary from those 10 Packs. Just unfortunate that none of the cards in these packs were gold foil.
Uriel the Purifier is a good drop for me. Sometimes I rent him and Adelade Brightwing, for some good combos and have won several battles with them. I just don't own either of them, but now I do own 1 Uriel the Purifier! I'll have to get two more of him though so I can level him up to level 2.
That wraps it up for this video.
How many chests did you end up getting for your End of Season rewards and what was one of the best rewards you got from them?
Thanks for watching!
If you haven't signed up for Splinterlands yet and want to check it out, you can do so with my referral link at: https://splinterlands.com?ref=athunderstruck
---
▶️ 3Speak
---
---