Opening 30 Loot Chests for EoS rewards on May 16th & 2 Chaos Legion Packs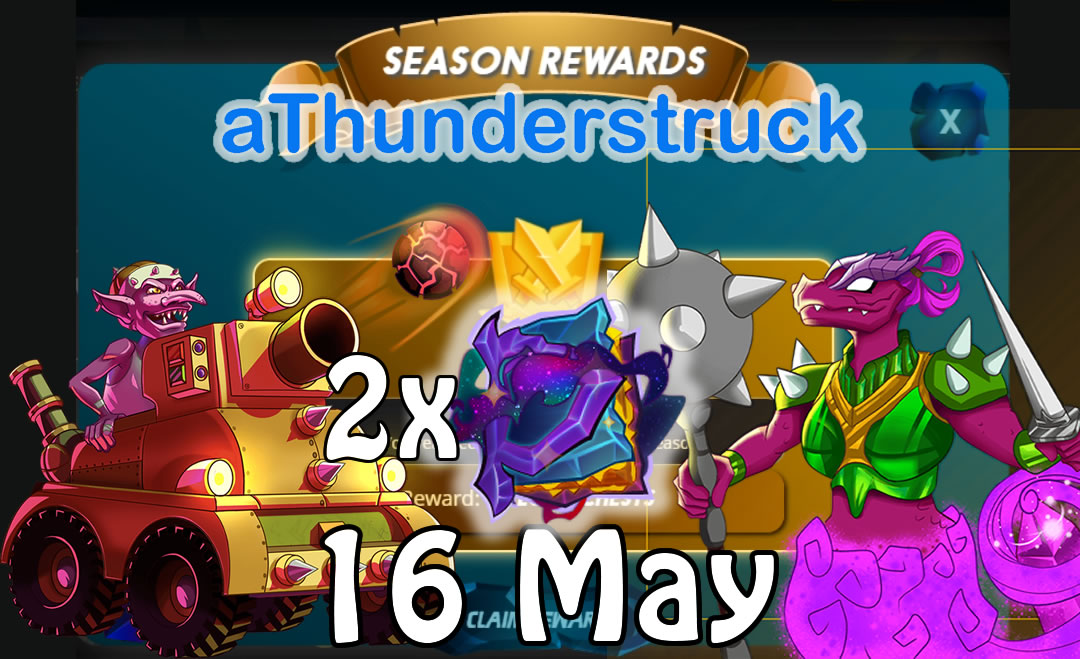 Entered the thumbnail image again manually as it seemed broken on my posts overview
---
Ahoy! This May 16th the latest season in Splinterlands has ended.
During this season I decided to go into Gold 1 a day earlier than the season ending. The daily quest I got that day before was finished while I was still playing in Silver 1, but claimed after I moved to Gold 1. Then I got my last daily quest of the season about 2 hours before the season ended. Which was to win battles with the Fire Splinter. It actually went surprisingly well to complete the quest in Gold 1 with my silver level cards. So I ended up with 2 daily quests finished in Gold 1 instead of the usual of one quest.
For the one I completed on the last day I had a tab open with the rewards, but because I signed up for a tournament the page was refreshed and I lost the screen 😅 I do talk about the rewards.
They were the following:
DEC: 3, 4, 4 & 10
1x Legendary Potion
1x Alchemy Potion
1x Pelacor Deceiver
1x Pelacor Bandit
Then I claimed my 30 Loot Chests from End of Season rewards for finish in Gold 1. From those I got the following rewards:
DEC: 16, 5, 29, 3, 8, 14, 22 & 5
4x Legendary Potion
3x Alchemy Potion
3x Pelacor Mercenary
2x Pelacor Bandit
1x Pelacor Deceiver
1x Pelacor Conjurer
2x Gargoya Lion
2x Venari Heatsmith
1x Venari Bonesmith
1x Venari Wavesmith
1x Lava Launcher
1x Djinn Chwala
Pretty great getting 2 epics from the loot chests!
I also got 2 Chaos Legion Packs a few days ago from the amazing @clove71 😄 I decided I'll open them after claiming my End of Season rewards. From opening 2 Chaos Legion Packs I got the following cards:
Common:
1 Venari Scour
1 Lava Spider
1 Mycelic Morphoid
1 Flying Squid
1 Gargoya Scrapper
1 Venari Knifer
Rare:
1 Portal Spinner
1 Regal Peryton
Gold Foil:
1 Gold Foil Stitch Leech
1 Gold Foil Silent Sha-vi
Awesome, two gold foil cards from the packs!
What did you get from your End of Season rewards?
If you haven't signed up for Splinterlands yet and want to check it out, you can do so with my referral link at: https://splinterlands.com?ref=athunderstruck
---
▶️ 3Speak
---
---