#6 Day - 3 comments challenge
---
Welcome Guys!
It is almost a week since I started a challenge on hive blockchain. Just to make more interaction between the users. Many people are to lazy to write few comments per day, because they maybe not even try. Just try, I think many people will reply and maybe you will find friends for years!
How to take part in this challenge?
3 Comments Challenge
#1 Interact with a people on Hive blockchain! Just make comment in post you like! Write something cool!
#2 I challenge you to make at least 3 comments per day for next 3 months!
#3 Make post about "3 comments challenge" and tag 3 of your friends, who should take part in that challenge! Use tag #3comments let's see how strong and interactive is Hive Community!
Let's just renew contacts!
When I didn't make that much comments per day my interactions between me and my followers was not good. I mean I made many daily posts, but only from time to time people wrote comments under my posts. All because I didn't had time to make new connections, didn't talk with many of my friends. Now is really good time to renew contacts and talk with people.
Talking with old friend
Yesterday I just saw in my post feed that my friend @vikvitnik made a post and I didn't saw her for long time. It was good time for action! I want so badly to renew the contact with her, so I started conversation under her post.
Long time ago I meet her in discord chat, then I discovered her amazing posts on hive blockchain. I don't know, but I didn't had occasion to talk with her more. Maybe because I now use different discord servers? I don't know. Good that I see her post and can talk with her on hive blockchain via comments :)
She was happy to see me again, so she still likes me <3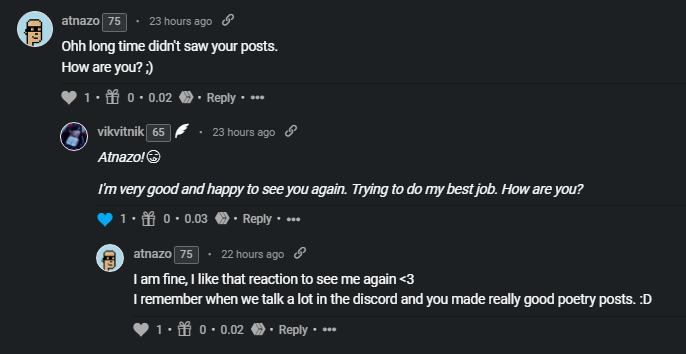 Today I want invite to this challenge @vikvitnik @txmek @bala41288
I hope so that you don't mind mention ;)
---
▶️ 3Speak
---
---