Wien, a city worth living in
Hello Hivers,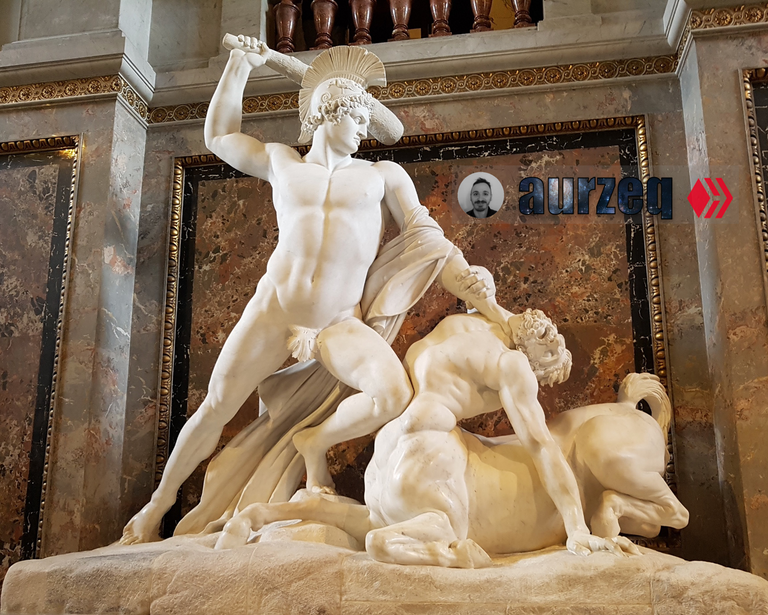 today I want to share with you a trip that me and some of my friends made to Austria's capital, Wien.
I have been in this wonderful city only two times, this was one and the other was when I had to take a plane for Iceland. Both times I went by car 😅.
This was a quite long trip, almost 8 hours of drive, but luckily we were 5 people, so we were able to switch at the drive.
Before leaving, we decided a simple rule for what concerns the music we would hear in the car. In turn, each of us could choose a song of his choice for the others to listen to. It definitely was a good idea, we heard some songs which I didn't even remember that ever existed 😂.
Wien
Wien is a very important city in Europe, it is the Headquarters of important international organizations including: the Organization of Petroleum Exporting Countries (OPEC), the International Atomic Energy Agency (IAEA) and the United Nations Organization (UN) with the historic center of the city has been declared a World Heritage Site by UNESCO.
It is also the city of musicists, during the eighteenth and nineteenth centuries it has been the house of many major composers like: Antonio Vivaldi, Niccolò Paganini, Wolfgang Amadeus Mozart,Antonio Salieri, Ludwig van Beethoven, Franz Schubert, the Strauss, Johannes Brahms and so many others.
Moreover it is considered one of the best cities in Europe were to live (with the highest quality of life).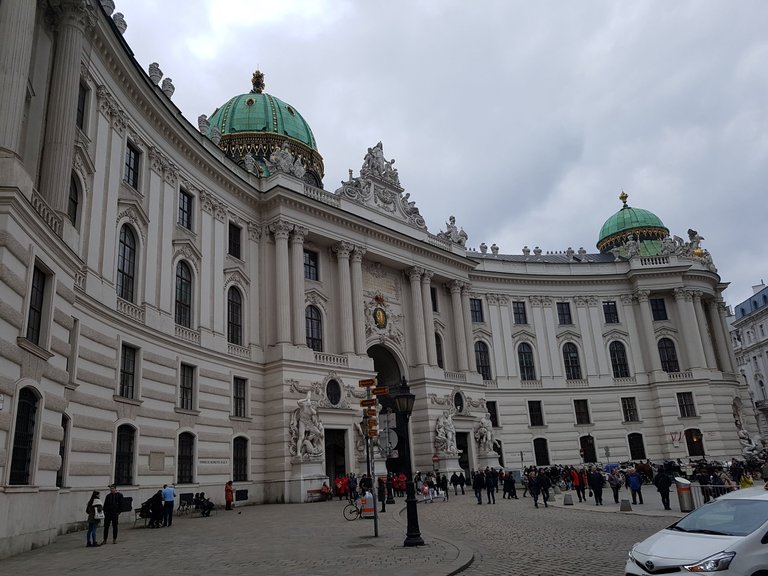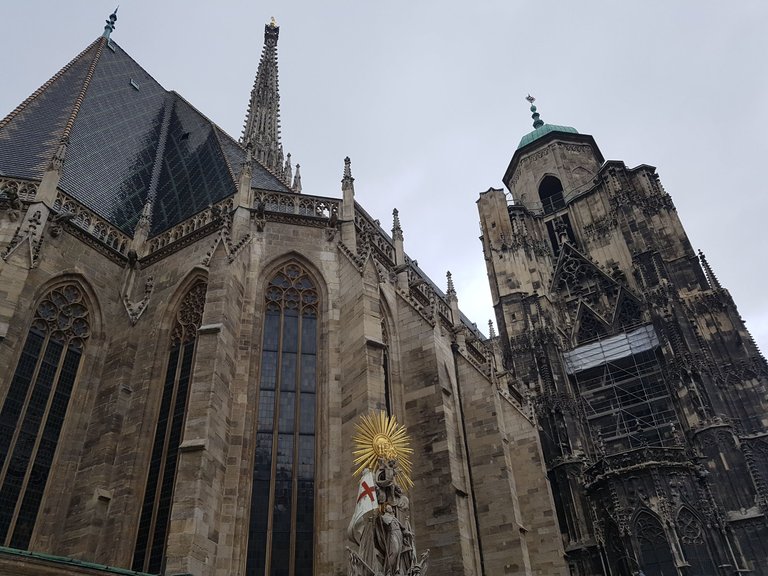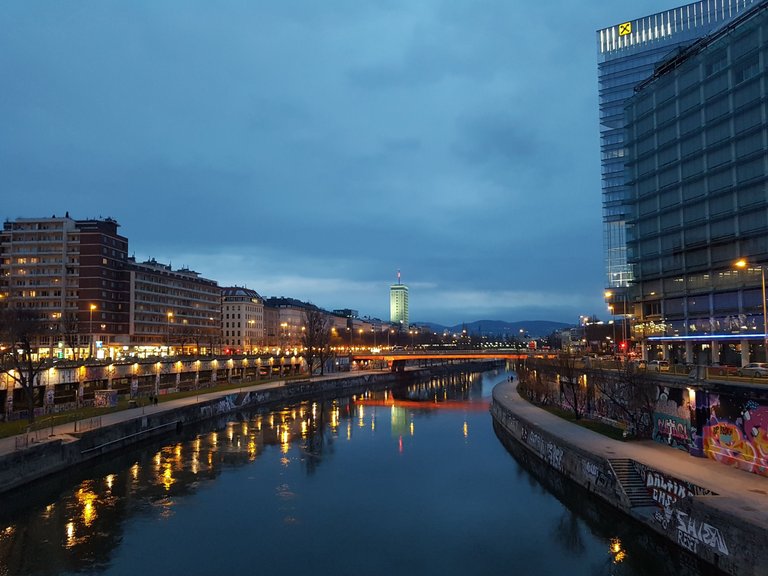 Of our visit, I have very good memories. It is really an amazing city and it seems so young and alive. I would personally not mind living there for a couple of years, and I am very selective in this, since I believe that there is no other place where you can have a life style similar to the one you have in Italy.
But Wien, since the first time I have been there, has immediately connected with me.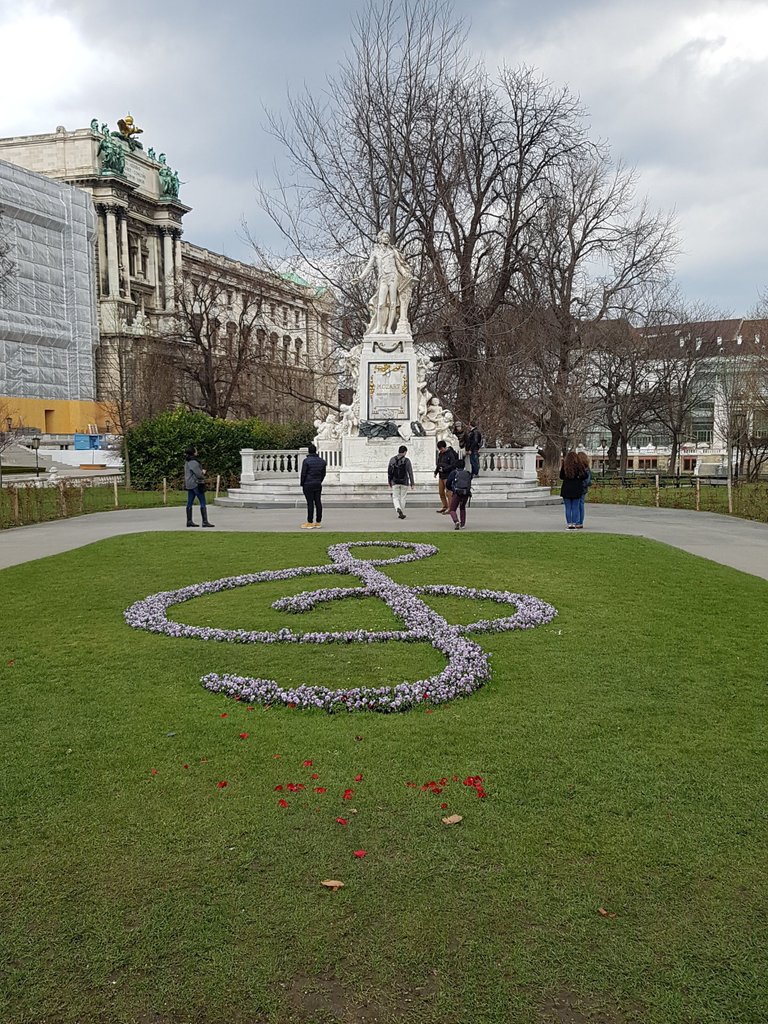 Some funny stories
The first story I want to tell, happened one night that we were going back to our apartment from mcdonald. By the way, did you know that at the MC in Wien you can actually build your own burger? you can put in it everything that you want... I personally am not a great fan of fast foods, also because as time goes by and I get older, it is always more difficult to digest whatever they put in those burgers 😅. But sometimes, even I get tricked by my friends, and I find myself there.
I think I lost focus again, I was talking about us getting to the hotel later at night. I remember that there was no one on the streets apart from us, and there is was this very huge avenue were the stoplight was red for the pedestrians. We had to cross it and one of my friend said: "Come on let's go, there is no one here", at the exact moment he step his foot on the street, we heard a police patrol with sirens set screaming at us in a threatening way from a distance, we weren't even killing anyone. My friend got really scared and stepped back, I couldn't stop laughing actually, since the situation was really paradoxical. We got almost arrested just because we were crossing with a red light on at 3.00 am in the morning (in Italy at that our the stoplights aren't even on, let alone if the police are around patrolling 😂)
The second situation happened in the Hotel Sacher, which is famous for? Of course the Sacher cake. And since it has been invented there, in order to get even a slice you have to sell a liver or something like that to afford it. No just joking, but still the price was something like 7 euros for a slice of cake and 5 euros for a cup of tea.
We were actually five, and when the waiter brought the bill to one of my friends, he actually really calmly payed for everyone and immediately after he told us: "move, move quickly". We went out, and when we asked him why, he showed us the bill where the total amount was 25 Euros, clearly not ours 😂.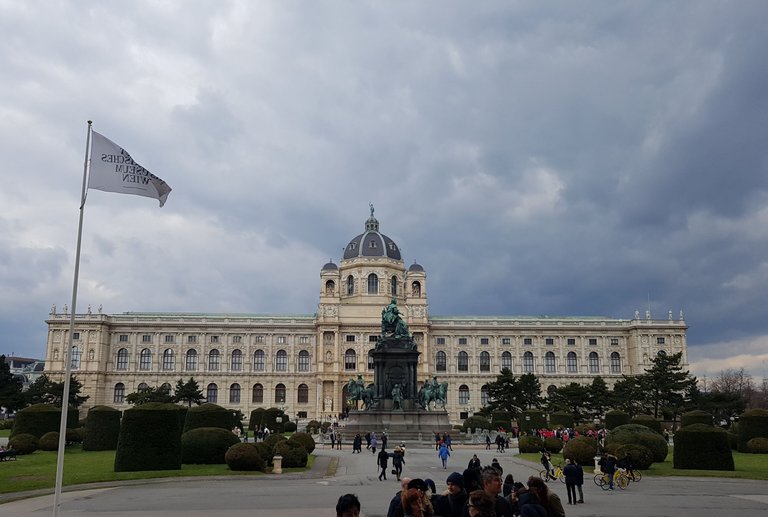 The third and last one happened when we went to the Kunsthistorisches Museum in Wien. When we were getting the tickets, I saw that with an adding of only 5 euros, it was possible to get also the tickets for the room of the Imperial treasure, so I insisted with my friends in order to take them.
Now, you should know something about me, when I get hungry I usually become really intractable. We spent a lot of time in the Kunsthistorisches Museum, and in a while I will show to you what we saw, and by the time we had to go to the room of the national treasure, I was so hungry that I literally run through that part, without seeing anything, and went directly to a bar to eat something 😅. My friends, who lost track of me, thought that I was looking some other things. When they finished, they called me and asked me where I was, so they caught up with me at the bar. Then they started talking about what they saw, and they asked me what if I was impressed by the Ungentarium Emerald (which is actually the largest emerald in the world, with 2860 carat). I looked at them and said: "I don't have any idea of what you are talking about" and I explained to them what happened 😂.
Kunsthistorisches Museum
The museum's original collection belonged to the Habsburgs, in particular it incorporates the portraits and armor of Ferdinand II of Austria, the collection of Emperor Rudolf II of Habsburg and the collection of paintings by Leopoldo William of Habsburg.
In addition to the paintings, there are also other collections: the oriental Egyptian collection (Ägyptisch-Orientalische Sammlung), the collection of Roman and Greek antiquities (Antikensammlung), that of sculpture and decorative arts (Kunstkammer), the numismatic cabinet (Münzkabinett), the library (Museumsbibliothek).
In the following photos, some of these works.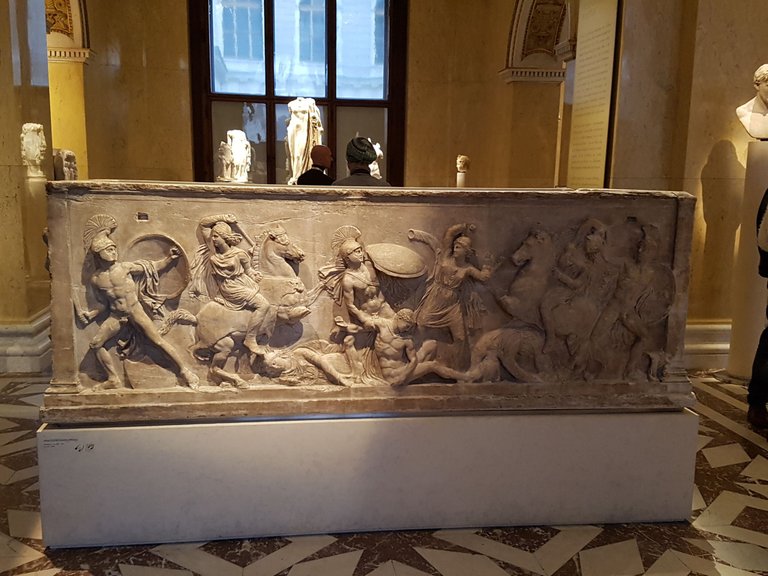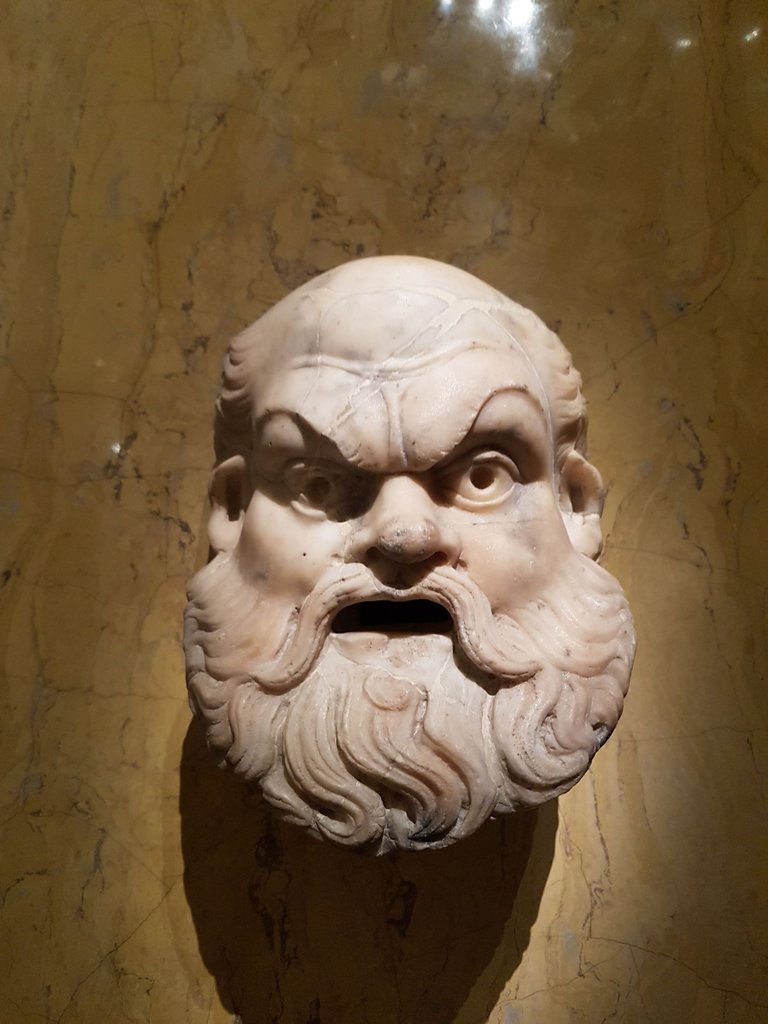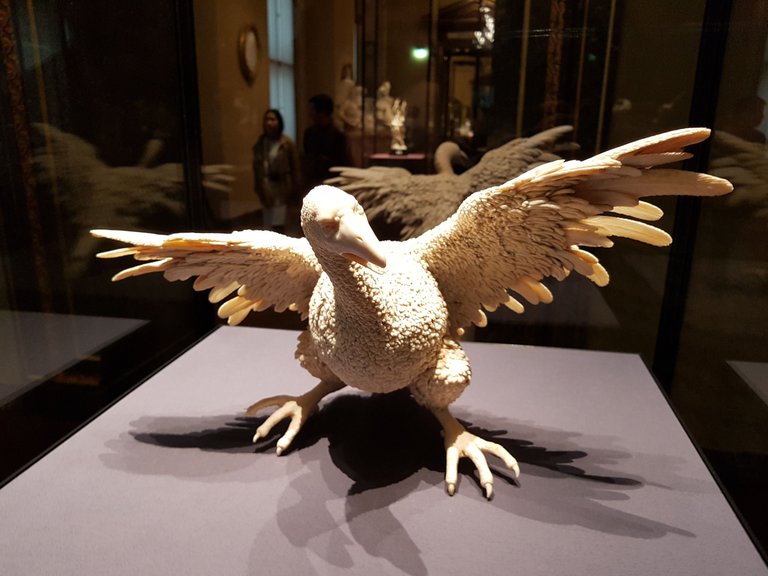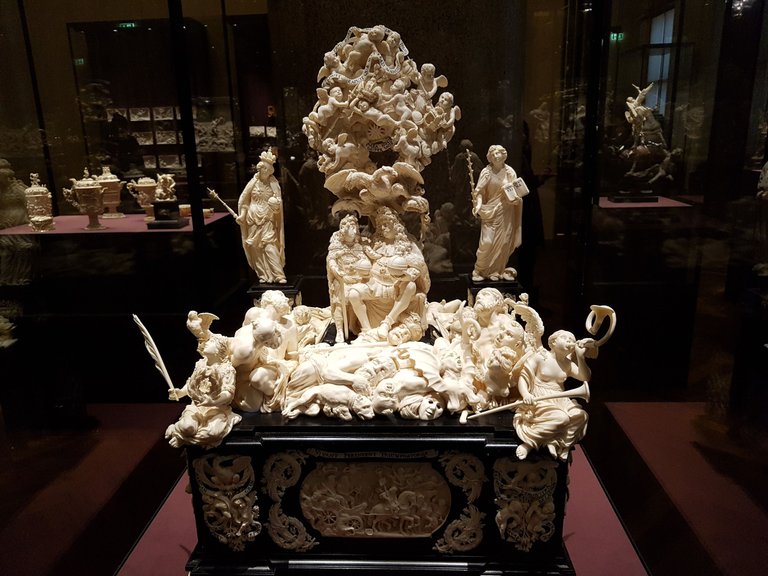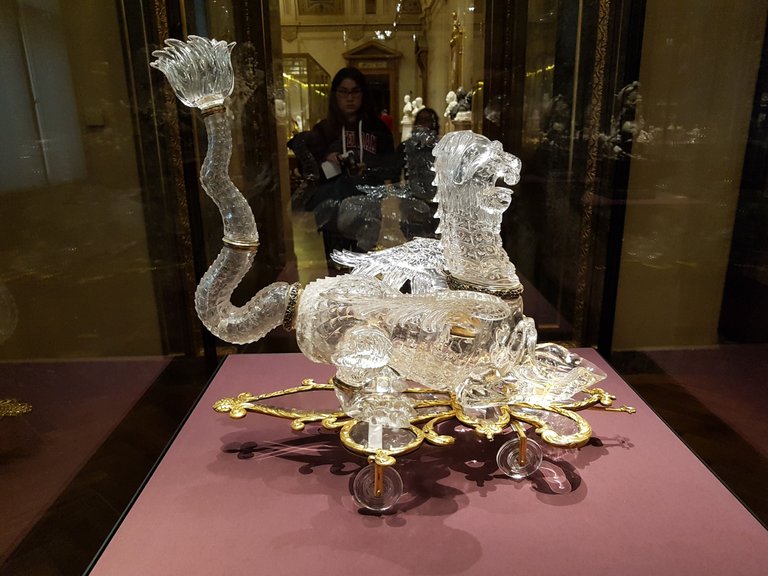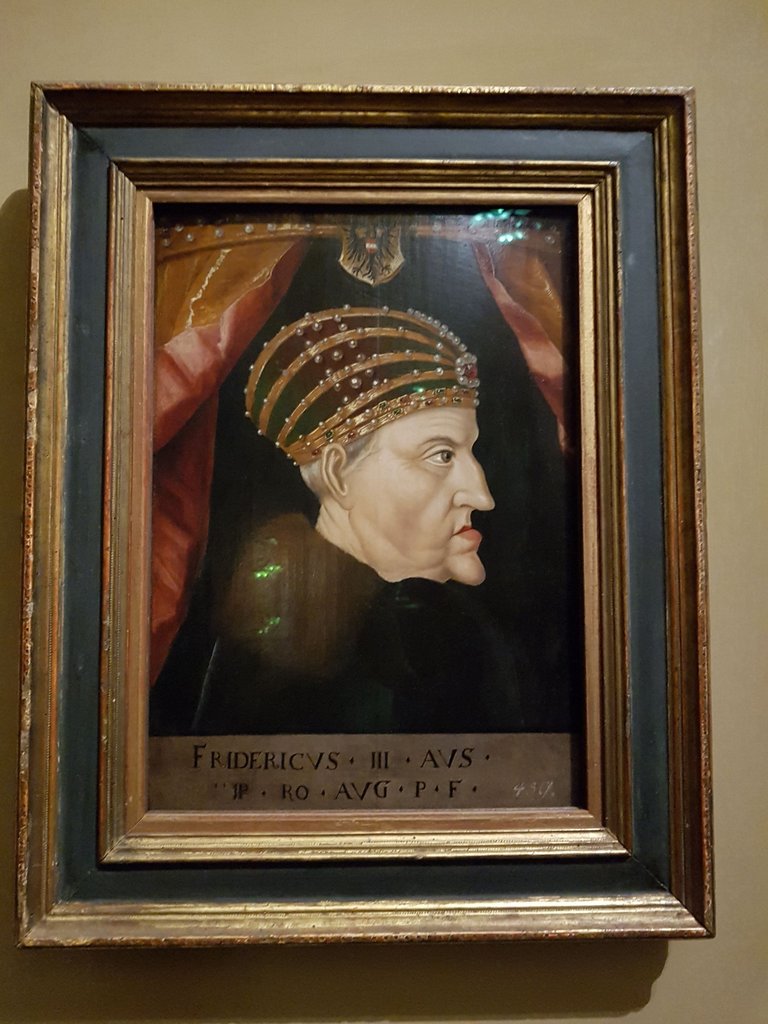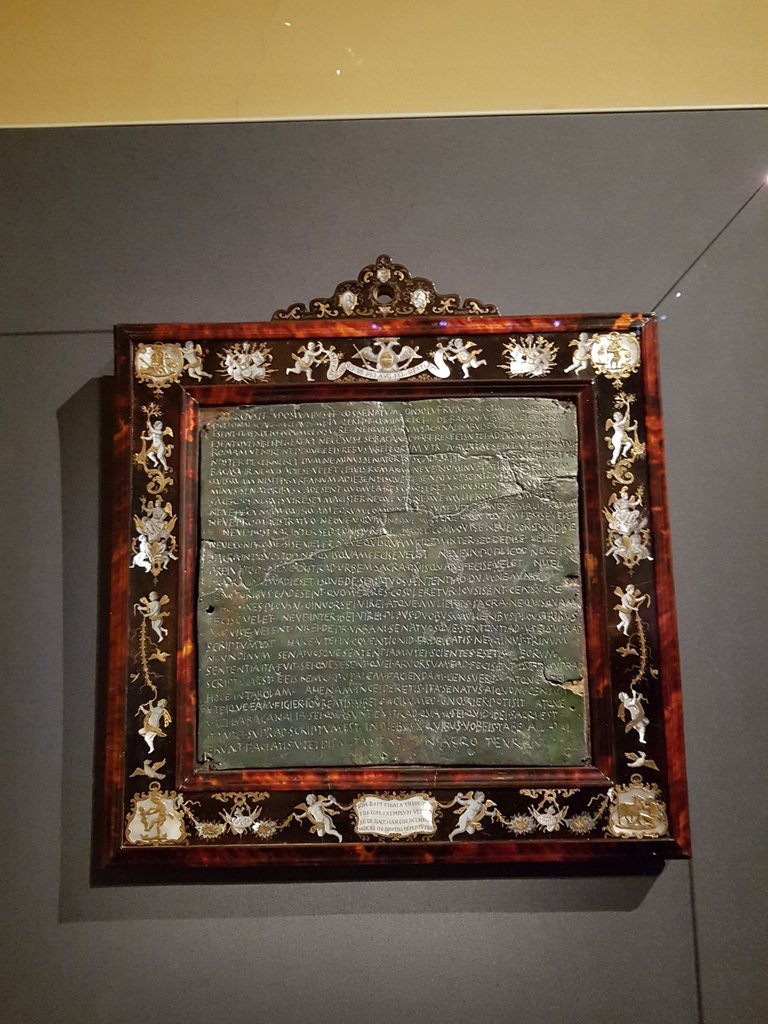 Last, but not least, a work of art of an Italian sculptor, Antonio Canova: Teseo and the Centaur.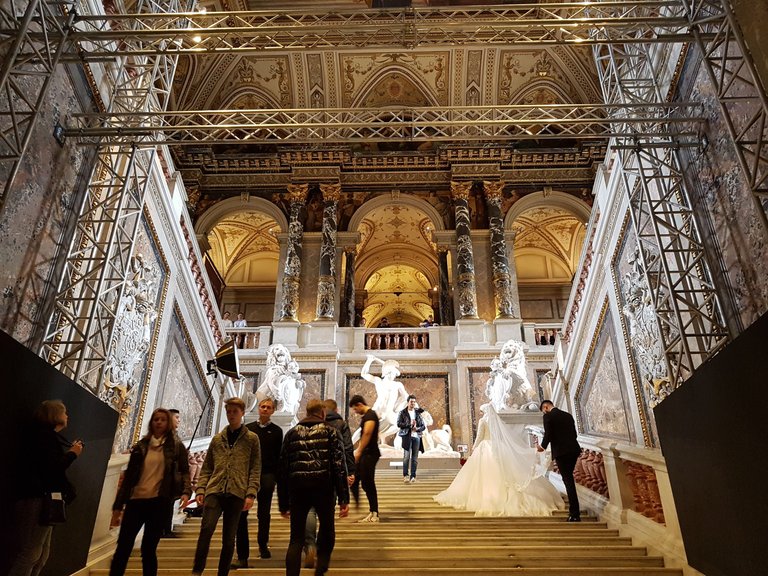 The sculpture depicts the Greek hero Theseus as he is about to deliver the coup de grace to Eurythion, the king of the centaurs. According to the myth, the centaurs had been invited to the wedding of Piritous and Hippodamia, but Eurythione got drunk and tried to kidnap Hippodamia. Therefore, Theseus, a friend of the spouses, began a fight against the centaur to save Hippodamia. Theseus is shown here in the act of completely dominating the beast: he presses the centaur's throat with his left hand, while with his right he holds a club with which he is about to hit him and his knee presses on Eurytion's chest. Eurythion is slumped to the ground and tries to get up with his rear legs, since the front ones cannot, while with his hand he tries to block Theseus' left arm. Theseus' gaze is motionless and does not reveal any pity.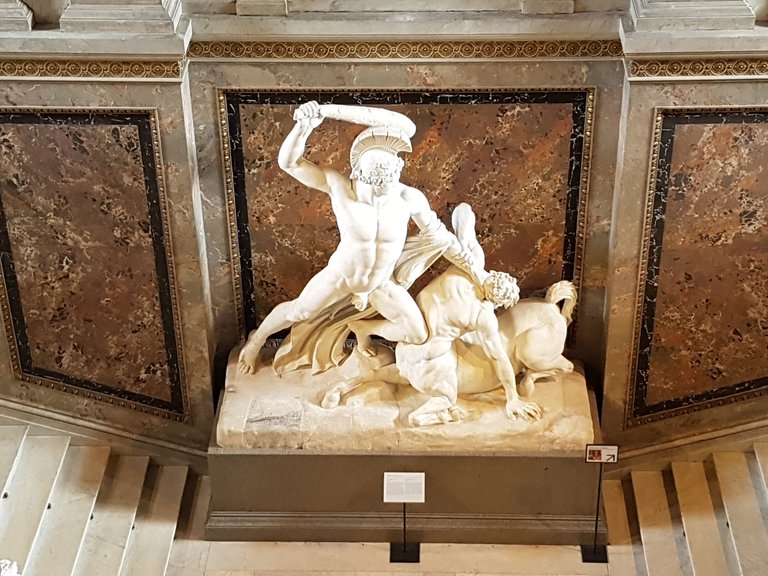 Shqiponja
During one of the nights we were there, we spent some time in a local luna park. It was quite funny actually, even if is not what you expect to do when you go in for a holiday in a foreign city.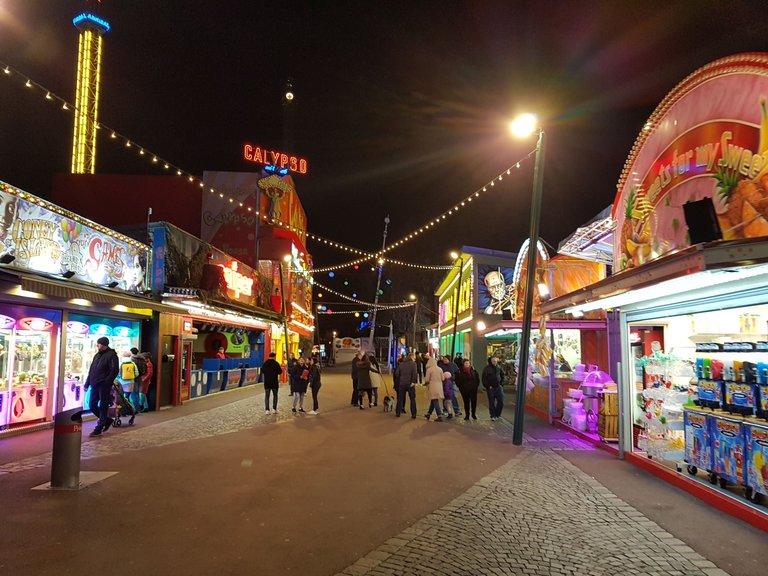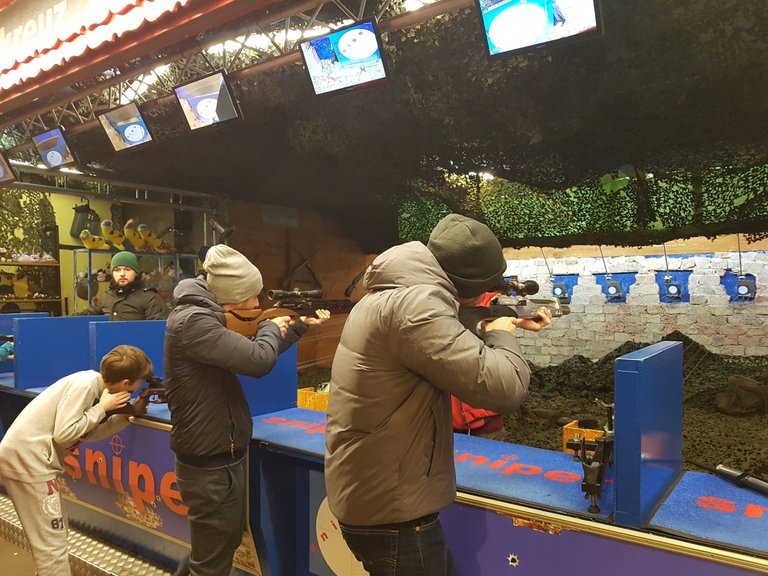 Now, I imagine that you are wondering what is the meaning of the title of this chapter, Shiponja. This is actually an Albanian word, which means Eagle.
Actually, the original name of my country is: "Shqipëria", which is also related to the word eagle and we find this animal also represented in our flag.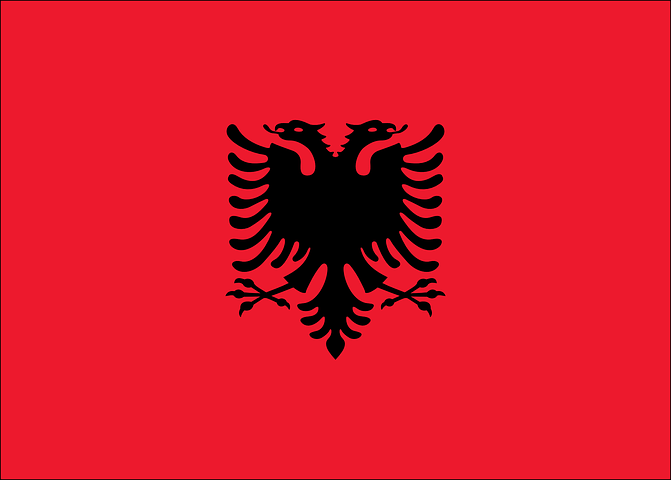 There is a way to imitate our flag, using both hands, and this is obviously something that I have taught to my friends, so form times to times it happens that they make this gesture to me even if they are not Albanians 😂. In the next photo, we are all doing it 😎.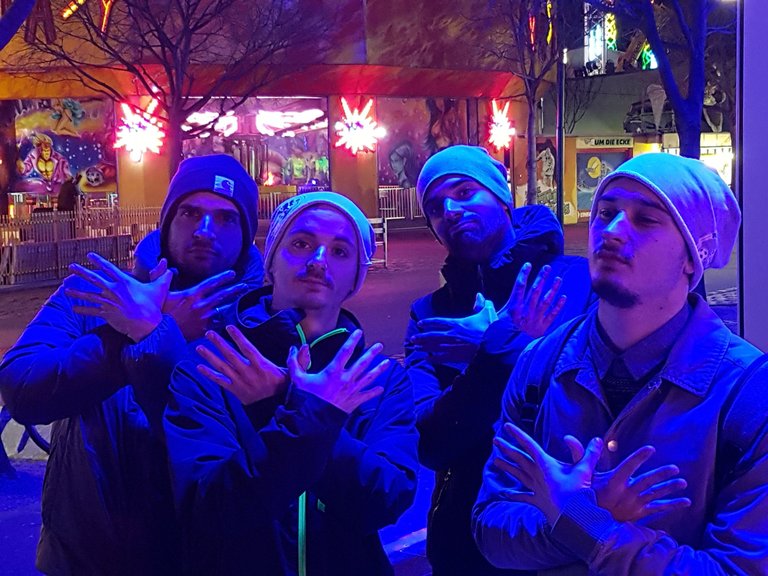 Trieste, last stop before home
During our return trip, we stopped halfway in the city of Trieste.
For centuries it has represented a bridge between central and southern Europe, mixing Mediterranean, Central European and Slavic characters.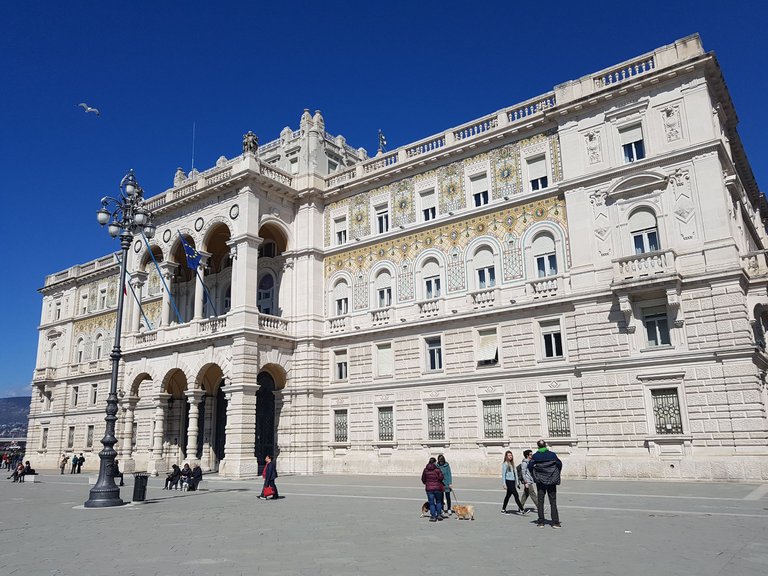 We made a quick tour of the city. We experienced the famous wind that passes through it, the bora and we were even able to take a look at a navy cruiser of the Italian marina militare.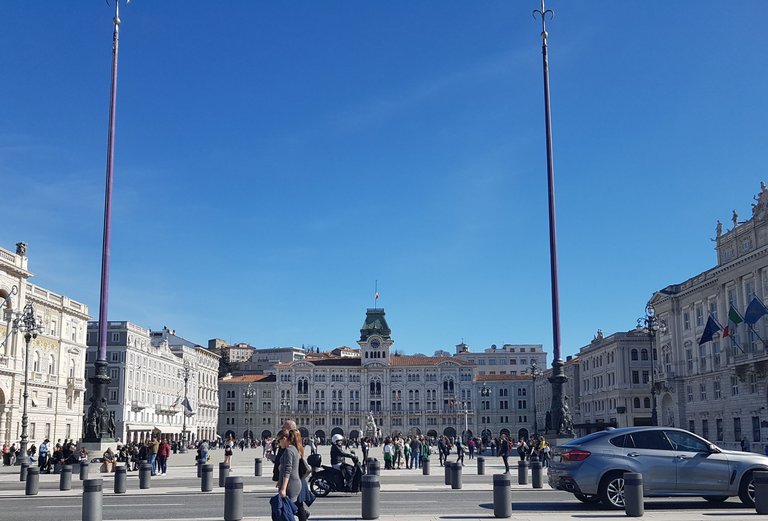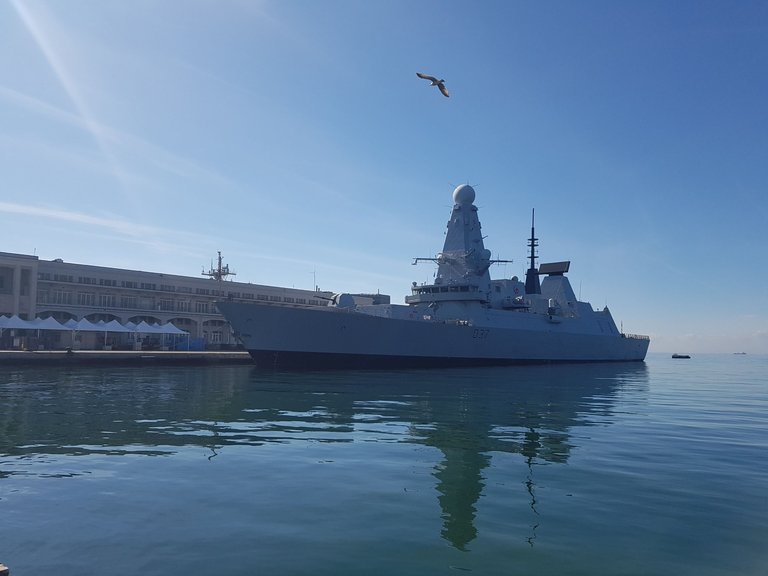 If you enjoyed the post, please leave an upvote and/or a comment and feel free to follow me (at the link below) if you want to see my next post about speleology/climbing/skydiving and all the places that I have visited.
➡️ hive.blog/@aurzeq ⬅️

---
---