Splinterlands Weekly Challenge - Dragons [ENG/ESP]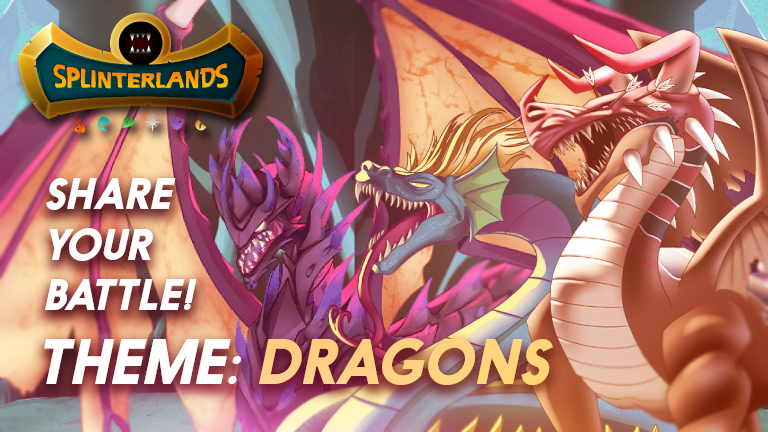 Hey everyone!
It's been a really long time since my last post, like 2 or 3 months… anyways, the Challenge… This week is about Dragons. Dragons, regardless of my daily focus, is another Splinter that I rent, since you don't need many cards to build a good team, so it's reasonably cheap, despite being mostly Legendaries.

So that we know where we are standing, this Challenge was done in the Diamond League, so my cards are all max level. Another thing I'd like to say is that although I have a main protagonist for this Challenge, there are three other cards that are great companions for the strategy I want to show.

About the Void Dragon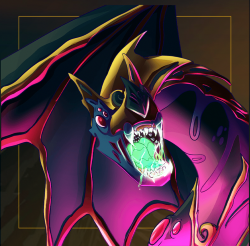 The main character for this strategy, the Void Dragon. This card happens to be the first Legendary I got in a Chaos pack, and at first glance I was: "Agh…, of all the great Legendaries, this one". However, since I always like to try to counter my opponent's probable lineup, I started using it, sometimes at level 1 as a tank or in the back, because maybe there was an Earthquake rule or a Magic lineup coming up, and it started granting me some nice victories. By now, playing at max level I have developed a quite effective counter-Magic lineup, with this Dragon as a tank, taking advantage of it's high speed and it's Flying, Void and Phase abilities. It's similar to the Pelacor Conjurer, but with an attack.

Secondary Dragons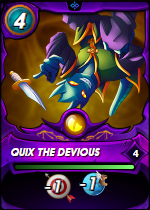 Although our main card is the Void Dragon, these other cards are very functional to the strategy. First, the Summoner, Quix the Devious; It debuffs your opponent's Ranged attacks and more important his Monster's Speed, good news for the Void Dragon.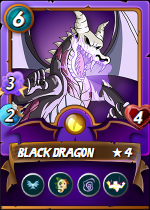 Second, the Black Dragon; not particularly a fan of this one, but it debuffs Speed as well. It also has a good Magic attack and it's cheap to summon. It's Life Leech ability prevents him from losing Health Points from Magic Reflect.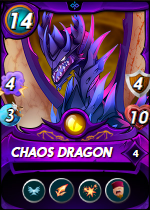 And Third, the Chaos Dragon; strong and dangerous, very Mana expensive, but it can cause great damage to some key cards, thanks to it's Scattershot effect. Leaving aside it's destructive power, what I like is it's Blind ability, an skill which I feel is very overlooked, and it can be quite problematic for the opponent.

Battles
Battle 1
Ruleset

Spreading Fury: All Monsters have the Enrage ability.
Stampede: The Trample ability can trigger multiple times per attack if the trampled Monster is killed.
Fire and Death Splinters not allowed.
Mana cap: 58.
Battle Analysis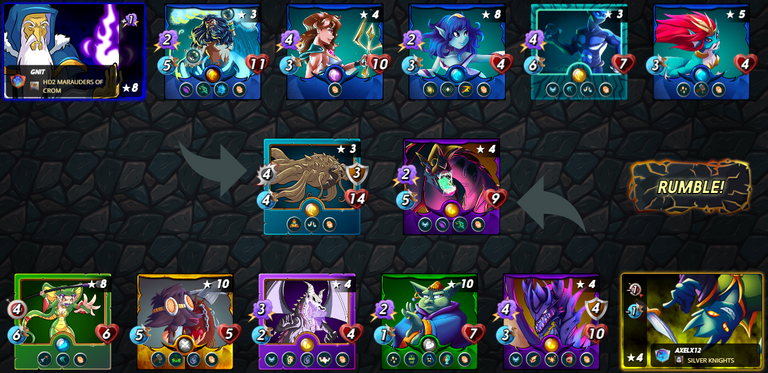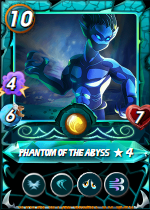 So, as I expected, my opponent used a quite strong Magic Lineup; although his cards are not maxed, those cards are very strong anyways. Something to take into account is that all Monsters get the Enrage ability. I believe that the best way to take advantage of this ruleset is by using an speed oriented lineup, so the cards mentioned before are great, since they raise the general evasion of your team. Here, as we can see, the Void Dragon, despite it's humble attack, becomes a very evasive Monster, dodging attacks from even the Phantom of the Abyss, one of the fastest cards in game.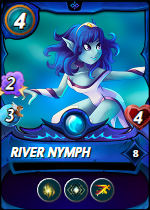 Here we can also appreciate how useful the Chaos Dragon can be. It's first attack took down the River Nymph who boosted my opponent's speed and also had the Cleanse ability, besides it's Blind ability increased my evasion even further. There isn't much else to say about the rest of the cards… a healer, just in case, the Scavo, another speed lowering card, and the Javelin Thrower, a very fast Monster, located in last position, in case of an Sneak Monster and also to diversify the attack.

Battle 2
Ruleset

Keep your distance: Monsters with Melee attack may not be used in battles.
Fire Splinter not allowed.
Mana cap: 44.
Battle Analysis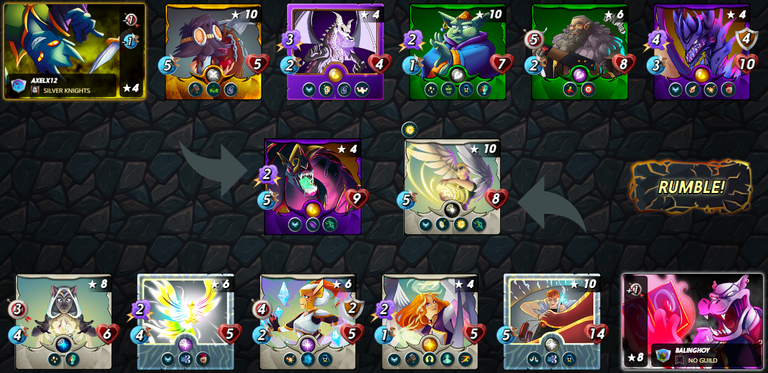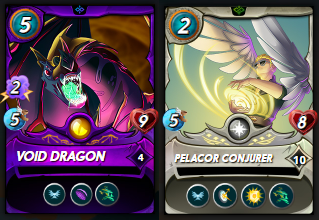 Same idea as before, but here my opponent focused on debuffing both my Magic and Ranged attacks, while I did the same with his Speed. Here we can appreciate how the Black Dragon's Life Leech effect allows him to counteract the Reflect effect from the Pelacor, keeping him on battle.
All the other Monsters are the same as before, except for the Javelin Thrower, whom I exchanged for Hunter Jarx. I chose him for his Snipe ability and very strong Ranged attack that never misses; another card to assist the Chaos Dragon.

Weak spots
Although I consider this lineups very effective, It has some very obvious weak spots, as all lineups have. There is no perfect team.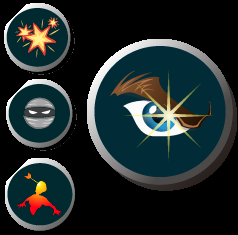 In this case, we are assuming that all attacks are going to be focused on our tank, so we focus on his protection; however, if our opponent uses a Monster with Snipe, Opportunity or Sneak, we could be in a problem, since it could take down healers, or our main offensive force, like the Hunter Jarx, in this last fight.
So, if you like this lineup only use it against possible Magic teams, which are unlikely to have Monsters attacking your back line.

That would be all guys…
Thanks for stopping by!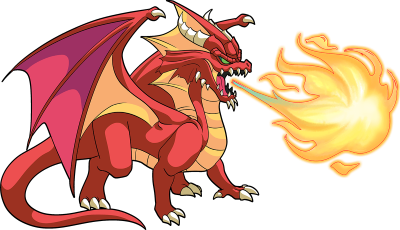 ESPAÑOL
¡Hola a todos!
Ha pasado mucho tiempo desde mi última publicación, como 2 o 3 meses... en fin, el Reto... Esta semana es sobre Dragones. Los Dragones, independientemente de mi Focus diario, es otro Splinter que alquilo, ya que no necesitas muchas cartas para construir un buen equipo, por lo que es razonablemente barato, a pesar de ser en su mayoría Legendarios.

Para que sepamos dónde estamos parados, este Desafío se realizó en la Liga Diamante, por lo que mis cartas son todas de nivel máximo. Otra cosa que me gustaría decir es que aunque tengo un protagonista principal para este Desafío, hay otras tres cartas que son excelentes compañeras para la estrategia que quiero mostrar.

Sobre el Void Dragon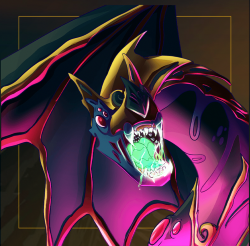 El personaje principal de esta estrategia, el Void Dragon. Esta carta resulta ser la primera Legendaria que obtuve en un pack del Caos, y a primera vista pensé: "Agh..., de todas las grandes Legendarias, esta".
Sin embargo, dado que siempre me gusta tratar de contrarrestar la alineación probable de mi oponente, comencé a usarlo, a veces en el nivel 1 como tanque o en la parte trasera, porque tal vez había una regla de Terremoto o una alineación de Magia, y comenzó a darme algunas buenas victorias.
Por ahora, jugando al máximo nivel, he desarrollado una alineación bastante efectiva contra la magia, con este Dragón como tanque, aprovechando su alta velocidad y sus habilidades de Vuelo, Void y Phase. Es similar al Pelacor Conjurer, pero con un ataque.

Dragones secundarios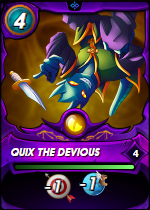 Aunque nuestra carta principal es el Void Dragon, estas otras cartas son muy funcionales para la estrategia. Primero, el Invocador, Quix the Devious; reduce los ataques a distancia de tu oponente y, lo que es más importante, la velocidad de sus monstruos, buenas noticias para el Void Dragon.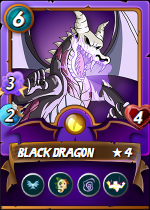 Segundo, el Dragón Negro; No soy particularmente fan de este, pero también debilita la Velocidad. También tiene un buen ataque mágico y es barato de invocar. Su habilidad Life Leech evita que pierda puntos de salud en caso de Magic Reflect.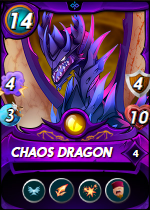 Y Tercero, el Dragón del Caos; Fuerte y peligroso, muy caro en maná, pero puede causar un gran daño a algunas cartas clave, gracias a su efecto Scattershot. Dejando de lado su poder destructivo, lo que me gusta es su habilidad Blind, una habilidad que siento que se pasa por alto y puede ser bastante problemática para el oponente.

Batallas
Batalla 1
Reglas

Furia Propagadora: Todos los Monstruos tienen la habilidad Enfurecer.
Estampida: la habilidad Pisotear puede activarse varias veces por ataque si el Monstruo pisoteado muere.
Los Splinters de Fuego y Muerte no están permitidos.
Límite de maná: 58.
Análisis de batalla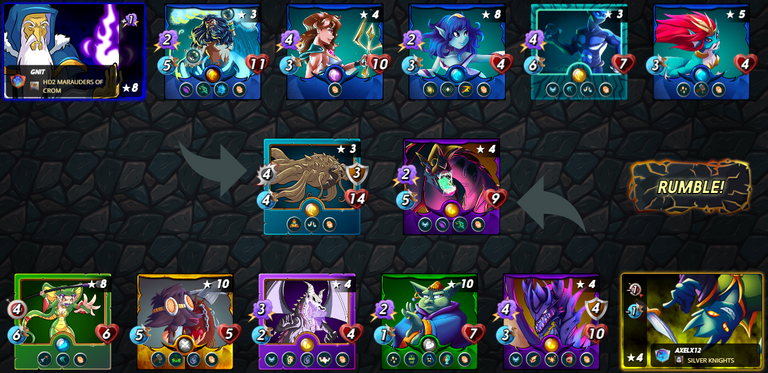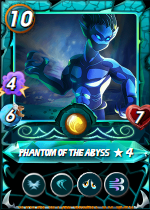 Entonces, como esperaba, mi oponente usó una Alineación Mágica bastante poderosa; aunque sus cartas no están al máximo, esas cartas son muy fuertes de todos modos. Algo a tener en cuenta es que todos los Monstruos obtienen la habilidad Enfurecer. Creo que la mejor manera de aprovechar esta regla es usando una alineación orientada a la velocidad, por lo que las cartas mencionadas anteriormente son geniales, ya que aumentan la evasión general de tu equipo. Aquí, como podemos ver, el Void Dragon, a pesar de su humilde ataque, se convierte en un Monstruo muy evasivo, esquivando los ataques incluso del Phantom of the Abyss, una de las cartas más rápidas del juego.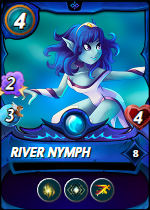 Aquí también podemos apreciar lo útil que puede ser el Dragón del Caos. Su primer ataque derribó a la Ninfa del Río que aumentó la velocidad de mi oponente y también tenía la habilidad Cleanse, además, su habilidad Blind aumentó aún más mi evasión. Del resto de cartas no hay mucho más que decir… un sanador, por si acaso, el Scavo, otra carta para bajar la velocidad, y el Javelin Thrower, un Monstruo muy rápido, situado en última posición, en caso de un Monstruo con Sneak y también para diversificar el ataque.

Batalla 2
Reglas

Mantén tu distancia: los monstruos con ataque cuerpo a cuerpo no se pueden usar en las batallas.
Splinter de fuego no permitido.
Límite de maná: 44.
Análisis de batalla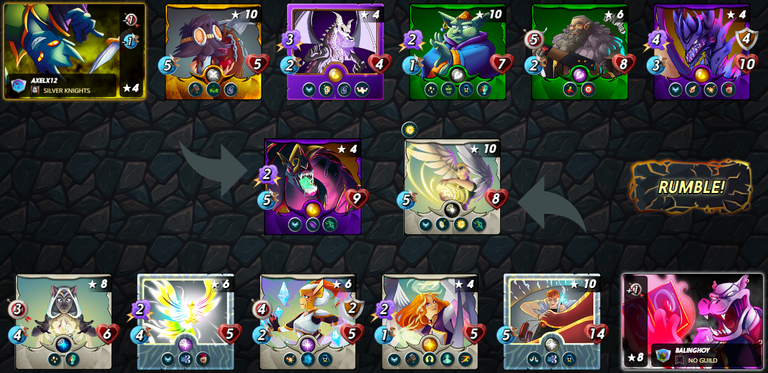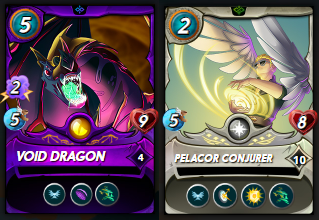 La misma idea que antes, pero aquí mi oponente se centró en debilitar tanto mis ataques mágicos como a distancia, mientras que yo hice lo mismo con su velocidad. Aquí podemos apreciar cómo el efecto Life Leech del Black Dragon le permite contrarrestar el efecto Reflect del Pelacor, manteniéndolo en batalla.
Todos los demás Monstruos son los mismos que antes, excepto el Lanzador de Jabalina, a quien cambié por el Cazador Jarx. Lo elegí por su habilidad de Snipe y su fuerte ataque a distancia que nunca falla; otra carta para asistir al Dragón del Caos.

Puntos débiles
Aunque considero que esta alineación es muy efectiva, tiene algunos puntos débiles muy obvios, como todas las alineaciones. No hay un equipo perfecto.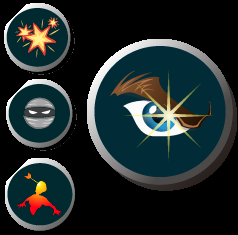 En este caso, asumimos que todos los ataques van a estar enfocados en nuestro tanque, por lo que nos enfocamos en su protección; sin embargo, si nuestro oponente usa un Monstruo con Snipe, Opportunity o Sneak, podríamos estar en un problema, ya que podría acabar con los curanderos, o nuestra principal fuerza ofensiva, como el Hunter Jarx, en esta última pelea.
Entonces, si te gusta esta alineación, úsala solo contra posibles equipos de Magia, que es poco probable que tengan Monstruos atacando tu línea de fondo.

Eso sería todo chicos...
¡Gracias por pasar!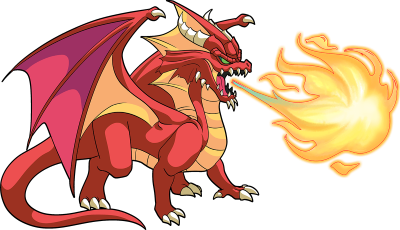 ---
---