A Cafe At The Rooftop Deck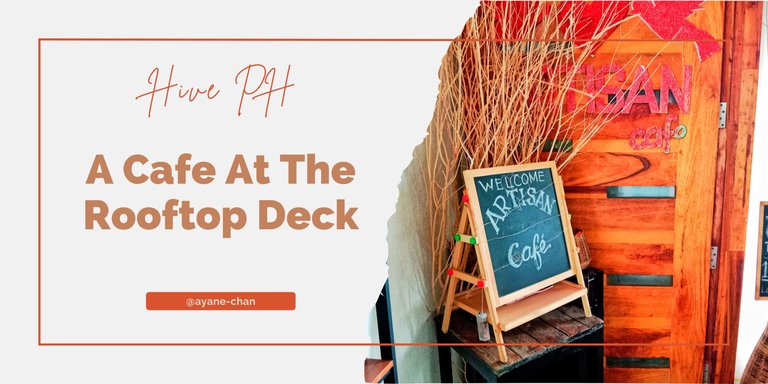 Image created from Canva.
Weekend is just another time for us to get together as a class since we only have a limited face to face classes. Tired and hungry from doing drills in a subject, we discussed where to eat, rest for a while, and refresh since it was hot that day. It was also taking advantage of the vacant time in the afternoon after a half day class, then we went to a known cafe near the school area.
We don't have any idea where to go in that place since we just got familiar with it when we got enrolled. Yet, now worries. This guy saves the day. 😉
Following your lead, bro.
Turning left at the distance and entering the entrance of Celine Homes, he leads us here.
This building looks a little shabby from the outside but just like a book, you can't judge it by its cover. It doesn't hide any luxury or paradise, but let's see it here as we climb that building until we reach the rooftop deck.
Just said hello to these plants in a vase and the paintings on the walls as we passed by the second floor.
Simple arrangements but such a pleasing beauty, especially those paintings on the wall. I can't take a good picture of the other paintings since my companions were in a hurry to get upstairs.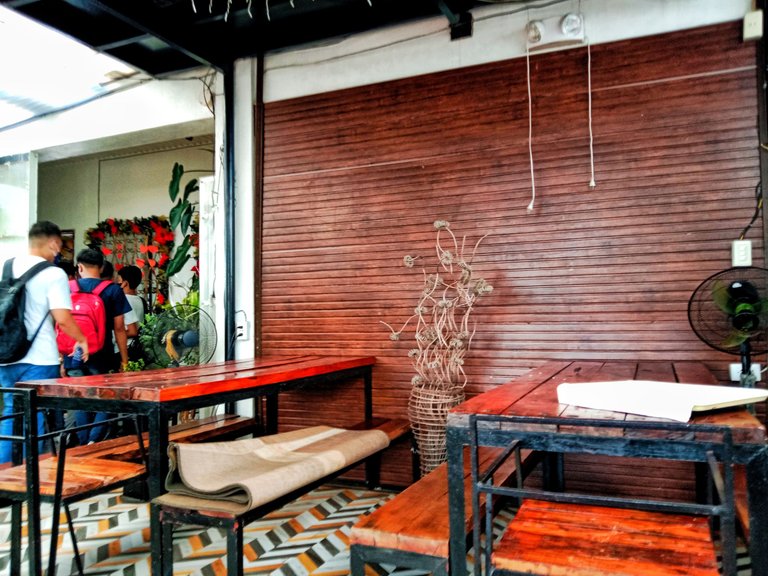 Here's the fourth floor whereas also serves as the first floor for the cafe. There wasn't much customers as we got there but we choose to proceed to the rooftop where it has more scenery to get amazed at.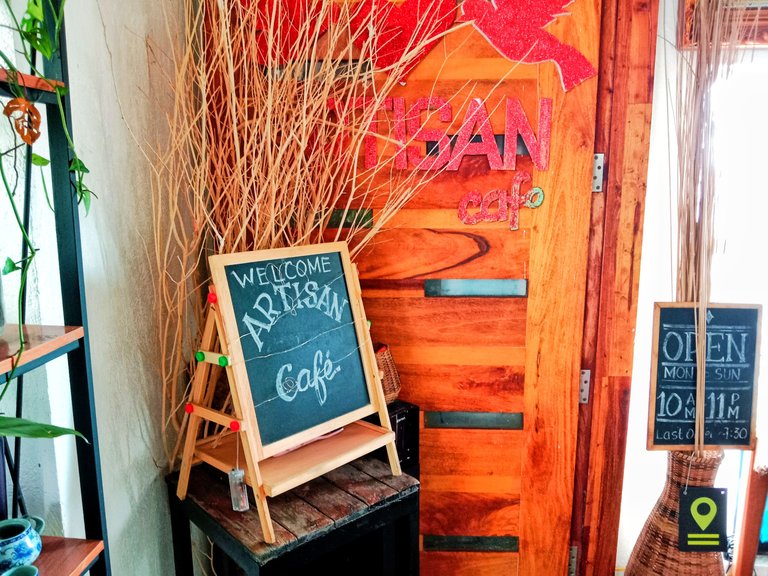 We passed by this corner where the name of the cafe is written. Such a nice concept, it gives off the vibe of being back to school at last with those blackboards and chalk writings in it. No wonder that this place is one of the student's favorite.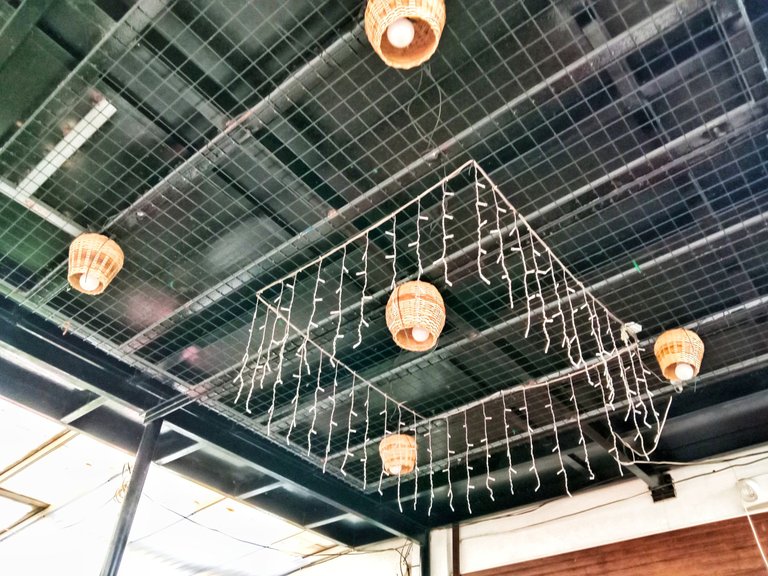 I think lanterns has been my favorite things these days. I always make a short stop to appreciate their beauties whenever and wherever I see them. Ayala has them, at the fast food chains, and some coffee shops here but the one at the SM City Malls has been the one that often caught my gaze.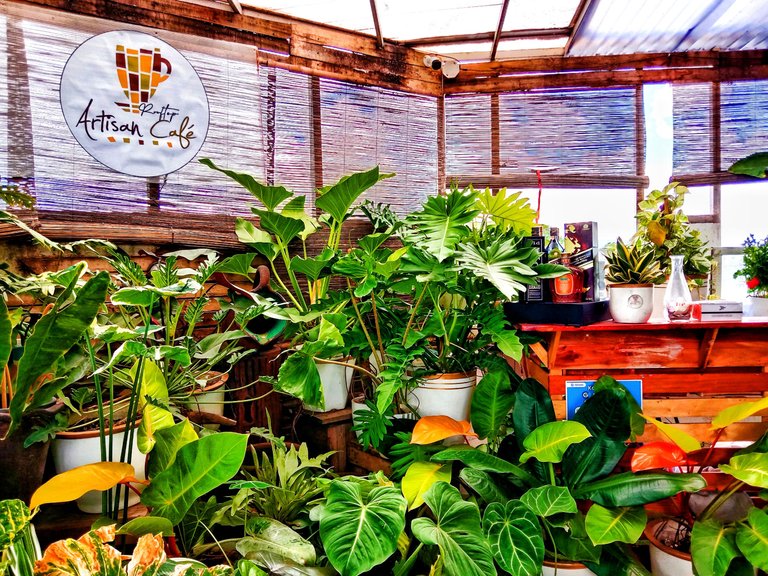 Then, we just understood that this floor is reserved for customers who has reservations to cater their birthdays here or any celebrations. I think it gives off much similar vibe at the rooftop —for celebrations.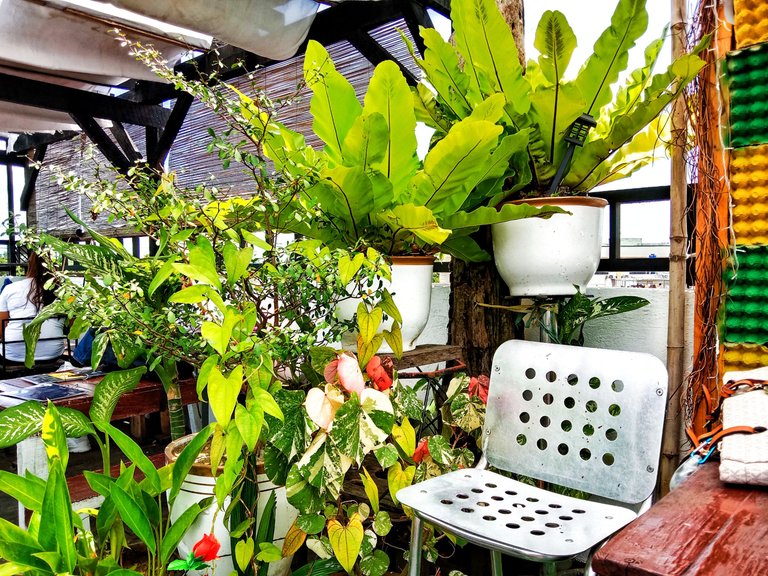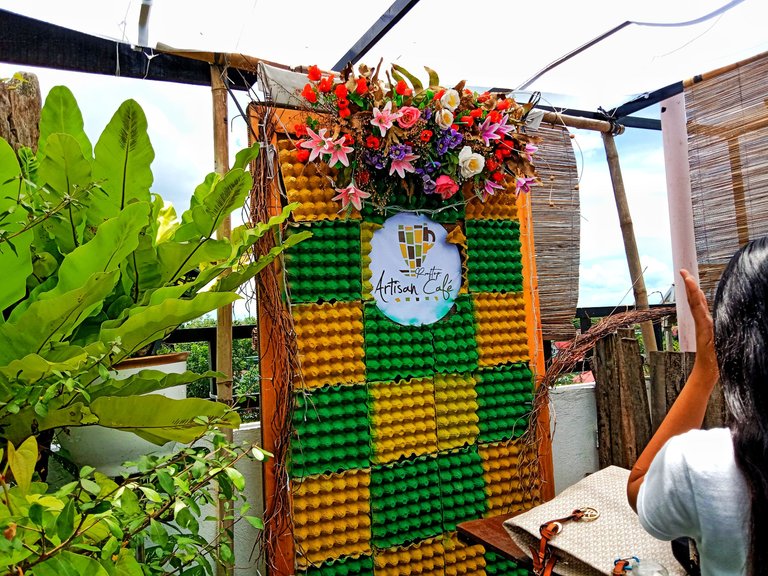 Welcome to the Rooftop!
My classmates were busy getting pictures and filming short videos to be posted on their social media accounts as soon as we ordered our food for lunch. We went with Chicken Rice Bowl and Iced Tea for their drinks but I was the only one who ordered and Iced Coffee in the scorching heat of the afternoon but windy.
I even made them wonder about how I handle my caffeine intake when I said that I don't want to add sugar and milk in it. This kind of blend is pretty normal for me, but I think it's surely not for everyone, especially to those people who got used to drink latte or iced mocha.
These were the beautiful sceneries at the top. I'm busy enjoying seeing those cloud formations and recognizing those mountains at the distance while they are still doing their thing.
From the left side, that is the mountains in Sagay and the one which is popular for hikers. At the middle is the mountains at the Campuestuhan Highland Resort area. Thanks to the fine weather that day that we can see their towers supporting the different rides. It wasn't that much visible at the rightside, but I know it is Mt. Canlaon.
A picture wherein I can determine two stories. The one who was happily taking pictures of other people. The other one is trying to act cool in front of a camera to make a good pose.
There's something that caught my interest more, and that's not them. It's the cafe's decorations.
There are white curtains all over, artificial flowers, and some bamboo woven balls hanging at the center. It looks aesthetic and nice. I just noticed something. Isn't this setup and motif good for a wedding's reception? They just all agree as I spoke my thoughts. It doesn't matter but it just curious thoughts exploring around.
There came out orders after 20 minutes but they already drank all of their Iced Tea before that. They ordered another drink one again and add a liter of softdrink.
I transfered here to face the mountains while eating and drinking my coffee. The view was destressing and I feel like dozzing off at any moment because I didn't have much sleep that day. Afr a while after we're done, we left and give the seats to other customers. We're a lot and has occupied the whole rooftop, so there has no space for others. It's kinda embarassing to stay longer while there are other customers waiting who wanted to eat there. We didn't pay for the time just for the food and drinks.
---
All of the photos are mine unless stated otherwise.
THANKS FOR READING!!!
---
---