Eye Checkup At Ayala
It's not in my plan to have an eye checkup this time but my NSTP officer is requiring me to submit a medical certificate stating the specific eye problem I have. He gave a week to comply and our next meeting will be the deadline already. It urged me to have a quick walk to Ayala in a gloomy afternoon right after I finished some of my tasks. I never thought before that I will be needing that, so I don't to have a copy from the clinic. Thanks to the initiative of @dswigle, I can share how does it went here on #MarketFriday.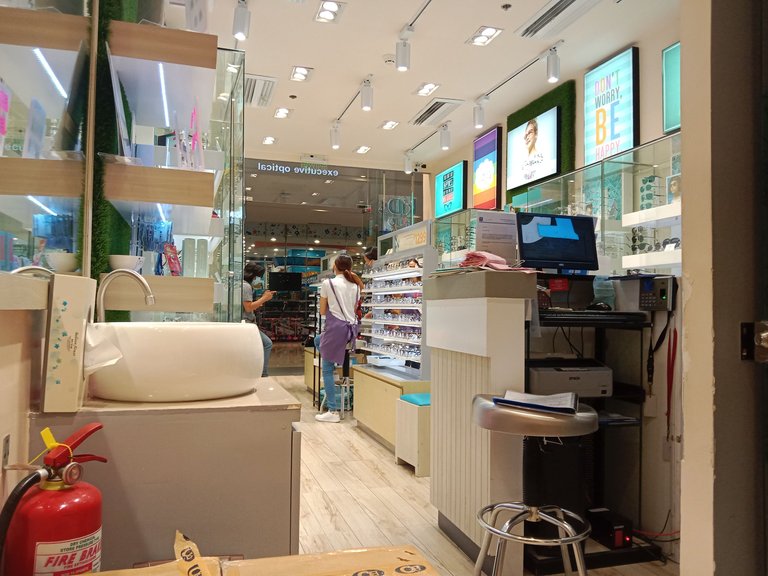 In my first check up a few months ago, the diagnosis was Compound Myopic Astigmatism. The grade of the lenses weren't that high but I was prescribed to use an eyeglasses with the appropriate lenses and with anti-radiation. I supposedly wanted lenses which transitioned into a darker color when exposed to sunlight. It hurts to get exposed to bright lights and I thought that it might be of more help to me since I got out oftentimes now. Sadly, they don't have anything in their stocks but if I really want it, I have to go back after 10 days.
Since I can have a checkup and change my lenses in any branch, I went here to Ayala where it is the closest in my place. There was only one customer which is the doctor is assisting, so I only haven't got to wait for long before I was called for my turn.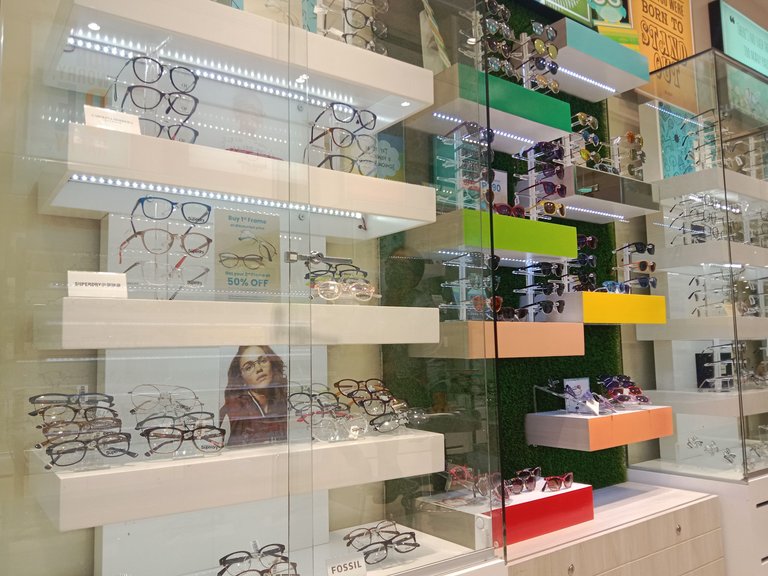 One of the staff assisted me to choose the type of frame that I liked, she articulately explained the promo which their store is offering. Initially, I only intended to have a checkup and change my lenses but I dropped the thought after hearing their deals. They have a package deal which almost have the same price that I have to pay when I only have to change the lenses. I hesitated to change the frames too since it was still all good but it is also a waste to decline the offer. I didn't make myself suffer from a dilemma anymore, and just cut the chase. I went with their deal which is kinda good. Now, I have two eyeglasses.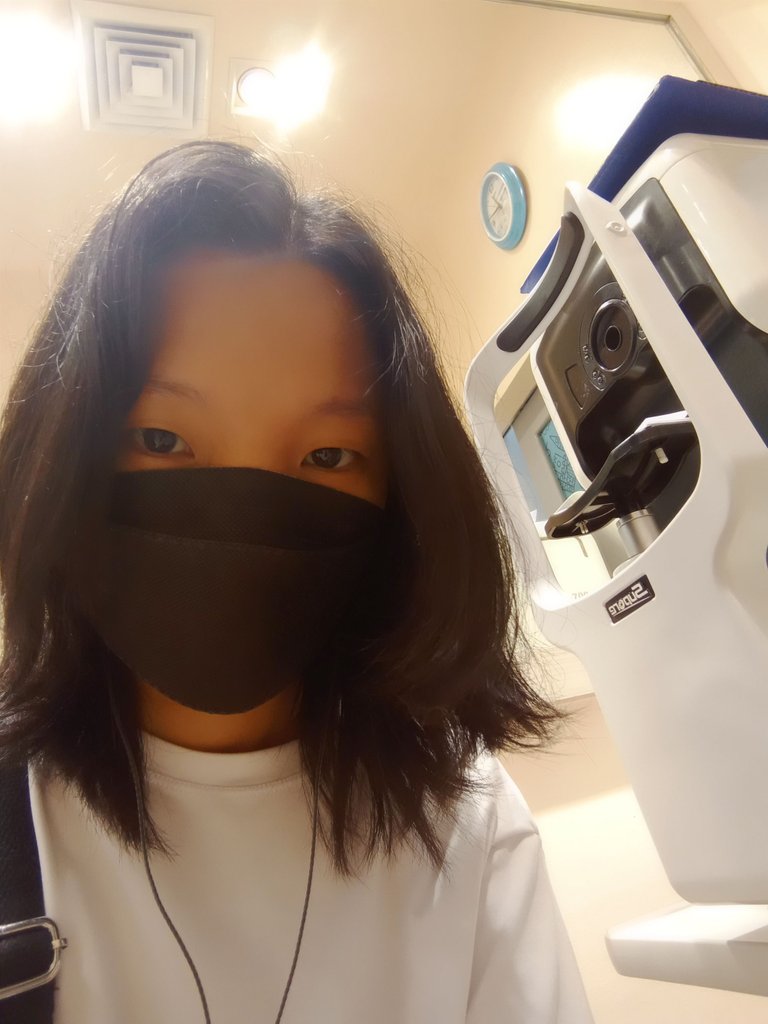 Now, here I am waiting for the doctor to finish assisting a client before me in front of the Tonometer. I'm not really sure how this device exactly works but they have known my eye problem right away after I lean my face closer to it. Then after that, I was asked to read the letters on the monitor before me. The last line, which is the smallest ones, is where the one that I struggle a bit from reading. I just told the doctor that I just can recognize them when he asked if I can still read and start telling him what I can see. After the reading test, he asked me a series of personal questions like, "Are you a student? If yes, what is your course?" I answered honestly and when he knew that my course is computer related, he recommended a kind of lens that has anti-radiation features. Then, I cut him out and brought my suggestion about the transitioning lens. I explained that my eyes hurt from bright lights and I thought it would be good for me.
He pulled out two kinds of lenses from his drawer. He let a blue light laser pass through each of the lenses to demonstrate his point to me. The first one is the transition lens that I wanted and the other one has anti-radiation. Then he explained that the transition lens can protect my eyes fully from the sun but it only has 75% protection from the radiation of computers while the second has a little protection from the lights of the sun but it can provide a 100% protection from computers whereas I often using than going outside. The doctor is the expert, so I went with his prescription an choose the 100%.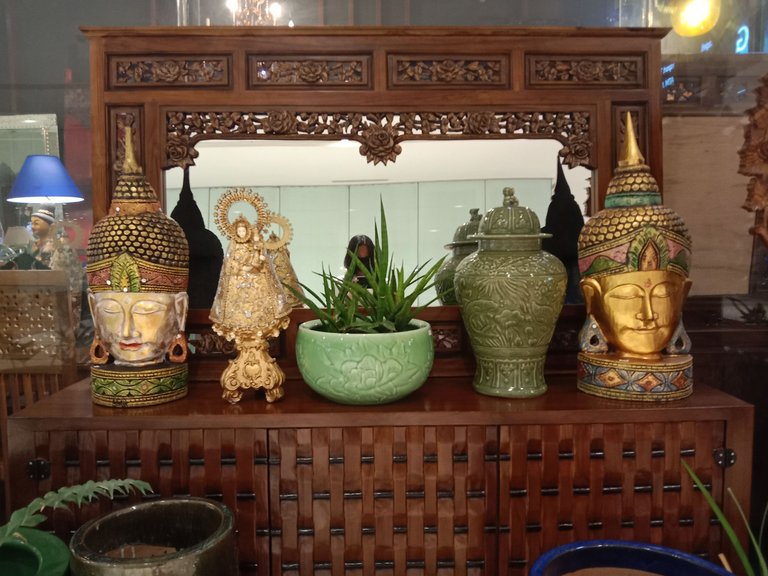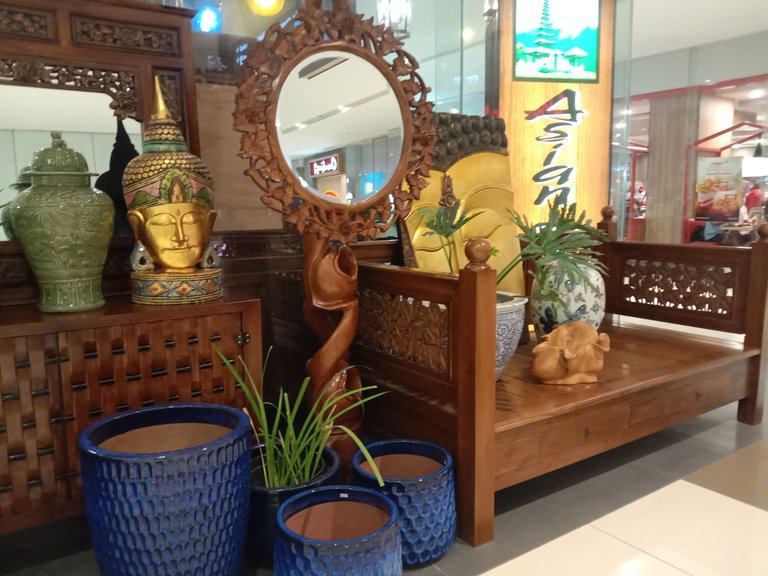 After the check up, I was told that I can have my glasses after 30 minutes. I was hungry at the moment, so I went outside and look for a fast food chain to eat while I wait. In my way, I passed by these figurines, furniture, and vases. I remembered my trip to the ASEAN Exhibit in Robinson's back then with that sculpture. It is similar to the one presented as a part of the culture of Laos.
It was perfect timing after I have finished eating that it was exactly passed 30 minutes. I went back to the store to claim my new eyeglasses and paid for it, then wait a little longer for my medical certificate. Then, I was asked by the doctor to test the glasses and I was advised to read the part where I was struggling earlier again. We just laughed together when I got surprised to see that I thought it was letters E, G, and S earlier, but it turns out to be letters S, E, and G. Those are really the letters which a person who has myopic astigmatism are struggling to read, that's what he told me. I'm relieved to have my glasses with me and to know more about my eye problem.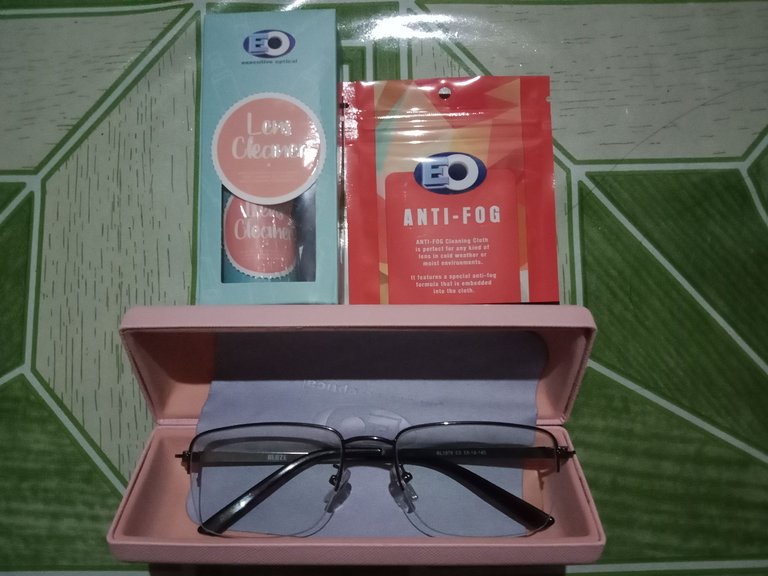 These are the items that I have gotten from their affordable package deals. A bottle of Lens Cleaner with a cleaning cloth and a screwdriver for tightening or loosening the little screws in the frames, wiping strips with wiping strips, and my glasses. The check up is free. It wasn't included in the overall costs. This brand have such a good deals and service than the one that they have at SM. Last time, their doctor wasn't that much vocal on explaining the problem to me and the ways that I should do or avoid so it wouldn't give further damage to my eyes. I somehow regretted why I didn't went here at Ayala before. Anyways, now I know where to go again if I will be needing another check up in the future.
---
All of the photos are mine unless specified otherwise. Thanks for reading!
---
---