First Attempt In Creating A Budget Plan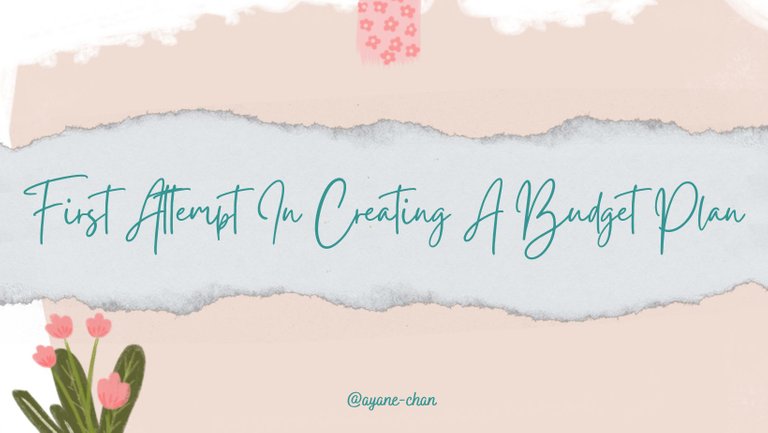 Image created in Canva.
I'm not a fan of spreadsheets to input data of my expenses, budgeting, and other stuff. I just memorized it in my head and let myself restrain my hands from constantly pulling out my cash in my wallet. Not a lot of people have joined the writing contest about financial literacy here on Hive PH for this month, so I will be joining on the 3rd Week. Wala, trip ko lang talaga kasi mas madali gawin kesa mag edit photos ng gala ko.
The contest objective for this week is to formulate a budget plan. Before that, let me share my expense tracking sheet on weekly and monthly basis.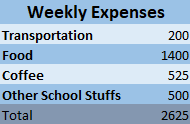 Not really much, right?
I'm not a foodie just like the others and I can only spend more or less Php50 per meal. As estimated, I consider (Php50x3)x7=Php1400. 'Cause sometimes, people just giving me free food and I don't know why but I'm grateful since I can save. Lol. My transportation varies if we would be going to other campuses if there's an event or I have some other destinations after my classes. Let me put it this way, wherein I have 4-day classes in a week. If my route is only from home to school, I can only spend (Php11x2)(3)+(Php15x2)(3)+(Php22x2)(1)=Php200. That's because I rode two different routes per 3-day regular class and 1-day extra training in a week. Next is my coffee, you know me, it could be probably higher actually but I estimate it only to 5 cups a day. Then, other school stuffs, I set aside 500 every week because there some unexpected things that requires me to pay sometimes like photocopies, projects, and other school supplies.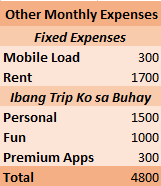 I budget my money monthly, so a weekly data of expenses isn't enough. I have to know my monthly expenses, too. As you can see, I have fixed expenses and other stuffs which I'm paying for but not in a fixed price. Those just depends on my mood if I would spend them for that or not but I have to include them anyway, just in case. With my weekly expenses combined in a month, with my fixed expenses, and mga ibang rip ko sa buhay, their sum would Php15,300. Ang gastos ko, di ba? However, note that aside from my transportation and fixed expenses, the other expenses are just estimation. Kung ilalagay ko lahat baka sobra pa sa 15k.
So,What's My Budget Plan (Monthly)?
Transportation - P800 monthly, still varies on my destination.
Food - P3000, I'm not really a Foodie.
Coffee - P1500, got some sponsor sometimes.
Fixed Expenses - P2000
Ibang trip ko sa buhay kasama na school stuffs - P3500, sometimes I can't spend all of this, but leave this as it is.
I don't follow any strategies on budgeting but just separating my budget plan already from other things that I'm spending unexpectedly. My only savings for now are my investments and from what would be left in my budget plan because surely I couldn't spend them all. I just always make a budget plan out of approximation, so I have something to spare just in case of emergency. That's only for me, though. For my daughter's budget, the earnings from our rice fields every harvest would be for her. In that way, I wouldn't include hers to my problems anymore.
Being in your first years at school is surely costly since you have to buy a lot of new things. Nothing I can do with that anymore, I'll just wish myself luck that my second year wouldn't be this costly.

All of the photos are mine unless stated otherwise. Page divider came from the Discord server of the The Terminal. Thanks for reading!
---
---