HBD: A Year In Hive
Hello, beautiful hivers!
It's been a while again since my last post. I wasn't that busy in school actually but just busy hanging out with friends that I haven't seen for years. Having this kind of reunion at this age, where we are mature and some are already working, we can now be able to discuss some things without getting bothered by it and with no deep sentiments still attached with those unresolved events back in our high school life.
We talked it out, each of it, with a cup of hot coffee and Iced latte for them. Those unresolved issues weren't just a mystery and we could reflect about it without any miserable thoughts involved. After having coffee sessions with them, I can finally say that I have home friends which I can cling to whenever I'm down. Unlike before, in which I somehow thought that I was a misfit.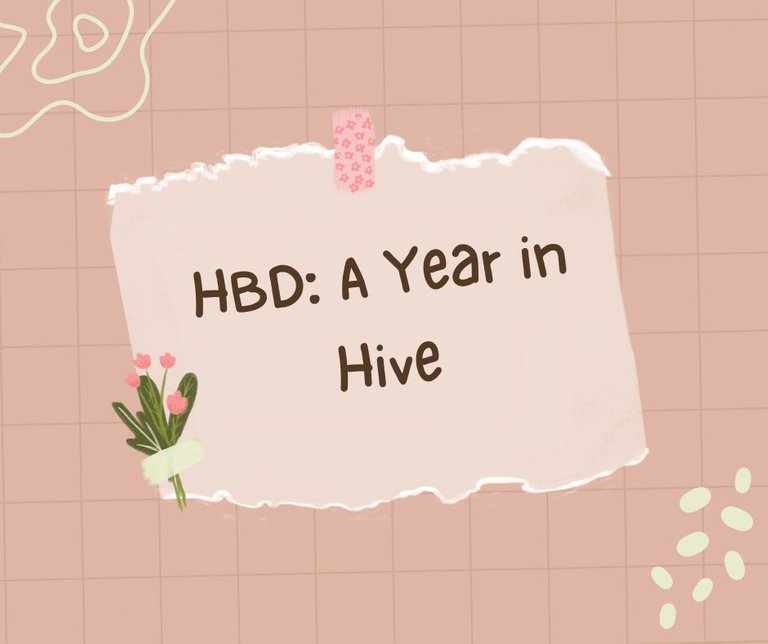 Image created in Canva.
---
Anyway, it's been a week of hiatus again and a lot of things have happened recently. Actually, I don't know where to start but I perfectly know that I have to write this all down. Mother's Day just passed the other day, I have planned to dedicate some writeups for it but I chose to sleep early these past few nights. Before this, I was notified by @hivebuzz in a comment in one of my post that it's my hive birthday. Well, thank you! I actually forgot when I had created this account.
---
It's My Hive Birthday!
Oh well, my hive birthday was long overdue, but I just have a time off from real life to actually get time for this. Anyway, Belated Happy Hive Birthday to me!
Times flies by when you're doing a lot of things in your daily life. I have to check my calendar and my clock from time to time to keep me up to date. Unexpected event just randomly popping up in my plans, so I couldn't really pursue my original plans and sometimes my other goals was compromised. But, it's okay, at least I'm productive.
I don't really know where to start and how to end this blog. Please bear with me as I'm still sleepy while writing this. But, I would like to thank the @hiveph community and it's members for giving me a home in this platform, nurturing me to be better blogger, helping me from my financials, and getting to know some friends that treated me as a family. I know I sound so dramatic all the time but I'm not really expressive with my thoughts. Yet, please do know that I will be always be grateful for all of the support that this community have given, and for the Hive platform in general.
Unfortunately, I couldn't go to the Hive PH meetup. I was stuck at school works and midterm exams at that time. It's a bit sad, but gladly, @wittyzell went to Bacolod and brought me some souvenirs from their meetup. Ang totoo inutusan ko si witty na dalhan ako souvenirs. Labyuuu, witty!
---
The souvenirs~
I got a pack of coffee, hair clip, headband, baby powder, chocolates, and ballpens. I forgot where I have placed the ballpen in my backpack, but sure thing, I have now a year supply of it. I love the hair clip and head band so much since I'm hating my messy hair these days. But, of course, the coffee is the best. I like its strong taste, it helped me battle my drowsiness during the boring lectures. Thank you Hive PH fam. Labyuuu all! Somehow, I feel like I have gone there in a way.
---
In a year of blogging here in Hive, never did I really expect to come this far ever since I posted my Introduction post. I don't recommend reading it, I have written that half asleep. When I posted that, it didn't reach a lot of readers and I have been inactive for a month after that. But due to the onboarding webinar of Hive PH, I was motivated to be back here and continue the journey that was left a month ago.
Who would have thought that I will become a staff of the Hive PH community and one of the Onboarders of OCD by now?
Never did I expect that even for myself. All I have thought was to learn more about the platform and grow my account. Now, since I have received such blessings, I will support the members in the best way that I can. I will continue to do so whenever I find some time. It wouldn't be much compared from all of the things that I have benefited in this platform but I'll my best to support in a way.
---
May we continue thriving in this platform. Thanks for everything!
---
---