My Sweetest Smile For Your Loss, But Here, Have a Sip. ☕️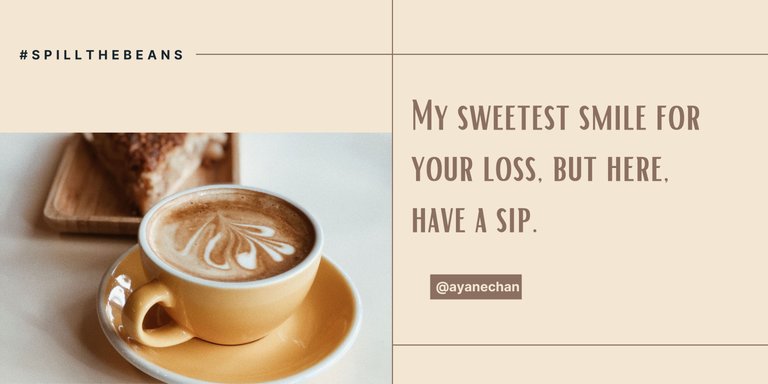 Image edited in Canva.
---
When I say, "Coffee is life." It is as important to my daily life as rice. As my elders described the rice, they say it is a sacred grace from the above. Since both weigh the same on my perspectives, I value both of them the same. My love for coffee is known at home for I'm the only one who fell in love with coffee among the family members. They clearly knew that it is one of my essentials. If I can't have it in a day, it is like you have starved me to death.
It is why… whoever hides my coffee so early this morning can have a not-so-nice reward from me.
I'm not that mean, even though my blood is boiling ever since I can't find it when I woke up. If I could know whoever did it, I'd let them taste their own medicine. It seems like everybody wants me to be Sherlock for today. I'm getting a headache here even before the caffeine withdrawal could kick in on my system.
I was announcing the case but my parents just responded that maybe I misplaced the coffee container after my last cup of coffee last night. No, I can't ever do that. I'm careful with my things. I'm sure someone just wanted to play pranks with me today. As I was asking around the house, my younger siblings went to school early before I could detect the missing coffee and my parents wouldn't do such a thing. They're too old for jokes and pranks, they say.
On the other side of the house, my two older brothers are silently sitting on the couch while holding their phones and too immersed in playing mobile games to care about whatever drama I have here. They just glanced at me for a second like they don't care. Passing by them as I have to search the drawers in the living room because sometimes I placed some stocks there if I could purchase a lot, I saw a smirk on my second brother's face. But as soon as I turn back to face them again, they're focused on their phones again like it was just my imagination.
I have a feeling about these two, but I don't have any evidence to prove it yet. I wonder what have gotten on their minds to play with me today. Maybe they are testing my patience because I always let things passed. Well, not for my coffee. I will never let this thing slipped. I walked to the storage room pretending that I would grab some cleaning materials to clean and forget about the missing coffee. I closed the door, turned on the lights and also the flashlight of my phone, and braced myself for the next thing that I'm going to do. I grabbed a stool and placed it carefully under the cabinet. I stand on the stool to reach that cabinet, open it and turn off the main switch of the house.
Now, all of the electrical connections are cut off including the ones with the Wi-Fi router. No internet for your games now, buddies!
I have heard of their complaints from the living room going to the kitchen to tell our parents. "Brownout, maybe," my parents responded. "Yeah, but they don't announce any updates first before cutting it off." Second brother sounded pissed by it. While they're noisy in the kitchen I carefully made my way out of the storage room and went upstairs to my room. I heard them going out to check on the villa's hall, so I took advantage of their absence to call the Internet Provider and cancel the subscription. It's going to take some time before they can get back to their games now. Then, I searched their rooms, careful not to make a sound, and as fast as I could.
There, it is!
Placed inside a backpack in their closet is my precious coffee. I knew it! I went downstairs and all of the emergency lights were turned on, but both of them aren't back yet. It's probably Dad who turned them on for Mom. I felt a little guilty for them, and immediately made up for my mistake. I turned on the switch back, and ran back to the kitchen.
"Who's in the mood for a cup of brewed coffee?" I asked them cheerfully. They nodded, and I proceeded. My two brothers went back in as we were merrily sipping our coffee. Their eyes were locked on me as I gave them my sweetest smile with the unspoken words it coveys which says, "I outsmarted you, buddies."
Yet, the real word that I spoke is, "Coffee?" Raising my cup, not just offering them to make amends for their game that will be paused for a day or two until they contact the Internet Provider again but also, as a sign of victory for having my coffee back.
---
Howdy, coffee lovers? By the way, this is my entry to #spillthebeans Writing Prompt Week 28. It's been a while since I have joined the fun here, but I appreciate the time you spent reading my post. That's all from me, folks!
---
---