Of Whirls and Rage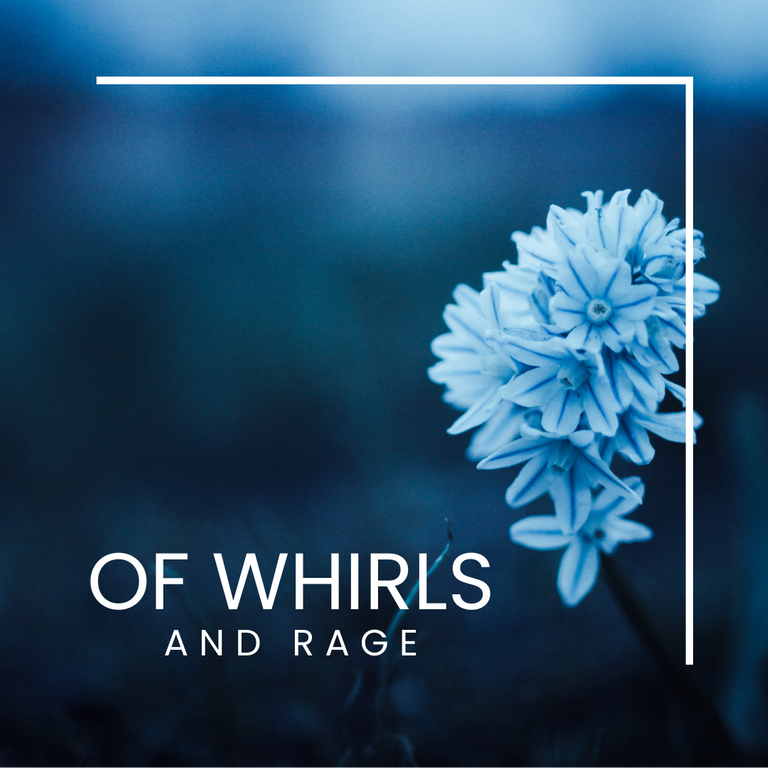 Image edited from templates of Canva.
"Fire"
It was the last word that Ellen heard as bullets came raining towards their location. No time to process what's currently happening to them; they have to search for a hiding place as fast as they can. It is inevitable for things like that to happen in a place wherein always at war with people who have beliefs that's opposite to theirs. Not one of them surrenders nor concedes since each party claims to be the rightful. Causing the lives of the innocents to get sacrificed is nothing just to protect each other's beliefs. A decade isn't enough to declare it as over, but it will still continue as long as each of them wouldn't get drained of their resources, of manpower, and of hatred that seems like it is set to forever rage within their hearts.
As Ellen ducked behind the pile of sandbags for cover, she is contemplating what's going to become of them now. They went here for a mission of good intentions but didn't expect to get caught up in a raging war where bullets fly ablaze towards the enemy's direction. Their mission is to teach the people who signed up to their program about disaster risk reduction, readiness, and management, but even then, they aren't prepared for such incidents like this. After a while of the deafening firings and explosions, their surroundings finally went silent.
Is it good news or not?
Confirming their speculations aside for a little longer, they waited. A few minutes have passed, and the place stays still; reassuring their safety. Slowly, they rise from the ground but before they can stand still, a series of guns are reloaded and are all aimed at her team. The ones' left breathing in the camp are them, and the soldiers all lying on the ground, bathing in their own blood. Instinctively, they raise both of their shaky hands fearing for their lives. "Medics are kept unharmed in a war, Madam. Follow us!" The captain of the enemies have declared.
With their hands still up high and guns pointed at them, they followed these notorious men in a path directed to their hideout. A lofty forest with a narrowed path and vines are side by side of the road, then one time she stumbled down upon it. The man behind her back shouted commanding her to get up faster, and continue walking. They are unharmed at the moment but the experience is still traumatizing, sending chills to every inch of her body. Just like watching a horror movie, she was shaking intensely as she got up, feeling the real horror from their current situation.
The walk in a path of hell continues but she and her team couldn't stop walking though it is driving them all crazy. The promise of not hurting them is set, but their future is still unknown. What could be these men's purpose of taking them as a hostage? A bait between their fight with the government? It's expected, but she is thinking of other possible things that they will be doing with them. Also, the possibilities that they will set them free or they could escape from their grasps.
Before she could think of anything else, one of these notorious men screamed at the back and everybody turned their heads towards him. An arrow was pierced in his heart and there he was lying on the ground. One after another, they fell down to the ground until none of them were standing still. Ellen and her team felt relief for a moment, not until another group showed up. Bows and arrows are on the arms of some, and some are holding swords looking at them fiercely as if they are going to devour them alive. The feeling of relief fleets in an instant and the fears from earlier are retrieved.
An old man crouching with his walking stick appeared from the crowd of a tribe, then walked toward her. He stopped in front of her with sympathetic eyes, ready to break down at any moment and told her, "There's an uncanny resemblance of your father in you. Let's get you somewhere safe." Her father? It was mentioned to her before that her father had a great time in this place during his younger years, but never did she expect for him to have such a connection that would save her life from an imminent danger.
---
Hello, scholar and scribe community. This is my first time posting here. The story that I have shared above was a product of my imaginations derived from my free time. I hope you like that. Anyways, thanks for reading!
---
---