A Sideways Market: How to Manage
A Sideways Market: How to Manage
Into the US General Election my expectation was that we will have high daily range. I wrote a post about that on the 19th and that was a 85 point range for the S&P 500 index. However, the next 2 days were not as expected. This is very classic with the financial market. You can predict all you want but the market will do whatever that she want. Oh, and believe me, she is always right :)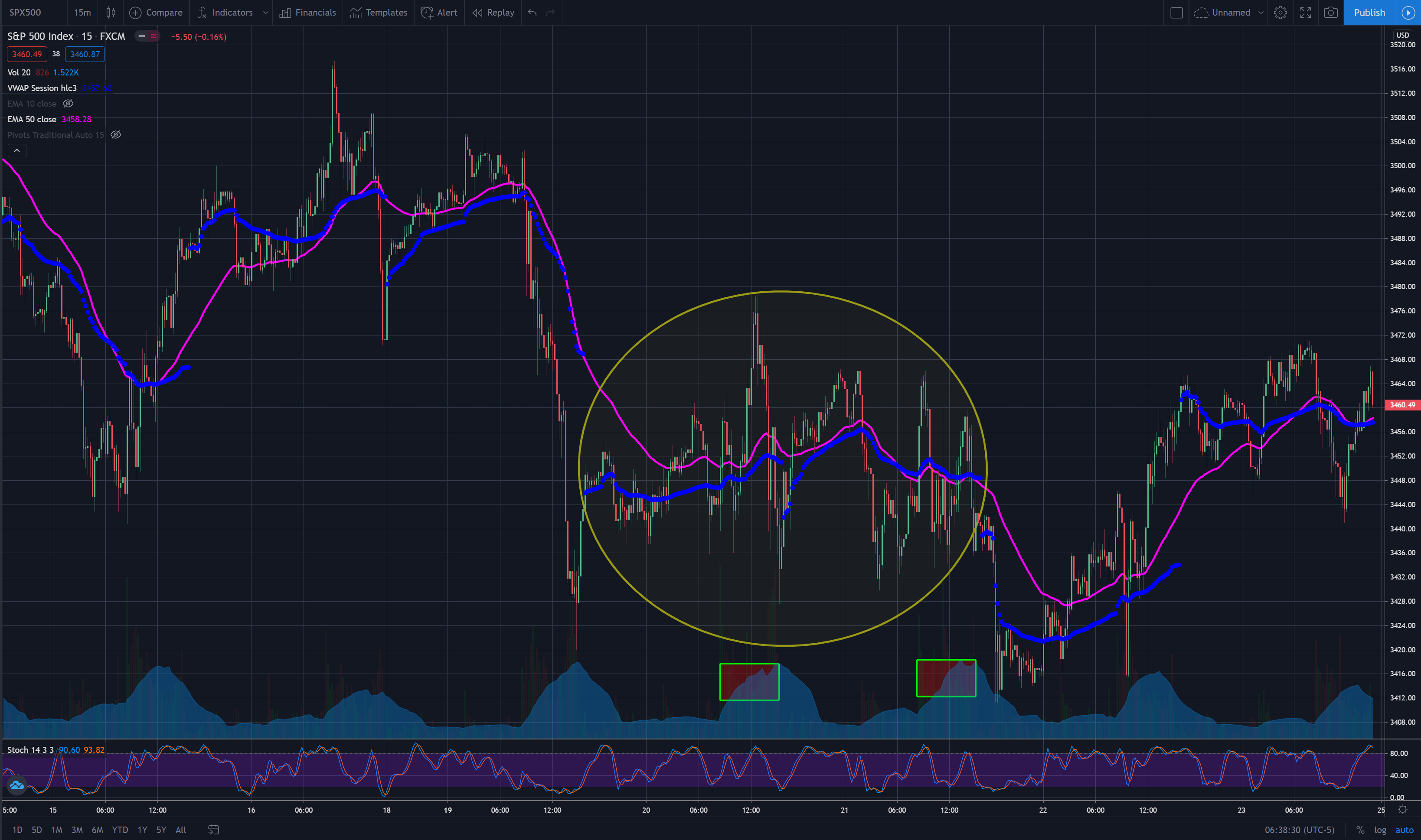 In the chart above (which is a 15-min chart of the S&P 500) I have highlighted the 2 US trading session with boxes. As per my time zone it is from 8:30-3:30 during the daytime. That is the session I normally trade simply because of the volume. That the session with the highest volume in the futures markets. The critical things to note on that chart above are as follows:
The dark blue line, VWAP, is basically flat
The price moves freely on either side of VWAP
Daily range was low; 40 points for the 20th of October and 30 point for the 21st
These are difficult market conditions for a day trader. Most trending set up will fail on a day like this. It is important to identify such day and best is not to trade. It is easy to say or write, but not so easy to do. Usually if the price can't stay on one side of the VWAP during the first hour, that is a sign. The main problem is the low trading range. It is very hard to make 10 points on a 30 point day. So the best option is not to trade.
However, what happens when you get day of day of 30 points range. Will you quit trading? Of course not! Well in that case, you must adapt. That is a critical quality of any good trader. Good traders don't complain, as no one is listening to your complains, they just adapt.
How to trade on a low-range day?
On a low-range day, trend based strategies are difficult to impliment. Therefore, range-based strategies are preferrable. So your oscillators become your friend!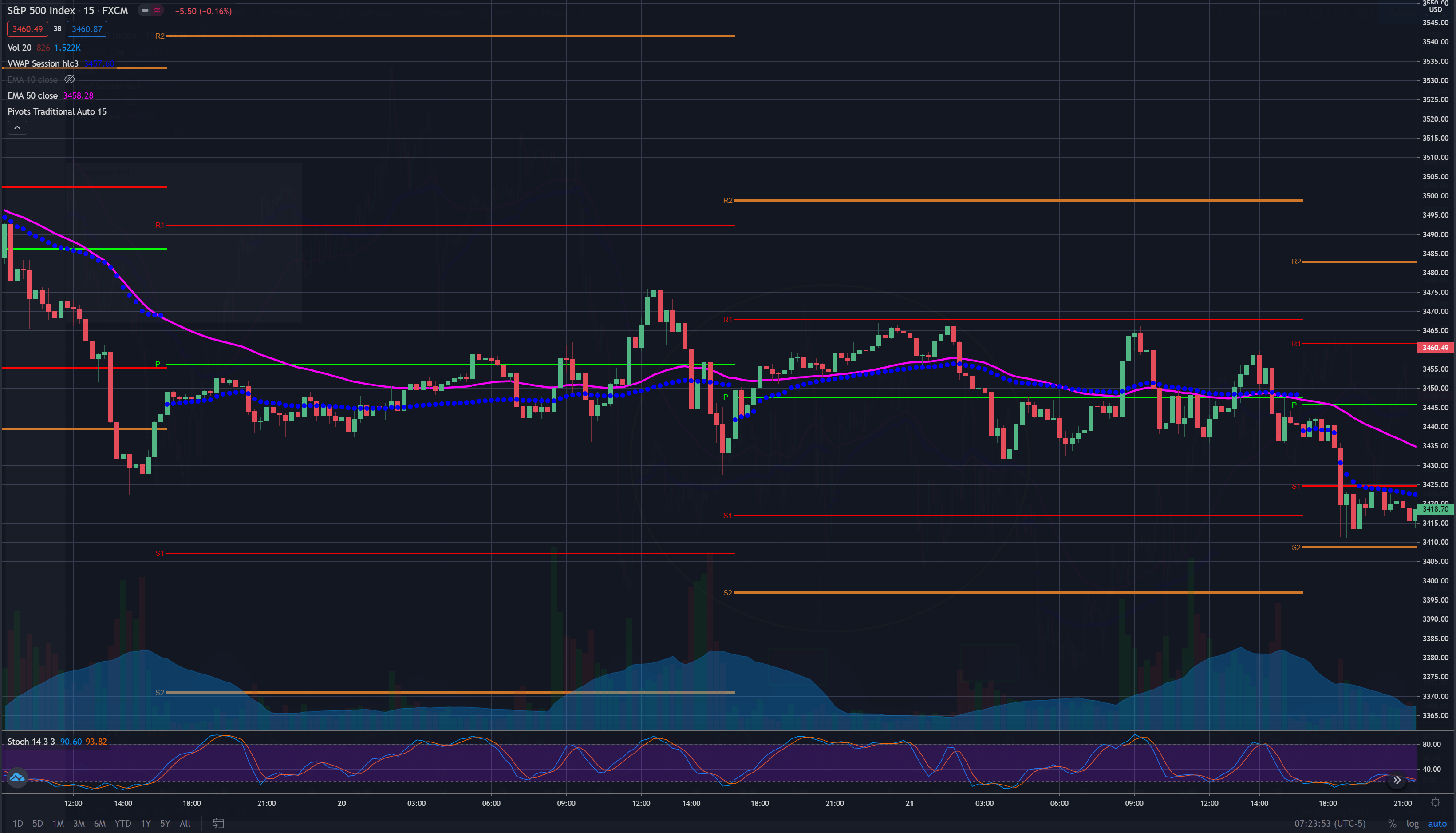 I now zoom in on those 2 days. 15 Min chart with Pivots and stochastic to help us during this range bound trading. First thing to notice on the pivots, is on the 20th, they are wide, as the previous day was a high-range day. Obviously, R1 and S1 will be of no use on a day like this, as the price is unlikely to touch either. Which makes it even more difficult, as that is taking away you basic frame of reference. So this is what I normally do:
I look at the pre-market range from the Asian session, and see if that range holds or breaks
If it holds, then you can trade against the high and the low of the Asian session
If it doesn't hold, then wait for the new range to establish, and trade against that range
Critical is to enter the position at the edge of the market prices and expect a reversal. Overbought and Oversold oscillators like stochastic can help with the entry and exit. Also it is a good idea to lower the target. If 20 points is your normal target, consider using 10. If 10 points your normal target, consider using 6. That's the general idea.
Disclaimer: This is NOT professional advice, this is all just my own opinion and experience. I am NOT a Certified Financial Adviser. Consult professionals for any financial, accounting or legal related questions you have.
Charts are created in Tradingview.com, which is a free service.

Posted Using LeoFinance Beta
---
---