Hey scholar and scribe
Hello scholar and scribe community, it's great to be here with all the other dreemers. I'm no stranger to this community, I've made one or two fiction posts here. I even made a two part serial (was supposed to be more, but I lost interest after the second part) a couple months ago.
But today I'm not here to write fiction. I'm here to tell you about my favorite desert and why I think it's the best in the world.

My favorite desert is one which is very popular, and that is ice-cream, chocolate ice-cream to be precise.
---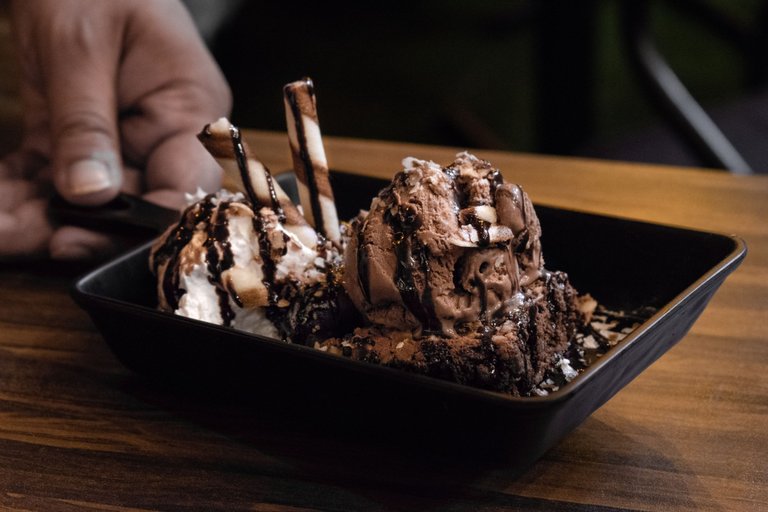 Photo by ABHISHEK HAJARE from Unsplash
---
When I was little, I wasn't a fan of chocolate ice-cream,I preferred vanilla flavor to it, but as I grew older I saw myself falling for the chocolate flavor. I just love its sweet yet semi bitter after taste that just lingers. I think that's what I like about it the most. How it can be so sweet yet have a slightly bitter after taste. My mouth just can't get enough of it.
Once in a while I and my friends take some time off to go to coldstone creamery (a very popular ice-cream store over here), I think they have the best ice-cream one can find over here.
Chocolate ice-cream is definitely the best in the world. The stats don't lie. If you're checking for top most ordered deserts ice cream is on almost every list (atleast the good ones, lol), and what's the most ordered flavor of ice-cream?Chocolate. The world seems to agree chocolate ice-cream is goated (permit me to use that slang).

Now that I've told you why I think chocolate ice-cream is the best, I would be answering a few questions from @dreemsteem so you guys can get to know more about me.

How long have you been with Hive?
My account was created 1 year and 7 months ago, but I'd say I've been active on hive for like a year and 2 months

Have you ever written fiction before?
Yes, I've been hearing fiction for quite some time now.

Are you familiar with Scholar & Scribe
Yes I am. Since the commmunity started I've been posting fiction here, though my fiction writing has decreased a lot over the last few months.


Are you expecting this to be a fun challenge, challenging challenge, exciting challenge, or are you really dreading writing publicly?
---
I feel it's going to be an exciting challenge as I can't wait to see what I come up with.

Are you going to TRY to go for the 3 part serial fiction (over 3 weeks), the engagement Bingo option, simply stick to SOME fiction this month for Scholar&Scribe, or some other option altogether?
I'm going to try and challenge myself and go for the 3 part serial fiction as I've never done that on the block chain before.

Thanks so much for having me. Looking forward to having a blast this month with you guys.

---
---