It's real to me || Dreem-wotw

---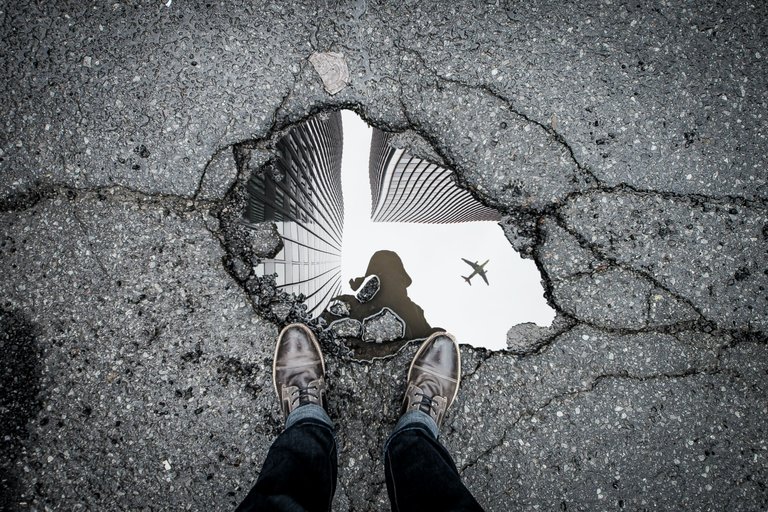 Photo by Marc-Olivier Jodoin from Unsplash
---
I was running as fast as my legs could go, trying to escape the dark otherworldly creature behind me. I took a quick look and realized It was catching up to me. At that moment a new wave of energy came from nowhere and I started to increase the gap between us. All of a sudden I tripped off a tree branch and landed face first onto the soil. The creature stood in front of me and stared into my eyes. A loud beeping sound filled the air, the creature stretched his hands to pick me up. As soon as the creature laid hands on me I jumped up from my bed.

I heaved a large sigh of relief and stretched my hands to switch off my alarm clock.
"Another cursed day" I muttered under my breath.
Life which had started off like a bed of roses had quickly changed to something else.

I finished college and was ready for the best part of my life. You know, get a great job, get married, have kids, and live happily ever after. But that wasn't the case for me, I did all I could, but a job wasn't forthcoming.
After almost a year of searching I eventually found a job, but it was nowhere near close to what I was looking for. Imagine having a bachelor's degree in computer science and getting a job as a material handler in an electronics factory. I had to accept it, but continued to keep my eyes peeled for any openings anywhere, both in and out of the company.
Six months had passed and still no new openings anywhere. I spent so much time working at the factory that I barely had time to look for jobs outside. I worked six days a week, 4 morning shifts and 2 afternoon shifts. You'd think with the rest of the day I'd have time to look for a job, but no. I spent most of the time resting because the job was so stressful. I didn't have time for anything and each day felt like hell.

I got dressed and ate some leftover porridge from last night as breakfast. After that I took a deep breath
"Maybe today's different? Maybe I just need a positive attitude?" I thought
I tried to force a smile and headed for work.

It was the same as always, lifting all the heavy electronics onto the trolley and pushing them long distances as the company was too cheap to make forklifts available. I loaded my trolley twice and was going back for the third time when one of the wheels on my trolley came off.
"darn it" I muttered under my breath
I looked and there was only a large box left.
"I could simply carry it. I don't have time to waste." I thought.
We were told not to do that, but it was just a box, no one was going to notice.
I approached the large box and put my arms arounds it. It was heavy but I managed to lift it off the ground.
"I wonder what's in this particular box that makes it so heavy." I thought
I walked slowly so I wouldn't throw away this month's salary. My back started to hurt and I could feel myself leaning backwards to try and keep it stable. All of a sudden I tripped off the wheel on my trolley. I tried to stabilize myself but I fell and the heavy box dropped on my head.

I woke up in the hospital and right beside me was a very beautiful woman, she looked really worried.
"My love, how are you feeling?"
"Sorry, who are you?" I asked as politely as possible.
"Oh my it may be worse than I thought. You don't remember me? The love of your life? The mother of your child?"
I was perplexed.
"How did I get here?"
"You had a car accident." she replied
I still couldn't wrap my head around it, but I played along and acted like I remembered. Apparently, here I had a wife, a daughter and I was a millionaire.
Life was finally good to me. I recovered very quickly and began living the best life I could ask for, it was a dream come true.

Then one day I was driving home from the country club (yes, I now play golf) and there was heavy traffic. It was really frustrating, so I brought out my phone to inform my wife I may be a little late. All of a sudden a guy ran towards my car with a crowbar. He struck it right through my windshield and it hit me in the head. I slumped on my seat and watched as blood slowly gushed out of my head. All of a sudden it went blank.

My eyes sprung open again and there I was bound by chains sitting in an empty white room. My head hurt but there was no sign of injury
"Where am I?" I yelled but there was no answer.
All of a sudden a wave of realization hit me. I'm in a mental hospital.
Somehow my brain had created a safe space, a place I could be happy. It wasn't real to others, but to me it was. It was the only reality I wanted to be in, my Sanctuary. I had to find my way back.
"I have to go back" I yelled

This is my entry to the dreem-wotw. Thanks for reading
---
---