LEO&HODL Contest : A look at the Leoglossary

If you have read any of my previous finance related posts you'll realize that lately I've been adding links to any technical terms or Crypto related terms. If you've clicked them you'll realize that they'll take you to a hive post defining the certain word. Those definitions are from the @leoglossary.

WHAT IS THE LEOGLOSSARY?
The Leoglossary is an initiative started and is still being upgraded by @taskmaster4450. It is a collection of posts that define and explain financial, investment, blockchain, Crypto related terms and so on, all linked together on an elementary level for easy understanding. It is a sanctuary of information and is arranged in alphabetical order.
---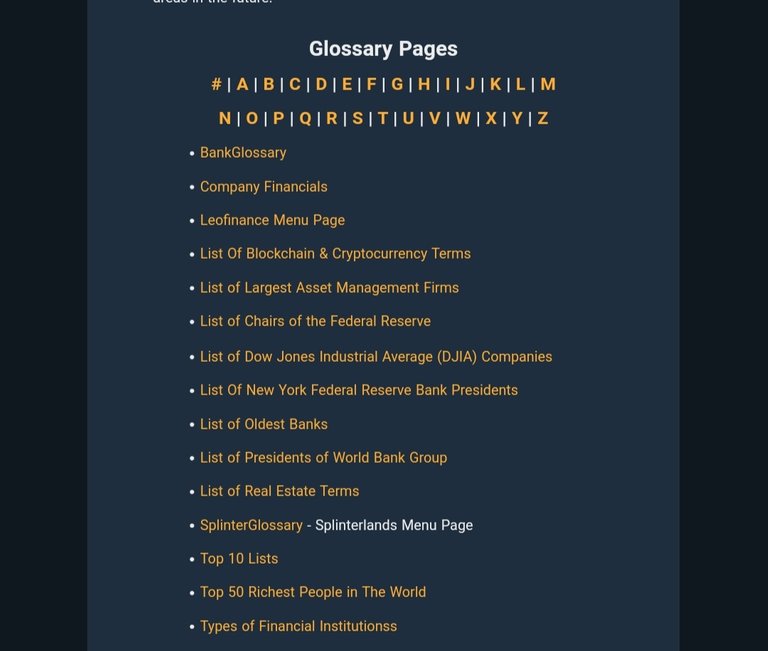 ---
On the leoglossary main menu there's also some great lists as you can see above.
To find any word, all you have to do is click on the first letter of that word and you'll be taken to a blog containing all the words starting with that letter
---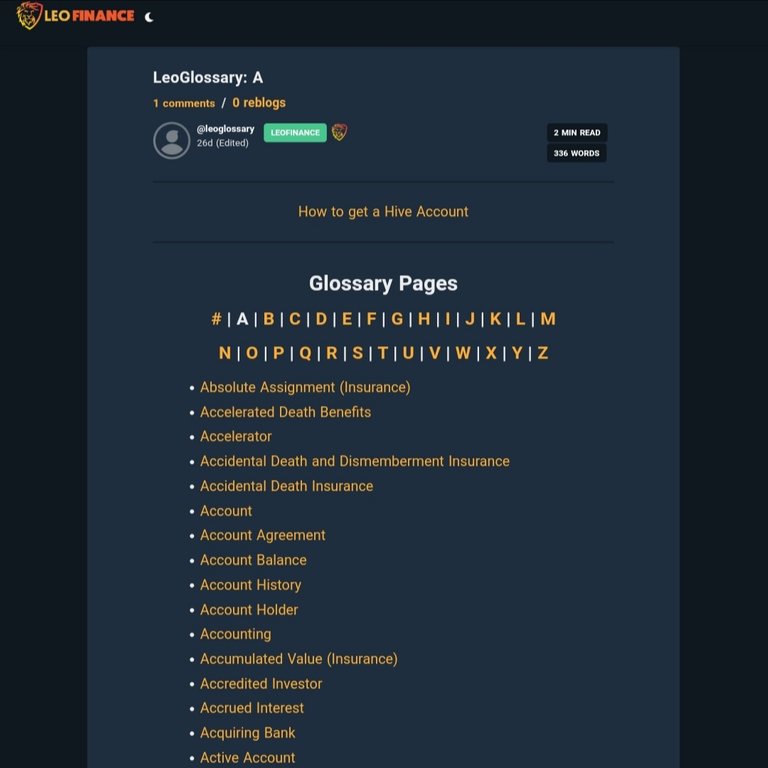 ---
From there you can scroll and find the word you are looking for as it's arranged in alphabetical order. It's nice and easy really.
The leoglossary is an amazing idea, and how quickly it's come together has been fantastic. One can't tell its been done manually, as there's so many definitions and new ones are added almost every time. I've wondered how many hours taskmaster has in a day because he's always doing tasks.

WHAT ARE THE BENEFITS OF LEOGLOSSARY KEYWORDS TO LEO ECOSYSTEM?
The key concept is SEO (Search Engine Optimization). Various Search engines have different criterias for one to rank high on searches but one of the main criteria is citation. Citing leoglossary links in our posts everyday helps to increase our ranking on major search engines like Google, and over time when people search for Crypto or finance related terms leoglossary links will be at the top and create more awareness about leofinance and Hive in general.

WHY YOU SHOULD WE REFER TO LEOGLOSSARY ON OUR HIVE POSTS ?
As members of leofinance and hive it's expected we make use of the leoglossary links in our posts to help in boosting its search engine rankings and generate traffic in the process.
And if that's not enough it'll interest you to know that adding leoglossary links to your posts help you stand a greater chance of getting curated by the leovoter.

HOW TO USE LEOGLOSSARY EASILY WHILE PREPARING YOUR POSTS.
I think a lot of people will agree that at times it can be a bit stressful when you're done writing to add links. I'm not see there's an "easy" way. For me, I have this page bookmarked on my browser, so what I do is, when I'm done writing and proofreading I read through once more and spot the Crypto terms and immediately link them. This takes a few extra minutes, but a few extra minutes isn't too much. If there's an easier way though, I'd like to know.
In general the leoglossary is an innovative way to kill two birds with one stone, it helps with explaining the technical terms in a post, and also helps to generate traffic.

This my entry to this week's Leo and Hodl contest. I'm inviting @iskafan @deraaa @beyondhorizonmm to participate.
~THANKS FOR READING~

Posted Using LeoFinance Beta
---
---