My Fpl Team Talk :Gameweek 8
---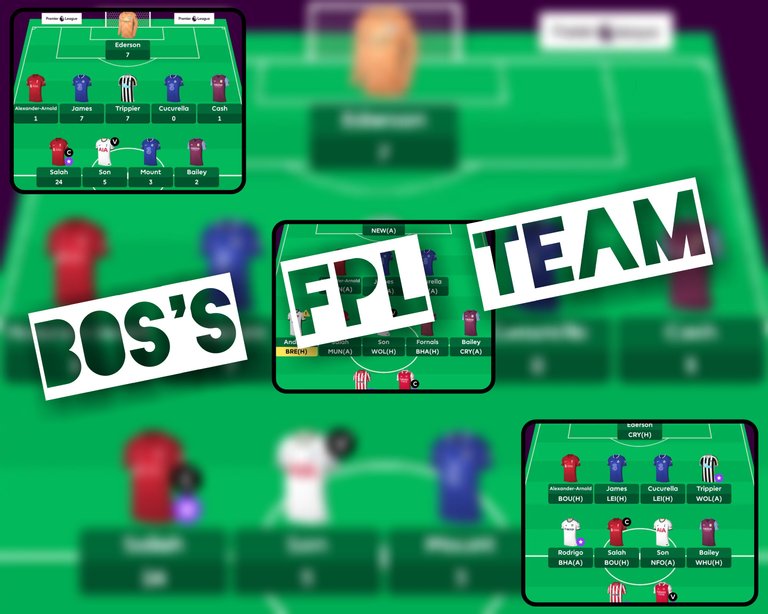 Photo made using Gridart collage maker
---
Gameweek 7 was postponed due to the passing of the Queen of England, Queen Elizabeth The second. As a result everyone scored zero points, and those who took hits to make transfers scored negative points. Also, for gameweek 8 the matches of some teams were postponed. Brighton, Crystal palace, Chelsea, Liverpool, Manchester united, and Leeds were the teams who wouldn't play football this gameweek. These clubs not playing was going to destabilize my Fpl team if I'd just made one transfer, which was why I decided to play my free hit.

After some deep thought, looking at the matches, and also watching some tips, I decided this was the best eleven to field for this gameweek.
---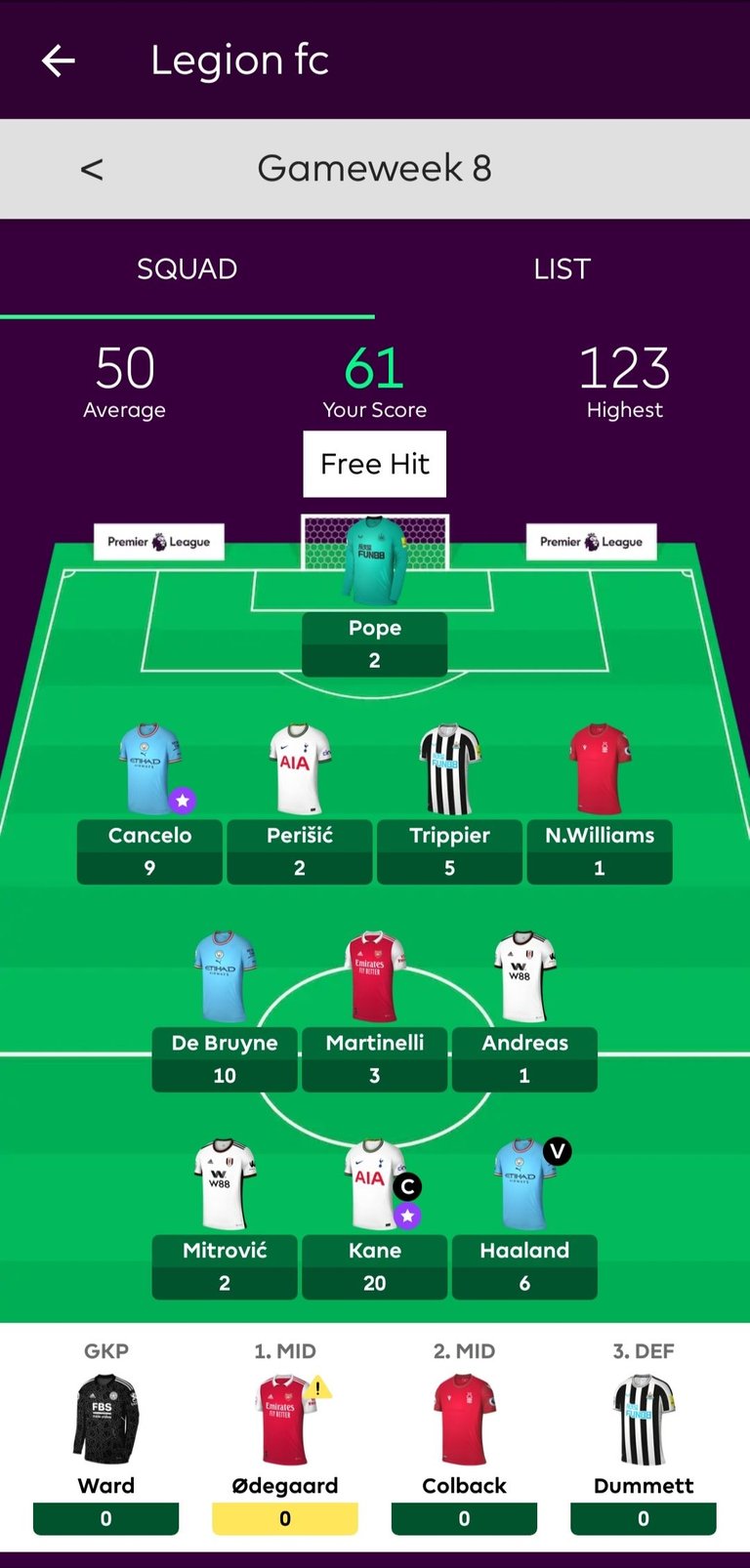 ---
The team did relatively well and gave me 61 points. Not bad, I beat the average score once again, I saw a green arrow everywhere, I made the right captaincy choice (first time in a while), overall I'm quite happy with the team performance.

If there was something I could change however it would be putting Son in that 11. I'd initially put him in over KDB but then I decided against it because of his terrible returns attacking wise this season. It seemed a wise decision when the team sheet was shown and Son was on the bench. It was until he came in during the final 13 minutes and scored a hattrick that I started regretting my decision. But then you can't always get them right, so not too much thought here.

So far, my team's performance in the Month of September has been far better than last month's performance. In the two gameweeks that have been played I've been able to stay above the average and see green upward arrows. As for @hivefpl league I'm currently 65th, just two points above my buddy @tengolotodo who also happened to get the same points this week despite not using any chip (Amazing)
---

---
I said I won't be looking at how many points away I am from top. I just want to wake up one day and realize I'm close by, lol. Though the last I checked I was about a hundred points away from the top. Is there hope? Maybe? I don't know.

Before gameweek 9 there's the international break. The next premier league match will be on the first of October. As a result I'm yet to set my team. Here's my current team
---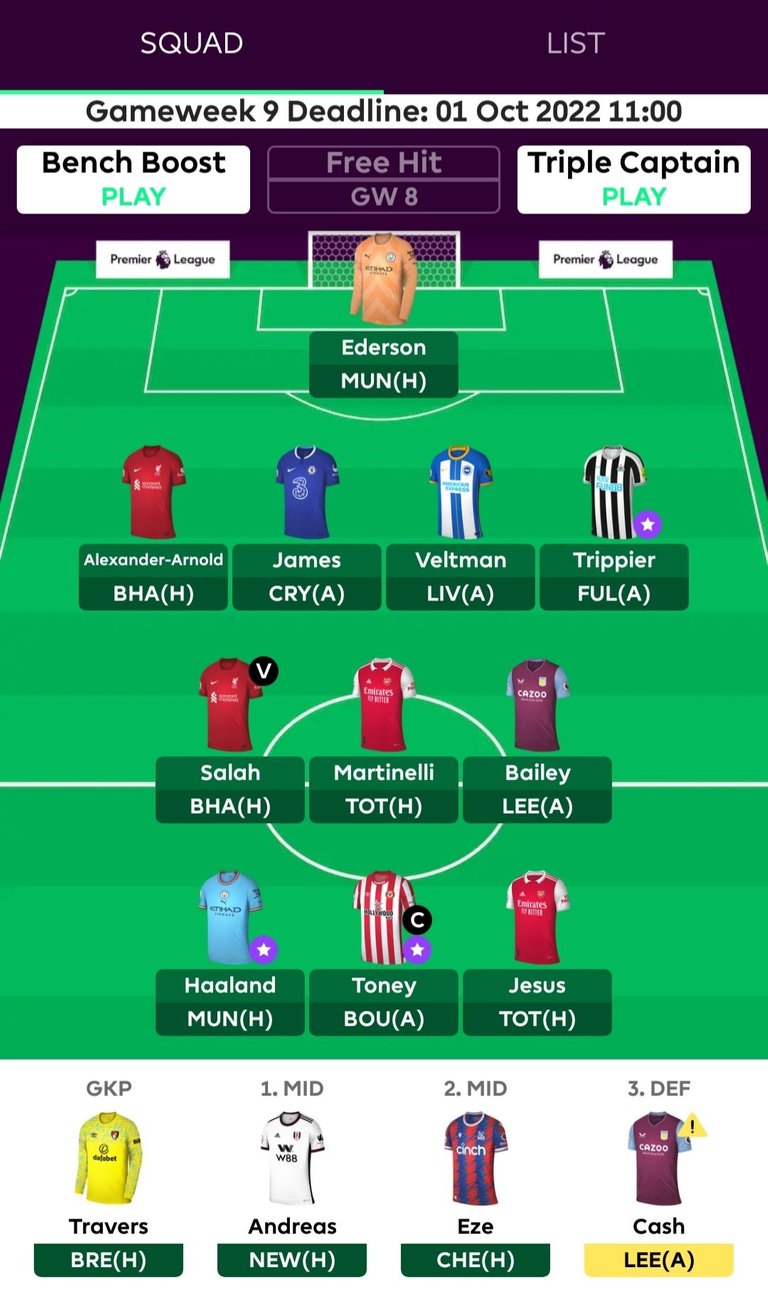 ---
They're some interesting fixtures here, like the Manchester Derby, I'm interested to see whether Haaland is going to perform or not. We also have Brighton who just lost their manager against Liverpool who haven't been at their best recently. It would be an important match to know whether or not still having Salah is a wise decision. He could do what Son did and haul. There's also the North London derby, which I'm actually thinking may go Spurs way. So much to look forward to after the break.

I'm contemplating whether or not to play wildcard for gameweek 9, could this team still perform? I'd like to hear your thoughts. I have till next month to know whether I should play it or wait one more week.
~THANKS FOR READING~

NB: All photos are screenshots from the official premier league app
Posted using SportsTalkSocial
---
---