The Apocalypse
---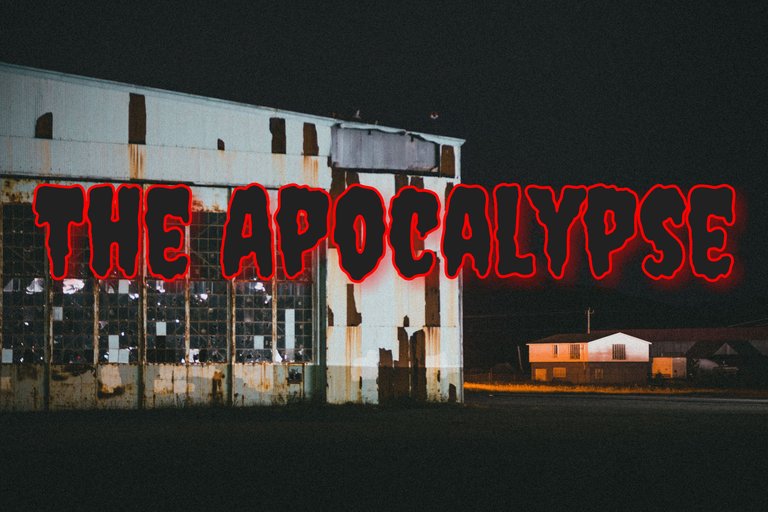 original photo by Erik McLean
---
Harry looked around, scanning the perimeter for signs of life other than his squad members. The sun was scorching hot, and he was sweating under his fatigues, of course he knew not to take any article of clothing off as they were tasked with at least making him harder to kill. Right from his helmet down to his combat boots.
"The perimeter is clear. I think we can set up camp there." he whispered while pointing towards a large warehouse building.
As they approached the building he moved towards John and tapped him on the shoulder. John sighed as he knew that meant he'd have to be on lookout alongside Harry. John was a teenage boy who Harry found locked up in his bathroom two days after the incident happened. He'd been staying there for fear of getting killed. He was almost sure he was the last person alive till he met Harry's group. Now he hoped there were more people like this group out there. Perhaps his parents and his sister were still alive.
Harry picked out a bolt cutter from his backpack and snapped the warehouse padlock. Then he and three others went in and did a quick sweep to be sure the warehouse was safe

A few weeks ago Harry was the average working man, now here he was leading a small squad of 14 people who had been forced to become soldiers by the circumstances through an almost abandoned city with hopes of survival.
They set up tents on the warehouse floor and gathered a few materials that may come in handy.

It got dark really fast. Everyone took some snacks from the stash bag to keep their energy levels up, and everyone except Harry and John who were on lookout duty were getting ready to catch some z's.
"Come on kid, let's go." Harry said, lifting John from the ground.
They both picked a rifle, leaving the last one for those in the warehouse. They decided they'd camp out on the rooftop, that way they'd be able to see a wider range. John assisted Harry to get up then Harry returned the favor.

They sat in silence for a while then Harry realized that he had to start a conversation or else they may fall asleep.
"What's going through your head kid?" Harry broke the silence
"Nothing." John said
"You sure? It can't be nothing. You know with everything that's happened there's gotta be something on your mind." Harry said
"Nah, I'm good."
Harry didn't utter another word; he just looked at John for a while then looked around once more.
"You know, sometimes I can't help but wonder if my family is still alive." John started
"They went on a short trip to the supermarket and I refused to go along with them because we just had an argument. That was the last time I saw them. Now I'm left thinking they're out there somewhere, looking for me. You know, the crazy thing is I can't even remember why I was so mad that day."
Harry put his arms on John's shoulder and gave him a light embrace.
"It'll be alright kid." He said
"You wanna know my story?"
John nodded
"I've not told anyone this, but I trust you. You see, I used to work a nine to five at a bank as an accountant. It wasn't the best life but I got by. My only source of light was my wife and two kids. Then one night I came home and something didn't feel right. The entire neighborhood was silent and the front porch was a mess. The door was open so I walked in, my heart stopped for a second as I came face to face with the most fearsome creature my eyes have ever seen. Skin like scales, bright red eyes, on its long slender shoulder was a gun. It grabbed me by the neck and let out a loud shriek as it flung me across the room. Everything went blank.
I woke up and across the room my wife and kid lay unconscious. I checked for a pulse, but there was none. I failed them."
Tears began to drop from his eyes
"I got in my car and started driving to nowhere in particular. I was chased by those creatures but they couldn't catch me. Everywhere I looked, dead bodies, everyone I called, no answer. Eventually my car ran out of gas and my phone battery died. I had to scavenge for supplies. I thought of ending It all at some point but then I ran into you. When I saw you, all that came to my mind was I must not fail this young man.—"
Harry was cut short by the sound of a gunshot
" Shit, we were supposed to be looking out." he shouted
He looked down and the creatures were approaching the warehouse.

~To be continued~

Author's note
I initially planned on this being just a short story, but there's just so many storylines in my head so I decided I'd continue. I really hope you enjoy it, part two is coming soon.

---
---