Why we have to share our posts on Web 2
---
Photo by Edho Pratama from Usplash
---
Yesterday I was up and about, aimlessly going through my web2 socials, as I tend to do once in a while, when I received a reply under one of my tweets from someone I didn't know. The reply stated that the person wanted to speak to me in DM. I followed him back and he got access to my DM. He came across one of my hive posts from a couple of months ago where I reviewed the Oraimo Soundview and he needed help making use of a certain feature of the product.

This filled me with so much joy knowing that my posts could actually reach and help both those on hive and those off the platform. The fact that it wasn't a recent post made me even happier. I have heard many people say payout is not the end of a post, and I was experiencing that firsthand.
I was able to guide him and from the way he typed, I could tell he was very happy. Of course, I couldn't end the conversation without asking him how he was able to find me.
---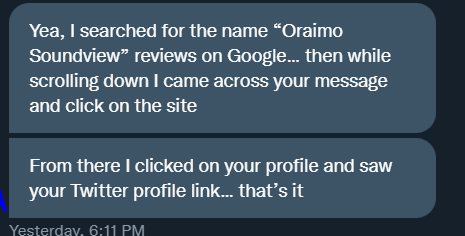 ---
This was the icing on the cake for me. He was going through reviews on google and found mine. I went to search and there it was.
---
---
It was in there among other sites which had nothing to do with reviews but were just sales ads.
It turns out I had forgotten to posh the post, but my Twitter link is on my hive profile page so he was able to get to me. After helping him, we kept chatting, and eventually, he asked about hive. I explained to the best of my ability and he said he'll think about it.
Now whether he joins or not is totally up to him. But this got me thinking of how many people just that blog may have gotten to. This one wasn't poshed,so now imagine all the poshed ones.

A lot of the time hive links aren't topping the google searches, even when you search "Hive blockchain" on google hive.io is second on the list and the first is a company called hive blockchain technologies where they mine Bitcoin. A lot of people make use of google every day and I feel having a couple posts on the top searches can help onboard a few more people to the hive blockchain. This is why I admire the efforts of taskmaster on leoglossary as this is one of the goals of the project.
I figured out that sharing posts (poshing) on Twitter and various social media sites is a good way to get more eyes on the post, and it also helps with Search engine Optimization.

At the moment we still have to make use of web2 apps as this is where the majority of the people are. With time there'll be a crossover, but that won't happen soon if people don't even know it exists. This is why we have to share our links and not forget to talk about hive not just online, but offline as well. You never know, you could be onboarding someone who will build something big here on hive. The future starts with us.
~Thanks for Reading~

---
---