[ENG-TR] Viewing Terrace —||— Seyir Terası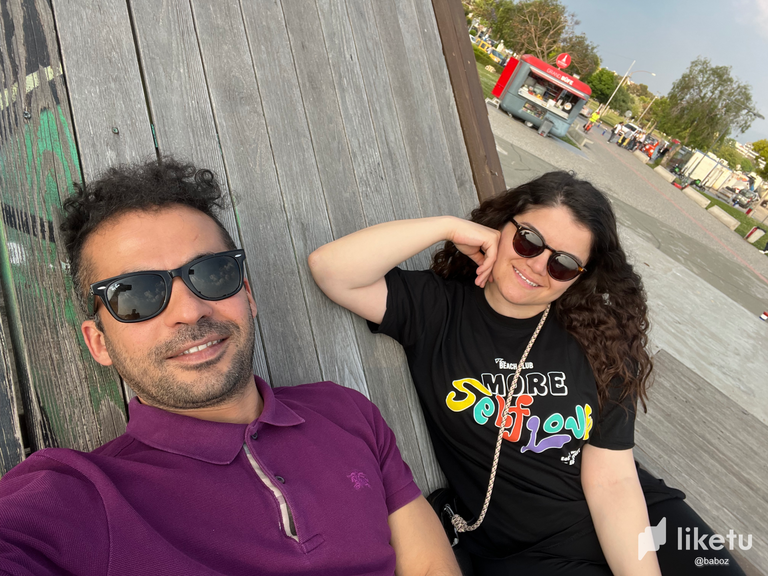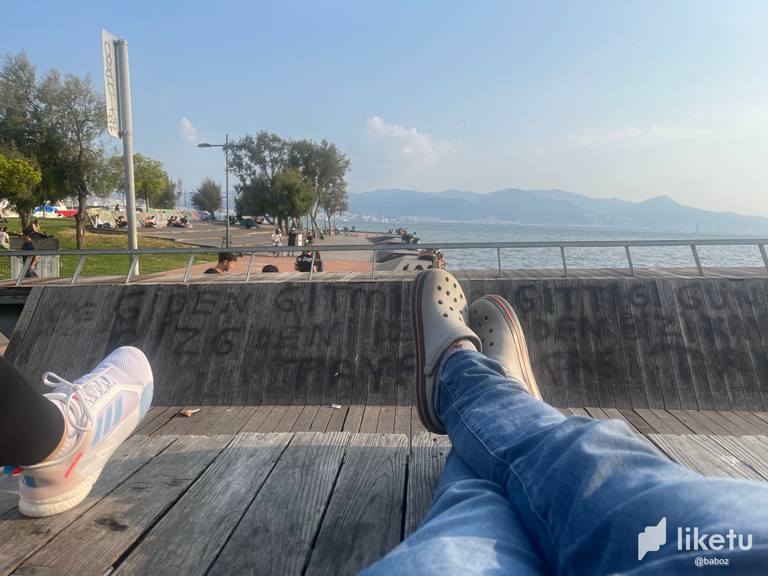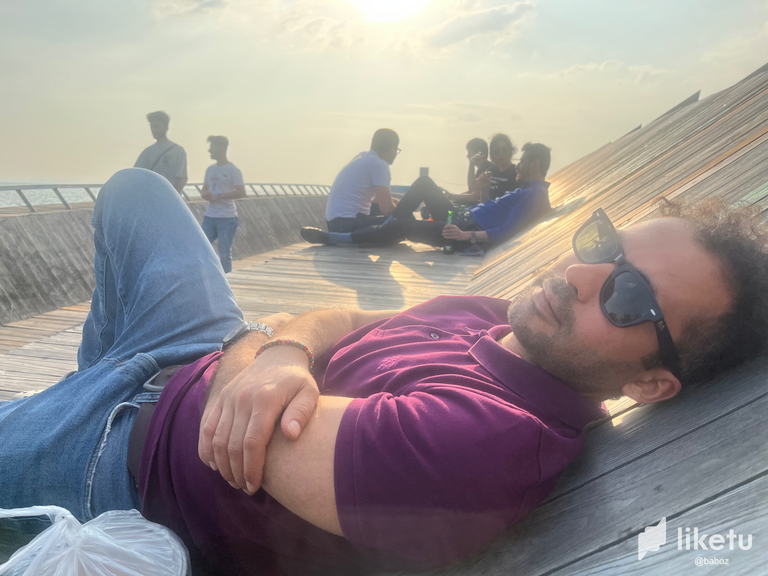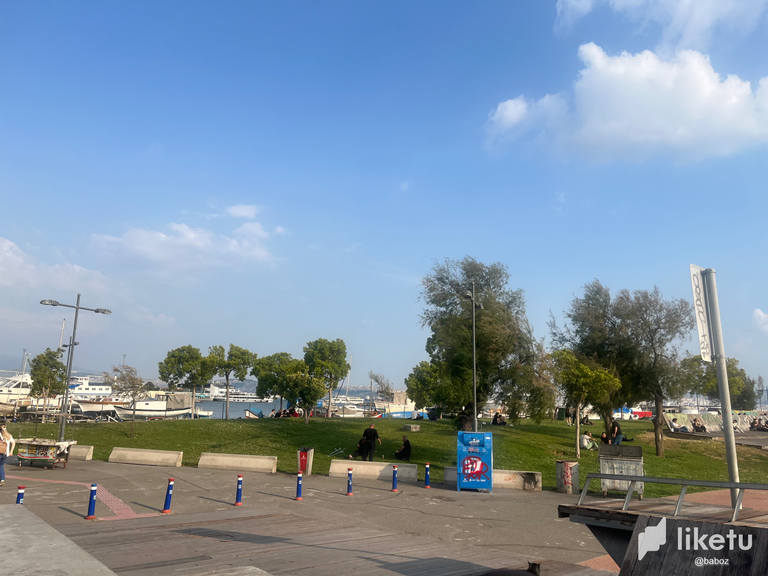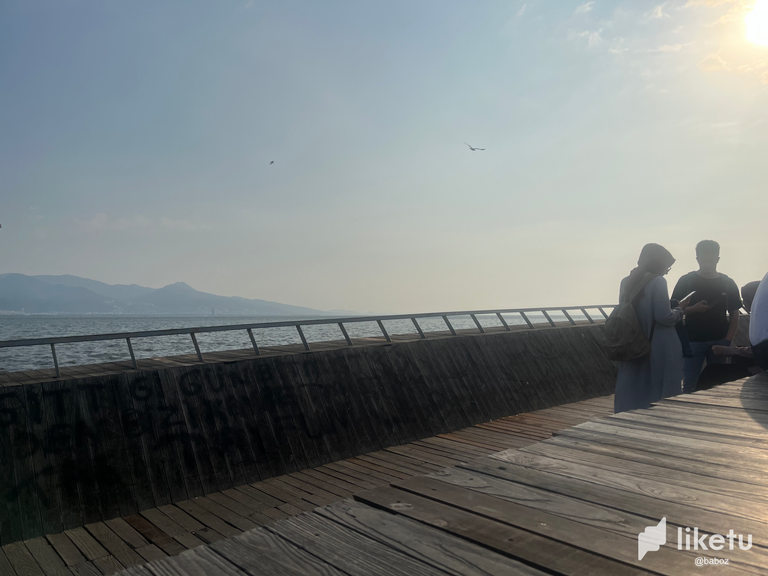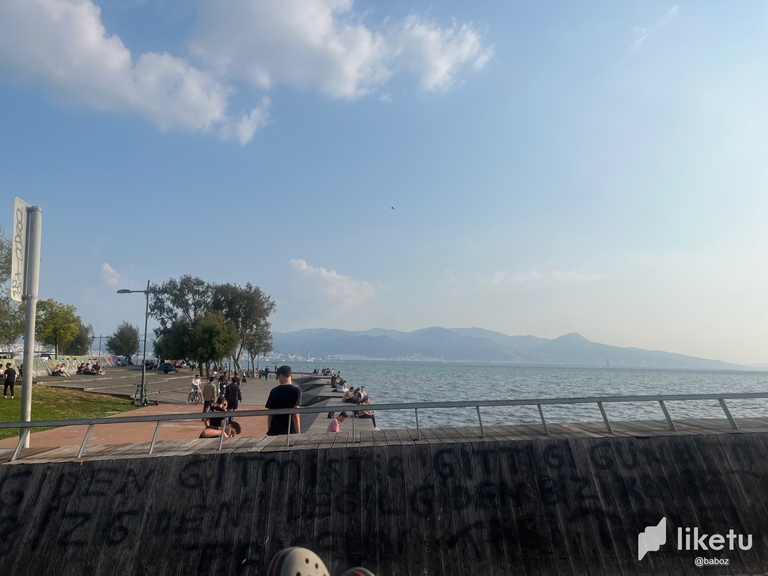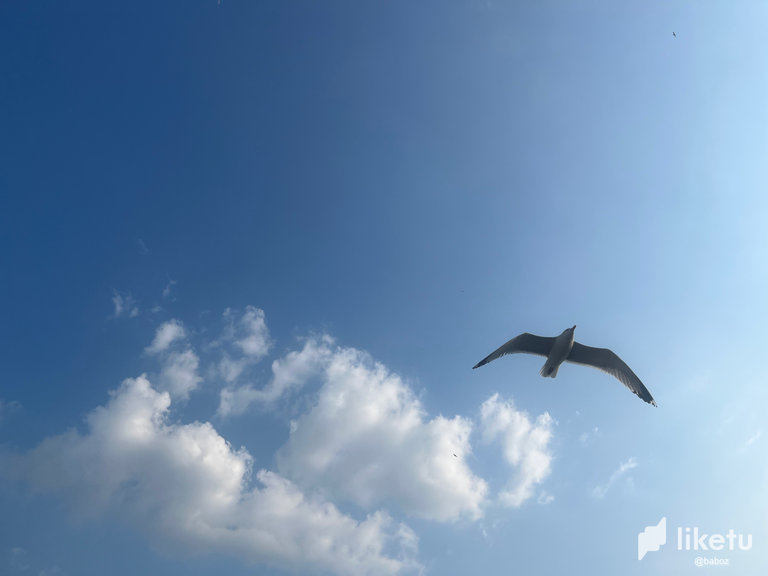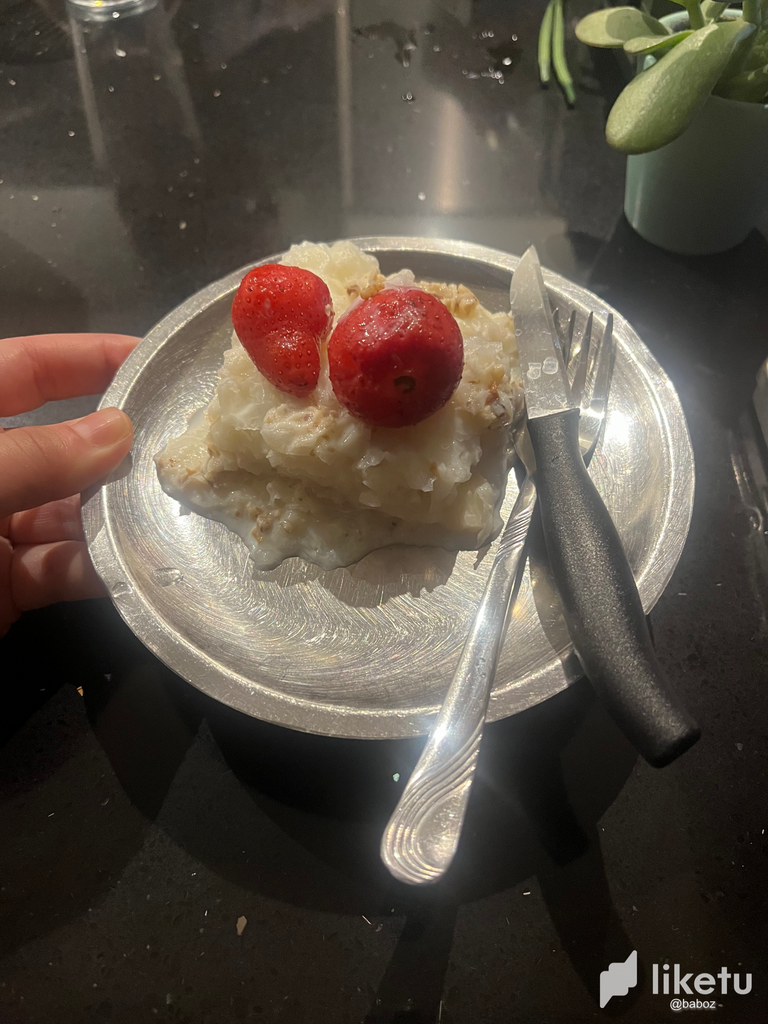 ENG
Hello everyone from Izmir where the rain and the sun are competing. The excessive humidity in the air reminds me of my Samsun days. Although not as much, there is an uncomfortable humidity. The effects of spring allergy on me are getting less and less. So I find myself going out on my free days, especially on Fridays when my girlfriend is on holiday. On one of those days, I will talk about Bostanlı Seyir Terası, which we suddenly decided to go to.
Seyir Terası, Bostanlı Beach. Bostanlı Beach is a large area where people walk, run, cycle, sit on the grass, and although vehicle entry is prohibited, unregulated motorbikes are often seen. I am usually one of the laziest of these activities, walking and sitting on the grass 😂 There is a bridge over the walking path on the beach. This bridge was built over a stream that connects to the sea. On top of the bridge, wooden seating places called Seyir Terası were built. Because it is very pleasant to watch the sunset from here. On the day we went, I couldn't photograph that marvellous view because we didn't stay until sunset. Nevertheless, my photos are not bad. 😂
After a short walk, we could find an empty place on the terrace because it was still early. And without missing this opportunity, we immediately sat down. We even went to bed. 😂 Because this place is made exactly for lying down. Just like smart television seats. It was very enjoyable to lie down on the sloping plain. When I came here before, I couldn't be in such a comfortable position because I always had something to eat and drink with me. Because in order to eat and drink, at least your back needs to be in an upright or near upright position. Not having such a concern this time made me feel that this place was much more comfortable and enjoyable than I thought.
After lying here for a while, when the comfort started to sink in, we decided to go home. 😂 Because comfort often stings me. 😂I might be feeding on the crisis. For now, I can manage to relax in my free time. When there's a crisis, I'll put on a show. 😂
When we got home, we made rose pudding to crown the peaceful reward we had given ourselves. Even though it was a raggedy presentation in terms of appearance, the taste was good enough for us to eat two slices each. 😂 I can express the full meaning of today as follows; peaceful and enjoyable...
Translated with DeepL
---
TR
Yağmurla Güneş'in yarıştığı İzmir'den herkese merhaba. Havadaki aşırı nem bana Samsun günlerimi anımsatıyor. O kadar olmasa da rahatsız edici bir nem var. Bahar alerjisinin üzerimdeki etkileri gittikçe azalıyor. Böylece boş günlerimi kendimi dışarıya atmakta buluyorum. Özellikle kız arkadaşımın izinli olduğu Cuma günleri bir şekilde dışarıda oluyoruz. Gene o günlerden birisinde, birden gitmeye karar verdiğimiz Bostanlı Seyir Terası'ndan bahsedeceğim.
Seyir Terası, Bostanlı sahilde. Bostanlı Sahil, insanların yürüyüş yaptıkları, koştukları, bisiklete bindikleri, çimenlerde oturdukları, araç girişi yasak olsa da kuralsız motorsikletlerin sıklıkla görüldüğü geniş bir alan. Ben genelde bu aktivitelerden en tembelcesi olanlardan, yürüyüş ve çimenlerde oturma kısmındayım.😂 Sahildeki yürüyüş yolu üzerinde bulunan bir köprü var. Bu köprü, denize bağlanan bir derenin üzerinde inşa edilmiş. Köprünün üzerine de Seyir Terası diye isimlendirilen ahşap, oturma yerleri yapılmış. Çünkü buradan gün batımını seyretmek çok keyifli oluyor. Bizim gittiğimiz gün, gün batımına kadar kalmadığımız için o muhteşem manzarayı fotoğraflayamadım. Gene de benim fotoğraflarım da fena değil. 😂
Kısa bir yürüyüşten sonra, henüz saat erken olduğu için terasta boş yer bulabildik. Ve bu fırsatı kaçırmadan hemen oturduk. Hatta yattık. 😂 Çünkü burası tam olarak yatmak için yapılmış. Tıpkı akıllı televizyon koltukları gibi. Eğimli düzlüğe uzanıp yatmak çok keyifliydi. Hava da çok güzel olduğu için, uzun bir süre kıpırdamadan uzandık. Daha önce buraya geldiğimde, yanımda hep yiyecek içecek bir şeyler olduğu için bu kadar rahat bir pozisyonda olamıyordum. Çünkü yemek içmek için en azından sırtınızın dik veye dike yakın bir pozisyonda olması gerekiyor. Bu kez öyle bir kaygımın olmaması bana buranın sandığımdan çok daha rahat ve keyifli olduğunu hissettirdi.
Bir süre burada uzanıp, artık rahatlık batmaya başladığında, eve gitme kararı verdik. 😂 Rahatlık bana sık sık batar çünkü. 😂Krizden besleniyor da olabilirim. Şimdilik boş zamanlarımda rahatlamayı başarabiliyorum. Kriz olduğunda şovumu yaparım.😂
Eve gittiğimizde, kendimize verdiğimiz huzurlu ödülü, taçlandırmak için güllaç yaptık. Görüntü olarak eciş bücüş bir sunum olsa da tadı ikişer dilim yiyeceğimiz kadar güzeldi. 😂 Bugünün tam anlamını şöyle ifade edebilirim; huzurlu ve keyifli…
Bu paylaşım, Türkçe'den İngilizce'ye DeepL sitesinden çevirilmiştir.
---
For the best experience view this post on Liketu
---
---