Building a better Nigeria.
"Nigeria go better (Nigeria will get better)." This was a common statement I heard growing up. We all hope it will get better one day.
We all wish to wake up one morning and find that everything has changed.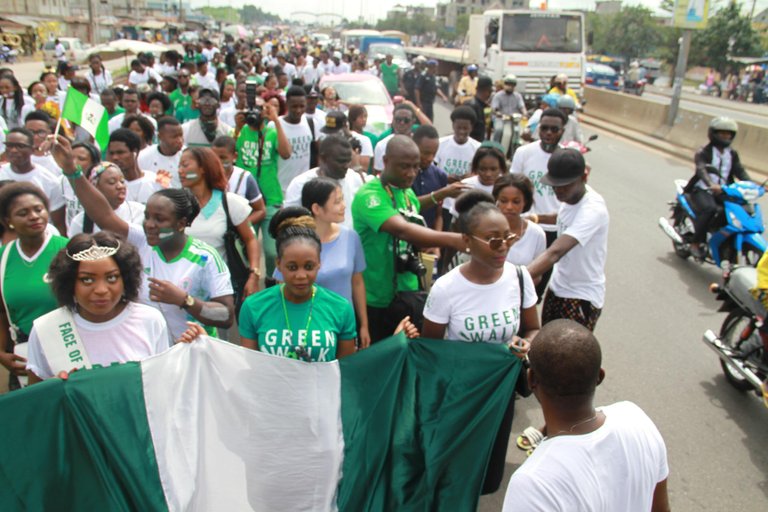 source
I still remember that when this statement was common among the people then, Nigeria hadn't got worse like this. We keep celebrating independence every year, but the country keeps getting worse.
Our currency keeps losing value every now and then. The cost of living keeps rising every day and the rate of crime never ceases to rise too. The system of this country doesn't favor the less privileged, it only favors those in power.
I'm reminiscing on how the country used to be and the only question that pops into my head is "Where did we go wrong?".
Each new government promises to make Nigeria a better country, but they do not have the interest of the people in their hearts.
The greedy old ones are not ready to leave the office for the young ones, yet they call us the leaders of tomorrow. I sometimes wonder when tomorrow will come.
The system is so corrupt and it stops the country from moving forward.
We all blame the government for everything, forgetting that we are also part of the problem too.
A little rise in the dollar and everything will rise along with it, even things that don't have anything to do with the price of the dollar.
You don't have connection, you have no way out. This principle doesn't apply to the government alone, but also apply to us too. I remember losing a job on the day I was supposed to resume it all because I am a native of Yoruba.
The organization happens to be a private sector owned by a Nigerian and it has nothing to do with the government. Yet we blame the government for everything, forgetting we have a part to play too.
If we want a better Nigeria, we have to make a better us. Starting from you and me, keeping the mentality of you have to be my tribal person before i can employ you or you have to practice the same religion as me before i can render you any help.
As we make efforts to change towards being better, we should also develop the habit of encouraging others to do the same thing too.
Get rid of the mentality that our vote doesn't count and stand against the corrupt system. Don't sell your vote out because we'll all suffer from it.
In conclusion, I believe the situation in the country won't continue like this if we come together to make it better. The government has a role to play, but we also have our own part to play to make the country a better place for you, me, and everybody.
Although it is not going to be easy but it is going to be worth it.
---
---