[ESP/ENG] Prodeus, the game that left me speechless. (Review)
Hola que tal comunidad espero que estén increíbles, yo estoy increíble, tanto como lo es este juego que descubrí hace relativamente poco tiempo y debo admitir que voló mi cabeza, hace mucho tiempo que no jugaba algo así, desde Doom Eternal me temo y vaya que me ha dejado satisfecha. **Prodeus es un juego que recuerda mucho a los clásios Doom, Wolfestein 3D y el genial pero caído Duke Nuken, Prodeus tiene un estilo gráfico único para los tiempos que vivimos y es que es un intento de regresar a las raíces pero con tecnología actual, dando como resultado un juego de aspecto impresionante pero su atractivo no se queda solo en su apartado visual...
Hello howdy community I hope you are awesome, I am awesome, as much as this game is that I discovered relatively recently and I must admit it blew my head off, it's been a long time since I played something like this, since Doom Eternal I'm afraid and boy has it left me satisfied. **Prodeus is a game that reminds a lot to the classic Doom, Wolfestein 3D and the great but fallen Duke Nuken, Prodeus has a unique graphic style for the times we live in and it is an attempt to return to the roots but with current technology, resulting in an impressive looking game but its appeal is not only in its visual section...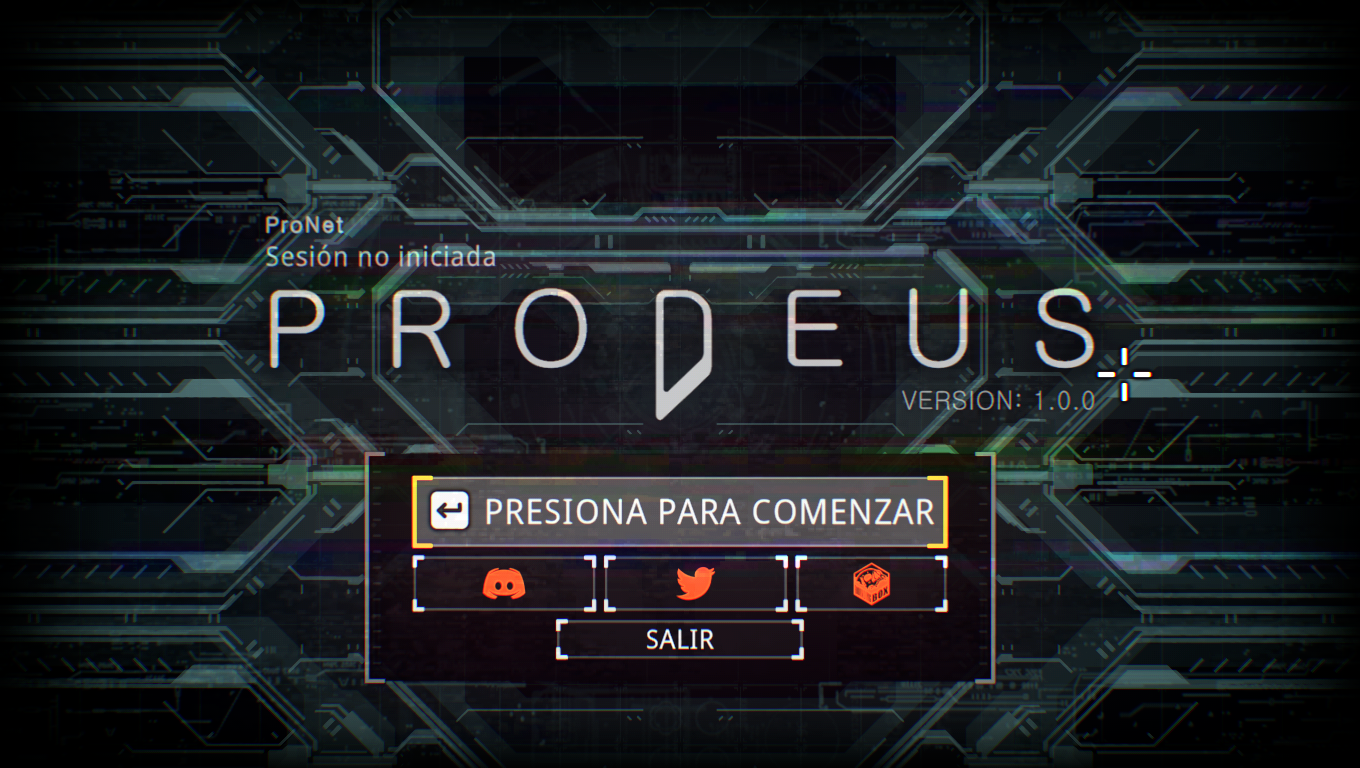 ---
La jugabilidad de Prodeus es rápida e intuitiva, con numerosos modos de dificultad que se adaptan a cualquier jugador ya sea que sea un jugador experimentado o que apenas estés iniciandote en este tipo de juegos, Prodeus tendrá la opción perfecta para ti esto es especialmente útil sí lo que deseas es un viaje divertido, o un verdadero reto; esto es algo que siempre criticado en algunos juegos, comprendo que cada estudio tiene su visión original de su producto pero también pienso que debería de dársele la opción a cada jugador para que configure su juego a su manera, y creo que de esta manera se adaptaría mejor a cada tipo de jugador y abarcaría un abanico más amplio de público, también cabe destacar que esta dificultad puede ser modificada en cualquier momento de la partida lo cual nos permitirá disfrutar del tipo de experiencia que elijamos en cualquier momento. La agilidad de nuestro personaje es algo que nos llama la atención desde el primer instante, nos sentiremos con capacidades casi sobrehumanas y es que en efecto la historia de este juego se centra en una persona que falleció y fue resucitada pero con habilidades que sobrepasan a las de un ser humano común y corriente, así de sencillo es esto de la historia del juego y sinceramente nada que objetar hay juegos que Sencillamente no necesitan de una historia enrevesada para atrapar al jugador no, este no es ese caso este juego de atrapa con su jugabilidad y la sensación que te da al machacar monstruos.
The gameplay of Prodeus is fast and intuitive, with numerous difficulty modes to suit any player whether you are an experienced player or just starting out in this type of game, Prodeus will have the perfect option for you, this is especially useful if you are looking for a fun ride, or a real challenge; this is something that is always criticized in some games, I understand that each studio has its original vision of its product but I also think that should be given the option to each player to configure their game in their own way, and I think that in this way would be better suited to each type of player and would cover a wider range of public, also note that this difficulty can be modified at any time of the game which will allow us to enjoy the type of experience we choose at any time. The agility of our character is something that catches our attention from the first moment, we will feel with almost superhuman abilities and is that in effect the story of this game focuses on a person who died and was resurrected but with skills that exceed those of an ordinary human being, This is how simple is the story of the game and honestly nothing to object there are games that simply do not need a convoluted story to catch the player no, this is not the case this game traps you with its gameplay and the feeling that gives you to crush monsters.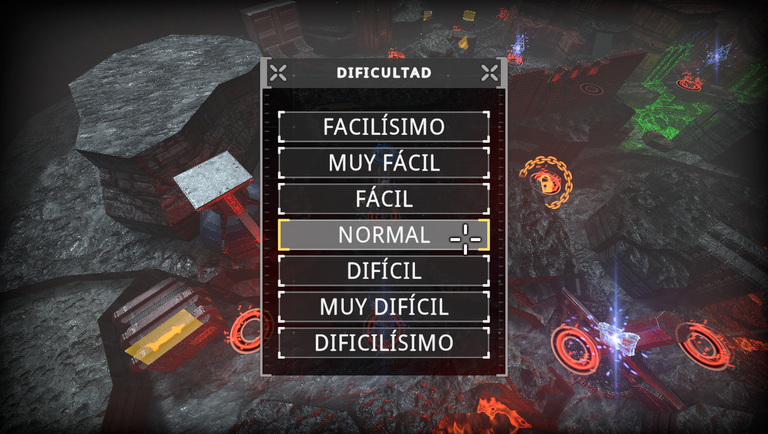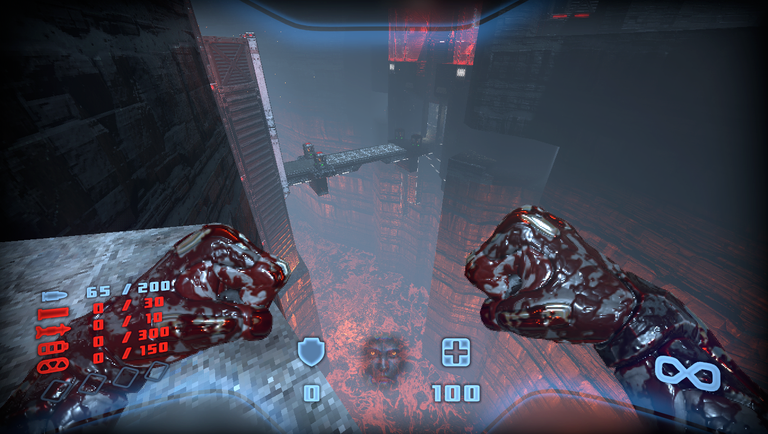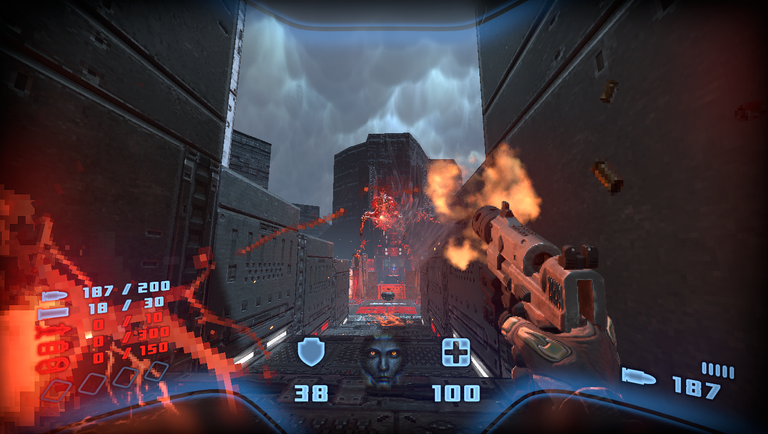 ---
Detrás de este juego se encuentra Bounding Box software cuyos integrantes Mike Voeller y Jason Mojica han trabajado en títulos de renombre y franquicias como el propio Doom de 2016, Call of Duty, Bioshock, Wolfestein, Singularity entre otros títulos bien conocidos de la comunidad y es que en este equipo de desarrollo no son ningunos novatos en esto de hacer juegos de disparos espectaculares y eso se nota a la hora de machacar mounstruos infernales. aparte de ellos han contado para el diseño de niveles con Josh "Dragonfly O'sullivan, reconocido modder de la comunidad de Doom y esto es tan importante porque con este hombre colaborando solo podemos esperar numerosos secretos en cada nivel, en ocasiones necesitamos tarjetas llave para desbloquear puertas, el componente plataformero está presente en algunos niveles más que en otros, lo que no va a faltar son los secretos, como habitaciones escondidas cargadas de munición para recargar al máximo el arma que llevemos, podremos recoger runas que nos permitirán desbloquear nuevos puntos en el mapa del juego, donde además de niveles principales podemos encontrar también pantallas de desafío.
Behind this game is Bounding Box software whose members Mike Voeller and Jason Mojica have worked on renowned titles and franchises such as Doom itself in 2016, Call of Duty, Bioshock, Wolfestein, Singularity among other well-known titles in the community and is that in this development team are no rookies in this spectacular shooting games and it shows when it comes to crushing hellish monsters. Apart from them they have counted for the level design with Josh "Dragonfly O'sullivan, recognized modder of the Doom community and this is so important because with this man collaborating we can only expect numerous secrets in each level, sometimes we need key cards to unlock doors, the platformer component is present in some levels more than others, what will not be missing are the secrets, such as hidden rooms loaded with ammunition to recharge the weapon we carry, we can collect runes that will allow us to unlock new points on the game map, where in addition to main levels we can also find challenge screens.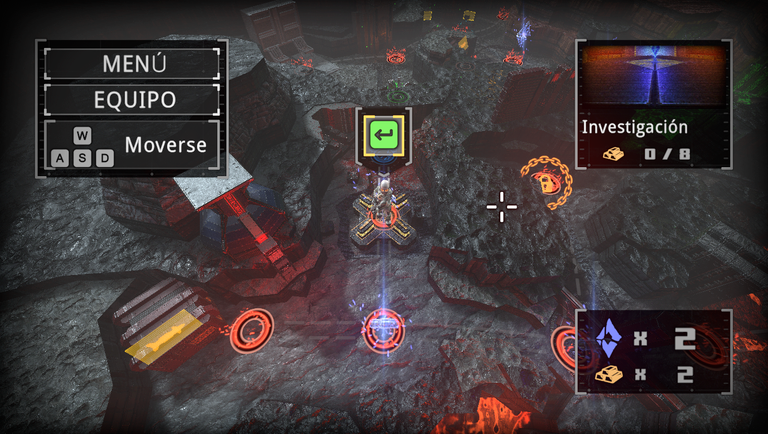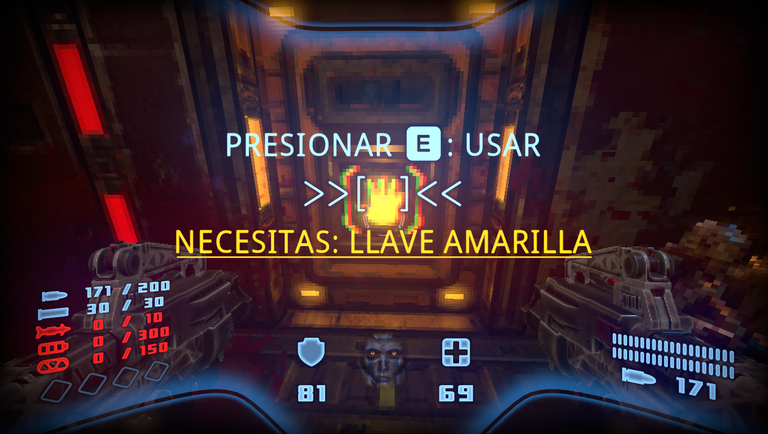 ---
Las armas del juego son bastante clásicas pero satisfactorias, como una pistola que es el arma inicial pero que tiene una considerable potencia de fuego, una escopeta, ametralladoras a dos manos, un cañón gatling, un lanzacohetes y un arma de enrgía devastadora, abosulatamente todas las armas cuentan con un modo de disparo secundario y se pueden mejorar, así que a pesar de que el arsenal es pequeño, ofrece variadas posibilidades. Los enemigos son variados y numerosos en cada escenario, y dependiendo del nivel de dificultad que hayamos elegido podrán darnos más o menos problemas: zombies desarmados demonios que lanzan bolas de fuego y cabezas flotantes, toros acorazados y una especie de humanos corrompidos que llevan traje químico, si todos estos enemigos te han llamado la atención es simplemente porque guardan mucha similitud con los enemigos de Doom que al igual que sus armas guardan mucho paralelismo con los del juego de ID Software.
The weapons in the game are quite classic but satisfying, such as a pistol that is the starting weapon but has considerable firepower, a shotgun, two-handed machine guns, a gatling gun, a rocket launcher and a devastating energy weapon, abosulatamente all weapons have a secondary firing mode and can be improved, so although the arsenal is small, it offers varied possibilities. The enemies are varied and numerous in each scenario, and depending on the level of difficulty that we have chosen can give us more or less problems: unarmed zombies demons that throw fireballs and floating heads, armored bulls and a kind of corrupted humans wearing chemical suit, if all these enemies have caught your attention is simply because they are very similar to the enemies of Doom that like their weapons are very similar to those of the game of ID Software.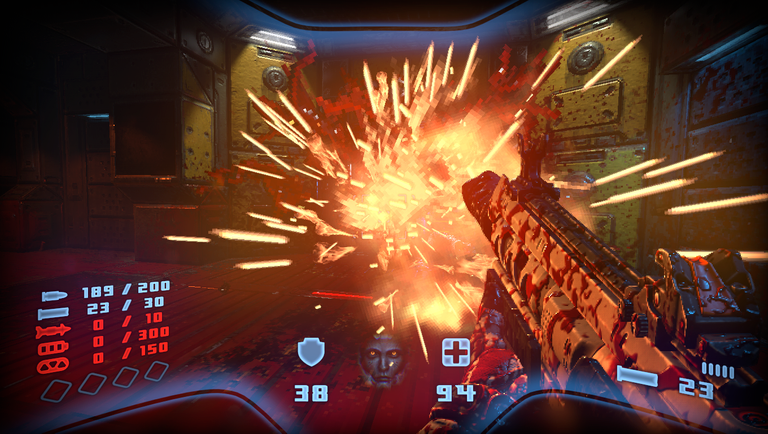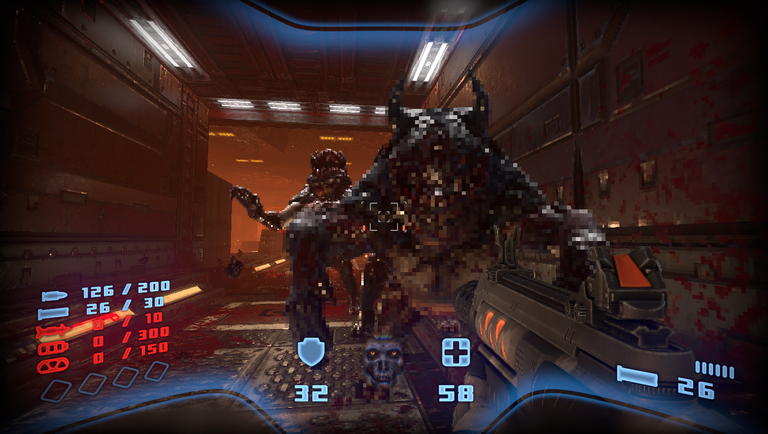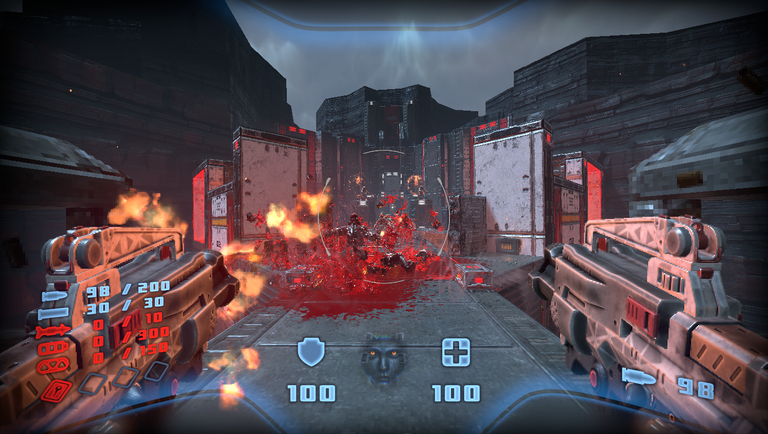 ---
Acción desenfrenada bajo una música increíble de otro mundo realizada por Andrew Hulshult, mucho gore y sangre que está inspirada en el Mod Brutal Doom, mucha sangre que incluso queda impregnada en paredes y piso, todo esto con un aspecto pixelado que recuerda a juegos antiguos pero a su vez con efectos de iluminación y partículas que dan un acabado impresionante a Prodeus. Multijugador de tipo Arena, un Editor de niveles con enormes posibilidades para crear nuestros niveles personalizados para jugar con nuestros amigos o compartir con la comunidad gracias a que estos han puesto a disposición del público las mismas herramientas que ellos utilizaron para crear los niveles del juego.
Unbridled action under an incredible music from another world made by Andrew Hulshult, lots of gore and blood that is inspired by the Mod Brutal Doom, lots of blood that is even impregnated on walls and floor, all this with a pixelated look reminiscent of old games but in turn with lighting effects and particles that give an impressive finish to Prodeus. Multiplayer Arena type, a level editor with huge possibilities to create our custom levels to play with our friends or share with the community because they have made available to the public the same tools they used to create the levels of the game.
---
---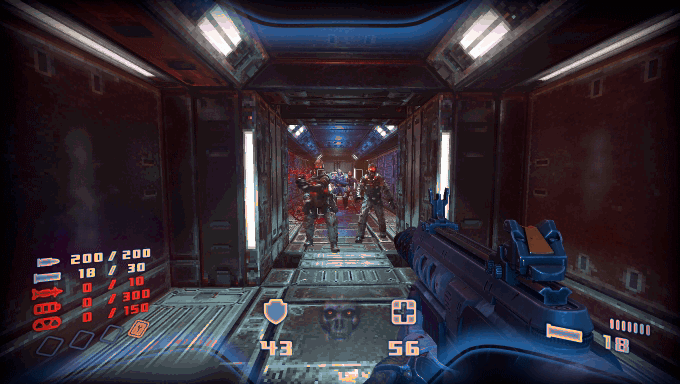 ---
---