Home Roasting and Brewing 4 Year Aged Coffee Beans | Let's Roast!

Welcome to my first edition of Let's Roast! where I will be roasting various single origin coffee beans and discussing it with the community. Today I'll be roasting and tasting something very special, 4 year aged Sumatra Mandheling.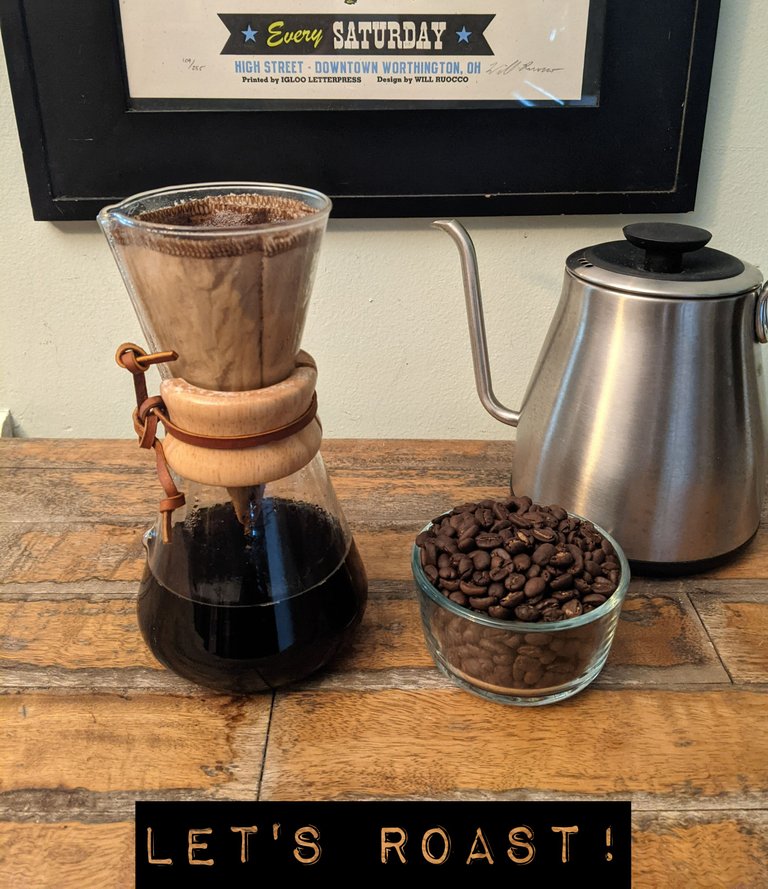 What is aged coffee??
In recent years Whisky and Rum barrel aged coffees have started trending. While these are fun and unique ways to add flavor to coffee beans, this process isn't the same as traditional coffee aging, a technique that has been used since the 1800's. The goal with traditional coffee aging isn't to add flavor, but to amplify the flavor already present in a bean. An aged coffee should result in a smooth, pungent brew. Aged coffee beans must be carefully regulated by turning the beans often and checking their moisture levels. The aging process can easily go wrong which will end up with a very flat, cardboard tasting coffee. Time consuming and difficult to maintain, it's easy to see why this process isn't used too often anymore. Coffee is usually only aged for 6 months to 3 years so finding a 4 year Sumatra was pretty awesome.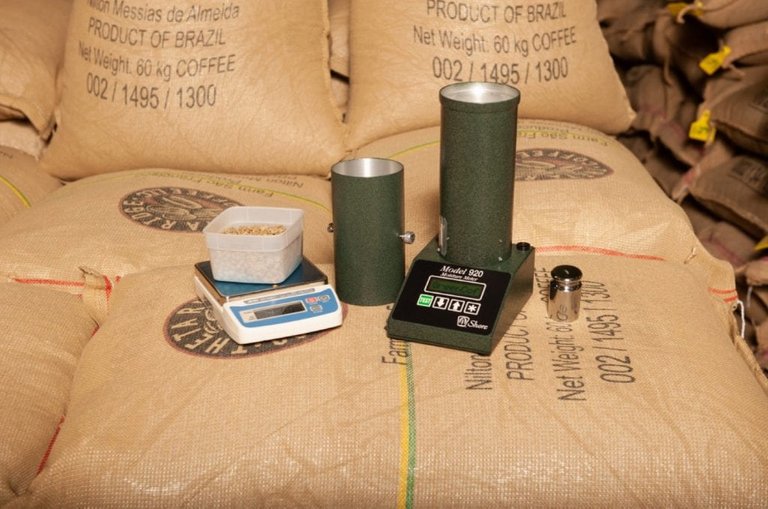 Shore Model 920 Coffee Tester used to test the moisture levels in coffee beans.
The Beans
Fun fact: Aged Sumatra is the primary bean Starbucks uses for its Holiday blend of coffee. Aged Sumatra is typically roasted dark to achieve strong aromatics and tastes of spice and cedar. For anyone familiar with unroasted coffee, it is generally green in color and gains its classic brown color from the roasting process. Aged coffee is a bit different in that it's already brown from the aging process.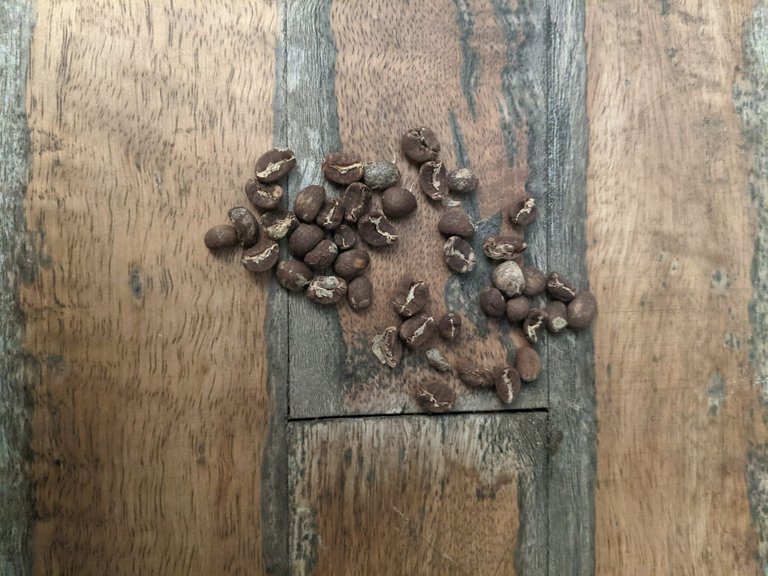 The Roast
Home roasting can take a little longer than using traditional roasters. This makes dark roasts a little harder to achieve without baking the beans instead of roasting them. Baking coffee beans leaves you with a very vegetal, grassy tasting coffee(Gross). Luckily these beans were very easy to work with and I ended up pulling them at exactly 15 minutes to get a fairly even roast.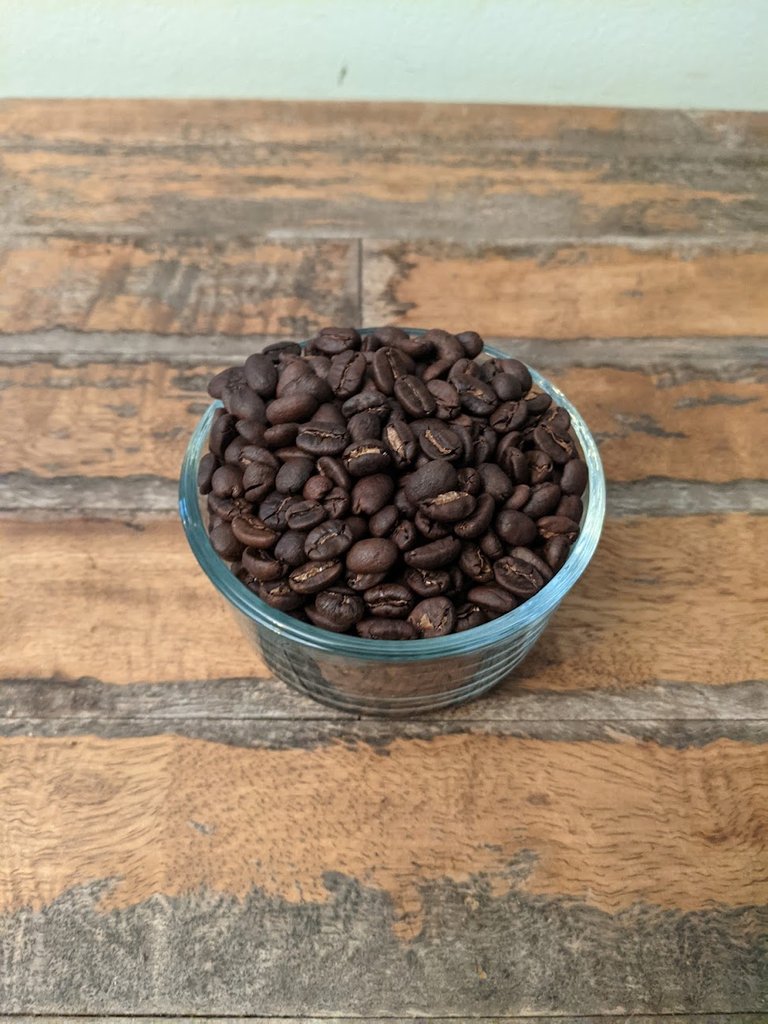 The Brew
Aged Sumatra is typically used for Espresso so that's where I went first. Using 16g of coffee I pulled myself a nice, smooth shot of espresso. This coffee was STRONG but incredibly smooth with tons of spice on the back end. I'm not a big espresso fan but this was actually pretty easy to drink and rather enjoyable.
The shot was good but my bread and butter is pour over coffee. This brew technique is typically best for lighter roasts but to hell with it. I want what I want. Using my go to ratio of 24 grams coffee to 350 grams water, I ended up with a nice and smooth cup of coffee. The coffee was just as smooth as the espresso but the strong notes of spice and cedar don't work as well in traditional coffee. It's still a good cup of coffee but I think I'll be saving these beans for espresso.
Overall I'm so excited I got to roast and try these hard to find beans. The art of preparing coffee at home is something that's really taken ahold of my every day life in amazing ways. There's something incredibly rewarding about starting your day by manually preparing a delicious cup of coffee.
---
---