BTC Vibes similar to what we had before 4 years
Yesterday I met my friend after a very long time. He is in a very good position right now with respect to crypto. We used to do a lot of share market trading together and later he switched to crypto and now he is in a very good position and earning a decent passive income from his investment to lead a good retirement life. The important thing to note here is that he is still in his early 30s and he is already financially stable.
We were discussing more BTC and I thought I should write this article sharing the thoughts he shared with me. He is one of the most positive guys that I have ever seen. In any market situation, he wouldn't be hesitant to make the right decisions. Today I can say that he is in a good position but he did take a huge risk before the previous bull run. He literally sold all his assets and even took a loan to invest in crypto. After all, that bull market happened and he luckily booked all the profits and now living with a good passive income.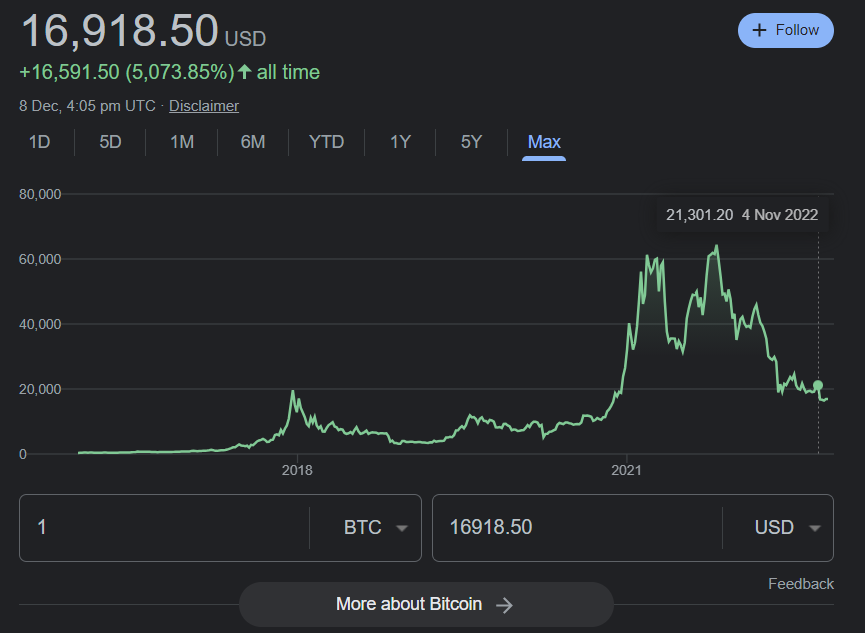 The important topic that I was discussing with him was the BTC price. It was before the bull run I met him in person and had a chat about all these. Of course, I would talk to him over the phone but meeting in person was a great feeling though. The above chart is very attractive. I remember entering the crypto world when the price of BTC was around 5000 USD. Nobody would have imagined that BTC would reach 15k back then. But it did and I was very curious to book my profits at 10k and exit. I bought BTC for 5k, sold them for 10k, and was very happy with the 100% profit. After that, the price went up to 16k and started going down again.
Today the situation of the market is similar to what we used to have in 2018. The market fell down and the BTC price went as low as 3000 USD. I used to have decent BTC holdings back then which was close to 1 BTC. Right before the bull market, I sold all my BTC to purchase other coins and one of them was Hive. I bought a shit load of Hive with my BTC and a few other altcoins which are not in a good position right now. If I had held my BTC tight, today I would feel happy about it but Hive also did good and I was able to recover my loss after Hive pumped over 2$.
Today the market looks as if we are in the bear trend but it is more like winter for crypto where we stay at home and silently keep investing and we hide inside the bed sheets. After Sun starts popping up, there will again be good times and the price of BTC would start improving. I don't believe in the fact that Crypto will be a global failure and would be banned someday. I strongly believe that every country will start accepting crypto and they will also add BTC as one of their important country asset for safekeeping.
---
If you like what I'm doing on Hive, you can vote me as a witness with the links below.

Vote @balaz as a Hive Witness
Vote @kanibot as a Hive Engine Witness
---
---
---
---