Hive Power Up day and My Monthly Hive Report
Today is the first date of the month and inside the Hive ecosystem, this date is called Hive Power Up day. People usually power up some Hive on this particular date to show that they believe in Hive and they are staying invested in Hive. For this, we also get a badge from Hivebuzz. I have a personal goal to reach 50k Hive power before the end of the year. I have reached 46k Hive power in total and I still have 4k more to go.
I think if I keep going like this at the rate of 1000 Hive per month, I should definitely be able to complete my goal before the end of the year. I make sure I power up enough Hive every month apart from what I earn from blogging. So this should be sufficient.
My Monthly report
Hivestats website provides a nice graph showing how much we earn. We can see these stats for a month as well as for a week. I usually use this for my weekly reports and also for my monthly reports. I'm glad that I was able to earn a total of around 500 dollars from blogging. In addition to that, I was able to get around 150 dollars worth of Hive from curation rewards as well. This is definitely a good source of income and I've not taken anything out and have been compounding this by investing these back inside Hive.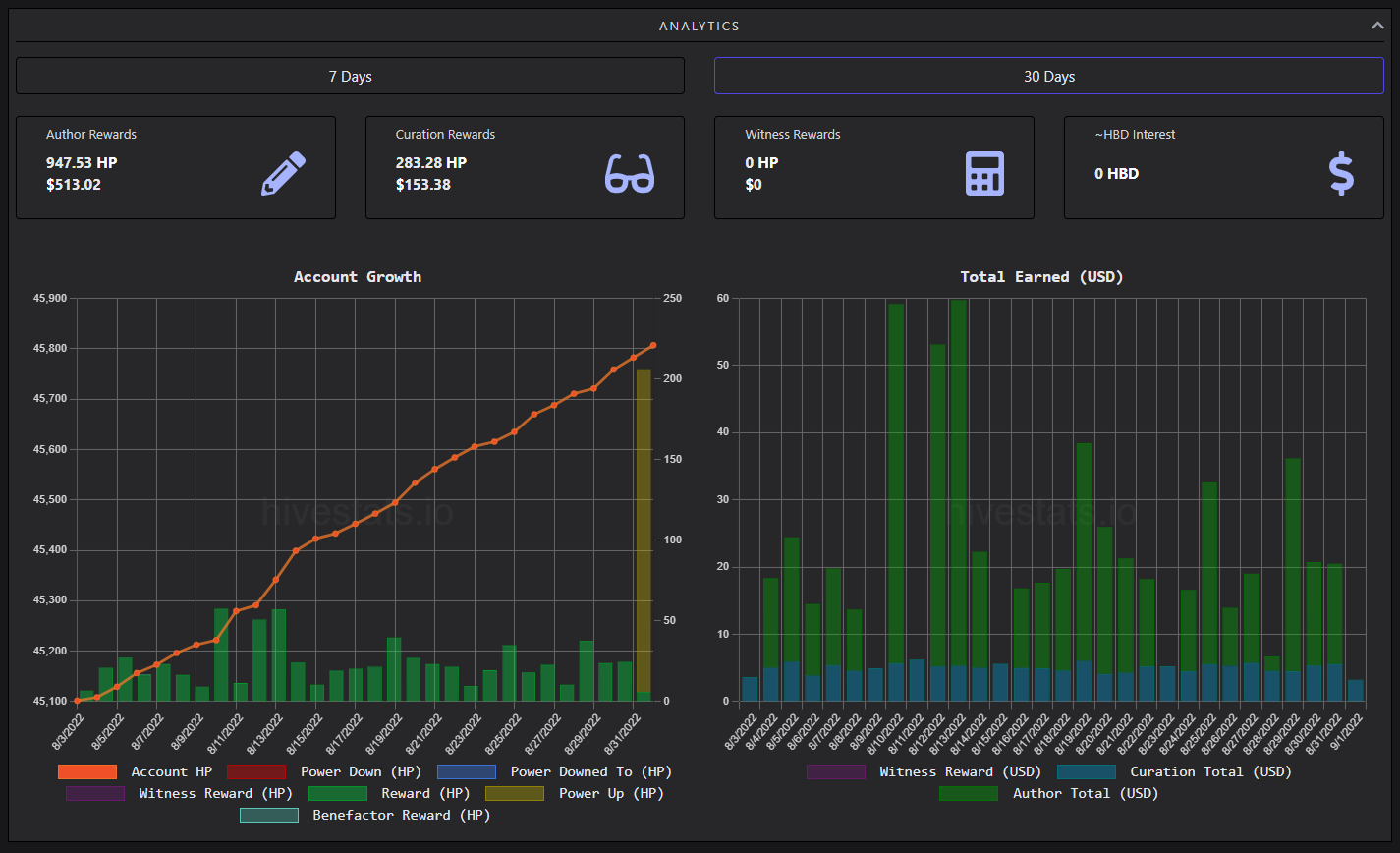 I'm glad that I have crossed earning over 150 dollars from curation rewards per month. I really want to earn around 100$ per day from the curation rewards. I understand it can take some time, maybe years to reach that spot but I will keep going with this. I'm really happy with the way my account grows. I also have a Hive Witness that is running but mostly the income from Hive witness is being used to cover my server cost.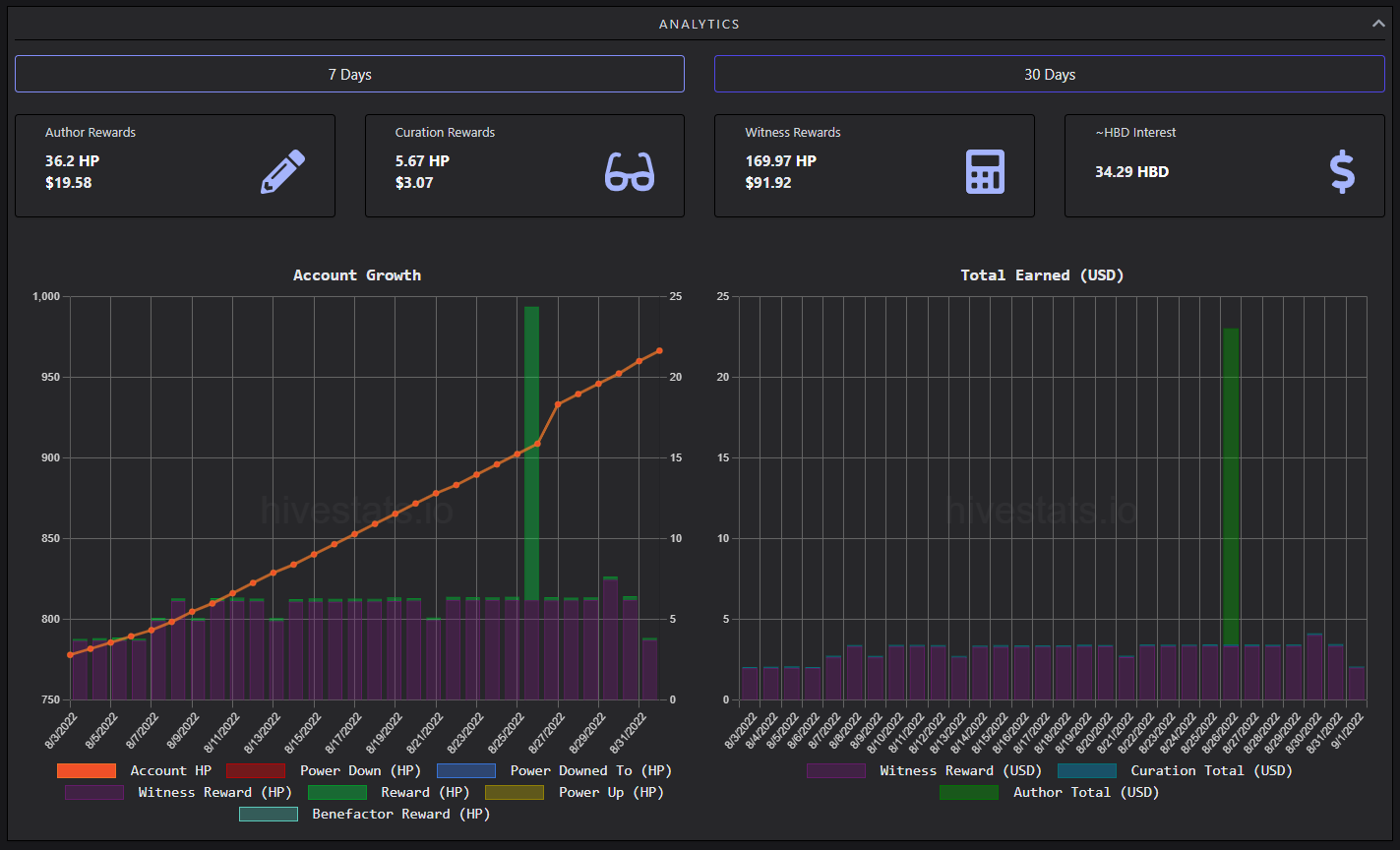 I also post some articles occasionally on this account and the income also happens there. In addition to that, I also have some HBD in the savings account that generates some interest for 20 % APR. These are all imaginary incomes that will be useful for me only if I take them to the real world. Hope that will also happen someday.
Power up report
It has been a while since I checked my power-up report. I thought I will run a query to find out how much I have been powering up since last year and it is always good to see the overall stats. It gives motivation and happiness to see the account grow. I have fetched the data for the last 3 years. Last year I participated in all the Hive Power-up days. This year I missed it during the month of March.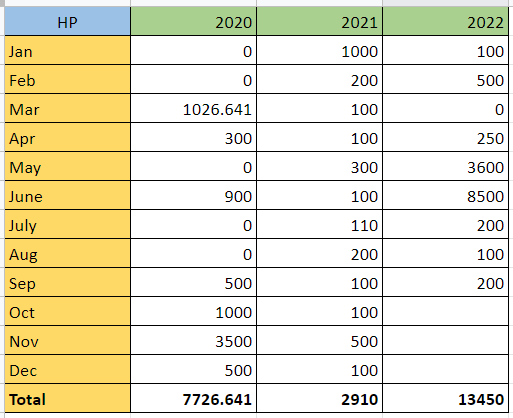 I'm glad that I was able to do some huge power-ups. Hopefully, the next 3 more months are also good. Let's see. I want to somehow reach my goal for the year and I would be happy.
My DEC earnings
Along with my other reports, I thought I will also withdraw my DEC rental income once a month and see how much I get every month. I don't remember how much I was getting last month but from this month onwards I'm going to keep a practice to withdraw it on the 1st of every month. Today I transferred 99,000 DEC to my Hive Engine wallet from the game account. I sometimes think about purchasing some cards in the game but for now, I don't have that idea, and probably let me allocate anything I get more than 100k DEC to purchase cards from the market that can be used for the rentals again. This is just an experiment. Let's see.
The cost of 100k DEC comes to around 67$ considering the current value of DEC. Maybe after the changes to the rewarding model, the price of DEC can get soft pegged again to 1$ per 1000 DEC. I'm going to hold my DEC until then and I have no plans on selling the DEC. 67 dollars is also a decent income per month I would say. Maybe the players get more than that. I'm not sure about it but at least for a passive income 67$ from my deck is pretty decent.
---
If you like what I'm doing on Hive, you can vote me as a witness with the links below.

Vote @balaz as a Hive Witness
Vote @kanibot as a Hive Engine Witness
---
---
Posted Using LeoFinance Beta
---
---