Hive Power Up day and My Monthly Hive Report
Another month has passed and today is celebrated as Hive Power Up day. I was able to power up some decent amount of Hive today considering the fact that I have to keep pushing myself towards completing my goals. Luckily the price of Hive is also very low and I was able to purchase some Hive for a cheap price. I want to hold some liquid so that I can make use of it during next Hive pump. But otherwise, I'm glad to power up some Hive today.
Last month when I wrote my monthly report, I was around 46k Hive power. This month I have progressed towards 47k. I was thinking I might get close to 1k per month from author and curation rewards but the rewards were only close to 800 Hive. But that's okay I think. I guess I can match it by powering up some extra Hive this month and the following two months.
My monthly report
Hive stats website provides a good user interface to view the monthly stats. We will be able to check how much we earned in the last 7 days and how much we earn in the last one month. The data covers Author rewards, curation rewards and witness earnings. I mostly prefer checking only these three things. These earnings are going to be attractive only after the price of Hive pumps. But during the bear market it is good to keep accumulating enough Hive.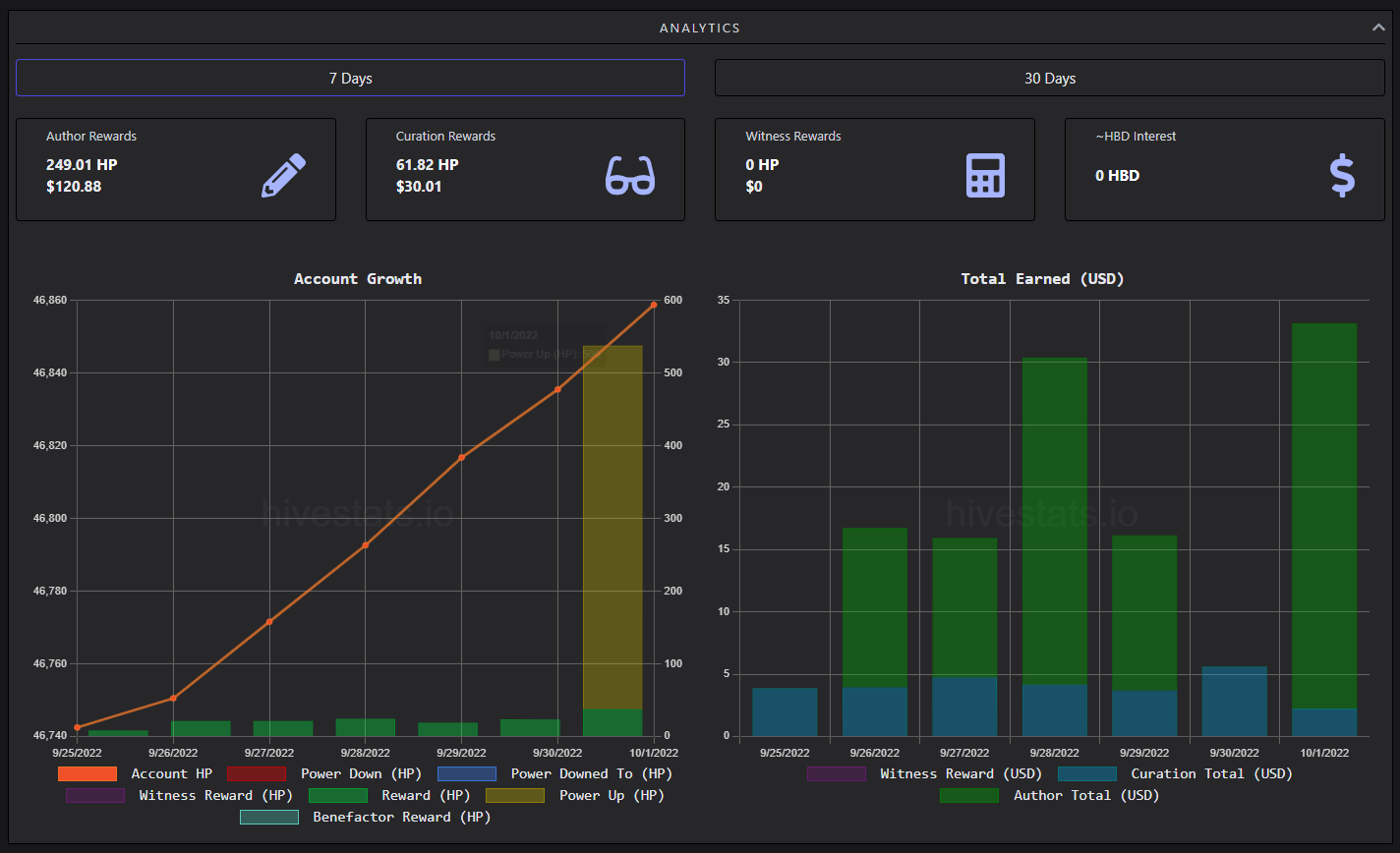 The rewards from blogging were almost similar to the previous month if I'm not wrong. As long as it is consistent I'm glad. We cannot expect so much from the author rewards alone if I'm not wrong. Hive provides wonderful opportunities to have diversified income streams inside the Hive ecosystem itself. I'm really glad that I'm able to get close to 150$ every month from curation rewards. That's definitely a good passive income and it will also keep compounding slowly as I'm not doing any power downs. The author rewards are going to be like this forever if I'm not wrong. I would be happy to keep it growing this way.
Last month onwards I started including some of the stats from my other account @balaz as well. I write some articles occationally there and all the articles are technical stuff. In addtion to that I run my witness node only from that account. So I use Hive Stats to see my witness earnings on that account. I really wanted to transition all my activities on Hive to that account but I don't think it is easy but yeah probably good to keep going like this with two accounts.
My HBD savings also stays on that account and I'm glad that it is also another passive income every month from the 20% we earn with HBD in savings.
My powerup report
Every month I powerup some Hive on the 1st of every month. This month again I'm participating and I have powered up 500 Hive power today. I also maintain a report that I queried from blockchain checking my power up stats for the last few years. I would like to keep doing this every month based on how much I earn here. I hope some day I would be able to power up a bigger value every month on the Hive power up day.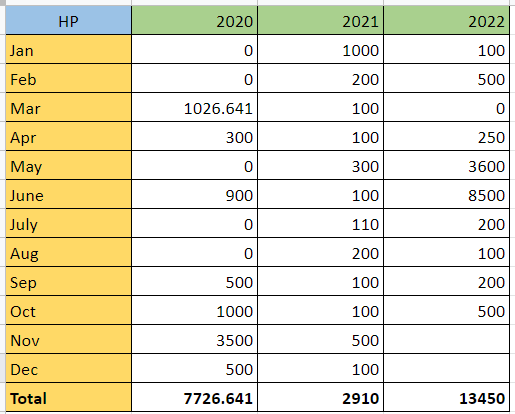 I'm guessing on the next two months there will be bigger power ups just to complete my goal for the current year. Hopefully after reaching 50k Hive power, I might need another push to reach Orca status which would take another 5 or 10k Hive power. But that's something for next year.
My DEC earnings
This is something that I started tracking from last month onwards. I have been getting rewards from rental income and diesel pools. I wanted to check and see how much I'm getting every month as DEC earnings from the game. There are also other earnings like staking rewards in the form of SPS but first let me track the DEC earnings and in the coming months I will focus on tracking the other incomes too and maybe I can create charts based on different income streams. That will also look really good. I received close to 100k DEC this month too. This includes the DEC rewards from rentals and the DEC rewards I got from the liquidity pools.
---
If you like what I'm doing on Hive, you can vote me as a witness with the links below.

Vote @balaz as a Hive Witness
Vote @kanibot as a Hive Engine Witness
---
---
Posted Using LeoFinance Beta
---
---