JMPT looks like a decent investment
I was checking my Honeygain earnings on my JMPT wallet. These days Honeygain provides the rewards in the form of JMPT tokens. This has been the case for the past few months. The rewards are also pretty decent I should say. At least because I have many referrals that take care of the earnings even though I don't share my internet so much. Maybe for someone who is just getting started, the rewards might look puny but I think it is definitely a decent try.
Today I was checking the JMPT website and it appears the price of the token is pretty stable. Even in the bear market, they are pretty stable and they did not fall that much. I guess the project owners are very good at handling tokenomics. There are some other ways to earn JMPT tokens from their website apart from Honeygain. Recently they have also introduced a Staking facility. They offer 25% APR for fluid staking based on how many people have staked. I guess 25% is pretty decent as long as the price of JMPT stays stable.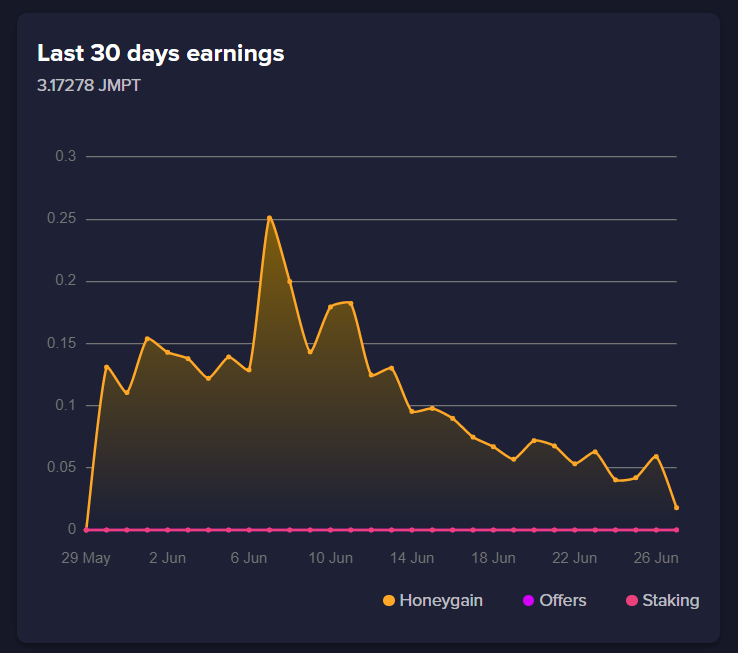 From the chart, I was able to see that I get close to 3 JMPT tokens per month with the help of Honeygain. I just started using the staking feature as well. So that would start giving additional income in the coming months hopefully. I was keeping the JMPT tokens I got from previous gains idle in the wallet and I'm glad that now I'm able to put them to good use in the form of staking.
3 JMPT is close to 6$ per month which is still pretty decent. At this rate, I can pay my internet bill with this earning once in 3 months. Honeygain has now reduced the extra JMPT bonus they give to 10% but I think that is okay. Maybe this time again next month if I look at the chart, I might be able to see a reduction in the number of JMPT tokens I get from Honeygain. But yeah I will continue to keep the hopes high as it is anyways free money.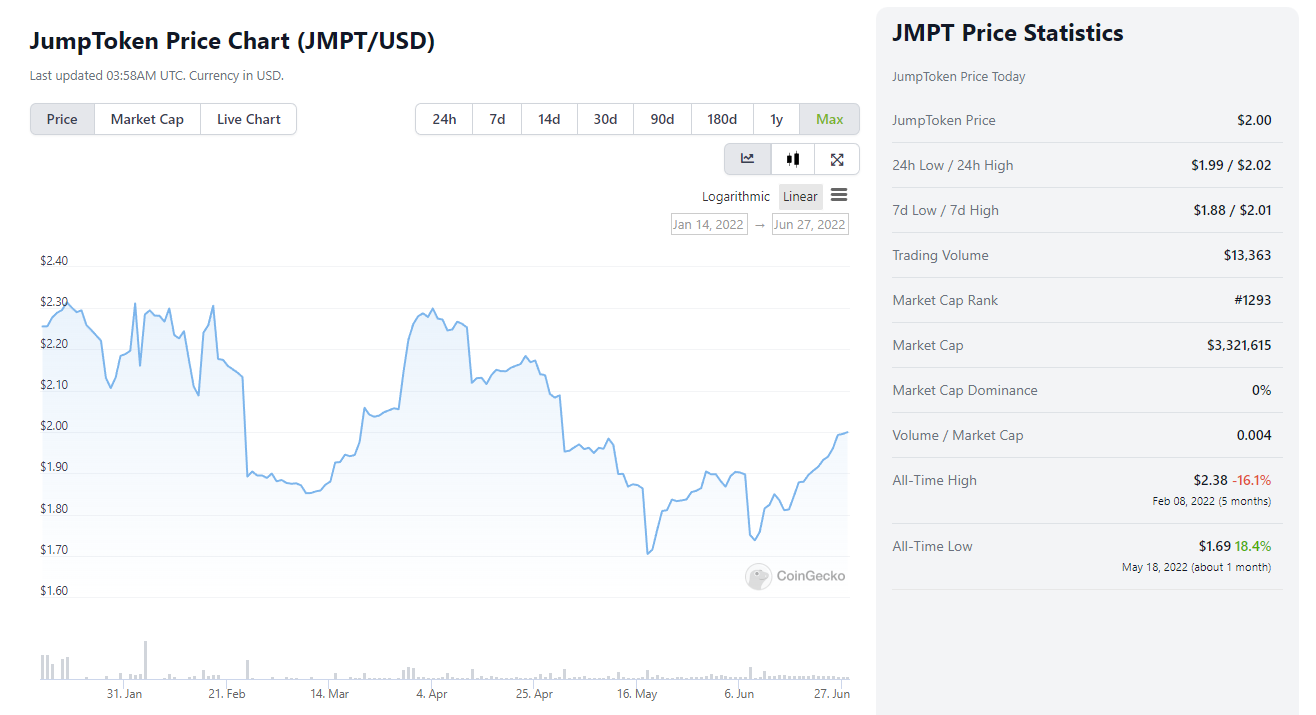 It has been only a few months since the JMPT token was launched. The price fluctuations were not that much. The lowest price of the token did not go below 1.5 $ which is very good. But considering the number of tokens in circulation, the value might change a little bit as the number of tokens keeps increasing. I was thinking if I should make use of the staking opportunity by purchasing some more tokens from the market and sending them to staking. But then I decided that I will just experiment with whatever I earn from the passive income gains. Hopefully, someday I can book some decent profit out of this. Please note this article is not financial advice. Do your own research before investing.
If you are hearing about JMPT and honey gain for the first time and would like to give it a try, feel free to use my referral below.
https://r.honeygain.me/BALA4F8CD5
---
If you like what I'm doing on Hive, you can vote me as a witness with the links below.

Vote @balaz as a Hive Witness
Vote @kanibot as a Hive Engine Witness
---
---
Posted Using LeoFinance Beta
---
---